Silentnight Latex Core Pillow Review
Both natural and synthetic forms of latex are popular materials in the sleep industry, but not as much as memory foam. Latex, like any other material, has advantages and disadvantages, and with the Silentnight Latex Core pillow we liked the fact that there is hollowfibre around the latex core. So we decided to test it and here is your review by The Sleep Advisors.
Who is Silentnight Latex pillow for?
It is a medium firm pillow ideal for back and side sleepers. It will keep your head slightly elevated and thus allow your spine to be naturally aligned throughout the night.
This pillow is also good for customers with allergies and hot sleepers who are looking for an ideal pillow within the UK that will increase their loft a bit. 
 It does not contain any materials that are likely to cause allergies and unique ventilated latex core, hollowfibre layer and cotton cover makes it cool and great for hot sleepers who need supportive pillow.
Add a header to begin generating the table of contents
What do we use this product for?
We use this product for medium firm support, cooling features and to relieve pressure from our neck. Although latex pillows generally do not have an ergonomic shape that is particularly suitable for side sleepers, the firmness as well as the level of support are ideal for side and back sleepers. We also use it to sleep in an environment free of dust mites since it is dust mite resistant and to prevent overheating during night.
5 features you should know about the Silentnight Latex Core pillow
In this part of our review, we will tell you more about the most important parts and characteristics of the it pillow.
Latex core with honeycomb vents
Highly breathable latex core is the heart and soul of this pillow. The core is in charge of support and firmness, but also temperature control. Why hot sleepers prefer latex over memory foam is that latex regulates temperature, and this is further enhanced on this pillow because the core has honeycomb vents.
Also, latex core is a naturally hypoallergenic, mildew resistant and unsuitable environment for fungi and other similar allergens. Another reason why latex pillows are popular is durability. Although synthetic latex is slightly less durable than natural, it is still one of the most durable materials in the sleep industry.
Latex pillows are initially softer to the touch than memory foam pillows, but they are still firm, so SIlentnight company decided to add a layer of hollowfibre over the core.
Hollowfibre is a very popular material in the sleep industry because it is a soft, comfortable and vegan-friendly alternative to down. Also, breathability is excellent, but is it too soft for many customers, especially heavier people and hollowfibre tends to lose shape and fluffiness over time. So this pillow combines latex support and hollowfibre softness to get the perfect balance between comfort and support, without compromising breathability.
Cotton cover for extra comfort
So many advanced synthetic materials have appeared on the market, but still a large number of people consider cotton the best material when it comes to cover. And that's true because it's naturally soft, comfy, durable and breathable. The Silentnight company had breathability in mind when designing this pillow, because in addition to the core with honeycomb vents, hollowfibre layer and smooth cotton cover, sleep experts from Silentnight also added Air mesh walls to increase airflow on all parts of the pillow.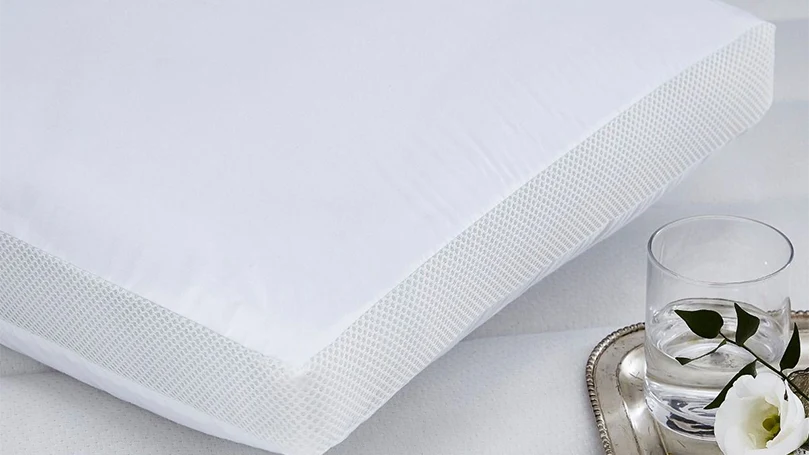 You have to keep in mind that this pillow is not suitable for washing machine and that cover is not removable. You can wipe clean it only or handwash it. That is why it is recommended to use a pillowcase to simplify maintenance and always have a fresh, clean and relaxing sleep surface for your face.
The 2 year warranty is the sleep industry standard for toppers, and pillows often come with a 1 year warranty so we like that this pillow comes with a 2 year warranty. With a piece of mind because you know you will be using it for at least 2 years, it also tells us that Silentnight believes in the quality of its product.
Review of Silentnight Latex Core pillow
It has 3 layers. Latex core with honeycomb vents is there for firmness and support, over which goes hollowfibre layer for comfort, and then cotton cover with Airmesh walls. All three layers are highly breathable and made of good quality material. This is a medium support pillow ideal for side and back sleepers. Latex, hollow fibre and cotton are hypoallergenic materials, so this pillow is suitable for allergy sufferers.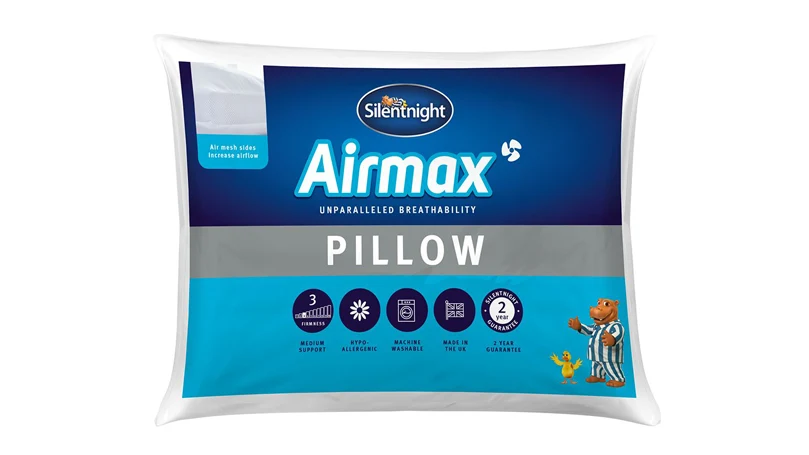 It promises resilience after each use but that comes with one downside – it's not machine washable. You can wipe it clean or handwash it only. Pillow also comes with a 2 year warranty.
Good fit for side and back sleepers on the UK market
Great support
Quickly retains its shape
2 year warranty
Small vents for air flow.
Not for stomach sleepers
Cover is not removable
Not machine washable.
4 facts that will convince you to buy Silentnight Latex Core pillow
Latex core and hollowfibre layer make this pillow equally comfortable and supportive
Medium support and a little bit of extra height for neck and head
All materials used are unlikely to cause allergies
Air circulation is not disturbed on any part of this pillow.
3 things that might turn you down from Silentnight Latex Core pillow
Firmness of this pillow is not convenient for stomach sleepers
Cotton cover is not removable
This pillow is not machine washable and that complicates maintenance.
The best alternatives to Silentnight Latex Core pillow
Since this is not 100% latex pillow but has latex core, and the rest is hollowfibre, so as an alternative we suggest you to take a look at Relyon Superior Comfort Deep Latex pillow which is 100% latex pillow.
Relyon Superior Comfort Deep Latex Pillow
The Relyon Superior Comfort Deep Latex pillow is made entirely of highly breathable latex that delivers firm support. An ideal choice for sleepers who want an additional support for their head and shoulders.
 It will support your head and neck and put your spine in the correct position, which will have a positive effect on your whole body. It is ideal for side sleepers, and most back sleepers can use it too. It has washable cotton cover. 
You can consider it a long-term investment because it is very durable and will last you for years.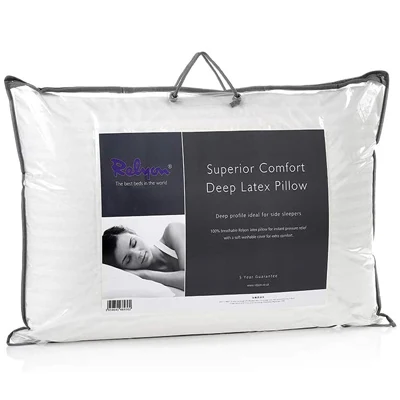 Breathable
Durable
100% latex.
A bit more expensive, compared to similar products
Not for stomach sleepers
Only one size – 68cm x 42cm x 17cm.
Consider Emma Hug Weighted Blanket if you are buying Silentnight Latex Core pillow
Now when you have a new pillow, consider buying an Emma Hug Weighted Blanket to achieve the perfect night's sleep. Emma is a well known UK brand that has a wide range of high quality products so no need to explain the brand and quality.
This weighted blanket is filled with extra-fine, Silica glass beads that distribute weight evenly because they are quilted into pockets and are very quiet. 
You can buy a separate bamboo blanket cover which is very soft and durable. Overall, this is high-quality weighted blanket.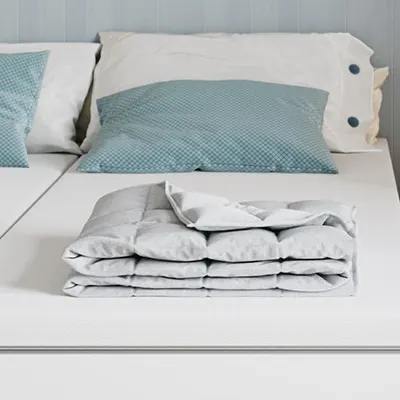 200-night trial
Design
7-layer construction.
You have to buy bamboo cover separately and it is not cheap
Only one weight available
Only one size available.
What makes this product better than some other similar ones?
We would single out two things that make this product better than some other similar ones. The first is a combination of latex and hollowfibre. That way you get the best of both worlds, and that's the support that latex is giving a medium support, softness and comfort thanks to hollowfibre. And also by combining these two materials, some downsides that latex and hollowfibre have are neutralized.
Another thing is breathability. All three materials – latex, hollowfibre and cotton are highly breathable, and also the construction of the pillow itself is responsible for breathability due to Airmesh walls and honeycomb vents.
How did we test the product?
We couldn't wait to start testing this pillow because there aren't a lot of latex and hollowfibre pillows on the UK market, and we had to wait for the usual 3 to 5 working days for delivery but there is no precise delivery date.
When we unpacked it, latex odour was present but every hour it was less and less noticeable and after a few days it completely disappeared. Still, we didn't have to wait for it to disappear completely to use it, as the odour was barely noticeable.
This pillow is very soft to the touch as both latex and hollowfibre are soft but it is only a first impression. You will soon see that this is a medium firm pillow, which without hollowfibre would be quite firm. This way it is very comfortable and supportive at this time, so the side and back sleeper from our test team had no complaints. They liked everything, including, of course, breathability, which will be great even for hot sleepers, so they will be able to use this pillow all year round. Stomach sleeper rated this pillow as unfavorable for that sleep position.
As for maintenance, we can't say much because the only thing you can do is wipe clean it.
FAQs about your new Silentnight Latex Core pillow
We will use our FAQs section to give you answers to some more important questions about Silentnight Latex Core pillow and thus complete this review. Ultimately, in case you cannot find some answer, either contact us to help you or contact a customer's service of Silentnight brand.
Is Silentnight Latex pillow suitable for front sleepers?
No, Silentnight Latex Core pillow is not suitable for front (stomach) sleepers due to firmness and loft.
Does Silentnight Latex Core pillow come with a removable cover?
No, it does not come with removable cover so you have to buy pillowcase separately if you want to have removable cover. You can browse Silentnight pillowcases before the checkout
How long does Silentnight Latex Core pillow last?
How long Silentnight Latex Core pillow will last depends on many factors, like maintenance, weight of the head and how often you use it. However, it comes from the finest line of Silentnight products and since this is a high quality pillow made of latex, we expect it to last at least 3 years.
Does Silentnight offer free delivery on this product?
Yes, after the purchase is made and you have verified purchase, the delivery is scheduled for the next 4 hours. The product is dispatched the very next day. It is delivered to your door, wrapped in a package. You have 200-night-trial period to test it before asking for a refund and returning the product.