Looking for a top-end mattress? A sound replacement for your old mattress that will last for years? We're definitely talking about Simba Luxe mattress then. Whether you're having trouble sleeping, back or neck pain, getting up groggy in the morning… Perhaps you haven't considered the possibility that you mattress might need replacement?
Having the right kind of mattress can mean a lot in life. After all, we spend almost a third of our life in it. Why not invest in it a little more so we could all have the luxury sleeping experience we deserve?
Now, when we're talking about Simba Luxe mattress, we can't just ignore the fact that it's on the more expensive end of the spectrum. But, we can say, that, without a doubt, it's a sound investment. Let's talk about this mattress a little more and get to the bottom of things, shall we?
Who are Simba?
Simba was originally a family business that started back in 1979. At first, they manufactured thread that is being used to this day in over 5 million mattresses across the world. However, in the following years, an idea appeared: Why not make original mattresses from their own thread? And thus, the Simba was born. Simba is most prominently known for its innovative ways of creating foam and spring mattresses, experimenting with new designs – all in favor of loyal customers who want a supreme sleeping experience. Their signature flair is the box mattress – which is a trend that's been going on for the past decade or so. Minimalism has taken over the world and they are taking simplicity to a whole other level.
Finally, their proudest achievement is Simbatex – an especially designed synthetic latex that they use in every product:
"Now it was the time for the top layer latex. We went through lots of different types of latex and found none were good enough. So we developed our very own synthetic latex. We called it Simbatex. It meant it didn't trap in heat and added a luxurious level of comfort to the mattress."
About Simba Luxe Mattress
After having a complete commercial boom with the Simba Hybrid Mattress[read our review], they created an innovative and new design – the Simba Luxe Mattress. This mattress combines 10 different layers which are all working in harmony. It is combined with top layer of a mattress topper which offers a fluffy layer of comfort, a layer consisted of over 10,000 pocketed springs and many more which we will talk about later in the review. All in all, this is a hybrid mattress that's worth getting excited about.
Analyzing: layer by layer
The Simba Luxe mattress is 32cm deep, like all other Simba mattresses. It contains 10 layers, it this order:
Gentle, breathable surface.
Three-layered mattress topper – the best feature being 4000 conical springs which, unlike memory foam, bounce back pretty quickly and provide you an extra layer of support.
Simbatex comfort layers with charcoal – an open-cell structure which will enable the mattress to breathe more.
Spring layers – the first one provides support, while the lower one is zoned in a way that will make you feel like floating.
Memory foam layers – there to give you a warm hug, put your body in place and make sure you won't feel motion transfer.
Zoned base – the zoned base will make everything fall into place.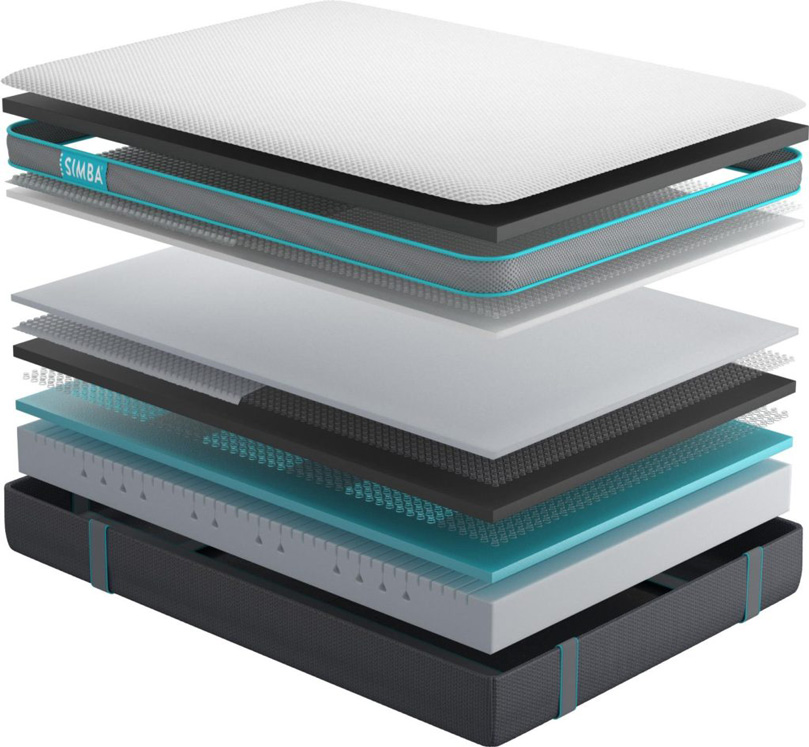 Materials
All materials include: premium fabric, pocketed springs, conical springs, memory foam, and Simbatex. All of the aforementioned things are hypoallergenic and dust mite-proof. Maintenance is easy – you may clean the mattress with light fabric cleaning products, or by simply wiping with a damp cloth in a circular motion. Simba also ensures everyone that they take care of many aspects of their manufacture process and make sure that it doesn't affect the environment. All of their foam products have the CertiPUR label, meeting the requirements of unwanted chemicals in foams. No destructive agents of ozone, heavy metals, flame retardants, mercury or lead have been used for their manufacture. So, the mattress is safe for people, children and pets.
Support
When talking about support, we have to give the Simba Luxe mattress five stars. The 9 layers work perfectly. It's a great combination of stable and gentle support as opposed to other firmer types of mattresses. It will relieve pressure on your neck, back and hips, and you can say goodbye to painful mornings! This is undeniably the best feature of the mattress.
Comfort
Unfortunately, comfort is usually a matter of taste/personal preference. As we've mentioned, the Simba Luxe mattress belongs to the 'firm' group. It is unusually difficult to pinpoint whether it's uncomfortable or not. Some people love the feeling of sinking in, but don't get the right amount of support, so it evens out. This may be the case, but the other way around. The Simba Luxe mattress really caters to your body's needs. Its design prevents motion transfer, so even if you have a restless sleeper by your side, you won't feel a thing. So, in conclusion, if you're looking for quality sleep, a better posture and an all-around great mattress, then we believe you've found your best deal.
Bounce
Unlike complete spring or pocketed spring mattresses, the Simba Luxe mattress doesn't bounce as much. However, its bounce-back is still there, as opposed to foam mattresses. You have at least three layers of springs which can get you back, but at a much lower cost. You see, spring mattresses are much more susceptible to deforming than hybrid mattresses such as Simba Luxe mattress. Because of that, you might not get the best bounce, but you'll get to bounce for a lot longer.
Breathability
Although the Simba Luxe mattress claims to have high breathability, it's not always the case. You might experience some overheating. It also contains foam layers, after all. You won't feel like you're in an oven over night, but some heat retention is possible. To solve that and minimize the heat retention in a Simba Luxe mattress, simply  use 100% cotton sheets. You may also need to not use a mattress protector so you can enable the mattress to breathe more.
Smell
Yes, like all foam products, the Simba Luxe mattress also has smell. It's nothing to be worried about, though. From when you get the delivery and unpack the product, leave it on the bed base to bounce back to its original state and to air out the smell. This can last up to 48 hours, but after that you will have the mattress to its full glory and ready for catching some Zs.
Durability
Every Simba mattress comes with a 10-year guarantee, including the Simba Luxe mattress. If something goes wrong with it during that time, you're eligible for a brand new one in exchange. Having that in mind, the manufacturers really do create a product that is high-quality. We also have no doubts that it will last at least that much, if not up to 14-16 years without losing its properties.
Price-quality ratio
This is a luxury product, after all. So it comes as no surprise that it costs as much as it does. With a starting price at £1,299 ($1700), you'll be spending a lot of greens. However – do not make compromises on your sleep. It is totally risk-free as you can try the mattress out and see if it suits your needs. If not – they offer a money back guarantee and free returns.
Simba Luxe Mattress
Product Name: Simba Luxe Mattress Review
Product Description: Luxury hybrid mattress coming from the Simba manufacturer. Multiple sizes available, 9-layers of memory foam, pocketed springs and synthetic latex all combined together for a perfect mattress.
Availability: Discontinued
Support

Comfort

Bounce

Breathability

Durability
The Sleep Advisors Rating
Make no mistake, this is an expensive mattress, but a sound investment. Make sure to inform on all of its features, delivery and return options. We definitely recommend it – it's just because it's freaking awesome sleeping on it!
Pros
Bouncy
No motion transfer
Great support
Just the right amount of firmness
Hypoallergenic
Cons
Not for heavier people
Not as firm as an innerspring mattress
The surface is not contouring as much as foam mattresses
Some report heat retention
Takes two days to be fully functional after unpacking
| | |
| --- | --- |
| MATERIALS | Premium fabric, pocketed springs, conical springs, memory foam, and Simbatex. |
| SMELL | Yes, has to be managed through airing. |
| PRICE – QUALITY RATIO | Just right! |
Trial period, warranty, shipping details, refunds?
The Simba Luxe mattress is up for a 100-day trial period, and if you don't like it, you can return it for free and get your money back. The warranty, as we've already mentioned is 10 years and it's completely reasonable. To get more details about shipping and delivery, feel free to contact their customer support.
"Arrow XL is a Premium 2-Man Delivery Service, delivering to a room of your choice. It is a 48-hour tracked service Monday – Saturday when ordered before 5pm. Removal of your old mattress can also be requested at checkout. Your old mattress will be recycled."
They have multiple sizes available:
| | | |
| --- | --- | --- |
| Size | Dimensions | Price |
| Single | 90cm x 190cm x 32cm | £1,299 |
| Small Double | 120cm x 190cm x 32cm | £1,599 |
| Double | 135cm x 190cm x 32cm | £1,699 |
| King | 150cm x 200cm x 32cm | £1,899 |
| Super King | 180cm x 200cm x 32cm | £2,199 |
| Emperor | 200cm x 200cm x 32cm | £2,399 |
Conclusion
Make no mistake – if you've decided that you want to invest in something, make sure you invest in your comfort and health first. To summarize, this is a high-end mattress with innovative design, great support and easy delivery. It is neither too soft, nor too firm – a definite black horse of today's modern mattress designs. Give it a try and see for yourself.