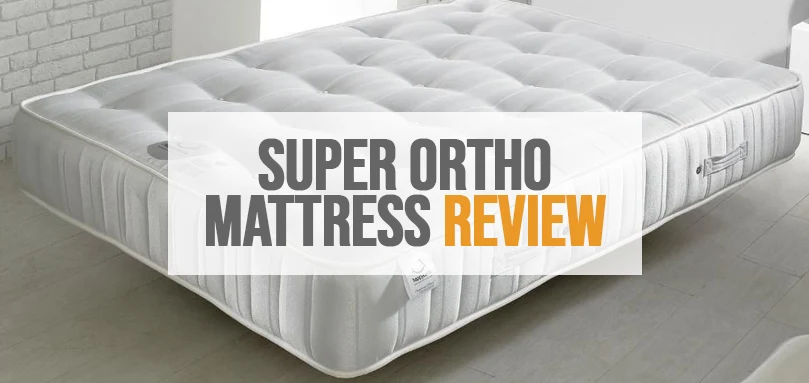 Super Ortho Mattress by Happy Beds - 2021 Review
If you've come this far, it's safe to say that you're in the market for an affordable orthopaedic mattress. Well, Super Ortho Spring Reflex Foam Orthopaedic Medium Firm Mattress definitely fits the description, but is it worth it? Well, we've tested it, so you don't have to and our verdict just might surprise you.
Who is the Super Ortho mattress for?
The Super Ortho Spring Reflex Foam Orthopaedic Medium Firm Mattress is a solid fit for everyone looking for a sturdy surface to sleep on, but not willing to break the bank to get it. This is a remarkably affordable mattress, with surprisingly great orthopaedic features, which makes it a solid fit for those struggling with some sleep-related aches and pains.
Add a header to begin generating the table of contents
How did we test the product?
Deciding whether a mattress is good or not can be quite challenging. There are so many things that have to be considered, but then again, even if you do all that, the feeling of a mattress is quite subjective and just because someone else finds the mattress great, does not mean you will too. We're fully aware of that and that is why we do our best to deliver you with as objective of a review as possible.
Our team is made up of several individuals with different sleeping preferences and different body weight. That allows us to present you with a review from several different perspectives, rather than just one. Naturally, that is hardly enough for a complete and objective review, so we take user feedback into account, too.
Furthermore, the quality of a mattress is determined by a lot of different factors and the ones we spend most of our time focusing on is firmness, support, edge support, pressure relief, pain relief, durability, breathability and cooling properties, hypoallergenic properties, longevity, warranty and so on.
With this particular mattress in mind, we've paid special attention to firmness, durability, pressure relief and the rest of the orthopaedic properties, as those should be the strong points of this mattress.
What do we use this product for?
Like any other mattress, we use Super Ortho Spring Reflex Foam Orthopaedic Medium Firm Mattress to sleep on it, but in reality, this one can be really helpful if you're struggling with some back pain. Due to its firmness, this is an orthopaedic mattress, therefore, anyone struggling to get out of the bed in the morning because of a bad back can probably benefit from this one.
Features you should know about the Super Ortho Spring Reflex Foam Orthopaedic mattress
Just like any other mattress, Super Ortho Spring Reflex Foam Orthopaedic Medium Firm Mattress has its own set of defining features. The ones we've mainly focused on are the open coil system, hypoallergenic properties and of course, orthopaedic properties. Here's what you need to know about every single one of them.
This is an open coil mattress, meaning, the support base of this one is made from an interconnected spring system, unlike pocket sprung mattresses that support our body with separate, individual springs.
This might be off-putting for some people, as open coil mattresses are known to be the least durable out of all mattresses, but we wouldn't worry about it with this one, especially if you're lightweight.
The coils do have a little bit of give, but only if you're over 90 kilos. We haven't experienced any dips after our simulated long-term usage test, so it's safe to say that if you rotate and flip this mattress every 6 weeks, you should be able to use it for at least 6 years.
That may not seem like much, but for an open coil, budget mattress – it really doesn't get any better.
It is not often that we find orthopaedic mattresses to be hypoallergenic, due to the fact that they're mostly made from all-natural materials and it is even rarer to find an orthopaedic, hypoallergenic mattress at this price point.
Adorned with rich damask fabric and durability enriching hand-tufted patterns and filled with layers of classic materials, such as satin pads and polyester, make the mattress incredibly durable and combined with the layer of reflex memory foam – this mattress becomes not only comfortable to lie on, but also hypoallergenic.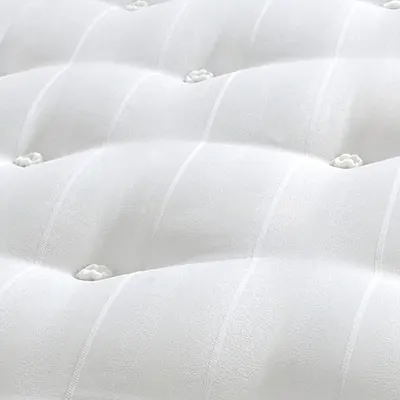 You can certainly add to that by using an additional hypoallergenic mattress topper and some quality sheets, but either way, you shouldn't worry about bed bugs and dust mites sharing the bed with you.
The open coil base is mostly what makes this mattress a great choice for anyone that struggles with a bad back or any other mattress related, orthopaedic issues. This is rated as a medium-firm mattress, but we'd say it's closer to firm than it is to medium, so be wary of that. Naturally, your body weight will most definitely affect how you perceive the firmness of the mattress, but unless you're heavyweight, this is probably going to stay on the firmer side.
That alone would constitute this mattress as orthopaedic.
Even though it has a layer of reflex foam encompassing the open coils, don't expect too much when it comes to contouring or pain and pressure relief. Like we've said, this mattress is quite firm. If you need some additional softness, you might want to pair this one with a topper.
Review of Super Ortho Spring Reflex Foam Orthopaedic mattress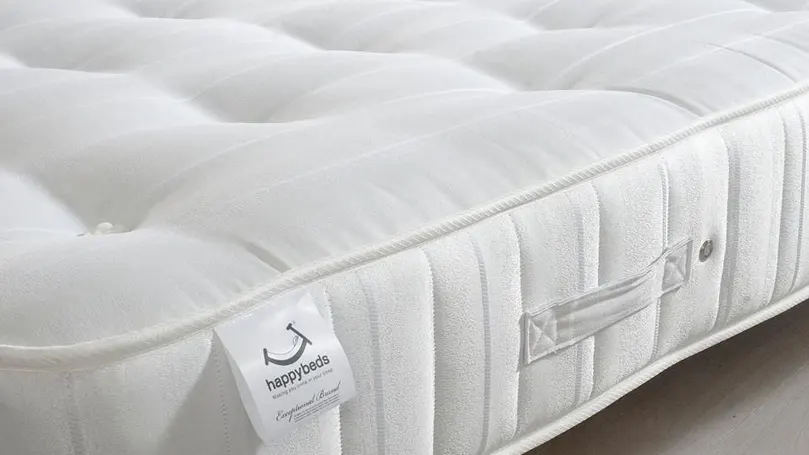 First of all, the most defining feature of this mattress is its firmness, which is to be expected from an orthopaedic mattress, but then again, it could be bothersome to side and light sleepers. On the other hand, it will support you even if you're on the heavier side of the spectrum.
Next up, this is a hypoallergenic mattress, which is always a bonus.
Furthermore, this is a hand-made, hand-tufted mattress, which combined with a high-quality open coil support system makes up for a very durable, long-lasting mattress.
On the other side of things, this one could really benefit from a mattress topper, solely from a comfort perspective. Also, it's not the best when it comes to moisture absorption, heat dissipation or motion isolation, so sleeping with a partner could get steamy and bumpy, just not in a good way.
Incredible value for money
Long-lasting and durable
Quite firm and supportive, making it ideal for heavy people
Way too firm for lightweight, side sleepers
Solid, but not great motion isolation and
Not as comfortable as it probably should be
What we like about Super Ortho mattress
It won't sink and it will support your body weight easy for years to come
If you're having troubles with allergies, this mattress could help
Arguably the best mattress in this price range
What we didn't like about Super Ortho mattress
The reflex foam layer adds little to none when it comes to comfort
Lack of natural materials makes it warmer than some other open coil mattresses
It's too firm and it won't offer proper alignment for lightweight side sleepers
Check the alternatives to Super Ortho mattress
Finally, since the Super Ortho Spring Reflex Foam Orthopaedic Medium Firm Mattress has some obvious drawbacks that make it not great for many, we decided to offer you a couple of alternatives. These two make up for what the Super Ortho is missing and we feel you might like them.
Unlike Super Ortho, this isn't an open coil or a firm mattress, which makes it ideal for pretty much the opposite group of people. This is a memory foam mattress, so you can expect some good pressure and pain relief, solid support and overall great comfort.
Our full review of Eve lighter mattress can be found here!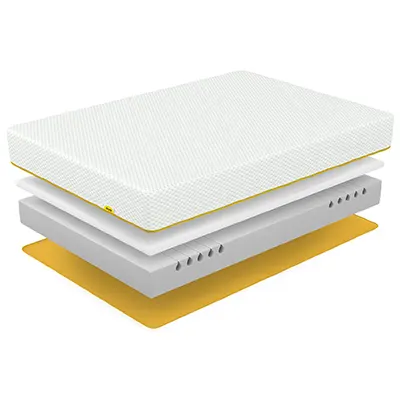 Good price to value ratio
Great design
Comfortable and supportive
Off-gassing
It does get quite warm
Too soft for heavy sleepers
Now, if you want to try 5 layers of comfort instead of just one – maybe try this one. Here we have pocket springs and memory foam put together for more comfort and motion isolation, but still some substantial support. It certainly makes up for the Super Ortho's imperfections, but it does so at almost four times the cost.
Supportive
Sleek design
Durable and long-lasting
More expensive than some similar models
Could be too firm for some people
Some off-gassing upon opening
Consider Panda mattress topper if you are buying Super Ortho mattress
As we've said, Super Ortho could really benefit from a mattress topper and we feel like the one from Panda would be a perfect fit. This mattress topper is a combination of Hydro foamTM and breathable bamboo. This combo makes up for a supportive, yet very comfortable topper, with some great pressure and pain relief. Combine that with the firmness of Super Ortho and you get yourself almost perfect sleeping conditions.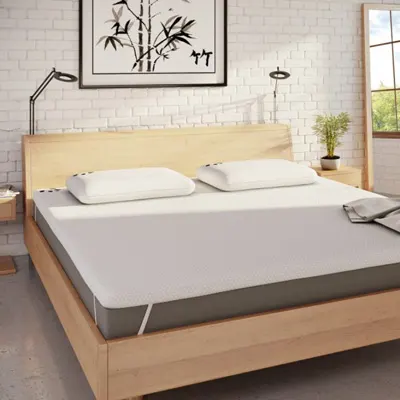 Very comfortable
Breathable and easy on your skin
Very durable
Might get slightly warm
More expensive than the mattress
What makes this product better than some other similar ones?
We have to understand that this is a budget mattress and in this price range, this one really doesn't have any competition when it comes to orthopaedic mattresses. It does what it's supposed to do and it will do it for a long time – despite being an open coil design. We'd say that longevity and durability are Super Ortho's biggest advantages over the competition.
FAQs about your new Super Ortho mattress
In the end, we wanted to answer some FAQ about Super Ortho Spring Reflex Foam Orthopaedic Firm mattress. This should help us round up our review in the best way possible, as it will answer some of the questions that may have been left unanswered during our review.
Is Super Ortho Spring Reflex Foam Orthopaedic mattress good for back pain?
It depends. Since this is an orthopaedic mattress, it should keep you properly aligned and supported and it should be more than beneficial for your back pain. On the other hand, if your pain is pressure-induced, this won't be a good fit for you.
Is Super Ortho Spring Reflex Foam Orthopaedic mattress good for sleepers with allergy problems?
In a word – yes. This mattress is hypoallergenic; therefore, it should be more than a good fit for folks dealing with allergies.
How do I wash my Super Ortho Spring Reflex Foam Orthopaedic mattress?
There are a few methods as to how you should clean your mattress, but in general, you should clean it by gently scrubbing it with a mixture of warm water and mild detergent. Baking soda and vinegar could also come in handy.