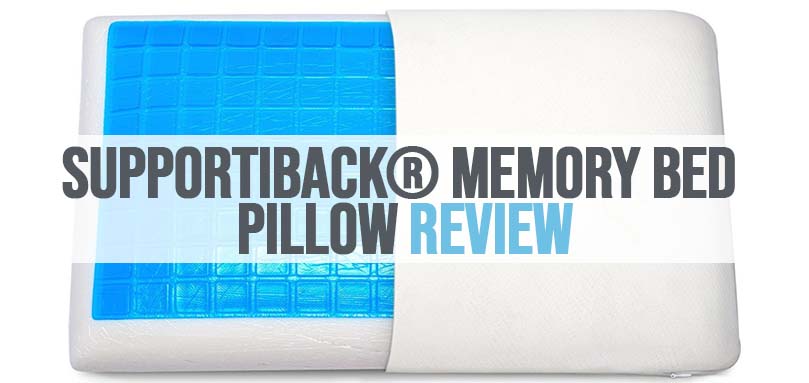 Supportiback® Comfort Therapy Memory Bed Pillow Review
Supportiback is a company that makes products for, as the name indicates, therapeutic back support. There are two basic lines of their products, and those are support and comfort therapy items. Unfortunately, these products are on the lower part of quality scale, and to make matters worse, the company itself sells only on Amazon and gives vouchers for every positive review, which makes user reviews irrelevant.
Add a header to begin generating the table of contents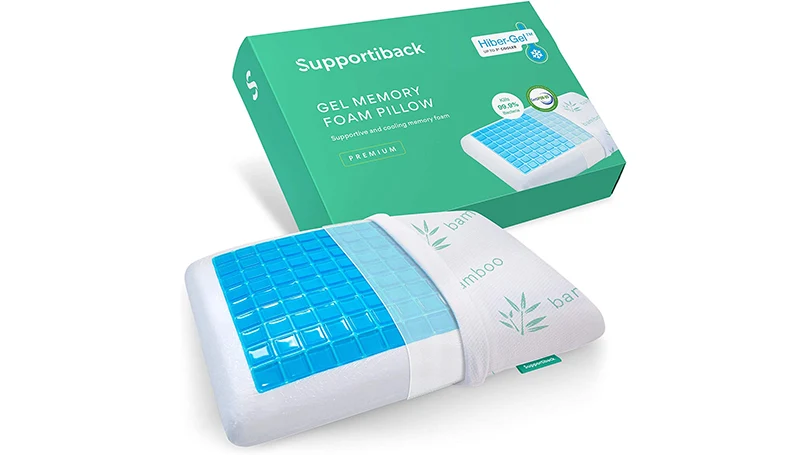 About Supportiback® Comfort Therapy Memory Bed pillow
Supportiback® Comfort Therapy Memory Bed Pillow is, as the name says, from the comfort line of products. This pillow keeps your head and neck aligned with your spine, no matter what sleep position you sleep in. It helps relieve neck and shoulder pain, surgery recovery, upper back pain, disc problems, and even headaches and snoring.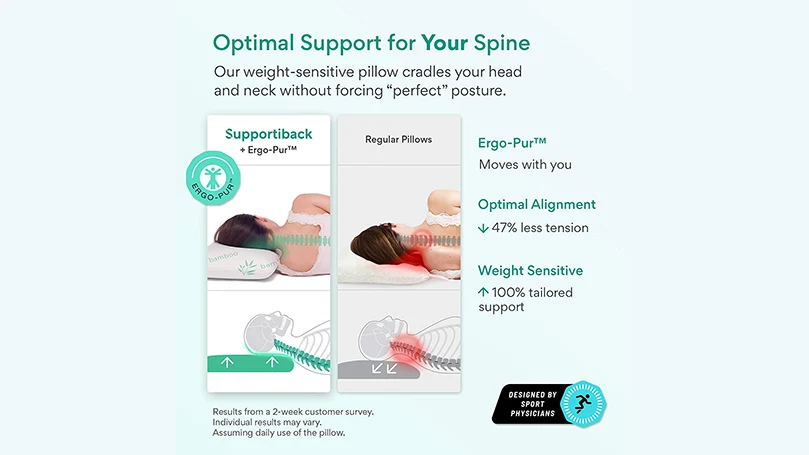 Supportiback® Comfort Therapy Memory Bed Pillow is made of solid memory foam piece which is pressure sensitive and contours your shape, adjusting to your movements. Over the memory foam layer there's a heat dissipating gel layer, which is there to keep you cool at hot nights. And on cold nights there's a plushy side of the pillow, which gives warm and fuzzy feeling. But, not everything is that perfect. Memory foam is not the best quality. To be honest, it's on the lower end of quality scale. Also, the gel layer is just a gimmick, and it adds another chemical layer to the pillow.
Supportiback® Comfort Therapy Memory Bed Pillow is based on comfort, so it's less supportive. It's not exactly rigid or too soft, but memory foam the pillow is made of is not very high quality. It gives less than average support in general.
As the name suggests, this is a comfort therapy product, so it's fair to expect that comfort is the best side of this pillow.  And we'd be wrong if we say that comfort isn't its best side. Unfortunately, the level of comfort isn't very good comparing with some other concurrent products. Despite being the best aspect of this pillow, the comfort level is still not enough to be called decent. Guess we'll stop using any level of word "good" describing this product from now on.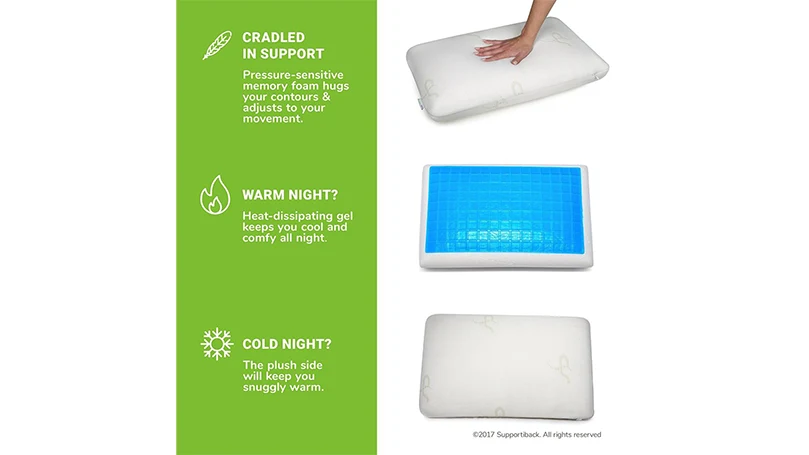 Usual memory foam is not very breathable. A single piece of dense foam doesn't allow air to circulate freely so it will absorb and retain the warm humid air generated by your body. To make matters worse, the thermo gel layer just adds another chemical level, which further worsens breathability ratio of the pillow.
Like we said, solid piece memory foam types of pillows aren't really breathable and they retain smell and moisture. And there's also that gimmicky layer of thermo regulating gel, which honestly doesn't do a thing except giving another chemical layer to the pillow, making the situation even worse. Add that the off gassing too and you'll get a perfect formula for the unpleasant odor after the longer use. There's also the off gassing, but it's really a minor, easy to solve issue.
Supportiback® Comfort Therapy Memory Bed Pillow is definitely sturdier and harder comparing to shredded memory foam types of pillow. That increases durability by little, but not much over the year. The bad breathability also shortens the life expectancy of this pillow.
Supportiback® Comfort Therapy Memory Bed Pillow has the price of 36,87 £, which is pretty bad deal considering overall lack of quality and the size which is significantly smaller than standard pillows (52cmx33cmx7cm). Supportiback® Comfort Therapy Memory Bed Pillow  also has 30-Day Risk-Free 100% Money-Back Satisfaction Guarantee, which means that if you aren't 100% satisfied with it, you'll receive 100% of your money back, no questions asked.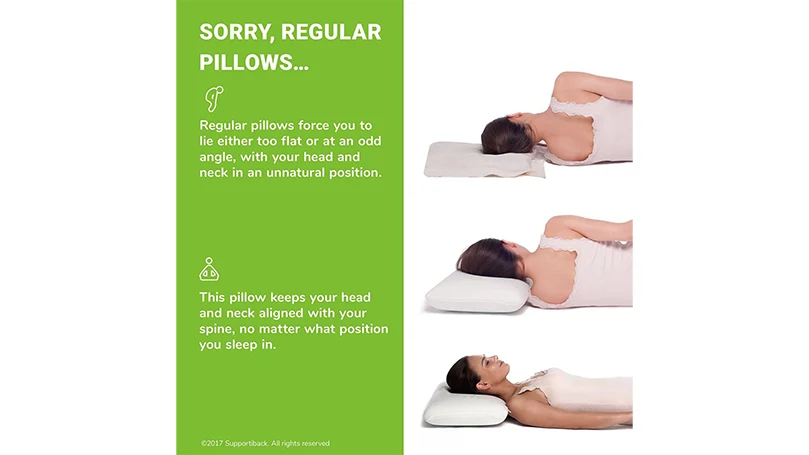 MATERIALS

Single piece of memory foam.
Thermo regulating gel layer
Hypoallergenic cover

SMELL
Has some off-gassing, safe to use after leaving it to air off for a couple of days.
PRICE – QUALITY RATIO
A decent on-budget pick.
Supportiback® Comfort Therapy Memory Bed Pillow has a significant sale discount (from 69,95£ to 37,85£), you can also have a bonus discount of 5£ off entire order, if you purchase five or more items from their line of products.
For some people even the 5£ Amazon voucher for every favorable review sounds like a good deal, although that undermines the objectivity of reviews.  Also, we already mentioned 30 days risk free period, during which you can get a refund if you're not 100% satisfied with the product. Check out their Amazon page and see for yourself.
Supportiback® Comfort Therapy Memory Bed Pillow is one in the line of comfort therapy products that help their users to prevent, treat and heal the head, neck and back pain. This pillow is made from solid piece of memory foam with a layer of cooling thermo regulation gel on one side and plushy layer on the other side of the pillow.
Unfortunately, Supportiback® Comfort Therapy Memory Bed Pillow is not a product of the highest quality. The memory foam itself is not very supportive and cooling layer doesn't work efficiently, making it even worse. Memory foam isn't very breathable by default, and with another chemical layer it's even worse. A lot of people also complain about size, which is smaller than usual pillows. All in all, we cannot really say that this is a great product, but it is a good pick for those who dream of a new pillow that comes at low price If you suffer from back or neck pain, this is a cheap pick that will make your night a little bit comfier.