Best Silk Pillowcase UK For Soft & Luxurious Pillow Protection
Sleep well and forget about allergies with one of these silk pillowcases!
Regardless of your sleeping position, your face, hair or head touches your pillow for hours each and every night. If you're struggling with allergies, a low-quality pillowcase can only make the matters worse and that's not even scratching the surface when it comes to pillowcases. 
When sleeping on a low-quality, non-hypoallergenic pillowcase, you're risking damaging your skin and your hair.
Luckily for you, we've decided to go out and find the best silk pillowcases money can buy. 
We've gone out and tested some of the most popular models and let us tell you right away – nothing beats sleeping in silk. It's ethereal. So, without further ado, let's introduce you to our top 7 picks for the best pillowcase UK has to offer.
Add a header to begin generating the table of contents
Finally, here we are. We're about to take a look at some of the best silk pillowcases the UK market has to offer, so your skin and hair can glow and you can wave goodbye to your allergies. We've tested several of them and we've found, what we feel are, the best of the best for each respected category. So, without further ado – let's see our picks.
IMAGE
PRODUCT
DETAILS

KEY FEATURES:

Size:

50 x 75 cm; 40 x 60 cm; 40 x 80 cm, 51 x 66 cm; 80 x 80 cm

Care:

Hand wash in warm water; iron on low; No tumble dry or bleach

Colour options:

20

Weight:

330 g

View Latest Price

KEY FEATURES:

Size:

50 X 75 cm

Care:

Hand wash in cold water; Washing on cold cycle; Hang dry

Colour options:

7

Weight:

100 g

View Latest Price

KEY FEATURES:

Size:

66 x 50 cm

Care:

Dry clean; Hand wash

Colour options:

2

Weight:

430 g

View Latest Price

KEY FEATURES:

Size:

40 x 40 cm; 40 x 60 cm; 40 x 80 cm; 50 x 70 cm; 50 x 75 cm; 50 x 90 cm; 60 x 60 cm; 65 x 65 cm; 80 x 80 cm

Care:

Hand wash

Colour options:

20

Weight:

140 g

View Latest Price

KEY FEATURES:

Size:

71 x 50 cm

Care:

Wash it at 30-40 C degrees.

Colour options:

White

Weight:

18 g

View Latest Price

KEY FEATURES:

Size:

50 x 66 cm; 50 x 76 cm; 50 x 90 cm

Care:

Machine wash at 30 C; Cold iron; No tumble dry.

Colour options:

13

Weight:

110 g

View Latest Price

KEY FEATURES:

Size:

75 x 50 cm

Care:

Machine wash at 30 C; Air dry.

Colour options:

8

Weight:

222 g

View Latest Price
1. BEST OVERALL: ZIMASILK 19mm Mulberry Silk Pillowcase
The absolute best luxury silk pillowcase!
If you're looking for one of the best silk pillowcases on the market, look no further than the ZIMASILK Mulberry silk pillowcase. Made of 100% mulberry silk and boasting a 19 Momme 600 thread count, this pillowcase is sure to provide you with a luxurious and restful sleep. 
What's more, the hidden zipper design ensures that the case will stay securely in place all night long. And with 27 different colour options to choose from, you're sure to find the perfect one to match your bedroom décor. Additionally, the smooth, soft texture of silk is gentle on hair and skin, making it a great choice for those with sensitive skin.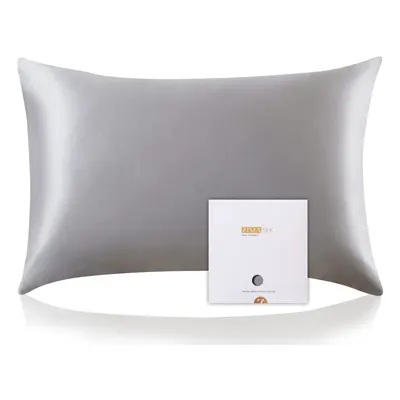 2. BEST VALUE: LilySilk 19mm Silk Pillowcase
If you're shopping for a silk pillowcase on a budget then this is the one for you.
There aren't a lot of finer things in life that come as cheap as this silk pillowcase from LilySilk does. This one has all that you might want from a silk pillowcase and then some and all of that for a fraction of the price of the other pillowcases on our list.
It comes in 6 colour variants, it's 19 momme and it's quite cool and comfortable, as you might expect from a medium-high quality silk pillowcase.
3. UPGRADE PICK: Fishers Finery 30mm Silk Pillowcase
An Aston Martin in the world of silk pillowcases!
Once you lay your head on this silk pillowcase, we guarantee that you'll never again wish to lie on anything else in your life. It's that good – trust us! If you don't mind spending a little bit extra on a luxury item, then this s the one you should absolutely get.
It's made from the highest grade, 100% pure mulberry silk. It's a 300 momme silk pillowcase, which is pretty much the diamond level when it comes to silk and you'll feel it as soon as your cheeks touch the pillow.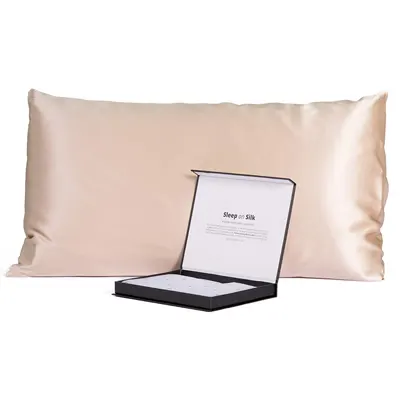 4. BEST SQUARE: TownsSilk 19mm Square Silk Pillowcase
If you want your accent pillows to be silk too – get this one!
It's not quite common for silk pillowcases to come in a square shape, but this one does. Most pillows you sleep on aren't square, but who's to say you can't accessorize and make your accent pieces a pleasure to sleep on.
This one is a 19 momme, 100% silk pillowcase that comes in various shapes, sizes and patterns, so you can easily mix and match your accent pillows to the rest of your bedroom. Of course, it's hypoallergenic and pleasing to touch – which is ultimately what you want from a silk pillow.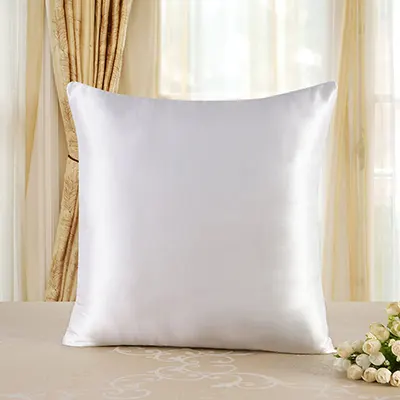 5. BEST DESIGNER: Fishers Finery 25mm Luxury Silk Pillowcase
Another luxury silk pillowcase from Fishers Finery!
Here we have another high-quality silk pillowcase from the popular silk pillowcase brand Fishers Finery and if we're being honest – this one could've easily been the best pillowcase we've tested. It's that good! There's just something pleasant about undyed silk – it just feels and looks cleaner.
Naturally, you're looking for a hypoallergenic pillowcase, so, allergies won't be bothering you. This one is 25 momme, 100% mulberry silk and lying on it is probably what lying on a cloud feels like. Maybe even slightly better…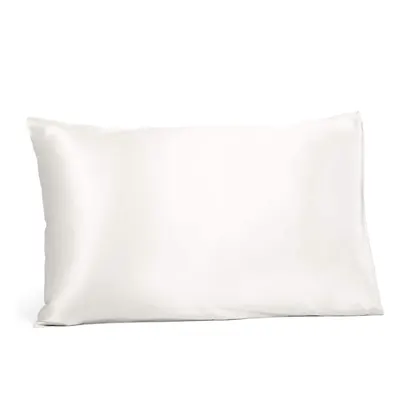 6. BEST MACHINE WASHABLE: Loomberry 22mm Silk Pillowcase
Grab a mesh bag, choose a cold and slow cycle and wash this one without a care in the world!
Washing a silk or even a satin pillowcase can be bothersome. You have to do it often and you have to do it by hand – or at least that's what most of the manufacturers recommend you to do. 
However, this silk pillowcase you can easily wash in the washing machine. You just have to make sure the water is below 30 C° and you put the pillowcase inside a mesh bag, so it doesn't come into contact with the rest of your stuff in the washing machine.
It's 22 momme, so you can expect it to be more than capable of handling the machine washing. Also, it's hypoallergenic, comes in three sizes and 10 colours.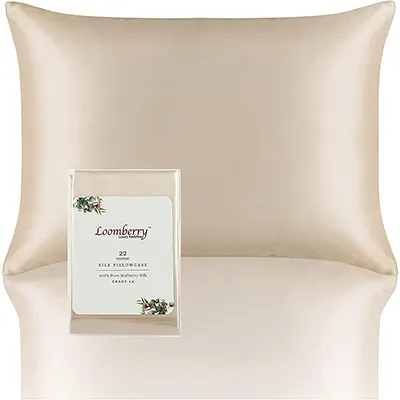 7. BEST HYPOALLERGENIC: Jasmine Silk 19mm Pure Mulberry Silk Pillowcase
Say goodbye to runny nose and sneezing and enjoy a good snooze with this pure Mulberry silk pillowcase!
This luxurious silk pillowcase with the cotton underside from Jasmine Silk is the perfect addition to any home's ultimate collection. Silk pillowcase like this one, made of the finest, smoothest, creamiest and shiniest Mulberry silk, this pillowcase is sure to bring you luxurious comfort while you sleep.
The 300 thread count cotton prevents slipping, while the natural hypoallergenic properties of silk provide relief and offer all the benefits of beauty sleep. The anti-ageing and hair frizz properties of silk make this pillowcase an excellent choice for anyone looking for superlative skin and hair care.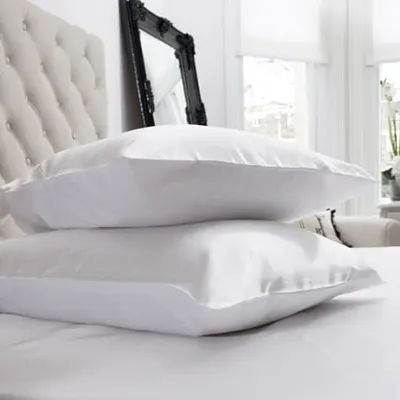 What to consider when buying best silk pillowcase UK
Before we get any further, we must talk about what you have to look for in a silk pillowcase before you buy it. Just like any other product, the silk pillowcase has its own unique features that set them apart from one another. We're talking about silk quality, weight, size, print and so much more. Here are a few of the features to pay attention to when shopping for a new silk pillowcase.
As you might've guessed, there's no universal size for a silk pillowcase, as pillows come in all kinds of shapes and sizes. Also, silk is not the material you want to stretch too much, so it's paramount that you find the proper size pillowcase for your bedroom.
The standard sizes these pillowcases come in are standard, queen and king-sized. Also, you can find the smaller form factor, commonly known as a travel-sized pillowcase, but that's not something most of us end up needing. All three of these standard sizes are the same in height but differ in width with the King-sized one being the biggest as you could've guessed.
It's very important for you to be able to easily put on and remove the pillowcase from a pillow. That's why you should always look for a zipper or a set of buttons. Zippers are a better option if you can choose between the two. They're smaller and almost unnoticeable on quality pillowcases and you can forget about accidental unbuttoning and opening of a pillowcase.
Now, we're not saying the buttons won't come in handy. With quality craftsmanship, those can be good as well, but zippers are generally better and they can last longer.
Prints are always a big thing when it comes to bedsheets and pillowcases. They can make or break the room. Silk pillowcases come in a variety of different colours and prints and it's entirely up to you to find the one you like the most.
Some people prefer simple, single-coloured pillowcases, while others enjoy something different, something more colourful and detailed, like flowers, for instance. What's important to say is that the print won't affect the quality of a pillowcase, so you can feel free to choose whichever print you like and make it fit in with the rest of your bedroom.
Tips for buying and using best silk pillowcase UK
Before we get on with our picks, we have to cover a few additional things as well. Better yet, we have to give you a few tips.
First up, learn how the weight of the silk affects the quality of a pillowcase. If you haven't noticed, the weight of silk isn't measured in grams. Instead, it's measured in units called momme. Basically, the higher the momme – the better the pillowcase. In general, you should look for a pillowcase that's 22 momme or higher.
Next up, you want to make sure your pillowcase is hypoallergenic. Fighting off annoying allergens like dust mites and bed bugs will allow you to sleep much better, which will directly translate to the quality of your life.
Finally, make sure you get one that is easily washable, ideally, in a washing machine. However, we do recommend you use special laundry detergent to make sure your silk pillowcase lasts you a long time.
High momme equals high quality
Always get a hypoallergenic one
Make sure it's easily washable.
The advantages of owning best silk pillowcase UK
Finally, spending money to find the best silk pillowcase might seem like a bad idea if you don't know what you're getting from it. With silk pillowcases, you're not only paying for comfort – you're paying for a lot of different things – like some of these.
Silk pillowcases are known to protect your face, skin and hair, by taking friction out of the equation. Now, you won't be getting rid of all friction, but you'll be left with an insignificant amount and you'll be sure to notice the difference the first time you lay your head on the silk pillowcase.
Next up, you'll be getting rid of allergies. Silk pillowcases are hypoallergenic most of the time, so, one of many advantages of a silk pillowcase would be the anti-bacterial properties that many will seem to enjoy.
Finally, the silk sheets and pillowcases have been known to increase your sex drive and improve your love life. So, if you're having issues in that area, perhaps all you should do is get a new set of sheets and make things work.
They're gentle on your skin and hair
They'll help with allergies
They could help your live life.
FAQs about your silk pillowcase UK
In the end, all that's left to do is answer some frequently asked question and see what are some of the things people are most curious about are. So, before you move on to do something else, take a look at some of these FAQs and maybe you'll find the answer to some of your questions.
Why silk pillowcases are recommended?
Silk pillowcases are mostly recommended because of their frictionless surface, gentle feel on the skin and fight against allergens.
How often should I wash my silk pillowcase?
In general, you should wash your silk pillowcase at least once a week, if not even more often.
Are all silk pillowcases machine-washable?
If you have a mesh bag, you can wash pretty much any silk pillowcase in a washing machine on low temperature and slow cycle.
How long will my silk pillowcase last?
More often than not, a silk pillowcase will last you about a year.
Are silk pillowcases hypoallergenic?
A quality silk pillowcase is naturally hypoallergenic.