The Best Cooling Fans to Consider in 2022
If you're tired from feeling hot and sweaty during the summer and an AC unit is not an option – perhaps one of these cooling fans will help!
Summer is great and most of us love it. However, it's much easier to appreciate summer and high temperatures when you're sitting on the beach, sipping a cold brew and enjoying the view. On the other hand, sitting on your sofa in front of the TV and sweating profusely is nobody's definition of a good time.
Now, not everyone has an AC unit, so, we need an alternative for those people. That's where cooling fans come into play. It may not look like much, but finding the best cooling fan isn't easy. However, we know a thing or two about them and we've decided to help. Here are our top 10 cooling fans for the upcoming summer!
IMAGE
PRODUCT
DETAILS

KEY FEATURES:

Type:

Tower

Speeds:

5 fan speeds

Power:

45W

View Latest Price

KEY FEATURES:

Type:

Tower

Speeds:

3 fan speeds

Power:

45W

View Latest Price

KEY FEATURES:

Type:

Desk

Speeds:

10 fan speeds

Power:

26W

View Latest Price

KEY FEATURES:

Type:

Tower

Speeds:

3 fan speeds

Power:

40W

View Latest Price

KEY FEATURES:

Type:

Desk

Speeds:

3 fan speeds

Power:

35W

View Latest Price

KEY FEATURES:

Type:

Standing

Speeds:

3 fan speeds

Power:

35W

View Latest Price

KEY FEATURES:

Type:

Wall mounted/floor

Speeds:

3 fan speeds

Power:

40W

View Latest Price

KEY FEATURES:

Type:

Tower (bladeless)

Speeds:

8 fan speeds

Power:

40W

View Latest Price

KEY FEATURES:

Type:

Tower

Speeds:

3 fan speeds

Power:

50W

View Latest Price

KEY FEATURES:

Type:

Portable

Speeds:

3 fan speeds

Battery:

1800 mAh

View Latest Price
What to consider when buying the best cooling fan
It would be very easy just to walk into the store, point a finger at a fan and buy it. We're not saying you couldn't, but we are saying you shouldn't. Before you buy a cooling fan, make sure you understand which features make up for a great cooling fan.
If you understand what makes a great fan, it'll be much easier to get one. Here are the features you should pay special attention to. Furthermore, these are the exact same features we've used to compare the fans and determine which one's the best.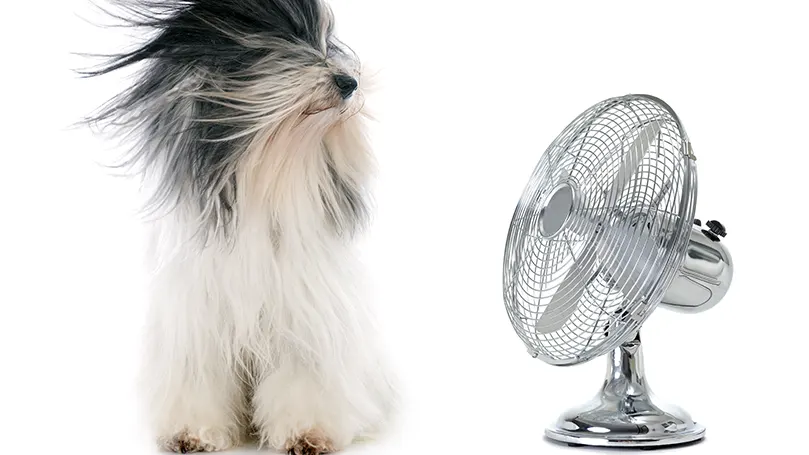 As you can probably guess, the main thing to pay attention to when shopping for a cooling fan is the type. Not every fan is the same and depending on your needs and depending on the room you plan on using the fan in – you'll need a different kind of a fan.
As we've said, there are multiple types of fans. Some of them are standing, desk, tower, cyclonic, ceiling, misting, wall-mounted, bladeless, window fans and so many more. As you can see, some of them are portable – some aren't. Some spin – some don't.
All of them will do their jobs of cooling you, but it's up to you to find the one that's going to do it the best.
There are two things when it comes to fans and power that you need to know and those are –power consumption and cooling power.
The latter is obviously the more important one, as most fans won't spend that much power. Cooling power, on the other hand, will greatly differ from one fan to another. A lot of factors will impact the fan's cooling power. Fan speed, blade size, blade thickness… All of those will contribute to how effective the fan will be when it comes to cooling you.
Now, power consumption shouldn't be an issue, but it's worth noting that tower fans will certainly draw more power than a classic, standing cooling fan.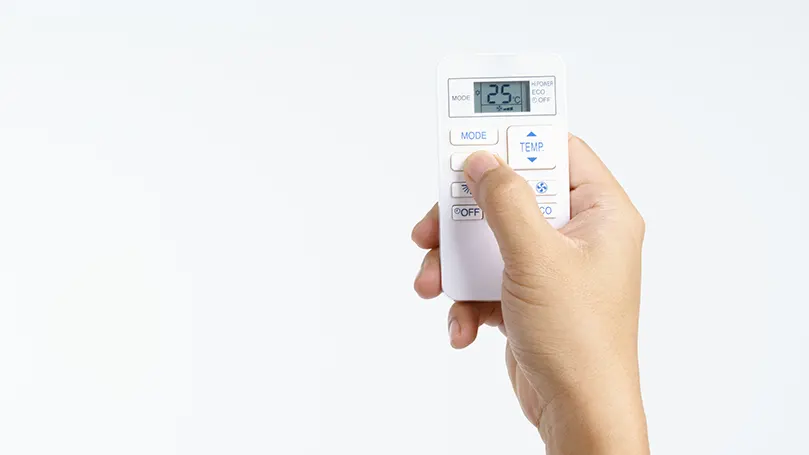 The days of getting up and manually adjusting the fan so that it blows in your direction are pretty much over. Since we can do virtually anything through our smartphone, it would be ludicrous to think that cooling fans won't become smart and remote-controlled.
Naturally, you don't have to get a remote-controlled cooling fan if you don't want to or have the need for it. However, it's good to know you have an opportunity if you ever wanted to. Keep in mind, remote-controlled cooling fans will cost a little bit extra, but that's the price you have to pay for convenience.
Furthermore, remote control over a cooling fan isn't the latest and greatest when it comes to cooling fans. Every day, we're inching closer and closer to the IoT and if we were to look at all the household devices that can be interconnected, we'd see that the IoT isn't that far away.
Some cooling fans come with smart features so that they can be controlled from your smartphone or even integrated with your smart home assistant, which would then make them voice-activated. Also, smart features would allow you to schedule the fan on and off times, amongst many other things.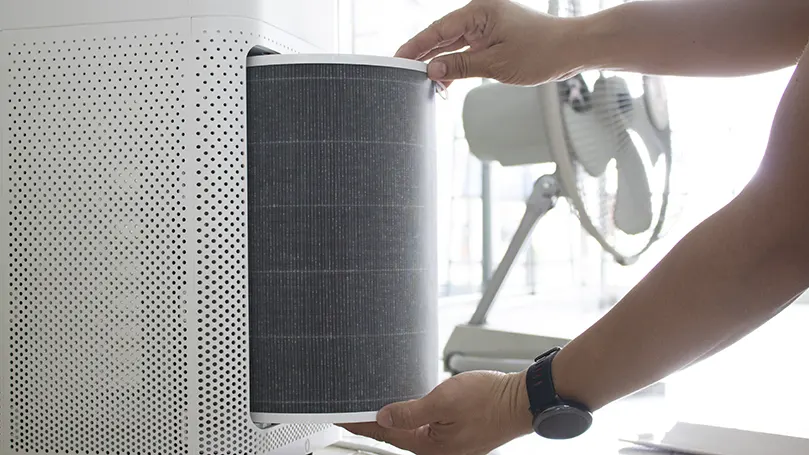 Unless you're looking the classic, old-school fans, the majority of modern fans come with air filters. You see, the traditional fans do a solid job of keeping you cool, but what they also do is blow allergens and dust all over the room, making it quite difficult to breathe if you haven't cleaned recently. Furthermore, someone suffering from allergies can't even think about turning the fan on.
Fortunately, many modern fans come with air filters so that they keep the air fresh and clean, as well as cool. If filter is something that might be important to you – look for a cooling fan with a HEPA filter. That way, you'll be certain 99.97% of airborne allergens are dealt with.
Oscillation is one of the defining features when it comes to traditional cooling fans. This feature is crucial if you're using a fan to cool down a spacious room. Having a fan blow in a single direction for hours won't do much, but if a fan head can oscillate from side to side, perhaps even up and down – you'll get the cover the whole room.
Oscillation is what allows the fans to circulate the cool air all throughout the room, ensuring a cool and pleasant experience regardless of where you are in the room.
To be fair, if you want the fan to just blow in a single, set spot – you can set it up that way too. Most oscillating fans come with an option to lock them into place.
Tips for buying and using the best cooling fan
Before you go out and buy what you feel is the best cooling fan, allow us to give you some tips. We've thought hard about this one and we feel like it might actually help you.
First of all, don't just blindly choose a fan – read a review first. Reading the reviews like ours can be very beneficial, as you'll get to learn both good and bad things about a product before you spend money on it. Furthermore, you can read the customer reviews, as well. That should give you additional insight into whether a product is good or not.
Secondly, don't focus solely on the price. Even though it is often the case that the more expensive product is better, that's not always the case. Even if it was, you could be purchasing a very expensive product just because it's expensive; not knowing it actually exceeds your needs. You'd agree that sounds like a waste of money?
Finally, as tempting as it might feel – don't keep the fan pointed at yourself at all times. You're risking your health by doing so. You could easily end up with a bloody eye, muscle pain or even partial facial paralysis in some cases.
Read the reviews.
Don't judge the product by the price.
Don't keep it pointed at yourself at all times.
Finally, we've reached the most important section of this article – our top 10 picks. Before we go in-depth, we just want to let you know we've done our best to personally test and review each of these products and we've tried to keep the list as versatile as possible so that everyone can find the most suitable product for themselves. We're sure you'll find one too!
BEST OVERALL: TaoTronics 42" Tower Fan
A full package – the best overall cooling fan for your household.
This tower fan from TaoTronics might just be the best fan your money can buy. It has 3 fan modes and 5 fan speeds and a 90-degree oscillation angle to create perfect airflow in any conditions. It is also height adjustable, works as quiet as a mouse on the lowest setting, it's programmable, remote-controlled, has a 12-hour timer, an LED display and on top of all that it is very power efficient. All in all – a great all-around fan at an affordable price.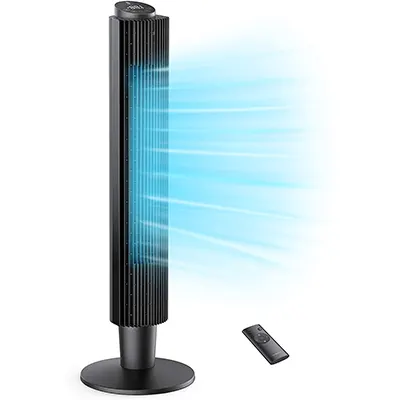 Easy to use
Creates a good airflow
Can cool a large room
Very loud when on max settings
Some people have experienced issues with the base
BEST VALUE: ANSIO 30" Tower Fan
One of the best and most affordable tower fans on the market.
Even at this price point, the price is hardly the selling point of this device. This tower fan does a pretty good job of cooling down even medium to large-sized rooms, with the 3 speed settings. Additionally, this is a remote-controlled device with a 7.5-hour timer, so you can feel free to leave it on, knowing it will shut down on its own.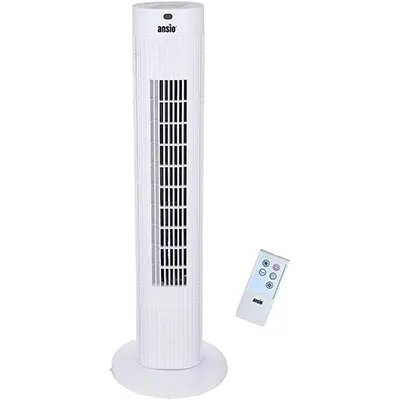 Easy to use and assemble
Creates a good airflow
Can cool a medium-large room
Quite loud when on max settings
Looks cheap
BEST PREMIUM: Dyson AM06 Desk Fan
If you need a premium fan – this might be the right fit for you.
Dyson has always been a household name in the fan industry. Here we have a bladeless, oscillating and tilting fan that you'd put on your desk or and end table and enjoy some cool air. This fan comes equipped with Air Multiplier technology that allows you to precisely aim the air wherever you want. Also, this one comes with a remote controller, so you'll be able to control the airflow, fan speed and all that good stuff.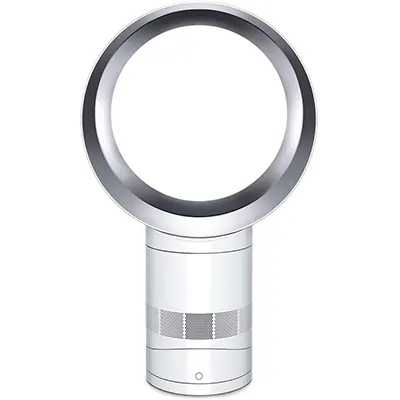 Easy to install
Multiple cooling settings
Very quiet on lower settings
Not ideal for large rooms
Quite expensive compared to some other similar products
BEST TOWER: Dimplex DXMBCF Mont Blanc Cooling Fan
A sleek looking tower cooling fan.
This is a free-standing tower fan from Dimplex that does all of the things you'd want from a tower fan. It cools down the room rather quickly and easily and it does so without making too much noise at the lowest level. It's very lightweight, so moving it from one room to another won't be an issue. It has 3 fan speeds, it can oscillate up to 78 degrees, it has an LED display and it can be remotely controlled quite easily.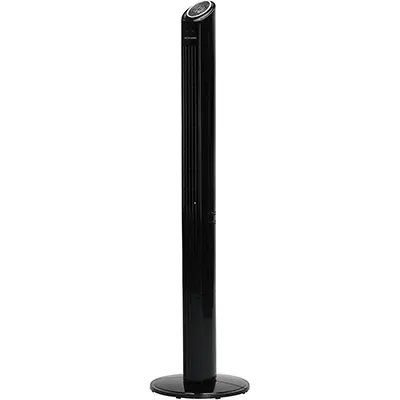 Good design
Creates a good airflow
Can cool a medium-large room
No timer
Loud on max setting
BEST DESK: Igenix DF1210 Portable Desk Fan
A simple desk fan.
Sometimes, all you need is a regular, classic fan to keep you cool and breezy. DF1210 Portable Desk Fan from Igenix is just that – a classic. It's white, so it should match most rooms quite easily, it has 3 fan speeds, but considering you'd keep it at your desk, we'd rarely go beyond the second level. The fan is small and light, therefore, if you need to move it around – you'll do it with ease.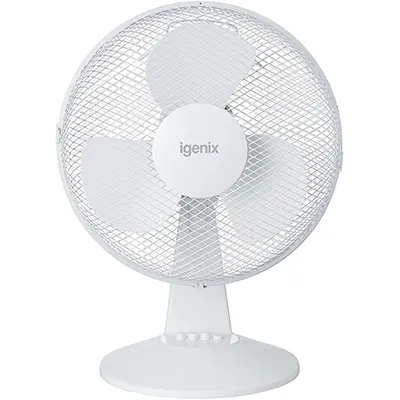 Easy to use
4-way oscillating
Quiet
No timer
Loud on max setting
BEST STANDING: Schallen Floor Standing Fan
A classic, standing fan for those of you that prefer the old school vibe.
Here we have another classic cooling fan. Classics are always a good, safe choice and this is one is as well. This classic piece has 3 speeds and it can oscillate in all four directions, with most of it being from left to right. It is quite easy to knock over, so if you have small kids that run around – keep an eye on them. On the other hand, it's a very quiet fan that you'll certainly be able to sleep beside.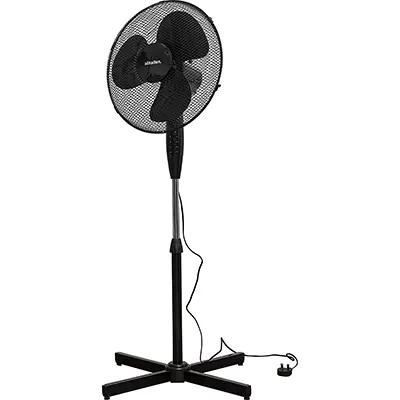 Easy to assemble
Good value for money
Quality fan grill
No additional smart settings
Not the most stable standing fan
BEST CYCLONIC: Honeywell HT900EV1 Turbo Fan
The number 1 selling fan in the UK.
This turbo-fan from Honeywell is pretty much guaranteed to steal the show if in the room with some other fans. It is very affordable, incredibly lightweight and portable and it can handle up to 185 cubic feet per hour. The fan both oscillates left to right and tilts up and down, and of course, it is a good fit for anyone that doesn't like a lot of noises. Once again, the noise increases as the fan speed increases.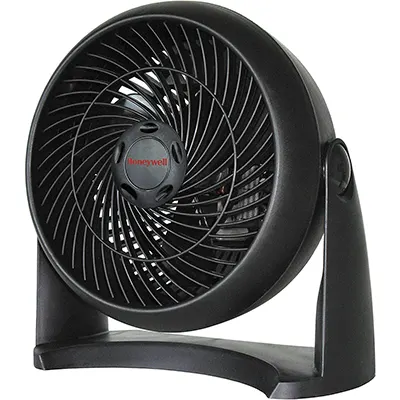 3-year warranty
Very lightweight and powerful
Stainless steel body feels premium
Lack of smart additional features
Some noise concerns at a max level
BEST BLADELESS: EZSMART Bladeless Cooler Fan
A modern, bladeless fan to fit any medium or small rooms.
Bladeless fans haven't been proven to be any good in the past, but this bladeless cooler did a really good job. This fan comes with several smart features, to make up for the lack of performance. The fan is oscillating up to 80 degrees and runs at 8 different speeds. Furthermore, the fan also possesses a timer, which is always good to see and hear.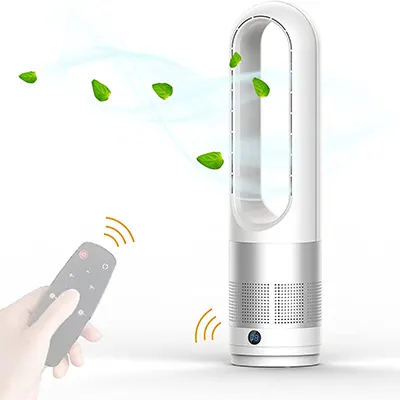 Cool design
Creates a good airflow
Cheaper than some similar products
Not the best remote controller
Some people have experienced issues with the base
BEST SMART: Princess Smart Tower Fan
To make your house even smarter.
This is a quite powerful fan, with loads of additional features. We're looking at a smart cooling fan that can be both controlled via an app on a phone or wirelessly connected to the home assistant like Google Assistant or Amazon Alexa. Also, you could control it via the remote – but why would you? When it comes to speed settings, the third one does get somewhat load.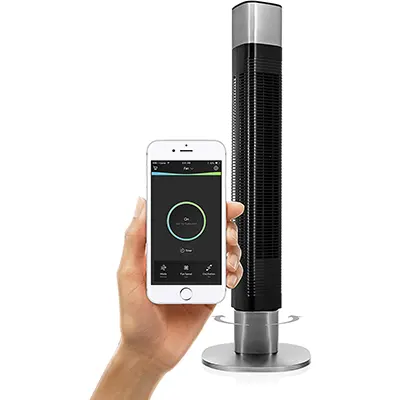 Easy to install
Great integration and a lot of smart features including voice control through a home assistant
Can cool a large room
Quite loud when on max settings
Could be less expensive
BEST PORTABLE: ITHKY HandsFree Personal Fan
A fan around your neck? Why not…
It doesn't get much more portable, does it? This fan goes around your neck and it can keep you cool anywhere from 2 to 6 hours on end. It's powered by a rechargeable 1800 mAh battery and it runs very quietly, allowing you to hear your surroundings loud and clear even while you wear it around your neck. It's mini-USB powered, so don't try and use USB-C on it. Even at this small of a form factor, this fan has 3 speeds and if you don't push it too hard – it should last you a long time.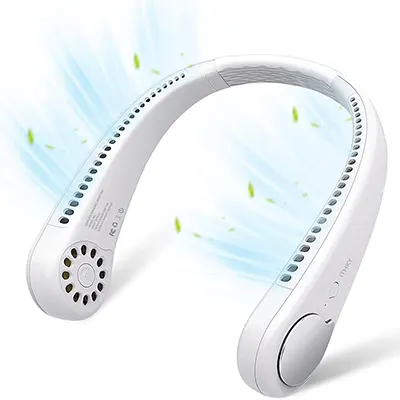 Very lightweight and portable at slightly over 200 gr
Very quiet
Great for working out or jogging
Not the greatest for long travels because of the short battery life
The advantages of owning the best cooling fan
Aside from the obvious benefit of keeping you cool – what do you feel are some additional benefits of cooling fans? Well, if you're stuck – here are a few.
First of all, the cooling fans are far more cost-efficient than the other methods of air conditioning. Granted, they're a lot less efficient and they won't ever chill a room as much as an air conditioning unit will, but on the other hand, it also won't make your electricity bill go through the roof.
Secondly, unlike those expensive, efficient AC units – fans can actually work with the windows open. In fact, they even work better when there's fresh air for them to work with. You won't lose any efficiency if you open up a window while your fan is on.
Finally, if you get a modern cooling fan, the one that comes with a HEPA filter, you've got yourself an air purifier, as well. To be perfectly candid, they won't be as efficient as a regular air purifier, but they'll do a solid job.
They're cost-efficient
They work with open windows
They could double as an air purifier.
FAQs about your new cooling fan
Finally, we wanted to answer a couple of frequently asked questions we thought you might want to be answered. You see, sometimes it's not enough to know the defining features of a product before you buy one – you need more. On that note, we thought answering these three questions should come in handy.
How noisy are cooling fans?
It depends on the model, but most high-quality cooling fans are pleasantly quiet and shouldn't disturb you at all.
How do I maintain my cooling fan?
Don't keep your fan running at all time and make sure to unplug it before you clean it with a damp cloth.
How long will my cooling fan last?
A high-quality cooling fan can last you anywhere from 6 to 10 years.