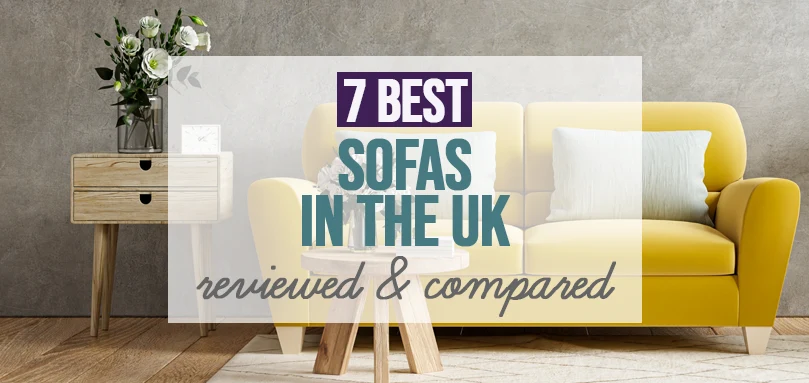 7 Best Sofas UK - Our Top Picks In 2022
To narrow down the choice of sofa, it is best to start by choosing a brand. After that, you can further narrow the choice by choosing the fabric and style you like. So, the sofa occupies a central place in the living room. That is why it is important for it to be comfortable and beautiful at the same time. Only then will you really be able to relax and enjoy. You will understand which is the right sofa for you if you focus on the right things. This mini research requires time and consideration to adapt the sofa to your living space, choose the color you like as well as the material that is of sufficient quality. Therefore, it is necessary to take into account the size, filling and finishing. Sofa should last for years so it must be quality
IMAGE
PRODUCT
DETAILS

Size:

250 (W) x 210 (D) x 58/81 (H) cm

Cover:

100% polyester

Filling:

High density foam with polyester

View Latest Price

Size:

125 (W) x 80 (L) x 85 (H) cm

Cover:

100% polyester

Filling:

Polyethylene

View Latest Price

Size:

195 (L) x 77 (W) x 86 (H) cm

Cover:

Fabric or faux leather

Filling:

Polyester

View Latest Price

Size:

340 (W) x 317 (D) x 80 (H) cm

Cover:

100% velvet

Filling:

30% feather mixed, 70% fibre

View Latest Price

Size:

213 (W) x 95 (D) x 81 (H) cm

Cover:

100% polyester

Filling:

High density foam with polyester

View Latest Price

Size:

208 (W) x 90 (D) x 79 (H) cm

Cover:

100% polyester velvet

Filling:

Polyester fiber

View Latest Price

Size:

225 (W) x 88 (D) x 74 (H) cm

Cover:

Velvet

Filling:

Foam

View Latest Price
What to consider when buying the best sofas UK
It is not enough that you just like the sofa visually or that it is comfortable when you try it, if you have chance to try it in the brick and mortar store. You need to analyze factors like size, dimensions, shape and the like to know if one of the best sofas are the right fit for your room. Of course, material, filling and design are also very important for several reasons.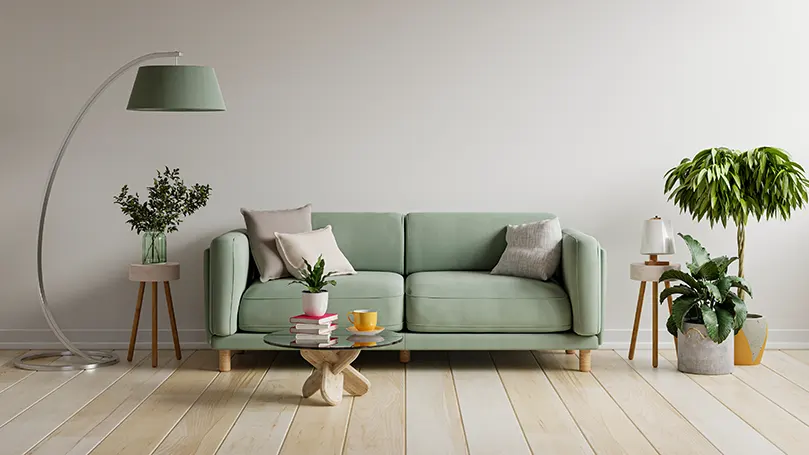 The sofa is probably the most necessary piece of furniture in the home, so it is important to choose it carefully. It should not occupy the entire room, such as the living room. It should also not be too small, because then it is not functional. That is why it is necessary to decide on the appropriate size. You will achieve this by taking into account the needs of you and your living space. Accordingly, you can choose between different sizes.
For example, if you live with your family, you will surely strive for a bigger sofa. On the other hand, people who live alone will fit in a size that is sufficient for the guests and you. Keep in mind that there are a lot of models that visually look smaller and provide more space. This applies to sofas with various additional elements.
In addition to focusing on style, color, price and other things, it is equally important to look at the shape of the best sofas. It is recommended that each piece of furniture be sent to the other. Depending on the style of your living space, decide on the appropriate shape. The good news is that there are a variety of sofa models on the market that meet different requirements. If you have a problem with the shape of the sofa, look at other pieces of furniture. Consider their combination, but do not forget about the comfort of the sofa. Its shape is largely at the level of comfort that the sofa provides you.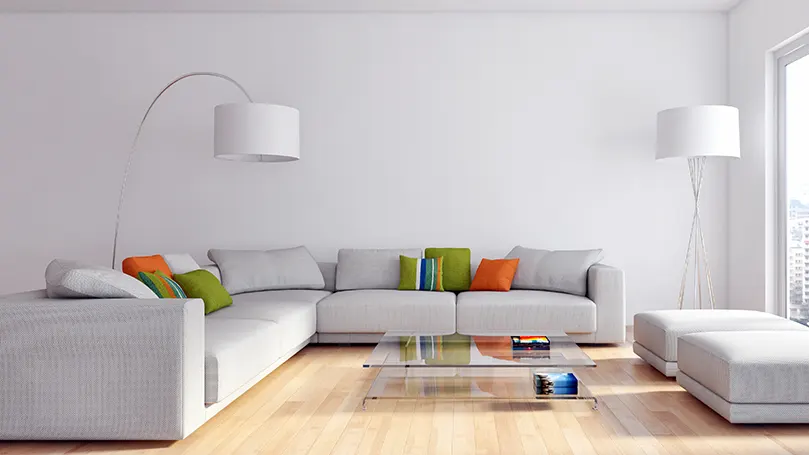 The frame is the most important part of the best sofa when it comes to its quality. It keeps all the parts in one place and provides support to the entire construction. In this way it withstands a lot of pressure and that is why it is necessary to choose a durable material. In that case, hardwood is a great choice, because it will hold its shape best.
On the other hand, you can choose a cheaper option that is not so stable. These are soft wood or metal for sure. However, the construction of the frame can also be important. Additional layers of plywood can significantly strengthen the frame and thus be a good choice. This involves at least 14 layers of plywood.
The interior of the best sofa consists mainly of foam, feathers or fibers. We can say that most of them are actually fulfilling with this combination. This provides a higher level of support and comfort that you need. If we have to decide on one of the most popular materials, then it is definitely foam. It gives shape and volume to the sofa while providing comfort.
It is necessary for the sofa to have good support, because that is the only way it will keep its original shape even after a long time. Of course, you will choose the model depending on the purpose of the sofa. If you plan to spend the night on it, you will surely choose a stiffer filler. In other cases, you can consider simpler options.
Material & overall design
Since the best sofa is the central point of the living room, it is not enough to be comfortable but also beautiful. Keep in mind that this is the first thing people notice after they enter your home. That is why many experts claim that it should represent the style of the entire living space. That is why it is important to choose the material and overall design carefully.
Its influence is so strong that it can determine the tone of your room if you opt for a classic style. This will create a classic and sophisticated atmosphere. With a bolder model, you can create an atmosphere that is much more fun. This is achieved by some unusual shape, a lot of colors, etc.
Tips for buying and using best sofas UK
Sofas are a slightly larger investment and that is why it is important to decide on the right material and style. Try to avoid the famous 'what if' as well as regret… You will be able to avoid that if you focus on quality. That way, you will be satisfied many years later, because you will not have to worry about maintenance. Quality refers to durability, comfort and style. So try the best sofa before you buy it, choose a good frame, focus on fabric and measure up. Don't forget that it's not just a matter of whether it looks good or fits the space you have. It is also important how well it fits your specific requirements.
Measure the living room
Opt for quality material
Determine the function of the sofa and be guided by it during the purchase.
Every home needs at least one sofa, and in the most homes you will find more than one sofa. That is why there are thousands of different models on the market both in the UK and around the world. To help you and shorten the tedious search, we have selected the best models by category.
BEST OVERALL: Noa The Flow Modular Sofa
This endlessly versatile sofa will satisfy even most demanding customers.
If you buy this Noa The Flow Modular Sofa you will get more than just one sofa. This three-piece sofa can be configured in a variety of ways. In addition, it has a very classic design, so it will never be out of fashion and will always be a great part of your living room. You can configure it to be left or right corner sofa or an XL sofa, depending on what you need at a given time.
It has a durable wooden frame and is very comfortable and is filled with high density foam and polyester. It also has removable cushion covers but remember that the covers are not machine washable, but that you can clean them using a mild detergent.
Multifunctional
Durable frame
Comfortable
Removable cushion covers
Classic design.
Three very similar colours available.
BEST VALUE: Nectar Sofa Bed
Buy Nectar Sofa Bed and you will save money because you will get 2 in 1.
In case you are tight on money, want to save money or you are limited by space, this is the right choice for you. For the price of one very affordable sofa, you get 2 seat sofa, but also a bed. Because of the easy folding design, in less than a minute you will turn the sofa into a bed and then return it to its original shape.
The sofa is very light because it has a frame and legs made of light wood, so you can easily move it around. Polyester fabric and polyethylene filling did not disappoint many customers. You get a 2 year warranty which speaks volumes about durability.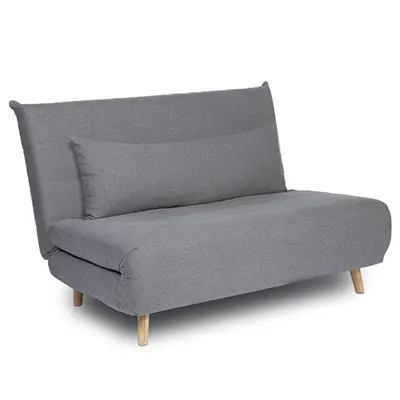 2 in 1
2 year warranty
Affordable
Easy folding design.
Not comfortable as separate sofa and bed.
BEST SOFA IN BOX: Panana 3 Seater Sofa
You will get whole sofa in two boxes so it is very easy to assemble.
If you do not want to spend hours to assemble a sofa and do not want to pay for someone to do it for you, then buy a Panana 3 Seater Sofa which you will get in 2 boxes. According to the manufacturer, it is very easy to put together, it will take you less than 20 minutes for the whole process.
It is a 3-seater sofa, which also has a footstool that can be used separately or to get a corner sofa so you get best of both worlds. It can be both right and left corner sofa. What is also great is that you can choose whether you want faux leather or fabric. It has a solid hardwood frame, so it is very durable.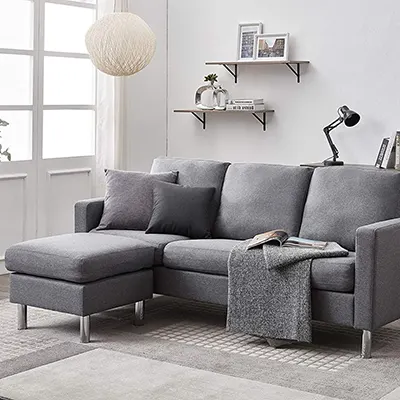 Easy to put together
You can choose between faux leather and fabric
Hardwood frame
You can turn it into corner sofa.
Faux leather is not as luxurious  as advertised.
BEST CORNER SOFA: Samona Right Hand Facing Full Corner Sofa
Samona Right Hand Facing Full Corner Sofa will be centerpiece of your living room.
When we say that Samona Right Hand Facing Full Corner Sofa are going to be the centerpiece of your living room we mean both because it is large and because it is so comfortable that you will not want to get up from it. This corner sofa will be your lounge area.
The exterior is made of velvet, which tells you how luxurious this sofa is, and the filling is 30% feather mixed and 70% fiber which creates the perfect balance of comfort and support. Although the legs are made of plastic, it is very stable and durable. You can choose from 4 colours, and it also exists in several different shapes, if this one doesn't suit you perfectly.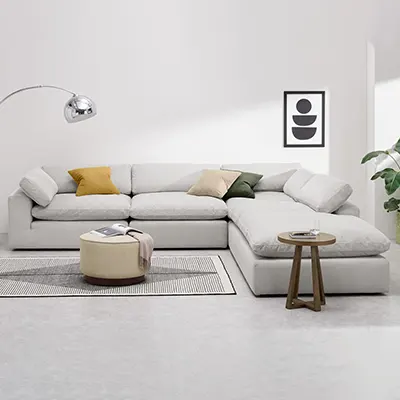 Comfortable
Velvet
Stable
10-years frame guarantee.
More expensive compared to others
Professional cleaning only.
BEST CLASSIC: Noa The Malibu Sofa
Classics never go out of style.
If the whole design of your living room is classic and you do not want to make any changes, and you want a new, great-looking sofa, you will not go wrong if you buy Noah The Malibu Sofa. It is a broad frame and low-slung seat so it will be very comfortable for you and you can't wait to come back from work to rest there. Back cushions are so comfy.
It also has wide armrests for extra comfort. Due to its minimalist design, it is at the same time classic, but also contemporary. The filling is polyester, high density foam, which means that it will retain its original shape and characteristics for a long time.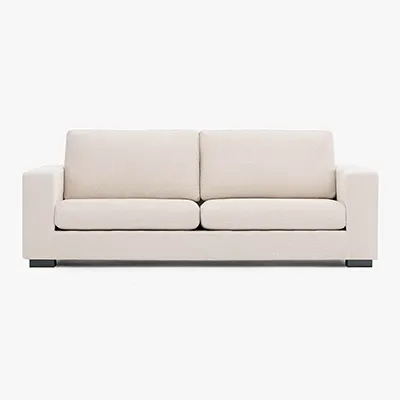 Classic design
Wide armrests
Broad frame
Removable cushion covers.
BEST FOR SMALL SPACE: Noa The Monaco Sofa
When you are limited by space, choosing the right sofa can be very difficult.
When you live in a small space, you can't do much to make it bigger, but you have to adjust everything to space you have at your disposal. That is why you need a small space friendly sofa such as Noa The Monaco Sofa.
It has gracefully clean lines and very modern metal legs. Metal legs also contribute to stability and longevity. The same goes for sturdy wooden frame. Velvet is used for upholstery, so this sofa is not only small space friendly but also very comfortable and luxurious.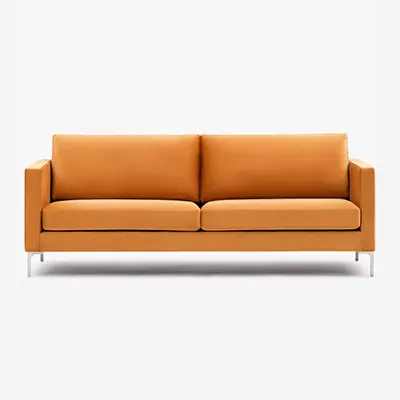 Velvet upholstery
Small space friendly
Comfortable
Removable cushion covers.
Some customers don't like how metal legs look like.
BEST CHESTERFIELD SOFA: Amazing Sofas
It can be very challenging to find perfect Chesterfield style sofa.
Classic Chesterfield style is very characteristic and those are large sofas with armrests that are the same height as the back. They are most often made of leather and range of fabrics. This traditionally styled sofa will contribute to the look of your living room, and will give you the perfect place to relax.
Velvet is used as the primary material, and the frame is very stable. You can choose from many different colours as well as sizes. If you want luxury, go with Amazing Sofas-CHESTERFIELD style sofa.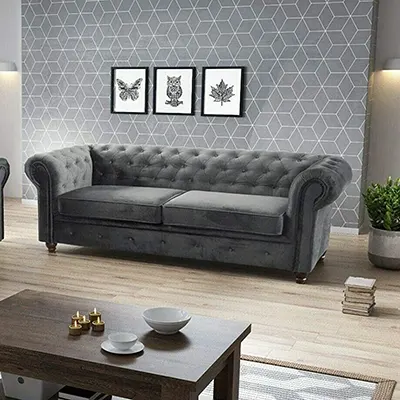 Chesterfield style
Comfortable
Velvet
Stable frame
Many colours and sizes.
Design won't fit in every living room.
The advantages of owning some of the best sofas in UK
The sofa is a place where we want to sit when we are resting after a hard day or when a friend comes to visit us. Since it is something we will use daily, the big advantage of owning the best sofas UK is in the comfort. Whether it is a 2-seater sofa, 3-seater sofa or 4-seater, comfort is paramount. In addition, quality is very important. Pay attention to the use of the highest quality fabrics, fillings, as well as the quality of the frame and legs.
You can find wooden legs, metal ones and so on. The filling has the biggest impact on comfort, and there are variety of fillings available, different types of polyester, as well as various combinations like feather wrapped foam.From the price itself, it is important to pay attention to the value for the money. Best sofas are also very compact, so they will fit well in smaller spaces. And many models are made so that you can create a corner sofa from them as needed.
You will have sofa made of topnotch fabrics, fillings and other materials.
Price to quality ratio is fantastic.
Possibility of changing shape of sofa.
FAQs about your best sofas UK
What is right for a person's home and lifestyle may not be right for yours. Remember that this is a big decision that includes several important factors such as material, frame, shape and everything else. However, the most important are your specific requirements that you should always keep in mind. That way you will know the purpose of the sofa and be guided by it. Read a few frequently asked questions to help you understand the basics of choosing a new sofa.
Is the sofa frame an important part of every sofa?
Yes, the frame holds all the parts together and giving stability.
What is the best filling for a sofa?
The feather is the softest filling sofa and a popular choice.
Should I go for a sofa with a mesh or springs?
Springs are a better choice if you want the sofa to keep its shape for a long time.
What is the best type of fabric for a sofa?
Cotton and linen are considered to be best types of fabric for a sofa.