Best Bath Pillow - Enjoy A Spa-Like Experience At Home
Want to turn your bath into a spa-like experience? A bath pillow might help you.
Aren't you tired of resting your weary head on a cold tub while taking a bath? We know we are. That is why we set out to find the best bath pillow to rest our heads on.
A rolled-up towel might do a trick, but washing a towel every time you want to unwind is not the solution. And even if you didn't care about washing it, a rolled-up towel is just not comfortable enough. It gets wet, it slides down, and you can't really move around once you put it under your neck.
With the best bath pillows, on the other hand, you can do all of that – and more.
But, don't take us at our word. Allow us to really show you how great a deal a supportive bath pillow is.
Add a header to begin generating the table of contents
What is a bath pillow and why do we need it?
A bath pillow is just what it sounds like. It is a pillow that you use when you're taking a bath. It is one of those things you don't know you need until you get your hands on it. Or better yet, until you rest your head and neck on it.
A bath pillow will stick to your tub using suction cups, so it won't budge or move around if you decide to move around a little bit and make yourself more comfortable.
As for why do you need it, well, it's all about comfort. If you just wanted to clean yourself off, you would've hopped in a shower before bedtime, wouldn't you? A bath is about relaxing and unwinding, and you can't really do that if you're resting your head on a cold and hard tub, can you?
So, that's why you need it.
Our top bath pillows in 2022
Now, for the moment you've patiently been waiting for – the best bathtub pillows in the UK.
We've handpicked these after researching the market and trying out more than a handful of them, so we feel like it's safe to say that you will probably enjoy any of them.
IMAGE
PRODUCT
DETAILS

KEY FEATURES:

Type:

Neck & head support

Material:

Soft mesh foam

Size:

40 x 30 x 15 cm

Suction cups:

Yes

Machine washable:

Yes

View Latest Price

KEY FEATURES:

Type:

Back, shoulders, neck and head support

Material:

4D Air mesh

Size:

40 x 40 x 11 cm

Suction cups:

Yes

Machine washable:

No

View Latest Price

KEY FEATURES:

Type:

Back, shoulders, neck & head support

Material:

4D Air mesh

Size:

45 x 42 x 10 cm

Suction cups:

Yes

Machine washable:

Yes

View Latest Price

KEY FEATURES:

Type:

Back, shoulders, neck & head support

Material:

3D Air mesh

Size:

42 x 33 x 12 cm

Suction cups:

Yes

Machine washable:

Yes

View Latest Price

BEST FOR EASY MAINTENANCE

BEST FOR EASY MAINTENANCE

KEY FEATURES:

Type:

Back, neck & head support

Material:

PVC

Size:

38 x 32 x 6 cm

Suction cups:

Yes

Machine washable:

No

View Latest Price
1. BEST OVERALL: Everlasting Comfort Bath Pillow
It's not by accident that this one's the bestselling bath pillow on Amazon…
Quickly and easily attachable to a tub with non-slip suction cups, this super comfy bath pillow will have you take longer baths, we're sure of it.
With a separate headrest and a generously thick layer of soft mesh foam padding underneath the back, we can see how anyone would find this one uncomfortable.
It's wide enough for both men and women, you could use it with pretty much any tub whatsoever, and if you, for any reason whatsoever, feel the need to keep a bottle of shampoo in your bath pillow pocket – you can.
Yes, this pillow comes with a side pocket although its purpose flies right over our heads.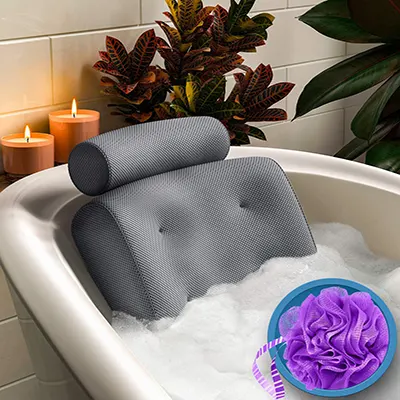 2. BEST VALUE: Essort Bath Pillow
Ess(c)ort the stress out the door…
Essort bath pillow is a well-designed, ergonomically shaped 4d air mesh pillow built to last. With sufficient padding to make virtually any tub comfortable, we can see both men and women using this one.
Available in both grey and white, you can have your wait way with this one, matching your bathroom's style and feel almost perfectly.
With 5 extra-large suction cups on the back, we're sure this one would stay in place for months on end if you didn't pull it away.
All in all – a solid pillow and a good deal.
3. BEST LUXURY: Amaze Fan Luxury Bath Pillow
Lie back, relax, and enjoy your long bath…
Built from the latest 4D air mesh technology, this pillow stays in perfect shape after a long relaxing soak and dries out quicker than any other pillow on the market.
With a perfectly positioned drying hook, you won't ever have to wonder how to dry this one out, and with even more perfectly positioned butterfly-like shoulder pads – you will forget you're laying in a bathtub.
Due to the ergonomic shape and design of this bath pillow, we think this one should come with a warning. CAUTION! You might relax yourself to sleep in a tub full of hot water and rejuvenating bath salts.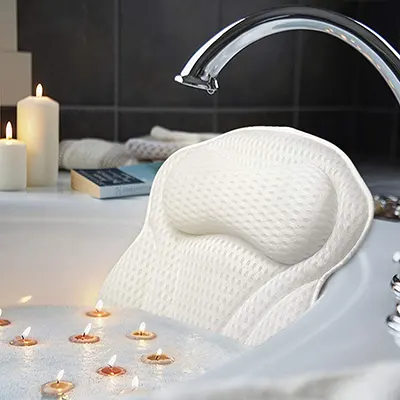 4. BEST ERGONOMIC: Spirit Ergonomic Bath Pillow
Designed to hit all the right spots…
Achieving Zen while taking a bath has never been easier. The Spirit Ergonomic bath pillow will have your spirit leave the body and go out on a journey while you just lie there in peaceful bliss.
Made with 3D air mesh technology that allows for excellent breathability and permeability, this pillow not only stays clean and mould-free after it has been properly air-dried – but you could also wash it in a machine.
But, the best thing about this one is its ergonomic shape and super comfy, generously thick headrest that will gently hug your neck and comfortably support your head.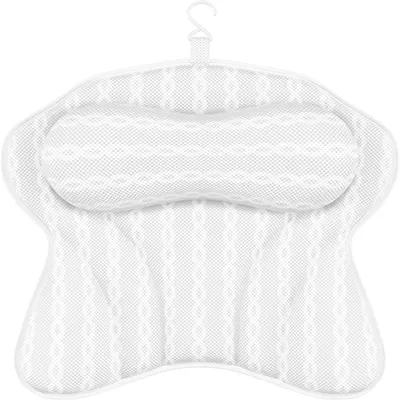 5. BEST FOR EASY MAINTENANCE: TranquilBeauty Bath Pillow
Wipe clean and leave out to dry – that's all you need to do!
This one's PVC so not only does it dry quickly, but it is also super easy to keep clean.
Sure, you can't toss it in a washer, but then again – it's PVC. You just have to wipe it clean. In fact, this one's so easy to keep clean you might even be tempted to just rinse it after a bath – but don't do it! Don't be lazy!
Its lightweight and super-simple design actually make this bath pillow a perfect companion for literally every single bathtub there is. With two separate pillows, this one can fold over your tub or stick to the back or side – whichever way you like it.
And, with seven non-slip suction cups, wherever you place it – it won't move an inch!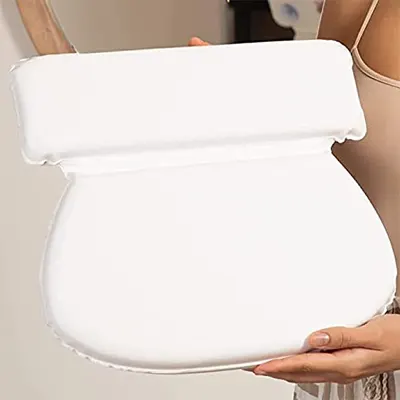 What to consider when choosing the best bath pillow?
Even though we've given you a list of five excellent pillows to choose from, there are a few things you need to keep in mind before you decide on any of them.
The shape and size of your tub will influence which kind of pillow you should use. As you know, some bathtubs have sloped back and some have straight. As you can imagine, not every pillow will comfortably fit both of these.
For example, if you have a regular bathtub with a sloped back, you are probably okay with most of the pillows on the market. However, if you have a tub with a sharp, flat back – you probably won't be comfortable using many of them.
As you've seen, these things come in all kinds of shapes and sizes, so keep your tub in mind.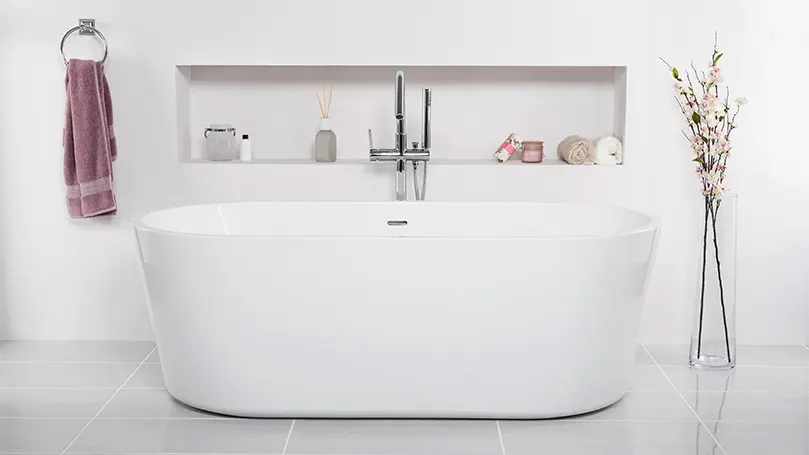 More often than not, a bathtub pillow is made from foam-like mesh material, but you could find pillows made from smooth vinyl or PVC. Both of these are solid, although we prefer mesh foam for a comfier experience.
If you prefer to take the pillow with you on your travels, we'd probably go for a PVC inflatable bath pillow, as it is much easier to keep clean and carry around. However, there's one thing to keep in mind with these, and that is you will probably have to reinflate the inflatable pillow after each use, even if you use it at home.
This is purely subjective for more than one reason. A relaxing soak is not the same for everyone. So, you'll have to find a pillow that fits your idea of a comfortable bath. Whether your idea means neck support, a pillow underneath your knees, or a cushion to sit on – that's entirely up to you.
There are numerous different types of these pillows, and it's only up to you to choose the one perfect for your bath time, just like you would choose a regular pillow for sleepy time.
As we've already mentioned, some of these pillows will attach to your bathtub using suction cups. However, not every bathtub pillow will do the same.
Some of these will fold over your bathtub, while others will rest between your back and the back of a tub. Those ones are quite a bit comfortable, as they offer support for more than just your neck and head, but they're also not secure in place.
Tips for buying and using bath pillows
Before we share our top five picks with you, we wanted to give you a few tips on how you can choose and use the best bath pillows.
Don't overspend
Gently remove them after use
Keep them clean
There is no need for you to break the bank on bathtub pillows. Even a luxury bath pillow isn't something you'll have to spend ungodly amounts of money on. As you're about to see, even the best ones are very affordable so that everyone can enjoy them.
Your bath pillow will be held in place with suction cups, and the best way to make sure you get your money's worth out of it is to gently remove them after you take a bath. Don't just rip the pillow off. If you do, you're risking tearing the pillow up or ripping the suction cups off.
Finally, you have to keep these pillows clean. While it is true that you will probably get your hands on a waterproof bath pillow, you still have to wash it and dry it after use. Don't just toss them in a drawer after you're done. If you do, you'll end up with a mouldy pillow sooner rather than later. Or, if you do leave them out to air dry – keep them out in the open.
The advantages of owning the best bath pillow
Finally, let's take a look at some of the advantages you'd get from a bath pillow.
More relaxing bath
You can take them with you
They're easy to wash
First and foremost, a bath pillow will make your hot soak more relaxing. You could throw in as many bath bombs as you'd like, but if your neck is hurting – the bath's not relaxing.
Another great thing about these is that you can easily find inflatable pillows that you can just chuck into your suitcase or a backpack and take with you. We all know that a bath feels much better in a hotel room, so why not make it even better with a bath pillow?
Finally, these things are so easy to keep clean. They're cleverly designed to let the water through and air dry rather quickly, but some of them can also be machine-washed. So, when the time is right (one every one to two weeks), just throw it in a washer before your next bath.
Get yourself a bath pillow and enjoy a home spa
We've said it once and we'll say it again – a bath pillow is a thing you don't know you need until you actually get it.
The first time you rest your head on one of these you'll never go back. It's that comfortable.
It is not by accident that whenever you go to the spa they give you either a pillow or a rolled-up towel to rest your head on.
So, why wouldn't you want to recreate that for a fraction of the price?
FAQs about your bath pillow
In the end, we wanted to wrap things up by answering some FAQs about bath pillows.
How do I keep my bath pillow clean?
You can either wash your bath pillow in a washing machine, or just handwash and thoroughly rinse it after every use, and leave it out to air dry.
Where should I place my bath pillow?
Don't leave your pillow in a tub, on the floor, or even worse in a drawer. You will want to make sure your bath pillow rests in a well-ventilated area where it can properly air dry and not get mouldy.
Can I get my bath pillow wet?
Yes. Some of them actually get wet as they're designed to do so. However, some of them will be waterproof, and it's mostly inflatable or PVC ones that are such.
How often should I change my bath pillow?
You may keep your bath pillow for a few years if you take proper care of it. Just remember to wash it once every one to two weeks, depending on how often you use it.
What is the best material for a bath pillow?
It all depends. We're big fans of foam and mesh bath pillows, but some prefer inflatable PVC ones because they're so easy to carry around when travelling. It's all up to you.