Best Mattress Pads in 2022 - Our 7 Picks Reviewed
Mattress pads aren't really an essential part of your bed, but if you want to "zhuzh" up your bed, make it feel more comfier and prolong its use, then you should consider it. Most mattress pads are usually made from memory foam, but there is an abundance of pads made from other kinds of materials. You can also try pads with synthetic padding, or wool, or even cotton. However, what you need to know beforehand is what you're actually adding to your existing mattress. Here's a guide on how to choose the best mattress pad and some of the best mattress pads you can find and buy easily online.
IMAGE
PRODUCT
DETAILS

KEY FEATURES:

- Very comfortable

- Hypoallergenic

- Machine washable

View Latest Price

KEY FEATURES:

- Three-layer design

- Hypoallergenic

- Easy to clean

View Latest Price

KEY FEATURES:

- Organic cotton

- No harmful chemicals

- Hypoallergenic

View Latest Price

BEST FOR ALLERGY SUFFERERS

BEST FOR ALLERGY SUFFERERS

KEY FEATURES:

- Skin-friendly

- Hypoallergenic

- Machine washable

View Latest Price

KEY FEATURES:

- Bed bug protection

- Machine washable

- Water resistant

View Latest Price

KEY FEATURES:

- Natural materials

- Hypoallergenic

- Breathability

View Latest Price

KEY FEATURES:

- It cools very well

- Absorbs sweat

- Machine washable

View Latest Price
Difference between a pad and a topper
The main and most significant difference between a mattress pad and a mattress topper is the thickness and price. Because mattress toppers are thicker than pads, they are naturally more expensive. Now, depending on what you need, you can choose either or both. For an extra layer of support and breathability, we recommend mattress toppers. However, if you want an affordable option that can help you make your mattress a little bit softer, fluffier and comfier, then we definitely support your decision in getting a mattress pad.
What to consider when buying the best mattress pad
It is not enough to just set aside money to buy a mattress pad and go to the store or open the page of an online shop. There are several features to consider when buying a mattress pad. You need to consider those features for two reasons. The first reason is to be able to choose a quality product, and the second is to find a mattress pad that suits you. But don't worry, we will help you and point out what you need to pay attention to.
You will find several different types on the market. The basic things that will make them different are the purpose for which they are intended, the material they are made of and the prices. They will also differ in how they are cleaned, how they are attached to the bed and so on.
 What most people pay attention to first are the materials. Polyester, cotton and wool types, as well as memory foam are the most common ones. When we talk about the purpose, it is mostly comfort, then cooling as well as help with allergies and pests. When it comes to prices, you can find a range of options – from affordable models to those that cost an arm and a leg.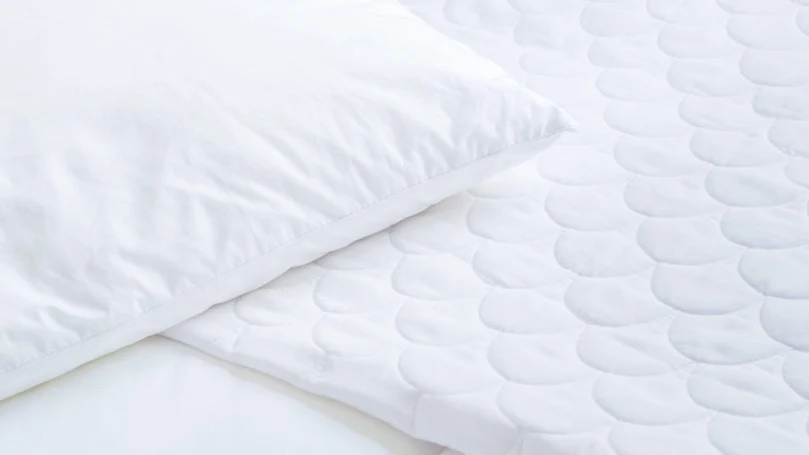 Polyester, cotton, wool, latex and memory foam are the most common materials. You can also find down pads in stores.
 Those made of cotton are thin and comfortable because cotton is such a material. They are intended primarily to protect the mattress from everyday use, but because they are so thin, they will not support your body that much.
 Wool pads are among the most expensive and are especially useful for the winter months because they will keep you warm. They are also very comfortable and you will always be dry because the wool absorbs moisture. Those made of polyester and latex, although they are different materials, have similar characteristics, primarily because they are hypoallergenic and very long lasting. As for memory foam, it is a material that you often encounter today because it is very comfortable. It is shaped towards your body. Similar to wool, memory foam is better for the colder periods of the year. Down feathers pads are best for regulating body temperature, but they are not good for those who have allergies.
A lot of people make the mistake when buying mattress pads and pay attention only to size but not to depth. There are all sizes available, so you will find a suitable one no matter how big your bed is.
But you also have to pay attention to the depth, as the thickness varies greatly. They are usually divided into standard, deep and extra deep. The standard is between 7 and 15 inches, deep are about 15 inches while the extra deep are over 15 inches deep, even up to 25 inches.
 Depth of the mattress pad should be determined by the depth of the mattress itself, not just by your affinities to sleep on a hard or soft surface.
We all know how uncomfortable it is when we are too hot in bed. It can even lead to insomnia. So, if your house is very warm due to external conditions or you just like the heating to be turned to maximum, you should pay attention to cooling properties when buying a pad.
The cooling effect is achieved in different ways, mainly by paying attention to the breathability of the materials used in production. Another way is to use phase change materials that have a positive effect on the regulation of body temperature. If you notice that you are too hot even though you have a cooling mattress pad, then the problem may be in the mattress itself or the bedding is made of a material that raises the body temperature.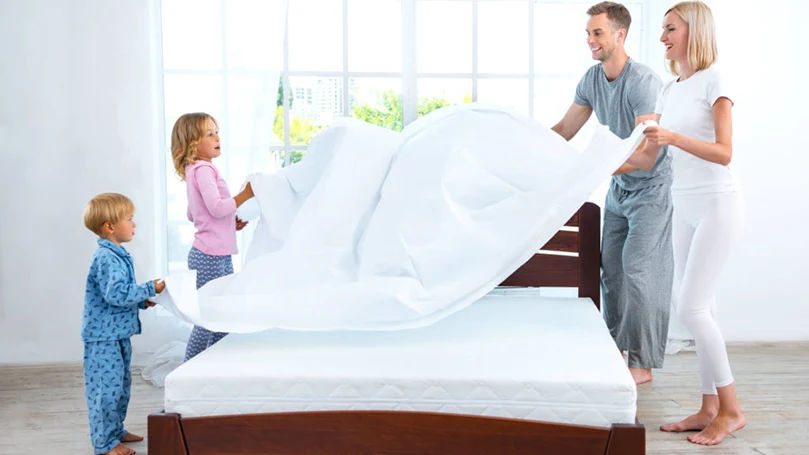 Different thickness usually means different purposes of the mattress pad. As we have already said, the thickness is also affected by the materials, so cotton pads are the thinnest, while, for example, ones made of memory foam are usually much thicker.
If you want to make your bed higher and practically completely change the feeling you have during sleep, go for thicker pads because they will allow you to do just that. On the other hand, if your goal is waterproofing, allergy prevention and similar purposes, then thinner ones are the right choice.
Because the vast majority of jobs nowadays are computer-related, people sit a lot and move way too little, which affects the constant feeling of pressure in the joints and muscles. That's why people want a mattress pad to help them deal with that feeling when they go to bed.
The thicker the pad, the more you will feel the pressure relief in the spine, hips, neck, shoulders and all other parts of the body where the pressure is particularly pronounced. If you buy thin ones, then you will not feel any difference when it comes to pressure relief. However, not only the pad is important, but also the mattress, because the combination of the two has the greatest effect on the pressure relief.
Recommended reading: Top rated mattress in UK for back pain
Ease of cleaning is definitely one of the factors you need to consider when buying. It is something you will sleep on, which means that you will sweat there and that you will have to clean it regularly. Especially if you are someone who likes to eat in bed, then cleaning needs to be even more frequent. So, you don't want that to be a tedious task.
You should choose those pads that can be machine-washed and -dried because it will save you a lot of time. And you will also be sure that pad is completely clean. Always check what the manufacturer has said about proper cleaning of the product and follow these instructions to avoid damaging your pad.
Tips for buying and using best mattress pad
We want to share with you a few more tips for buying and using mattress pads. Although the price is affected by the quality of the product, the brand is also a huge factor when it comes to price. Since you can find pads for just a few tens of pounds, and also for a few hundred pounds, pay attention to other features before you think about the price. Don't just go and buy the most expensive one, that is not a guarantee that you will get the superb comfort and experience. 
Waterproofness is another feature that some people look for. If you often eat and drink in bed, then buying a waterproof drop is a very smart investment that will protect your mattress. And also consider whether you have allergy problems.
The price is very often dictated by the brand and whether the manufacturer is popular, so be sure to analyze all the features and not the price itself.
If you are one of those who adore eating and drinking in bed, buy pad which is waterproof.
Hypoallergenic materials are must for all people who are suffering from allergies.
We approached the selection of our top picks very seriously. We conducted thorough research and we have analyzed all the factors that we have told you are very important when buying a mattress pad. Also, our experience has shown that these are products made by respectable manufacturers whose pads are bought by a large number of people.
BEST OVERALL: Utopia Bedding Quilted Fitted Mattress Pad
When all the essential characteristics are analyzed, Utopia Bedding wins.
Utopia Bedding is made of microfiber and provides comfort to everyone who sleeps on it. All the materials used in making this pad are hypoallergenic, so Utopia Bedding is exceptionally suitable to people who suffer from allergies.
The material is also breathable and absorbs moisture so you will be comfortable during sleep and you will not be sweating. Also, one of the main characteristics of Utopia Bedding is that it is very durable and therefore more than cost-effective.
It is designed for machine washing and drying, it is only important that you do not use high temperatures. It is available in as many as 6 different sizes, so you will surely find what suits the dimensions of your mattress.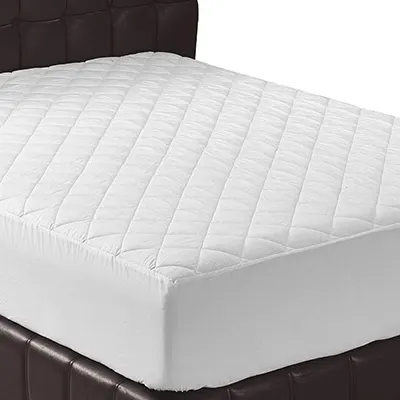 Very comfortable
Budget-friendly
Hypoallergenic
6 different sizes
Machine washable
BEST VALUE: Bedsure Mattress Pad
If you want to spend a little money and get a great mattress pad, go for Bedsure Mattress Pad
With a special three-layer design, for very little money it will give you a fairytale-like sleep. Made of microfiber, it has an extra layer that further affects comfort.
It is hypoallergenic and also antibacterial so you can be absolutely sure nothing can happen to your health when you go to bed. Bedsure Mattress Pad has a deep pocket design so you will install it very easily even on thick mattresses over 15 inches. It is available in 6 different sizes.
And it's also very easy to clean, which is supported by the rating of 4.7 / 5 when we look at customer ratings by feature.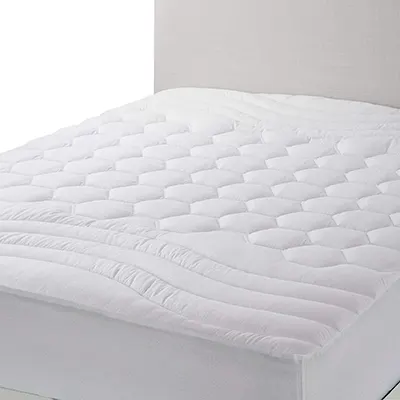 Three-layer design

Hypoallergenic

Cheap

Easy to clean
BEST WATERPROOF: Naturepedic Organic Waterproof
Naturepedic Organic Waterproof pad is ideal for all those who want to protect their mattress from liquids.
If you often drink water in bed, then you want a waterproof pad and you have just found the right one for you. Made of organic cotton, but also has a special polyester barrier that makes it waterproof. In addition to protecting your mattress from liquids, the water barrier stops dust mites and allergens.
The use of organic cotton is another great advantage of this model. No harmful chemicals were used during the entire production process.
Pocket is deep between 9 to 16 inches, and there are 5 different sizes. Another feature is that it does not change the feel of your mattress, which can be both an advantage and a disadvantage, it all depends on what you need.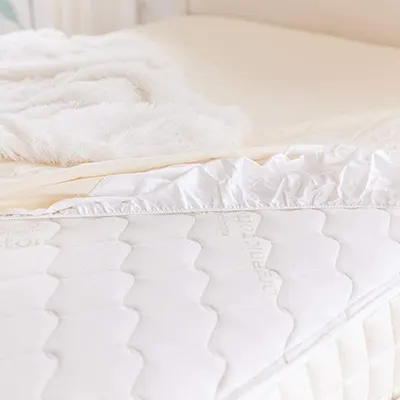 Water resistant

Organic cotton

No harmful chemicals

Hypoallergenic
BEST FOR ALLERGY SUFFERERS: SOPAT Double Mattress Pad
Get rid of allergies by using the SOPAT Double Mattress Pad
Everyone who suffers from allergies knows how serious this problem is, especially during spring months. This often prevents people from leaving the house, and even in the house many allergens, especially those from the mattress can cause problems.
That is why it is important to have a special mattress pad that will solve these problems. The SOPAT Double Mattress Pad is the right choice. Made from hypoallergenic, breathable as well as skin-friendly materials, it certainly won't irritate your allergy. It is machine washable, so you can wash it often if you like to do so. It is best to leave it to dry naturally, but you can also use a tumble dryer.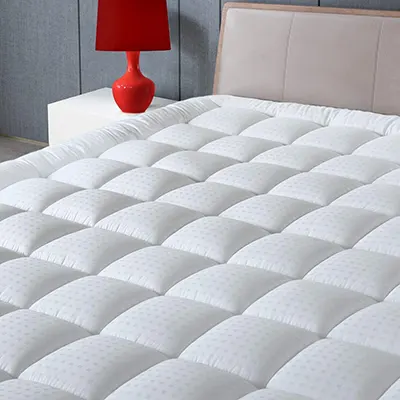 Hypoallergenic

Machine washable

Soft

Skin-friendly

7 available sizes
Not so good for pain relief in joints and muscles
BEST FOR PEST PROTECTION: Hospitology Sleep Defense System
If you are worried about pests, there is a solution to your problem.
No matter how well we maintain our house, pests can always appear. Bed bugs are the most common type of pests you can find in your mattress. And you will find it very difficult to locate them, because you will know that they are only there when you wake up due to itching and redness on the skin.
Hospitology Sleep Defense System Mattress is made exactly to be 100% sure bed bug protection. Made for all mattresses between 12 and 18 inches, it will completely close them on all sides and prevent bed bugs from reaching you. It is also waterproof and even relieves asthma symptoms. How does he achieve this? By blocking allergens from the mattress as well.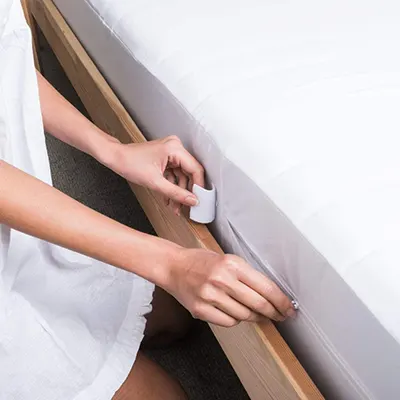 Bed bug protection

Water resistant

Machine washable

5-year limited warranty
BEST BAMBOO: Zen Bamboo Mattress Pad
There are more and more mattress pads on the market made of bamboo, but Zen Bamboo Mattress Pad stands out for its characteristics.
Bamboo is a very good material, and by using bamboo products you are also thinking about the environment.
This mattress pad will give you comfort and perfect sleep. It is breathable, even 4 times more than those made of cotton, which gives it hypoallergenic properties and is very pleasant for all those who sweat a lot.
The surface is made of bamboo, which can bring you many health benefits, and chemicals are not used in the production of this one. Also, it's made so that no matter how many times you wash it, it won't tear. It is only important that you do not use bleach.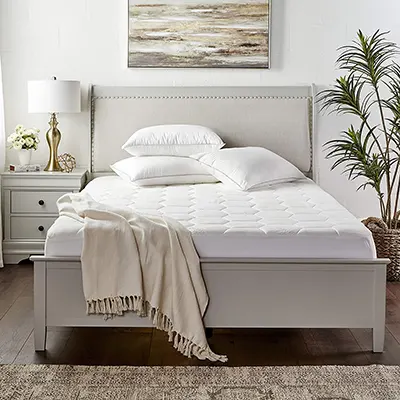 Comfort

Breathability

Natural materials

Durable

Hypoallergenic
BEST COOLING: HARNY Cooling Mattress Pad
Give yourself a comfortable sleep even during hot summer nights.
The previous generation of this mattress pad was made of breathable cotton that diffuses heat and although this proved to be a great solution, the manufacturer decided to further enhance it.
It is now made of new materials that cool almost 50% more than was the case with the previous generation of these pads. Also, it absorbs sweat very well and you will always feel refreshed.
It has a very deep pocket, so it fits all mattresses between 8 and 21 inches thick. It is very skin-friendly and will not irritate any skin type.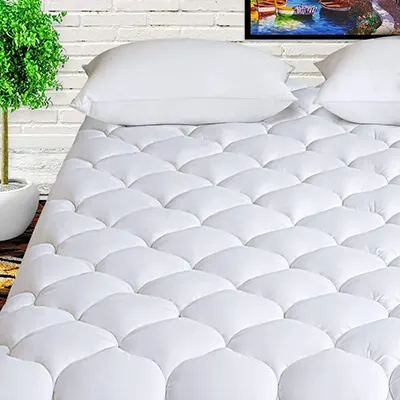 It cools very well

Absorbs sweat

Machine washable
It doesn't make the mattress more comfortable
The advantages of owning the best mattress pad
At first glance, you may think you don't need a mattress pad. Think again, though. There are so many different benefits to having a mattress pad that it is something that practically everyone needs.
Whether you have bed bug problems or sweat when you sleep, you can find a mattress pad that fits your needs. Or for example you have a small child who is often in your bed. Then it is ideal to have a waterproof pad, to protect the mattress.
It also happens that the mattress becomes uncomfortable after a certain time. Why spend money on buying a new mattress, when there is a much cheaper alternative to buying a mattress pad. You will feel like you are having a brand-new mattress, while you will spend 3 to 5 times less money.
Your mattress will last longer.
You will sleep more comfortably.
Bad bugs won't bother you anymore.
In short, a mattress pad is a thinner and more affordable version of a mattress topper. It can protect your mattress for a long time, add a little bit of a new feel to it, but not change it drastically. In case you bought a new mattress and want to protect your warranty, we definitely recommend you buy a mattress pad also. They are very cheap, easy to come by and have very simple maintenance. Getting rid of problems such as a mattress being too soft or firm is not a mattress pad's expertise. In that case, a mattress topper is a better investment if you can't afford a new mattress.
If we still haven't answered some of your questions regarding mattress pads, we will try to do so now, in the section for Frequently Asked Question. We hope that, after reading the FAQs section, you will be fully informed and that you will be able to buy one quickly and easily.
How do I attach a mattress pad to my mattress?
For most mattress pads you will use a rubber band to attach it to the mattress.
How often do I need to clean my mattress pad?
Factors such as whether you eat in bed, whether you sweat a lot and whether you let your dog into bed have a significant impact, as well as the material the pad is made of, but on average it should be cleaned once every 2 months.
Should I buy a mattress protector once I buy a mattress pad?
Since it is cheap and very useful, we recommend that you buy it. Please check our list with the best protectors.