5 Best Chair Beds For Sudden Overnight Guests
Chair beds – simple, space-saving, problem-solving, guest-sleeping solutions everyone could benefit from!
Aren't you just tired of having to force your guests to stay in a hotel? Wouldn't it be nicer if your folks could spend the night when they pop around from out of town? It would, wouldn't it? 
Well, luckily for you, getting your hands on the best chair beds is the only solution you'll need.
Chair beds are a wonderful addition to your living room. They're nice and cosy, and more importantly, a lot more compact than sofa beds. 
While it is true that a single sofa bed could offer more space for your guests during the night – it would also take up more space during the day. And, considering you're the one that has to live there, you kind of have to go for a chair bed.
Now, the issue we're running into now is – how do you select the right chair bed/guest bed? Well, you put your faith in us, and you allow us to present you with some options, alongside a few helpful pieces of information. 
Now, for the main event – top 5 best chair beds on the market.
We put in quite a few hours into researching these products, and let us tell you – it was no picnic. There are so many good chair beds from various reputable brands on the UK market, but that number can't possibly compare to the number of mediocre chair beds we've come across.
However, these five met our criteria. They were all from reputable brands. They were all comfy, affordable, good-looking, and most importantly – ready to become a bed in mere seconds.
Let's check them out!
IMAGE
PRODUCT
DETAILS

KEY FEATURES:

Type:

Foldable

Material:

Wood, polyethylene foam, polyester/recycled velvet

Sizes:

Single, Double

Trial:

N/A

Warranty:

30 days

Delivery:

6-8 weeks, small fee

Assembly:

Half-assembly

View Latest Price

KEY FEATURES:

Type:

Foldable

Material:

Pine, cotton, fibre blend

Sizes:

Single

Trial:

N/A

Warranty:

28 days

Delivery:

5-7 working days, free

Assembly:

Half-assembly

View Latest Price

KEY FEATURES:

Type:

Click Clack

Material:

Oak, weave, corduroy

Sizes:

Three-seater

Trial:

30 days

Warranty:

10 years

Delivery:

5-7 working days, small fee

Assembly:

Assembled

View Latest Price

KEY FEATURES:

Type:

Foldable, click-clack

Material:

Alloy, steel, metal, faux suede

Sizes:

Single

Trial:

N/A

Warranty:

N/A

Delivery:

5-7 working days, free

Assembly:

Half-assembly

View Latest Price

KEY FEATURES:

Type:

Foldable, click-clack

Material:

Metal, faux leather

Sizes:

Single

Trial:

180 days

Warranty:

3 years

Delivery:

5-7 working days, free

Assembly:

Half-assembly

View Latest Price
1. BEST OVERALL: Made Haru Sofa Bed
Everything you ever wanted from a chair bed – and then some.
Whether you're looking for just a mustard-coloured accent chair or a chair that converts into a bed or a lounger – Haru single sofa bed has got you covered. This lovely one-seater sofa bed is the epitome of a first-rate chair sofa bed. It's a three-way convertible if we may, and its comfy foam mattress will have you sit or lie in it for hours.
We can't forget to mention its lovely contemporary design that will add a breath of fresh air to any room and have your guests feel welcome and comfortable whenever they decide to spend the night.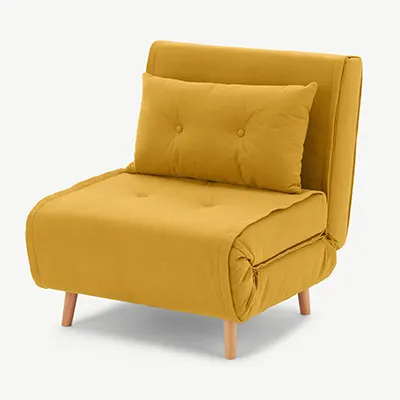 2. BEST VALUE: Dunelm Mito Single Futon
The most comfortable sofa bed on a budget!
This neat little chair/futon is an essential piece for any modern home owners. It's a timeless piece, designed to fit any decor and with nine available colours to choose from – that statement holds very true.
The Mito sofa chair easily unravels its solid pine body to form a single-sized low-profile sofa bed, big enough to fit a grown person. Out of all the sofa chair beds on our list – this one resembles an actual bed the most. When in "bed mode", obviously.
It's sleek, it's contemporary and most importantly – it's rather comfortable.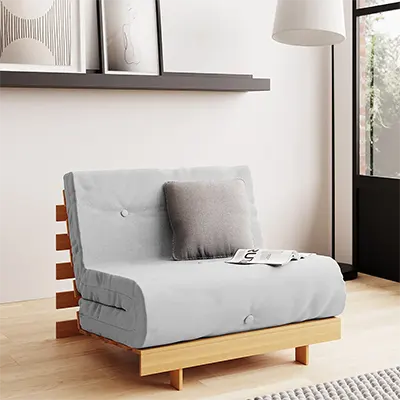 3. BEST LARGE: Made Kahlo Double Sofa Bed
Top large chair bed at the reasonable price!
If you need a larger chair bed that has a modern design, Made has Kahlo double sofa bed just for you. With its piped edges, the sofa has a refined look, especially when we consider grey fabric and soft-corner design.
Fold it up easily and quickly with a click-clack mechanism that will last for years to come. The two-seat size will be more than enough for your guest to sleep comfortably. The legs are made of metal, whereas the entire chair bed is made of polyester and polyethylene foam. 
The process of assembly is fairly easy – you only need to mount metal legs. The professional cleaning is strongly advised – in case your guests stain it.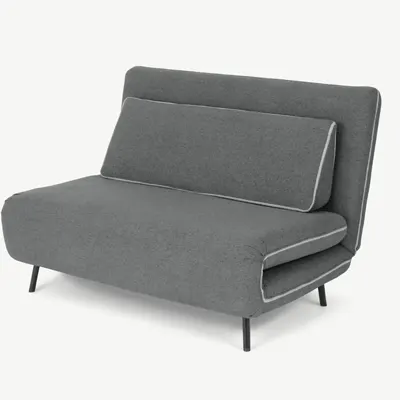 4. BEST FOR ALL ROOMS: Homcom Sofa Bed
Fully adjustable to adjust to your needs!
If you really want to make the most out of your chair bed – get the one that can do it all. Homcom single sofa bed has a backrest that reclines to five different levels. So, when your guests aren't around, you can just kick back and relax in it. Neat, right?
Its solid metal frame is far sturdier than you'd usually find in a chair bed, and despite being single sized – this one could probably hold two people in terms of weight.
Also, we can't help but mention the faux suede upholstery covering the softest high-density foam that's just as comfy as you'd want it to be.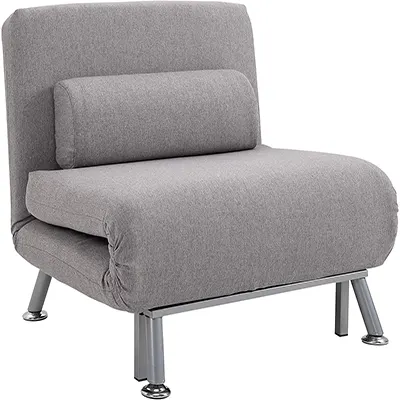 5. BEST CONTEMPORARY DESIGN: Vonanda Sofa Bed
Feel the luxury with this faux leather 4-in-1 sofa bed!
Wouldn't it be nice to have an ottoman that can turn into a chair, that could turn into a lounger, that could turn into a bed? Sounds impossible, right? Wrong. This Vonanda sofa bed does exactly that. It's a 4-in-1 package!
Not only is it unbelievably good looking, but it's also very versatile. This faux leather with jacquard detailing contemporary-design package is all a living room needs. You could virtually buy this same product four times and have four different pieces of furniture that would last you a long time. Bonkers, isn't it?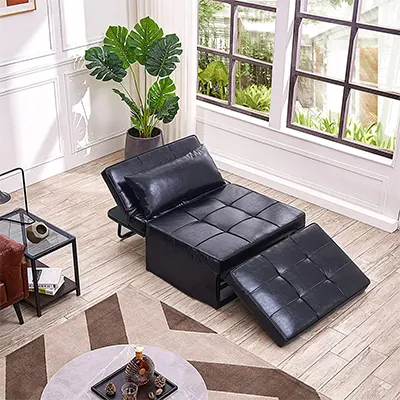 What to look for when buying best chair bed
As we have just learned, not every chair bed is the same. They differ quite a lot one from another, and the only way to make an informed decision when shopping is to know what to look for.
In this section, we'll outline all the important features you should be on the lookout for when searching for the best chair beds. If you manage to keep these in mind while shopping, there's no doubt in our minds you'll end up with the best chair bed possible.
What's interesting about chair beds is that you could basically consider them sofa beds, only in smaller form factor. So, just like a sofa bed, the chair bed also has similar types.
The three types we're going to discuss today are foldable, pull-out and click-clack chair beds.
Foldable chair beds are probably the most popular type out of all. As you can tell by the name, a foldable chair bed or a sofa bed is the one that folds open and becomes a bed.
They also often come with separate mattresses, folded in strategic places to form a cushion to sit on, and later on a mattress to lay on. However, that's not always the case. As you'll see with our top picks, foldable sofa beds come in all kinds of shapes, forms, and sizes, and are sometimes even merged together with other types of chair beds.
A pull-out chair bed is a simple to open bed with a pull-out mechanism. As such, it has become an industry standard.
It is incredibly easy to use and operate. All you have to do is remove the cushion, pull out the "pull-out" portion of the chair that will fall into place, place the cushion back on, and you're all set.
The same mechanism will work with a sofa bed with a pull-out mattress, as well as a chair with a cushion because as we've said – pull-out chair beds and sofas are essentially the same things, only one of them is more compact.
The click-clack sofa bed or a chair bed has gotten its name over a click-clack mechanism that makes a distinct sound when it locks into place. Just like the pull-out mechanism, click-clack is extremely easy to operate and set up.
To convert this kind of chair into a single bed for your guests, you simply have to open up the mechanism and fold out the mattress or a cushion, and you're all set. The mattress will settle in a few minutes, and your guests should be snoozing shortly after.
Frame quality and material are some of the most important things to look for in a chair bed. As a general rule of thumb, if you want your chair bed to act as a durable, good-looking, long-lasting and comfortable bed – you need to find one with a high-quality frame.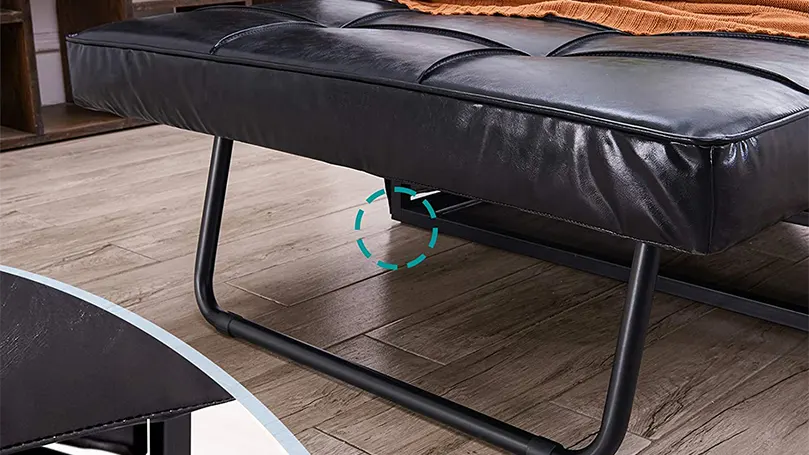 Usually, your safest bet would be to go with a hardwood frame or any combination of kiln-dried hardwood and furniture-grade plywood. Those materials should be the best option for a long-lasting, high-quality piece of furniture.
High-quality opening mechanism
High-quality opening mechanisms will be the difference between a janky chair bed and a high-quality one. Not only will you not have to worry about durability if you pay a little extra for a better opening mechanism, but you also won't have to worry about the bed breaking on your guests in the middle of the night.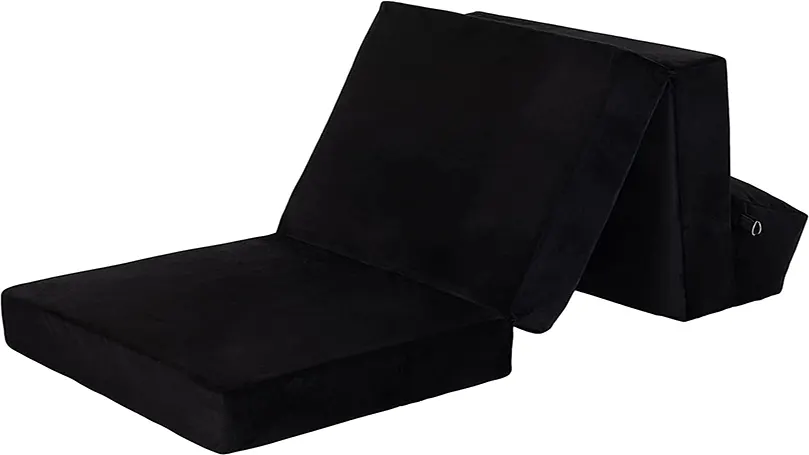 A good mechanism should lift up, pull out, or click into place in a single, smooth motion without any squeaking or getting stuck. Whether it is a pull-out or a click-clack, find the one that's been tested and designed to stand the test of time. Otherwise, you might have to do your shopping more frequently than you'd ideally want to.
A quality foam mattress is probably the most important thing to look for when shopping for a chair bed. You may not have to sleep on it, but your guests will have to. And, unless you're willing to spend additional money on a mattress topper, we suggest you take your time to find a chair bed that comes with a comfy mattress.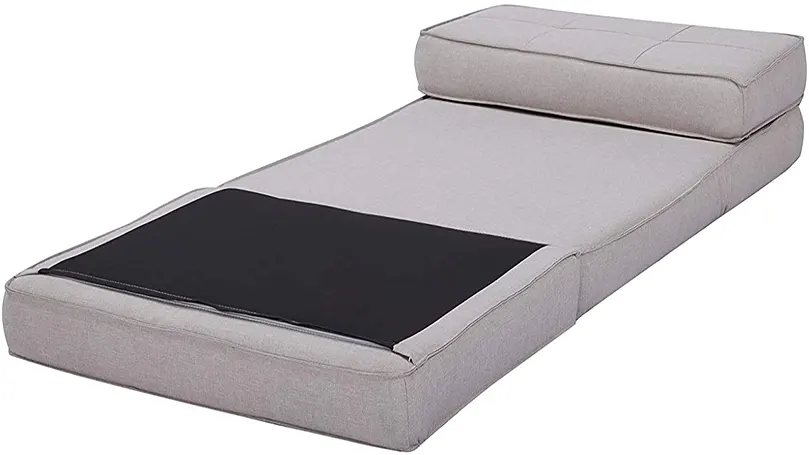 To be fair, a chair bed mattress will never be as comfortable or supportive as a single or a double bed mattress you'd get in a store separately, but it'll have to do. Some of the best sofa beds do come with some pretty comfy mattresses, so try and look for those.
Finally, depending on how much space you have and how many guests usually come over – you might have to consider getting something bigger than just an armchair bed.
To be fair, a single sofa bed or a chair bed should be more than enough if you never have more than one guest at a time, but if you'd really like to make the most out of your spare room, consider getting something other than a single.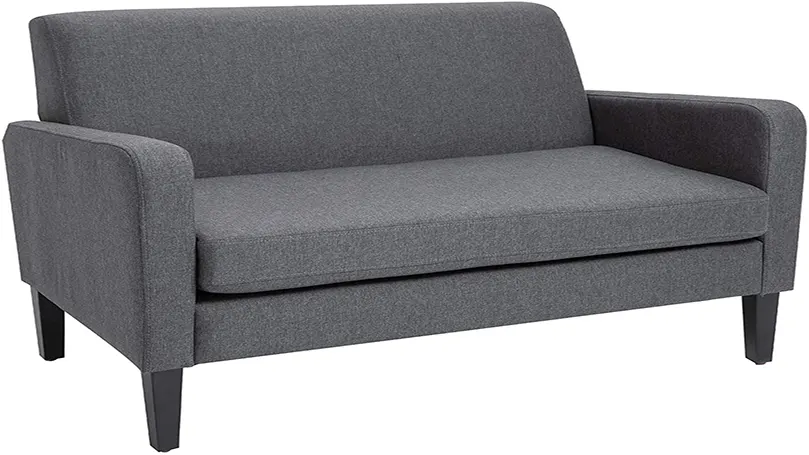 As far as size options go, these guest sofa beds and chairs are available in:
Single
Two-seater
Three-seater
Now, as you can see, some of it can't really pass as a chair, seeing how it sits more than a single person, but the line between a chair bed and a sofa bed is pretty much blurred, so just roll with it.
Tips for buying and using best chair bed
Before we go out and meet our top five best chair beds, we wanted to give you a few helpful tips for buying and using a chair bed.
Take accurate measures – The last thing you'd want is to spend your hard-earned money on a chair sofa bed, only to realize it doesn't fit in the room once you pull it out. So, instead of winging it – measure your room and the floor space, and buy a chair bed that fits.
Read the reviews – Every company will tell you that their product is the best one out there – they have to. It's called marketing. Well, just like they have to advertise their products, you have to make sure to do your part. Instead of trusting them completely, read the reviews, impressions, and go through user reviews to see what other people think of them. Only then make your purchase.
Get a stylish sofa bed – When not in use, your chair bed will be your accent chair, you might as well get something that looks really good. Try and make sure you get a sofa cushion that looks great. There are many options out there, all the way from a leather sofa bed, to a regular pull-out chair with microfibre-filled cushions, and it is up to you to get the most stylish one.
The advantages of owning best chair bed
Now that you've seen our picks, we wanted to show you some of the advantages you'd get to enjoy if you get yourself one of the aforementioned chair beds.
Naturally, we won't talk about the most obvious advantage that's allowing your guests to get a comfy, good night's sleep when they come over.
It's great for movie night – Wouldn't it just be great if you could lie comfortably in front of the TV instead of having to raise your feet on the coffee table or lie down sideways while watching a movie? Of course, it would. And, that's what a chair bed can bring to your living room. You don't have to wait for your guests to come over to use this one. You can use it any time you watch a film!
You can easily move it around – Another benefit of owning a chair bed is that you can easily move it around. Unlike your regular bed with memory foam or pocket sprung mattress, a chair bed is pretty lightweight and can be moved from one room to another in a matter of minutes. For example, if your kid has a friend coming for a sleepover, you can move the chair bed to your kid's room, instead of having their guest sleep in the living or the guest room.
Quick and easy setup – Unlike some other bed frames that come disassembled, a chair bed will usually come delivered in one piece, alongside detached legs. So, the setup will actually last about as long as unpacking, plus a few mintues, which is pretty much unheard of when it comes to beds and sleeping surfaces. So, that's another thing to be joyous about.
FAQs about your chair bed
Should you get a comfortable sofa bed or a chair bed? Are they worth the money? How often should you clean them? These are just some of the FAQs we've come across, so we thought to ourselves – why not answer some of them?
Is it recommended to sleep on a chair bed every night?
We certainly wouldn't recommend it. Think of a chair bed as your backup parachute. You know it's there, you're glad it's there - but you certainly wouldn't mind not using it.
How long do chair beds last on average?
It all depends on the usage, but we don't see why you couldn't comfortably use a chair bed for five, possibly even ten years.
How do I clean my chair beds?
It all depends on the seat cushions. Some come with removable covers and some you'll have to spot-clean and wipe.
How thick should a chair bed mattress be?
Around 5 inches (12 cm) should be fine.
Where should I place my chair bed?
Wherever you want. They usually work best with sofa beds, or just your regular living room ensemble. As long as there's room for the chair bed to turn into a guest bed - you're good.
Do all chair beds come with mattresses?
No. Some come with regular chair-bed cushions.