5 Best Sleigh Cot Bed Picks To Ensure Your Children Sweet Dreams
Finding the right type of bed for your children can be a daunting task, but if you choose any of our sleigh cot bed picks – it'll be a walk in the park.
Buying a sleigh bed is one of the most important decisions when you're starting to prepare for your baby's arrival. A sleigh cot is perfect for babies who are in transition from narrow nursery cots to small children's room beds, and the peace of mind it brings both you and your baby can't be beaten.
You have a really interesting selection of cot beds to choose from nowadays – which is both good and bad. You can find very basic cot beds that you simply lay your cot mattress on, right up to the top end products, which are all-in-one sleigh cot beds.
In this guide, we're going to take a look at what you need to know when choosing the best sleigh cot bed for your child, some things really worth considering while you make your choice, and of course, the  5 best sleigh cot beds themselves.
Should I get a moses basket before a cot/cot bed?
A moses basket is everyone's first choice for their newborns. Also known as bassinet or cradle, a moses basket is the perfect sleeping solution for your newborn up to four months.
Recommended reading: How To Deal With 11 Month Sleep Regression.
Even though cot beds allow freedom and safety, they're not quite designed with newborn babies in mind.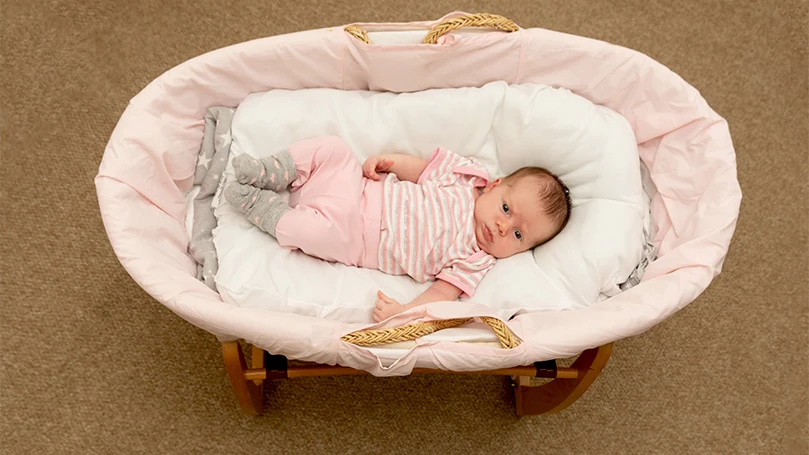 On that note, we would definitely advise looking into a moses basket for your newborn, before transitioning them to a cot bed once they turn four months. This will give them more than enough time to strengthen and grow, and prepare themselves for a larger, comfier sleeping surface.
After weeks of research, we have compiled a list of the 5 best sleigh cot bed picks to ensure your children sweet dreams. These beds combine elegance with security, and we're sure that whichever one of the following five you choose – both you and your child will absolutely adore it! 
Obaby Stamford Classic Sleigh Cot Bed
The ultimate first bed – beautifully made and designed with practical features for children's safety and comfort!
A stylish, adaptable and classic sleigh cot that will last the distance. The Stamford Sleigh cot bed works with your little one wherever they are in their development so both of you can always get a good night's sleep. With its adjustable mattress base height, this cot bed is pretty much all you could ask for after you put the cot mattress in.
The Stamford Sleigh Cot Bed is perfect for any cradle snoozers. Combining traditional design with ingenious engineering it has been modernised with a removable side so you can transform it from a cot bed to a toddler bed in a few simple and easy steps.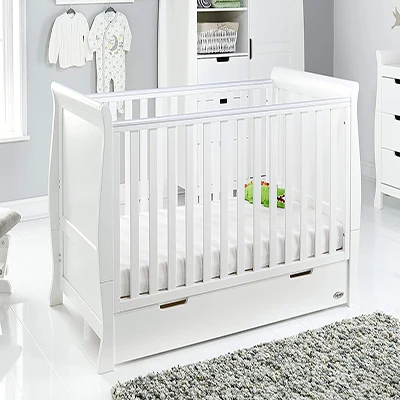 Protective teething rails
Convertible to a toddler bed
3 height adjustment levels.
Obaby Stamford Mini Sleigh Cot Bed
A luxurious cot bed in a compact size.
The Stamford Mini Cot Bed from Obaby is the perfect choice for all babies and parents. This cot bed can has pretty much everything you could ask for, and it will suit varying needs, which is great for both you and your kid.
The Obaby Stamford Sleigh Mini Cot Bed is for parents who are seeking a safe, high-quality children's bed. This bed features an adjustable 3 position mattress base height, with bed ends that split to turn into a toddler bed. The easy-transforming bed is perfect for parents looking for kiddy furniture that can last through early childhood.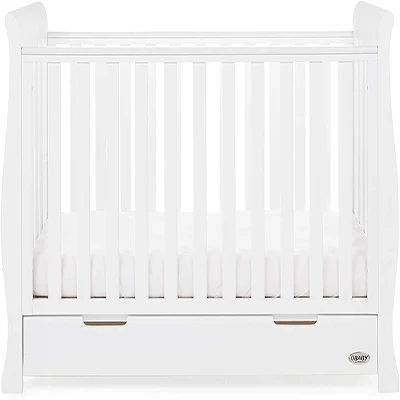 Protective teething rails
Convertible to a toddler bed
3 height adjustment levels
Good price for the value ratio.
Mattress not included

Often too small for age three and up.
Ideal for smaller spaces and new mums, this sleigh cot bed provides a fresh take on comfort in slumber.
We all know that little ones are never still for long, which is why the Obaby Stamford Grace Mini Cot Bed has been created. To achieve peace of mind whilst your child is sleeping, this crib provides three interchangeable base heights, which can be easily adjusted to suit their height and allow for easy access.
As your child grows, learning to sit and stand, the mattress base can be lowered, with three base heights available in total, providing extra peace of mind for all parents.
And, as your child grows even more – the cot bed will turn into a toddler bed ensuring an easy transition to a kid's bed later on.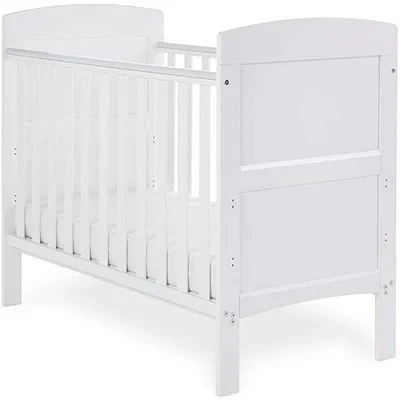 Great price to value ratio
Convertible to a toddler bed
3 height adjustment levels
Free delivery and fast delivery.
Mattress not included
Often too small for age three and up
No storage unit.
Babymore Eva Sleigh Cot Bed
Prevents the little ones from falling out of the cot! Convertible to a variety of positions, with an extra-protective teething cover.
The beautiful new Babymore Eva Sleigh Cot Bed is truly the ultimate in luxury baby nursery furniture. Cot bed suitable for babies from birth to approximately four years old, it can be used in 3 different positions during this period, the final of which turns it into a junior bed with no additional mattress required – because one comes included.
The Babymore Eva Sleigh Cot Bed is a beautiful example of graceful and simple design. It features a solid pine wood frame and a drop-side mechanism for quick and easy access to your baby. The Babymore Eva Sleigh Cot Bed meets European safety standards, which means it's durable, safe, and strong.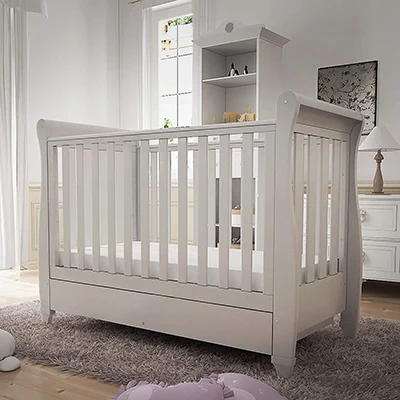 Protective teething rails
Convertible to a toddler bed, junior bed, and a sofa
3 height adjustment levels.
Tutti Bambini Sleigh Cot Bed
Elegant and timeless, the Tutti Bambini Sleigh Cot Bed is a nursery addition that will last years.
The Tutti Bambini Sleigh Cot Bed is a classic, sleigh-design cot bed with a fully-integrated drawer resting underneath the cot mattress. Made from solid wood, and dyed dirty white – this timeless piece effortlessly fits into any nursery.
Tutti Bambini Sleigh Cot Bed effortlessly transforms into a toddler bed, and even a sofa bed, but before it does that – it transforms the way you care about your baby, with its three-level mattress base adjustment system and its protective teething rails on each side.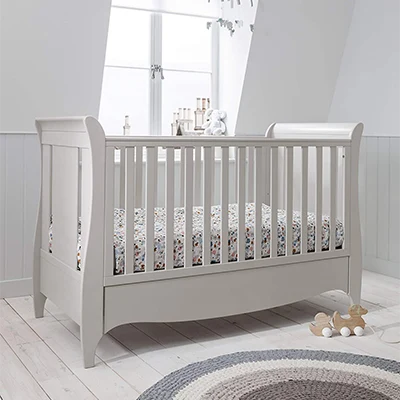 Protective teething rails
Convertible to a toddler bed, junior bed, and a sofa
3 height adjustment levels.
What to look for when buying a sleigh cot bed
A sleigh cot bed is a safe and comfortable way for your child to have a peaceful slumber. There are a few things you need to keep in mind when buying a sleigh cot bed so that they not only look good but so that they also work correctly.
Also, this should give you a good idea of the criteria we held when we were hand-picking our top five.
Either way, let's not lose any more time, and let's jump straight to business.
Convertible to a junior's bed
One of the most important things to look for when shopping for a sleigh cot bed is whether it can convert to a toddler bed or not. At some point, you'll want to remove the railings from the cot bed and have your child sleep in a junior bed.
This will not only make it more comfortable for them to sleep, but it will help them get familiar with sleeping alone in their own bed. A toddler bed will help them transition to a full-sized bed in a few years without any problems.
So, the next time you go shopping for nursery furniture – look for a convertible.
Not only will this allow you to tailor your sleigh cot bed as your child grows, but it will also help you. Bending over the railing to put your child to sleep or to take it out as it's crying can be challenging on your back. In fact, some moms never fully recover their lower back because of functional, non-adjustable cot beds.
But, more importantly – you'll eventually have to lower the cot bed as low as possible because if you don't, it is only a matter of time before your little one starts jumping over the "fence". Kids love climbing up the rails of their cot beds, and if the rails are easy to climb and jump over – a lovely, cute scene of your child acting as Spiderman can soon turn to weeping and crying.
Some cot beds come with included mattresses, while others do not. Now, why is this important?
Well, first of all, you could end up with an amazing cot mattress if you get a packaged deal. Most cot mattresses that come with cot beds are double-sided – with one side being tailored towards babies and the other one for toddlers.
Babies can't sleep on a soft mattress and cot bed manufacturers know that. So, when buying a cot bed with an included mattress, you can be pretty much certain that you'll end up with a great cot mattress, made specially for children.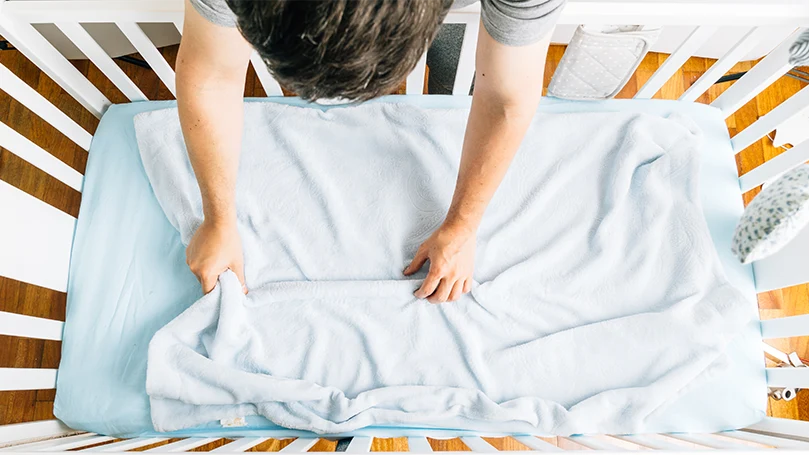 However, if you want to choose the mattress yourself – get the cot bed without it. Just make sure you do your research and get a high-quality cot mattress, but also, keep the sizes in mind. You'll probably want to get a 140 x 70 cm mattress, although some cot beds may be smaller (120 x 60 cm) – so make sure you choose correctly.
A cot bed can easily be a universal piece of nursery furniture.
A great hybrid could be a changing bed, a travel cot, or a little mini closet if you get the cot bed with all the extra included features.
Nine times out of ten, the extra features you'll want to look for are storage space and teething rails. The first one's there solely for convenience, but the other one is there for your little one. You already know they're going to bite down anything and put everything in their mouth, so the least you can do is get them a sleigh cot bed that makes it safe for them to do so.
If you want to be absolutely certain that you've bought a safe cot bed – you have to look for a safety standard.
Most European states, including the UK, conduct safety tests and protocols to ensure that the cot beds are perfectly safe for babies and toddlers.
Even though you will be able to tell whether a cot bed is safe or not just by visually inspecting it, we would suggest you look for something along the lines of European safety standard EN 716:2008+A1:2013, or British safety standard BS 8509:2008+A1:2011.
If you notice that while shopping for a cot bed – you're choosing correctly.
The advantages of owning a sleigh cot bed
Now that we've shown you the product and told you what to look for in them – allow us to tell you about some of the many benefits that come from owning a sleigh cot bed.
A sleigh cot bed is a good long-term investment, whether you shop for one with a mattress or not. Sleigh cot beds will last for a long time and can comfortably sleep a child for up to five years. They can also be passed down to your second child, and the third one, and even more than that.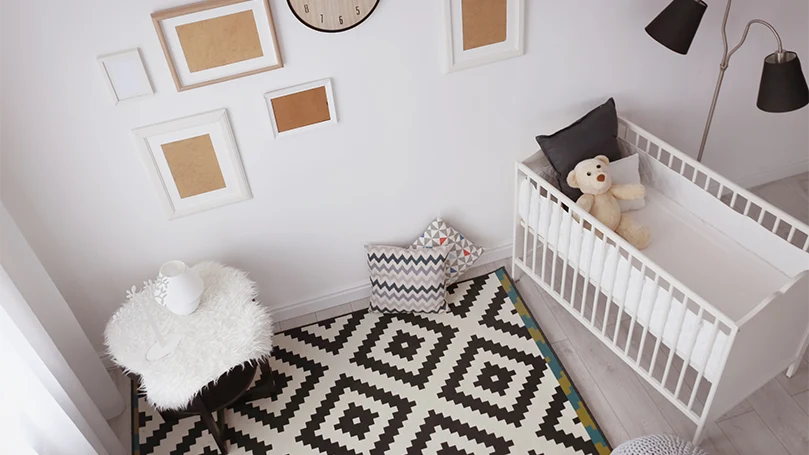 Secondly, the best cot beds will offer a safe space for your child – something a bed can't provide. The cot bed gives them more than enough room to stretch, sleep, and do everything that babies need to do. If you share your bed with them, there's always a chance of you hurting your child by leaning against them during the night – which won't ever happen with a cot bed.
Additional benefits to owning a cot bed are:
They could be turned into a toddler bed or a junior bed
They are a great choice for a transition period to a full-sized bed
They could double as travel cots, storage units, or even changing tables.
FAQs about your sleigh cot beds
In the end, let's try and answer some FAQs about sleigh cot beds.
What is the difference between a sleigh cot bed and a classic cot?
A sleigh cot beds are the same as any other cot bed, taking into account the classic cot. The only other difference is in design and overall aesthetic.
When should I buy a sleigh cot bed?
Absolutely. They are an amazing choice for your little ones.
What size mattress does the sleigh cot bed take?
There are two standard sizes for cot beds - 140 x 70 and 120 x 60 cm.
What age is a cot bed suitable?
A cot bed can be comfortably used by children over four months and under four, maybe five years.
Can I put a newborn straight into a cot?
You could, but it is highly recommended to keep your newborn in a bassinet or a moses basket.
Can I put a newborn straight into a cot?
You could, but you should probably keep your newborn in a bassinet or a moses basket.