The Best Cooling Mattress Toppers - Stay Cool & Sleep Better
Say goodbye to sleepless, sweaty nights with one of these cooling mattress toppers!
The vast majority of people prefer sleeping in a cold room as colder air promotes better sleep quality. Still, sometimes, we do get hot – either because bedding material, a mattress, a duvet or a mattress topper.
However, finding a cold room during the warm summer months is nearly impossible, unless you plan on sleeping under the air conditioning unit and waking up all stiff in the morning.
Seeing how AC isn't an option, you need an alternative if you want to keep cool during the summer. Luckily, there is a solution for all hot sleepers who can't sleep without a mattress topper but often get hot when using one with their mattress.
Introducing – a cooling mattress topper. Now, granted, finding the best cooling mattress topper isn't easy, but that's why we are here.
We've done our research, we've tested dozens of products and we've decided to bring forth the top 7 cooling mattress toppers for hot sleepers who are sweating a lot!
IMAGE
PRODUCT
DETAILS

KEY FEATURES:

Thickness:

8 cm

Material:

latex/memory foam

Size:

single - emperor

View Latest Price

KEY FEATURES:

Thickness:

5 cm

Material:

gel/memory foam

Size:

small single - EU king

View Latest Price

KEY FEATURES:

Thickness:

8 cm

Material:

latex

Size:

small single - super king

View Latest Price

KEY FEATURES:

Thickness:

1,2 & 3 inches thick

Material:

latex

Size:

twin - king

View Latest Price

KEY FEATURES:

Thickness:

5 cm

Material:

memory foam/bamboo

Size:

single - EU emperor

View Latest Price

KEY FEATURES:

Thickness:

30 cm

Material:

polyester

Size:

single - super king

View Latest Price

KEY FEATURES:

Thickness:

5 cm

Material:

hybrid

Size:

single - UK super king

View Latest Price
Types of cooling mattress toppers
The first thing you should know – not all mattress toppers are the same. The first and the most obvious difference is the type of material used to make the product. How each and every one of them defines the mattress topper you'll see in just a bit, but for now, know this – the four types of cooling mattress toppers are memory foam, polyfoam, latex and gel.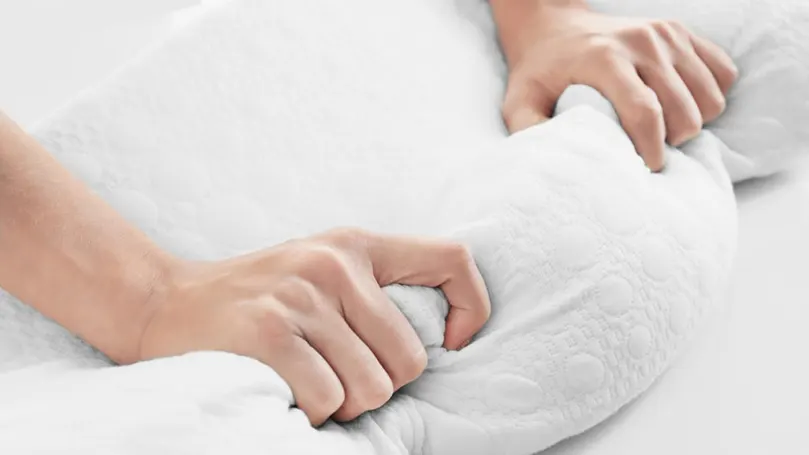 Memory foam is one of the most common materials used to manufacture mattress topper. As you probably know, that's not by accident. Memory foam is known for its pain and pressure relieving properties, as well as unparalleled comfort and motion isolation. However, memory foam has been known to trap heat, so you might wonder, why does it even appear on the list of cooling mattress toppers?
Well, modern memory foam toppers are often infused with charcoal, copper or graphite to better dissipate the heat, thus keeping you cool, which then classifies these toppers under "cooling", as well.
Open-cell and convoluted polyfoam mattress toppers are some of the most popular on the market. This is mostly due to the fact that the polyfoam is the cheapest out of the four types, but also because it actually does a rather decent job at cooling us as we sleep.
The polyfoam design is unique in it that it was made with improved airflow in mind. The material is great at drawing away from the heat from the body, instead of trapping it, which makes it a good choice for a summer mattress topper. On the flip side, these tend to break down easily, so keep that in mind as well.
Natural latex is arguably the greatest option for those that sleep hot. It is a durable, sustainable material that is known for its cooling properties. Latex mattress toppers tend to keep the sleepers on the surface, without encompassing them or allowing for too much sinkage, which does wonder when it comes to heat regulation.
To be fair, these can get quite expensive, but when you consider all the benefits, the price rarely seems to matter. Unlike polyfoam and memory foam toppers, these will rarely sink, which makes them a solid option for heavy sleepers.
However, keep in mind, if you're allergic to latex – these aren't an option.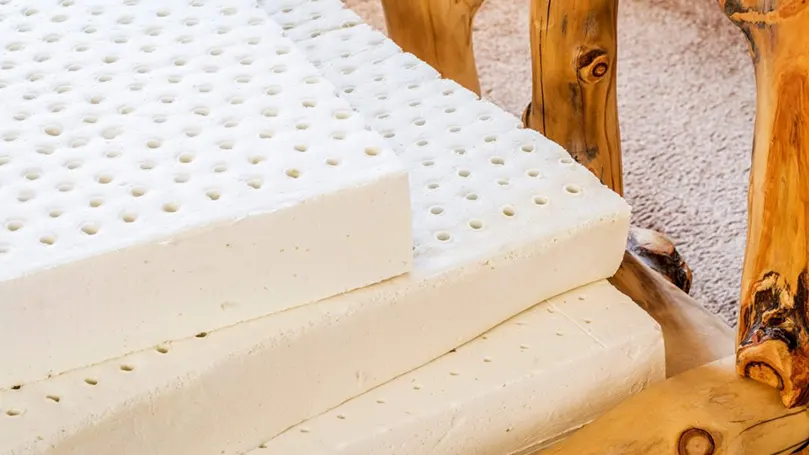 A great number of manufacturers uses gel or gel beads to top off or infuse their mattress toppers for improved airflow and heat dissipation. So, a gel cooling mattress topper isn't made only from the gel, rather a gel is an outer layer that serves a temperature regulating service.
In most cases, you'll find that a cooling gel mattress topper is actually memory foam mattress topper with gel layers or is gel-infused, as they could benefit the most from some additional help when it comes to keeping things cool.
What to consider when buying the best cooling mattress topper
Now that you've gotten familiar with the types, let's take a look at the main, defining features of each mattress topper. It's important that you know of these and that you understand what each one of them means. Without understanding the key features, you won't be able to make the right decision come shopping time.
Also, these are the features we used to measure, test and compare the products before we delivered the list to you.
Obviously, the most important feature of all would be the cooling properties. These are closely tied with the material we've just mentioned. In general, if you want the coolest sleeping experience, choose a naturally breathable material like latex for your mattress topper or a topper infused with charcoal, gel or copper. And if you're only in need of some minor heat regulation – you choose whatever.
However, if you get very, very hot – you could benefit from an actual active cooling mattress topper that regulates heat by moving air or water throughout its body, although these still need some improvement, so we'd suggest sticking with the basics, for now.
Your sleeping position greatly dictates how hot you sleep and what kind of a cooling mattress topper you need. You see, even though we're looking at a topper that will make you sleep cooler during the night, we also have to make sure you sleep in a proper position.
Therefore, before you decide on a mattress topper, consider that if you sleep on your stomach, you'll probably need something a little bit firmer. On the other hand, if you're a side sleeper – a soft mattress topper with some leeway for sinkage should do the trick for you.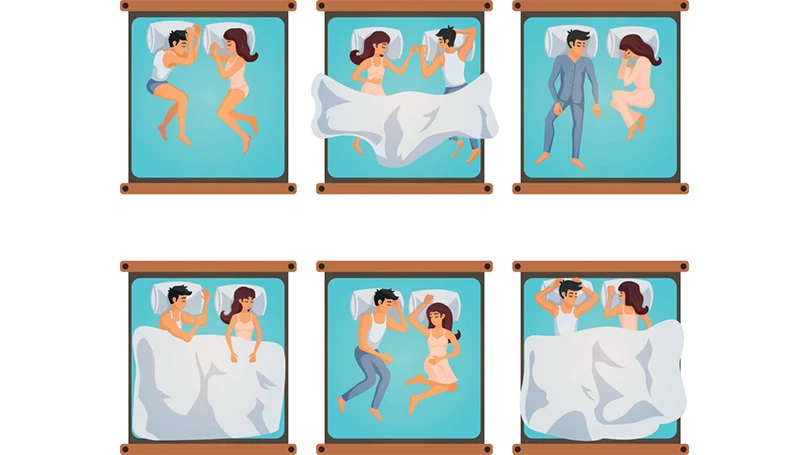 The level of firmness is directly connected to your sleeping position and the type of mattress topper. In general, memory foam mattress toppers will be a lot softer than the latex ones, but, don't just go off of that.
In most cases, your mattress topper will have a firmness rating on a scale of 1 through 10 and depending on your body weight and sleeping position – you'll choose. In general, heavier and stomach sleepers could benefit from a firm mattress topper, while the others are good for just about whatever.
In general, mattress toppers are between 2 to 4 inches or 5 to 10 centimetres thick. Now, once again, you'll choose the thickness based on your preferences, sleeping position, body weight and so on.
In theory, a thick mattress topper should be more comfortable and better at what it does, but that isn't always the case, which is one of the reasons we decided to make this list.
Finally, we'd recommend staying away from the thinner toppers unless they're really well-made, as they will deteriorate rather quickly.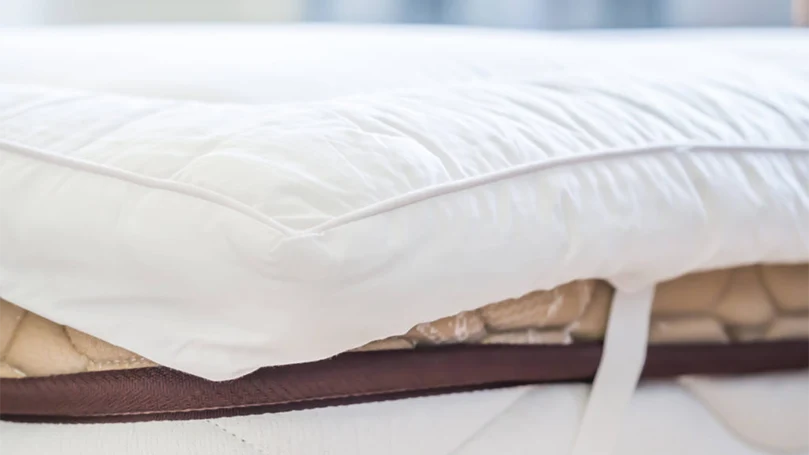 Tips for buying and using best cooling mattress topper
Before you decide to buy what you feel is the best cooling mattress topper for yourself – read these tips!
Just like when shopping for a mattress, you want to make sure you check whether a topper has a return policy and trial period, because, not every topper is going to feel good. You might have to go through a couple of them before you find the perfect one and if you end having to pay for each one – you'll go bankrupt.
Don't just focus on the price. Inexpensive does not mean cheap, nor does expensive mean high-quality. Keep the budget in mind, but don't let it sway your decision.
Finally, as objective as we are, we're limited in number. Our team isn't made up of thousands of people, so, you'll want to take a look at what the other people are saying as well, so you can make your decision when the time comes.
Always look for a trial period.
More money does not mean better quality.
Read customer reviews.
Finally, we've come to the main portion of the article – the best cooling mattress toppers. As you know, we've done our best to test and review these products as objectively as possible, therefore, we're certain at least one of these products will be a good match for your needs.
BEST OVERALL: Inofia Sleep Memory Foam LATEXCH Mattress Topper
A mixture of memory foam and latex for some heat relief. 
From all of the toppers we've tested, this topper from Inofia was the best. Not only is it a solid mixture of memory foam and latex, but it is also a great value for money.
It is both comfortable and breathable, it will keep you cool during the night and it is also easily washable since it comes with a removable, hypoallergenic, soft to the touch cover.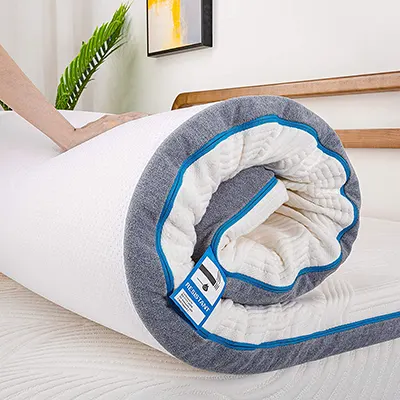 Great temperature control
Great pressure relief
Easily washable
Some off-gassing
Could be too soft for some heavy sleepers
BEST VALUE: Recci Gel Infused Memory Foam Mattress Topper
An affordable, fluffy mattress topper.
If you're in the market for something that's soft, fluffy and breathable, but you also want it to be gentle on your wallet – this might just be the one for you. This is a gel-infused memory foam cool mattress topper, that's also quite comfortable and contouring, so aside from sleeping cool – you'll also sleep comfortably.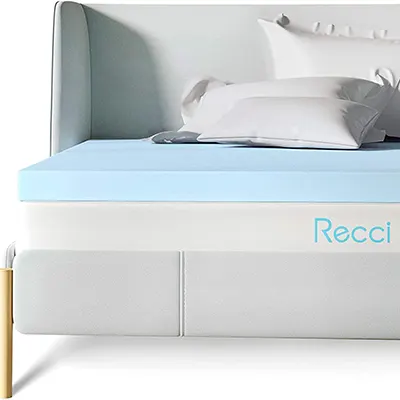 Solid breathability
CertiPUR-EU Certified – almost odourless
Quite comfortable
No removable cover
Could be too soft and thin for some heavy sleepers
BEST FOR INTENSE COOLING: Yanis Latex Plus Mattress Topper
A latex topper for hot, summer nights.
This 8cm thick natural Dunlop latex cooling mattress topper could just be all you need if you struggle with keeping cool during the night. 
This double-sided, 3-layer mattress topper would be suitable for every mattress, regardless of the type or firmness. 
The outer cover is made from Tencel Purotex fibres, which makes this one hypoallergenic – for everyone not allergic to natural latex.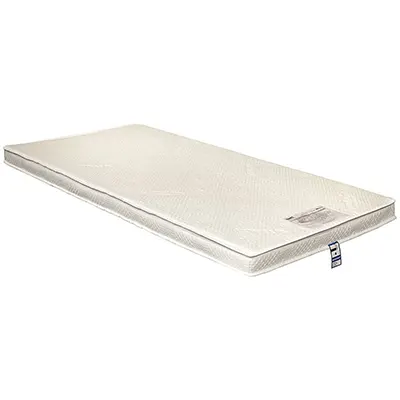 Great breathability and temperature regulation
Solid pressure relief
10-year warranty
No removable cover
Expensive
BEST LUXURY: Sleep On Latex Mattress Cover
A mattress topper for those with expensive taste.
If you don't mind breaking the bank then you should look no further than this mattress topper. 
The only reason why this is not our best overall pick is the fact that it can get quite expensive once you go up in size. It's a topper made from 100% natural latex. 
It is GOLS and Oeko-Tex certified and on top of all that it's incredibly breathable and comfortable.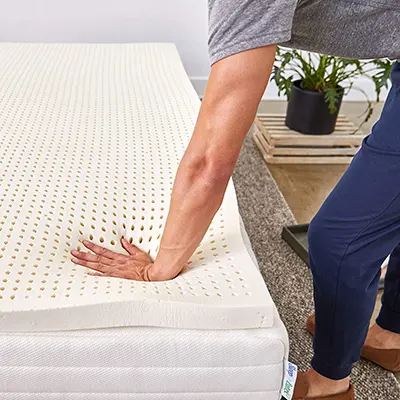 Incredible breathability
Very comfortable
Organic and eco-friendly
No cover
More expensive than some mattresses
BEST HYPOALLERGENIC: Panda The Topper
A mix of bamboo and Hydro-foamTM for a cool, comfortable sleeping experience.
If you want to experience the comfort and sleep cool at the same time, you should probably try this mattress topper from Panda. 
Hydro-foamTM technology makes for next-level orthopaedic support, as well as great breathability and heat regulation. 
The outer removable cover makes this one incredibly easy to clean, although, it is worth mentioning that only the cover should be washed. The Hydro-foamTM layer should not be soaked.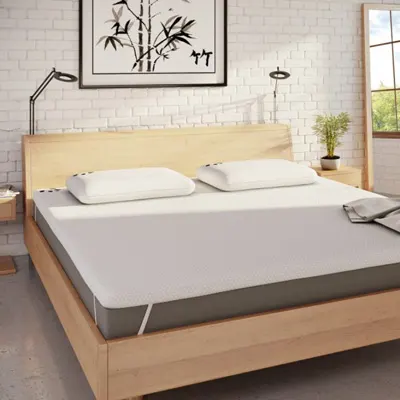 Great breathability
Vegan-friendly
Removable, machine washable bamboo cover
Could be too soft for some heavy sleepers
BEST WATER-RESISTANT: Sleep Mantra Luxury Mattress Topper
Extra plush and extra thick mattress topper.
With an alternative down filling, this mattress topper doesn't leave much to be desired when it comes to breathability. 
The polyester filling does a pretty good job at dissipating body heat and keeping you cool during the night. 
The outer cover is made from 100%, 300 thread cotton and is treated with a fabric protector that repels liquids, which makes this one waterproof.
Solid breathability
Easily washable
Waterproof
No removable cover
Could be too soft for some heavy sleepers
BEST FOR COUPLES: Simba Hybrid Mattress Topper
For couples that like to keep close, but sleep cool.
When we thought about a mattress topper for couples, we thought to ourselves – we need something that's motion isolating and great at keeping things cool and that's exactly what Simba Hybrid mattress topper brings to the table. 
The Aerocoil® spring-comfort layer brings forth great comfort, support and motion isolation and the cooling open-cell Simba-Pure Layer delivers some great breathability.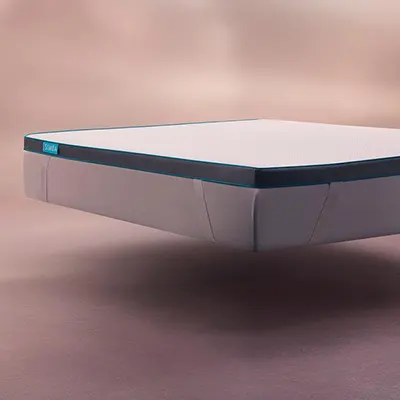 Great breathability
Very comfortable
Quite comfortable
No removable cover
Only a one-year warranty
The advantages of owning the best cooling mattress topper
Before you buy the best cooling mattress topper, you have to understand what it is that you're getting from it. What's the point in having a high-quality topper if you don't understand the benefits?
Well, first of all, you'll improve your overall quality of sleep. A cooling mattress topper will most definitely help you sleep more soundly. You won't toss and turn during the night, you won't throw your sheets to the ground and you'll wake up feeling happy and rested, which will ultimately improve your quality of life.
On top of that, a mattress topper will do a lot more than just dissipate the heat. A high-quality mattress topper will also deliver some pressure relief in sensitive, core zones, which could also mean you'll sleep a lot better.
Finally, a mattress topper is virtually an additional layer to your mattress and considering it's the top layer – it will greatly increase the lifespan of your mattress. The topper will take most of the heat, both literally and figuratively, giving your mattress at least a few extra years.
FAQs about your new cooling mattress topper
Finally, we'd like the finish things up by answering several most commonly asked questions that we haven't had the chance to answer in the previous portion of the article. In some instances, straightforward answers to some simple questions could be the difference between a product being bought or not.
Will a mattress topper keep you cool?
The best cooling mattress topper will certainly regulate the temperature better which will keep you cool during the night.
What's the difference between a mattress pad and a mattress topper?
Both mattress pad and mattress topper serve the same purpose, however, a mattress topper is thicker than a pad, meaning it's more effective.
How often do I need to change my cooling mattress topper?
A mattress topper should be changed every 3 to 5 years, depending on the state of the mattress topper.