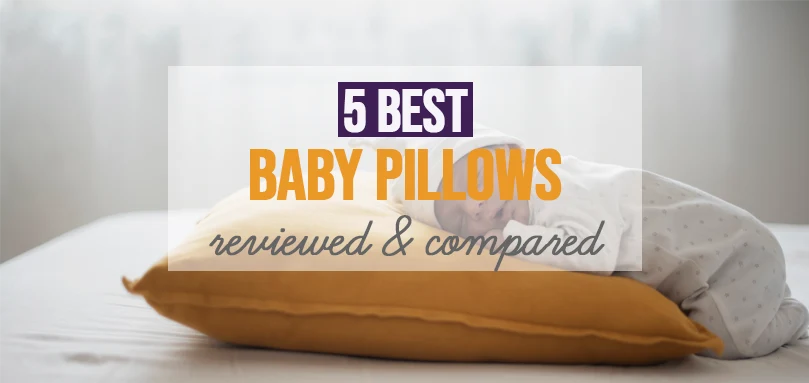 5 Best Baby Pillow Picks in 2022
Today we are rating top baby pillows you can buy in the UK. If you are interested in the best baby pillows and what criteria you should use when buying, keep reading.
Being a parent is the most important role in our lives. Whether it is the first child or not, the arrival of a new baby is a very demanding job for parents. It is somewhat easier for more experienced parents, but that does not diminish the constant care for the child and the parents' effort to make everything perfect for the child to develop properly.
When it is time to equip the room where the baby will come, parents must buy a variety of things. Some of them are necessary, and some are not so much. One of the most important things to buy is a baby pillow. The pillow is important for many reasons, so we will help you choose the best baby pillow by giving you buying tips and showing you the best ones in our opinion.
Add a header to begin generating the table of contents
IMAGE
PRODUCT
DETAILS

KEY FEATURES:

- Suitable up to 36 months

- Anti-suffocation

- Preventing flat head

View Latest Price

KEY FEATURES:

- Very affordable

- Comfortable

- Ventilation

View Latest Price

KEY FEATURES:

- Highest quality memory foam

- Great ventilation thanks to structure

- Two covers

View Latest Price

KEY FEATURES:

- Best chin and head comfortable support

- Durable, soft, and fully machine washable

- Built-in snap strap

View Latest Price

KEY FEATURES:

- Suitable for baby of every age

- Top quality materials used

- Machine washable

View Latest Price
Features to consider when buying the best baby pillow
Aside from the mattress, the pillow is the most important for comfortable and healthy sleep, both for adults and babies. While it may seem easy to choose a pillow, this is not the case at all. That is especially the case if you don't know which features to consider when shopping. You can consider many features, but three of them stand out. And those three are material, filling, and safety.
The first feature you need to consider is the material used to make the pillow. The materials used have changed throughout history, but some, such as cotton, have remained popular to this day.
The material used for the exterior and interior is usually not the same. It is equally important to pay attention to the fabric used for the outside, as well as to the filling, which is the inside of the pillow and we will address it in the following paragraph. When we talk about the fabric that is used for the exterior, you should choose one that will be comfortable for the baby, but also that  is strong and of sufficient quality that it will retain its original shape for a long time.
To achieve this, synthetic materials are usually used, and you can put a pillowcase made out of cloth, to make the baby even more comfortable.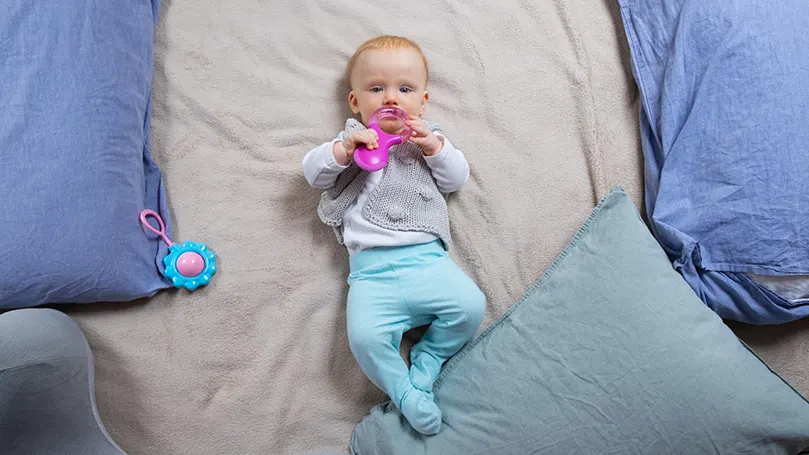 The materials used for filling are very diverse. Memory foam is an increasingly common choice of parents for both children and themselves.
 Of course, cotton is always a great choice. Organic cotton is recommended both because of its quality and because of the environment. Another recommendation from pediatricians is to choose hypoallergenic fabrics so that all those prone to asthma are protected. Hypoallergenic fabrics are synthetic and such fabrics are resistant to mold, fungi, and mites.
Down, feathers, wool, and many other natural materials are also used, but they are usually not an ideal choice for baby pillows. Although comfortable, their other characteristics are worse compared to memory foam, other synthetic materials, and cotton.
Sudden infant death syndrome also known by the acronym SIDS is the greatest fear of every parent. Various foundations that deal with SIDS research agree that it is best to use baby pillows only when you are in the room with the baby, and not during the night.
 Because babies are too small to control their bodies, they can suffocate if they move during the night and you don't notice. That is why baby pillows should be used during the day to prevent the flat head syndrome, but it is risky to use them at night.
In terms of safety when shopping, all baby pillows available on the market have been tested as safe.
Tips for buying and using best baby pillow
First of all, these tips relate to the size of the pillows and how to maintain them. The size varies according to the age of the baby, but also according to the purpose. Head circumference is a major factor influencing choice and it varies significantly from child to child. That's why parents should regularly measure their child's head circumference to know if they have outgrown the pillow, they currently have.
As for maintenance, if you choose a natural material, you have to wash the pillow very often and then dry it. When you dry it, it is best to leave it in the open air for half a day in the end to make sure that it is completely dry.
The size of the pillow is very important and you must regularly make sure that the child has not outgrown the pillow.
If you choose a synthetic material that is hypoallergenic you will not have to wash the pillow as often as if it was made of a natural material.
Use the baby pillow only when you are present in the room.
Now we come to what you are most interested in, and that is our top picks. We have analyzed in detail each of the pillows that we will mention and they meet all the criteria that we emphasized in the previous part of the article as the most important. This means pillows are made of the best materials, that they meet safety standards and that they are part of the offer of reputable manufacturers and sellers.
BEST OVERALL: KoalaBabycare Head Care Orthopedic Cushion
Affordable, comfortable and recommended by pediatricians, it is the best choice every parent can make.
Available in three sizes, it is the only one that is suitable up to 36 months. This makes KoalaBabycare Head Care Orthopedic Cushion a fantastic investment because your baby will not outgrow it quickly. Most baby pillows become useless after a year, while this one can be used for up to three years.
It is made of breathable cotton and highest quality memory foam. It has two covers and one cover is proven to prevent flat head syndrome as well. It also has anti-suffocation features. It is quite big, so it is not portable.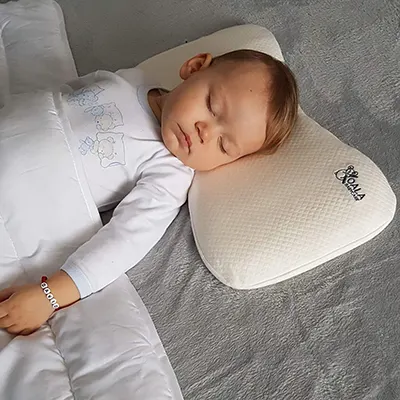 Suitable up to 36 months
Anti-suffocation
Preventing flat head
BEST VALUE: ClevaMama ClevaFoam Baby Pillow
If you want a quality pillow at an affordable price, ClevaMama ClevaFoam Baby Pillow is a great choice.
You want your baby to have all the best, but you also feel that it is not necessary to spend a fortune in the first few months after it is born.
ClevaMama ClevaFoam Baby Pillow will provide your baby with comfort because it is made so that the baby's spine is in the correct alignment, which is very important for long-term development. It is made from the ClevaFoam which is breathable and hypoallergenic. It has specially designed Airflow to keep moisture away from your baby.
 It fits all beds and cribs. There is not much difference between it and the much more expensive models.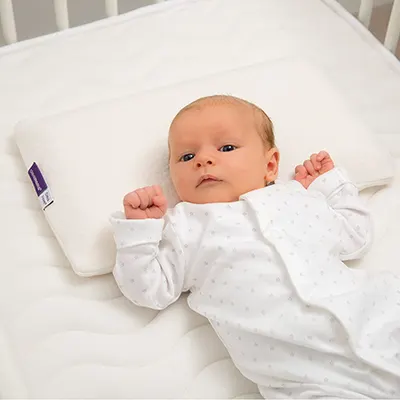 Very affordable

Comfortable

Ventilation
BEST COOLING: KoalaBabycare Plagiocephaly Baby Pillow
KoalaBabycare Plagiocephaly Baby Pillow will help all babies who sweat a lot.
 Have you noticed that your baby is sweating a lot? This is not uncommon, especially if it is summer or you live in a very warm part of the world.
 Fortunately, there is a solution for that as well. This pillow is made of a special breathable cotton and the highest quality memory foam will help the baby sweat less. Memory foam has breathable holes so ventilation is uninterrupted.
 It is also comfortable, although it has a very plain shape compared to other baby pillows, so if you are paying much attention to design, you won't like this one in terms of appearance.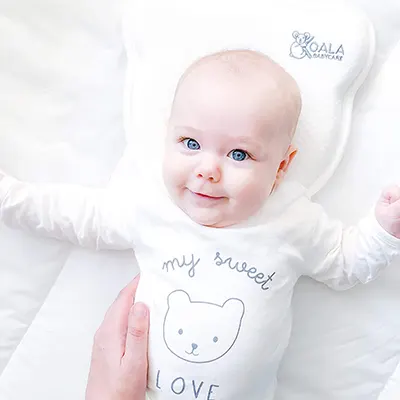 Highest quality memory foam

Great ventilation thanks to structure
BEST FOR TRAVEL: BCOZZY Chin Supporting Kids Travel Pillow
A pillow designed for travel will make travel much easier for both your baby and you.
Traveling with a baby is generally stressful and challenging for every parent, so it is advisable to make it easier in every possible way. Travel pillow is definitely one of those ways.
This pillow has an ideal shape for travel, although it may seem a little strange to you. It will at the same time give support to the head and neck and be comfortable for your child. It is made of breathable soft polyester fabrics, so it is hypoallergenic and suitable for children with asthma.
It is fully machine washable, so it is easy to maintain.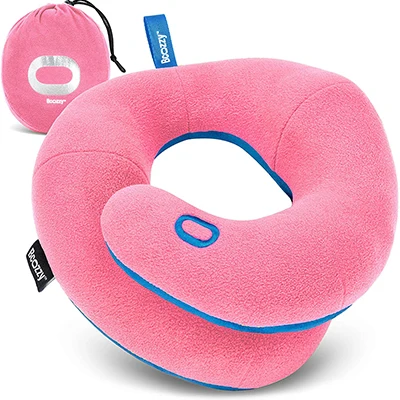 Support to head and neck

Durable

Soft

Hypoallergenic

Machine washable.
Not for everyday use due to shape.
BEST FULL SHAPE: Babymoov Cosydream Original Ergonomic Support
It allows your baby with full body support.
Because it is larger than the others on the list, it allows the baby to be in different positions and provides support to the whole body, not just head.
 Made from the highest quality polyester and cotton, it can be used like any other baby pillow, and it can also be a lounger pillow. It supports the head and neck, so you don't have to worry that your baby will be uncomfortable, on the contrary. You will notice the baby is enjoying staying in this one because it has adjustable leg support.
 Only two colors available so it may not fit into your interior.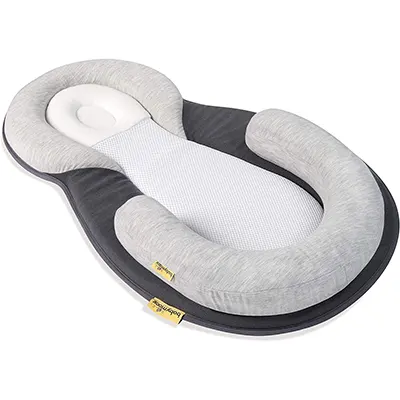 Suitable for baby of every age

Top quality materials used

Machine washable
The advantages of owning the best baby pillow
Especially first-time parents face many problems and doubts. Breastfeeding is definitely one of them. The mother does not know in which position to position herself to be comfortable for both her and the child, and also to avoid the baby's tummy being upset afterward. A pillow made by John and Tree Organics can definitely help you here.
Also, there are two sides that you can use so you won't have to wash as often. And with all that, it is made of organic cotton which will be beneficial for the baby's skin. We should also think about what kind of planet we leave to our baby, so we should always choose organic products.
Breastfeeding will be much easier and less stressful.
No need to wash it often.
Taking care of the environment.
Since parents can never be sure enough about whether their child is well, there are always additional questions to ask. Some of these questions are often repeated, so we will answer them for you because we know how important the well-being of your baby is to you.
When should babies have a pillow?
Babies can have pillows since they are born. It is just important to choose the right size.
What is a flat head syndrome?
These are flat spots that can occur on the side or back of the head as a result of sleeping positions.
Do flat spots cause mental health issues?
Doctors' opinions are divided, but the official position is that flat head syndrome cannot negatively affect brain development nor mental health.
How to treat a flat head (plagiocephaly)?
You can treat plagiocephaly by using baby pillows. Baby pillows are also a great way to prevent it.
Are there any baby pillows that I should avoid?
Baby pillows made of materials that can irritate the skin and respiratory system, like feather should be avoided.