Mamas And Papas Cot Bed - 5 Picks For Your Children's Calm Dreams
Your baby deserves the best – from clothes to nursery furniture! Speaking of nursery furniture, how about we show you an amazing cot bed or two? Sounds good?
Cot beds are an essential piece of furniture for every nursery. They will be your best friend as your baby grows, simply because once they're sleeping in their bed – you're sleeping in yours.
Naturally, not every cot bed is the same, and seeing how there are virtually thousands of options out there, we can understand how it can get overwhelming choosing the right one. So, instead of making you do all the research, we've decided to take that upon ourselves, allowing you to sleep and rest, as well as spend some quality time with your baby.
We're going to take you through our top five cot beds from Mamas and Papas, but we're also going to teach you about cot beds, tell you what to look for when you're buying one, let you in a few advantages they bring, and more.
So, without further ado – let's get started.
Our top Mamas And Papas Cot Bed picks
Before you, are the five top picks from Mamas & Papas for mamas & papas. We're quite confident that each and every single cot bed on our list will be perfect for your little one, so just relax, dive in, and possibly find the one that feels best for you.
Mamas And Papas Mia Cot Bed
Stylish, contemporary bed in a modern white colour with great attention to detail!
Mamas & Papas Mia cot bed is a safe, stylish and practical design for your baby's first bed. Created with function and long-lasting use in mind, this cot bed features an adjustable base to allow the mattress to be raised to sitting height for when your baby is transitioning from cot to toddler bed. The pure white finish is perfect for matching any nursery decor.
With three adjustable cot base height settings and under-bed storage, this cot bed is perfect for any parent and their child. However, don't forget that you'll need a separate mattress because this one doesn't come with one.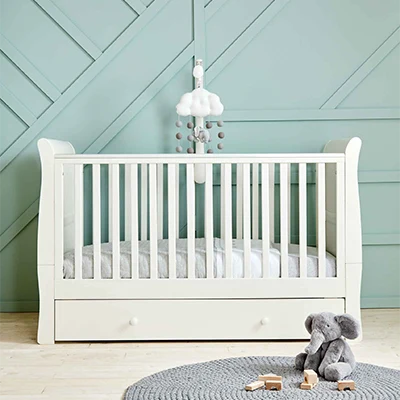 3 height adjustment levels
Spacious storage unit
Protective teething rails
Convertible to a toddler bed.
Mamas And Papas Atlas Cot Bed
When your child starts to grow, this baby cot converts to a toddler bed. One less transition to worry about!
When you think your little one is ready for a big boy or girl bed – Mamas and Papas Atlas Cot Bed will come in handy. Developed with children in mind, the Atlas Cot Bed by Mamas And Papas is designed to both last and offer the ultimate in practicality. The cot bed converts into a toddler bed, which can be used up to 4 years of age, saving you money on buying other beds.
The all-time favourite, woodgrain finish will never go out of style, and an adjustable base height will remain a parent favourite for years to come.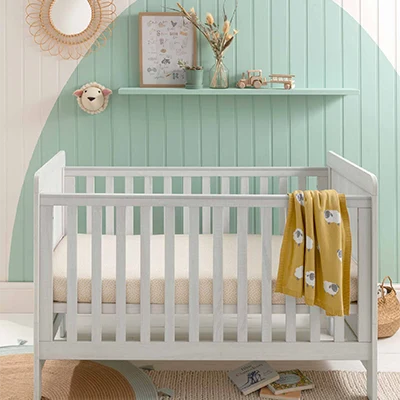 3 height adjustment levels
Protective teething rails
Convertible to a toddler bed.
Mattress not included
No storage unit.
Mamas And Papas Franklin Cot Bed
With a convertible design and many appealing features, your child can sleep in this bed for years to come!
Loads of storage space under the bed means you don't have to hunt for anything – from spare clothes and diapers to storybooks. A bold colour scheme with a distinct finish makes this cot bed stand out from the crowd.
The cot converts into a toddler bed that last until your little one is four years old. You can't ask for better than that! With under-bed drawers that open quietly on soft-close hinges, even your baby won't know it's time to get up.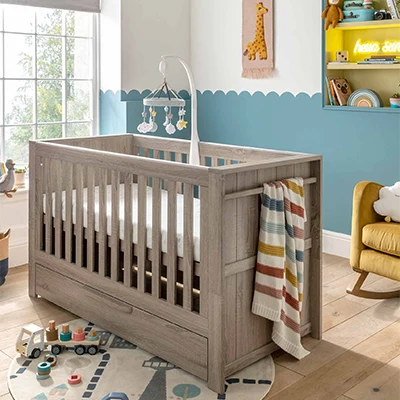 3 height adjustment levels
Convertible to a toddler bed
Soft-close storage unit.
Mamas And Papas Dover Cot Bed
Enrich your child's nursery with this safe and supportive bed!
Mamas and Papas Dover Cot Bed is designed with your baby in mind, featuring teething rails far apart from one another so your infant's fingers won't get stuck. This Mamas and Papas cot bed has a small footprint which means it takes up less room than other cots.
It also actively works to help prevent dust mites and allergens with its included cot mattress. This will be the last cot you'll need as it converts into a toddler bed for your child to use until they turn four or five. The included mattress is also double-sided, so both infants and toddlers could enjoy it.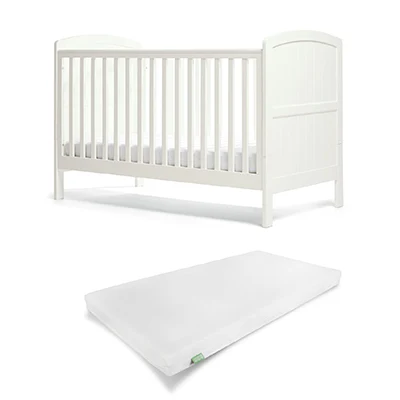 Protective teething rails
Convertible to a toddler bed
Comes with an antibacterial mattress

2 height adjustment levels.
Mamas And Papas Harwell Cot Bed
You and your baby will love this chic and stylish cot bed!
Leaping from a crib to a bed can be stressful even for the most confident crawler. Mamas and Papas brand shop make the transition as smooth as possible with their Hardwell Cot Bed, which has 3 cot base heights that adapt to any child's growth stage, finally turning into a toddler bed perfect for your four-year-old.
Mamas And Papas Hardwell Cot Bed is a good night's sleep for you – and your little one. Designed with safety in mind, this cot bed has 3 levels to ensure that baby can hop out of it. Combining practicality with beauty, the white finish complements the wood-style detailing to create an elegant design that will fit into your nursery furniture scheme.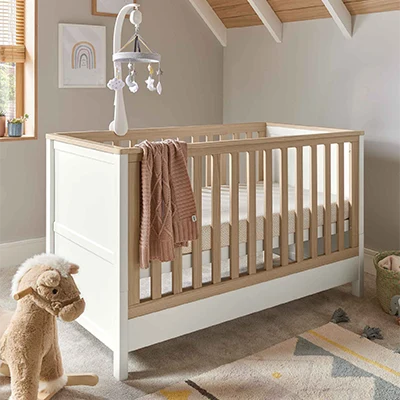 Protective teething rails
Convertible to a toddler bed

3 height adjustment levels.
Mattress not included
No storage unit.
 
Are Mamas And Papas Cot Bed instructions the same for all cot beds?
Mamas and Papas cot beds will arrive disassembled, and it will be up to you to put them together. However, as we all know, putting furniture together is easier said than done.
Fortunately, Mamas and Papas cot beds provide an instruction and assembly manual for each of their products. Since no two cot beds are the same, the instructions will vary from one to another.
All of the instructions are available for free download on their website, even if you don't purchase the cot bed. 
Also, try not to confuse cot bed with a cot as these are two similar, yet different pieces of baby furniture.
What to consider when buying Mamas And Papas Cot Bed
Now that we've gotten over our top picks, we thought it would be a great idea to tell you what to take into account for when buying a cot bed. This will also give you an insight into our criteria for when we hand-picked these five cot beds.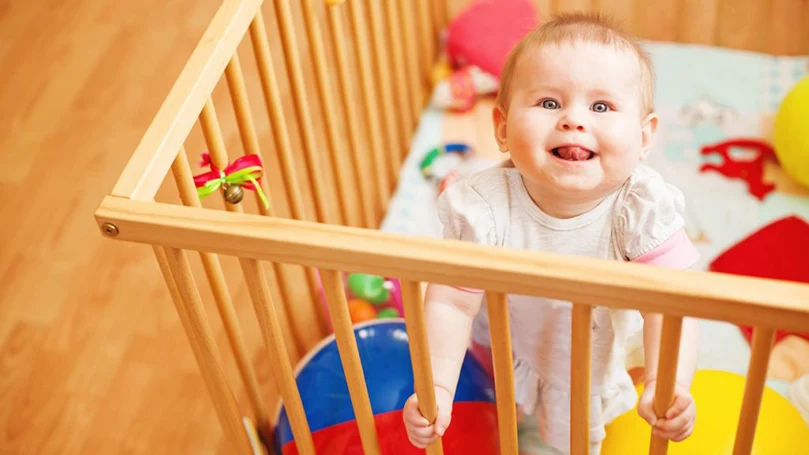 One of the main things to consider when buying a cot bed is whether the cot bed comes with a mattress or not.
This is important for two reasons. One – there are two standard cot mattresses sizes, and two – additional mattress means additional cost.
For starters, if you're buying a separate cot mattress, you need to make sure that the mattress fits inside of the cot bed perfectly. As you probably know, there shouldn't be any space between the railings of the cot bed and the mattress, so that your baby or a toddler doesn't get stuck during the night.
Of course, price is always a factor when shopping for anything – including the cot bed. While it is true that cot beds that come with mattresses usually come with a heavier price tag, that doesn't necessarily mean that you wouldn't be saving money. A separate cot mattress might be costly, especially if you're buying a premium product The search could also be tedious.
But, you'll get exactly what you want, so, it's up to you.
When you search for a cot bed, you should look for a model with an adjustable base height.
Namely, a cot bed with a height adjustment feature would allow you to slide the base of the cot bed up and down, based on your child's age. For instance, for newborn babies, you could keep the base lifted. That would not only allow you to easily reach your child, but it would also probably save you some backache.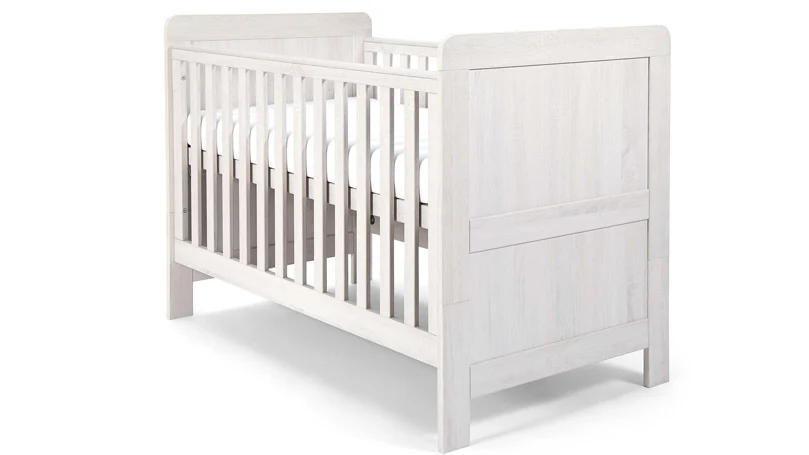 In the same manner, as your baby grows, you'll be able to lower the base, to prevent them from jumping out of the cot bed and possible injuring themselves. We all know that little ones can be quite nifty, so it is important that you prevent them from doing something potentially dangerous.
As we have said when we talked about the mattresses for cot beds, there are two standard sizes for cot bed mattresses.
A cot bed mattress is either 120 x 60 cm or 140 x 70 cm. That means that a cot bed will be about 125 x 65 cm or 145 x 75. But, why does size matter? Well, for two reasons.
The number one reason is the longevity, or better yet, how long will your kid be able to use the cot bed. Kids grow fast, and it is not uncommon for them to outgrow their cot beds rather early, so if we were to choose – we'd always go with a larger model.
But also, if you already own a cot mattress – you want to make sure it fits. A 125 x 65 cm cot bed wouldn't be too useful to you if you own a 140 x 70 cm mattress, wouldn't it?
Design is another factor to keep in mind, and we're not just talking about the contemporary handles, lovely railings or the overall aesthetic of a cot bed.
Sure, you'll want to buy a cot bed that looks nice and a cot bed of great quality, but then again, you will also want something highly functional.
The design of the cot bed also includes features like an adjustable base, drop-down sides, and more. Since we've already said a few words about the base, we won't repeat ourselves, but we'll talk a little bit about the drop-down sides.
These can be really useful for a plethora of reasons, but the two of the most prevalent ones are ease of access and functionality.
A drop-down side will allow you to easily pick your child up from the cot bed, without having to lean over the bed sides. It will also allow you to quickly and easily change them without having to take them out from the bed. Finally, as they get older, you might want to keep the cot bed next to your bed, with the side dropped down, so that they can climb over if they wish to cuddle or they get scared during the night.
Finally, one of the most often overlooked features of cot beds is storage.
Most people don't even think about the storage when it comes to cot beds, because they already own closets and dressers, but having a separate storage space inside of a cot bed can come in pretty handy.
You could keep diapers and other baby essentials all in one spot, allowing you to save time while dressing, feeding, or changing your baby.
In the end, here's a pro life tip – extra storage space always comes in handy.
The advantages of owning Mamas And Papas Cot Bed
Now that we've told you what to look for and where to look for, allow us to tell you about some of the advantages that come from owning Mamas and Papas cot beds.
First up, a cot bed is a safe space for your child. It gives them more than enough room to sleep, rest, stretch, and do everything else that a baby does in a completely safe environment. Your child could sleep with you in the bed, but there's always a chance of you leaning against them during the night, potentially hurting them. With a cot bed – that can't happen.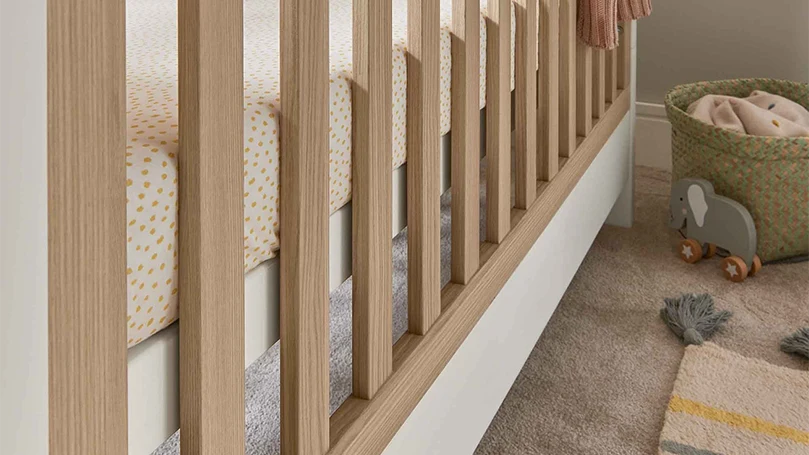 Additionally, a cot bed is a solid, long-term, cost-effective solution. Cot beds, even the ones coming with mattresses, are relatively affordable, and what's even better about them is that they can last you for quite a long time. Back in the day, cot beds were passed down generation by generation, which speaks volumes of the longevity and durability of these. And, when you factor in that each kid could comfortably sleep in a cot bed for up to five years, you understand why this is a good, long term investment.
Additional benefits to owning a cot bed are:
They could be turned into a toddler-sized bed
They prepare children for sleeping alone at night
They could double as travel cots
They could double as changing tables.
FAQs about your Mamas And Papas Cot Beds
In the end, allow us to answer some FAQs about Mamas and Papas cot beds.
Do I pay for the delivery of Mamas And Papas Cot Beds?
Yes. There will be a small delivery fee for every product you order. The fees could and will vary based on your location.
Can I use my own cot bed mattress for Mamas And Papas Cot Bed?
Yes. If you have an appropriate cot bed mattress, you may use it with an M&P cot bed.
Do Mamas And Papas Cot Beds have a warranty?
Yes. Mamas and Papas cot beds come with a two-year warranty.
Can I assemble Mamas And Papas Cot Beds on my own?
Yes. You will be the one to assemble the cot beds, and you will have an instruction manual to help you out with it.
How do I clean my Mamas And Papas Cot Beds?
You can wipe the cot bed clean just like you would any other piece of furniture. As for the cot mattresses themselves, that will vary from mattress to mattress.
Are all Mamas And Papas Cot Beds the same size?
No. Cot beds from M&Ps come in various sizes.