5 Best Pocket Sprung Mattress Picks for UK Shoppers in 2022
If you're the one to enjoy finer things in life and keep trying to improve the existing things, maybe you should get yourself a pocket sprung mattress to elevate your night's sleep. 
The importance of a quality mattress can't be emphasized enough. It will improve your posture, relieve you of pain and allow you to sleep soundly all through the night. Now, when it comes to mattresses, it's widely regarded that it doesn't get much better than pocket spring mattress.
One of the main reason for this claim is that these mattresses contain best of the both worlds so no wonder these offer the highest level of comfort. Of course, these might come with a higher price tag as well.
On that note, if you're in the mood for a high-end sleeping experience, we thought we'd help you out. We've set out to find and crown the best pocket sprung mattress in the UK and we sure enough did. Let's take a look at our picks!
Add a header to begin generating the table of contents
IMAGE
PRODUCT
DETAILS

KEY FEATURES:

Number of coils:

2000

Thickness:

29cm

Double sided:

Yes

Sizes:

Single, Small Double, Double, Super King, EU (90x200), EU (100x200)

View Latest Price

KEY FEATURES:

Number of coils:

3000

Thickness:

28cm

Double sided:

Yes

Sizes:

Small Single, Single, Small Double, Double, King, Super King

View Latest Price

KEY FEATURES:

Number of coils:

1000

Thickness:

25cm

Double sided:

Yes

Sizes:

Small Single, Single, Small Double, Double, King, Super King

View Latest Price

KEY FEATURES:

Number of coils:

2800

Thickness:

33cm

Double sided:

Yes

Sizes:

Single, Small Double, Double, King, Super King

View Latest Price

KEY FEATURES:

Number of coils:

N/A

Thickness:

25cm

Double sided:

No

Sizes:

Single, Small Double, Double, King, EU (90x200), EU (100x200), EU (120x200)

View Latest Price
Here we are – our top mattress pocket spring picks. We have done our best to keep things as objective as you can be when it comes to mattresses and we're certain that whichever one of these 5 you end up choosing – you're going to be more than satisfied. Let's dive a bit deeper into these durable mattresses and meet our picks! 
BEST OVERALL: Inofia Handcrafted Mattress, 12 inch
The best pocket spring mattress that tick all the boxes!
If you're in the market for the absolute best of the best when it comes to pocket spring mattresses then this is the one for you. With 2000 individual pocket springs, you're going to get superb support, tailored to your body and movement.
The mattress is firm, so even if you're a bit on the heavier side, you'll sleep quite well. Finally, this mattress is filled with natural fillings like wool and cotton, so you're getting an all-around, quality memory foam mattress for years to come.
We have an in-depth review of Inofia 12 inch Handcrafted mattress so take a look.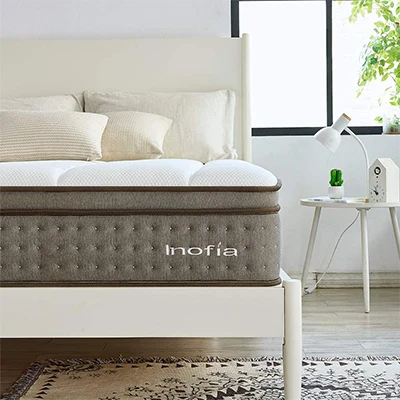 BEST VALUE: Bed Centre 3000 Diamond
Best double pocket sprung mattress!
Diamond pocket sprung mattress from Bed Centre is our absolute champion when it comes to value for money. It's not the cheapest mattress on our list, but what you get for this price is astounding.
You get 3000 individual coils for support, which makes this one medium-firm and quite supportive even for the heaviest of sleepers. The cover of the mattress is hypoallergenic, which is always a welcome addition. It is one of the best budget mattresses ever! Also, the back sleepers will love this one!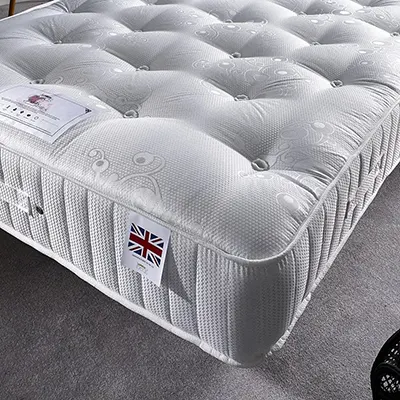 BEST ORTHOPEDIC: HappyBeds Majestic Pocket Sprung Mattress
If you're looking to release some tension and get rid of the pain – this is the mattress for you!
If you're in the market for the mattress that's going to offer you great support and make you forget about aching back, neck, hips and shoulders, then, we feel as we've found just the right mattress for you.
1000 individual coils form the orthopaedic pocket sprung system that adapts to your body and keeps it in perfect alignment alleviating pain and tension from your body. It's medium-firm, so you don't have to worry about your sleeping position.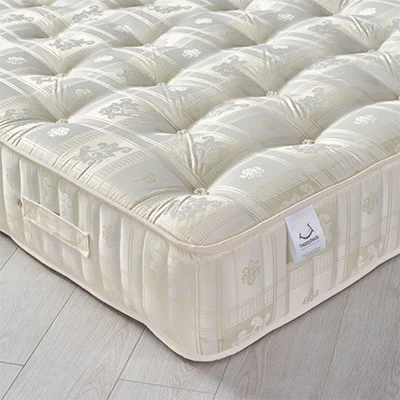 BEST KING SIZE: Silentnight 2800 Pocket Luxury Mattress
A king size mattress worthy of kings!
This has to be one of the best pocket sprung mattresses on the market! It's a quality, all-around product we're certain you would enjoy from the moment you lied down on it. What you get in this all-around package is 2800 individual coils for utmost quality, comfort and support.
It's semi-natural and eco-friendly, while also being hypoallergenic and fire-retardant. It comes with a 5-year warranty, as well. All in all, a more than satisfactory all-around product. Some sleepers find it as a soft mattress.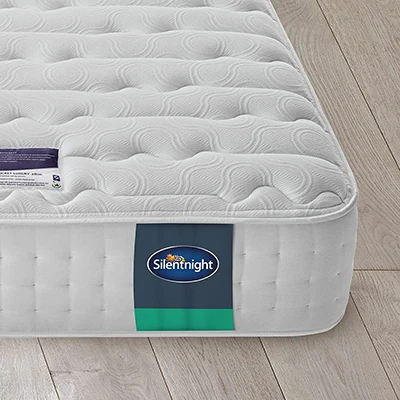 BEST HYBRID: Inofia Airmax Hybrid Mattress
Number 1 of the best memory foam spring mattresses!
If you're in the market for the best of both worlds – comfort and plushness of memory foam and support and firmness of pocket springs then this might just be the mattress for you.
You get a full-body, edge to edge support, zoned support from 17CMH pocket tightly coiled springs and unparalleled comfort from Airmax comfort foam developed by Inofia. Naturally, you're getting a hypoallergenic mattress, that's also cool and breathable and comes with a 10-year limited warranty, as well.  Combine it with a mattress topper and you'll prolong the lifetime of your Inofia Airmax mattress!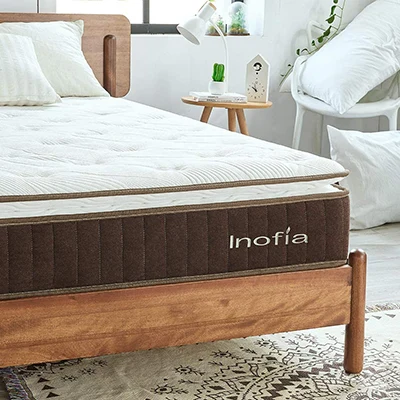 Features to look for in the best pocket sprung mattress UK
When you're looking for the best pocket spring mattress UK market, you have to know what you're looking for if you want to find the best one for you. Pocket sprung mattresses are widely considered to be the best out of all types and here are some of the features that make them that great and well-regarded.
When it comes to mattress type, we know that the mattresses are divided into five categories – innerspring, memory foam, latex, hybrid and pocket sprung mattress. Each of these categories is different from the rest and each of them has subcategories within, as is the case with pocket sprung mattresses.
They're split into three categories – synthetic, partially natural fibre and entirely natural fibre pocket sprung mattresses, with the synthetic mattresses being the worst of the bunch. Pretty much, just by looking at the materials that are being used in making the mattress, we can determine whether the product is low, mid or high-end.
Another thing to consider when buying a pocket sprung mattress is the bed frame. Now, we're not talking about whether the mattress will fit on the frame, you're fully aware that you have to buy a mattress that fits.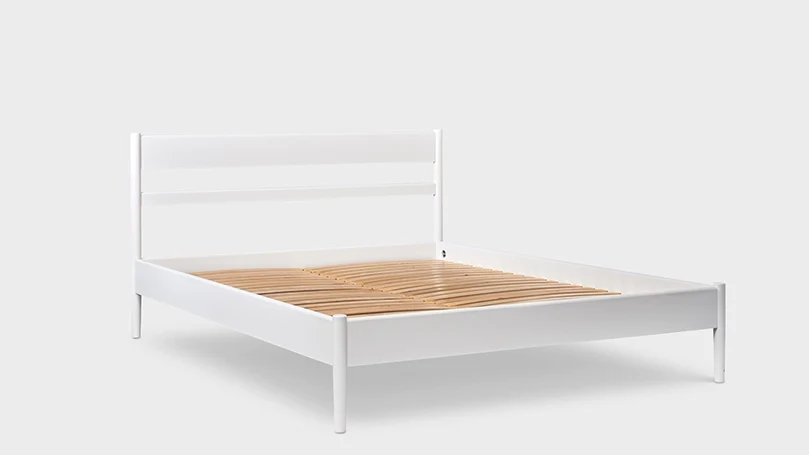 However, what you might not know is what type of bed frame you need. You can choose from bedsteads, divans and ottomans, depending on your needs. We recommend you to see our page with top bed frames to learn more.
When it comes to pocket sprung mattresses, we'd recommend choosing a solid, one-piece platform to rest your mattress on, rather than choosing one made up of horizontal beams. A sturdy, one-piece platform will provide better support and base for individual coils than beams would, especially with memory foam mattresses.
The materials used to make the mattress are very important and you should always think about them when shopping for a new mattress. As we've mentioned previously, natural materials and fibres should be your priority when choosing a new mattress. Avoid buying the mattresses with synthetic covers and always stick to the natural fibres if possible as these will not make you hot.
Ideally, you'll look for a mattress with a damask, chemical-free cover. Damask is soft, and breathable and will feel more comfortable. Sleeping on natural fibres shouldn't even be compared to the synthetic covers most cheap mattresses use. A quality such as that will cost you additionally, but it's worth it.
As you might know, pocket sprung mattresses should always be double-sided. Why? Well, considering coil spring are the ones being responsible for keeping your supported and comfortable, it's very important to give them some time to "rest" after you've used them for a while. How do you do that?
Well, you should flip your pocket sprung mattress from time to time. flipping the mattress will extend its lifetime and will help you always feel as comfortable as possible. Naturally, if the hybrid mattress is one-sided, you won't be able to flip it – meaning they'll deteriorate rather quickly.
Pocket sprung mattresses, just like all other mattresses, come in different sizes. There are four main sizes for a mattress in the UK. You can get a single, double, king and a super king-sized pocket sprung mattress.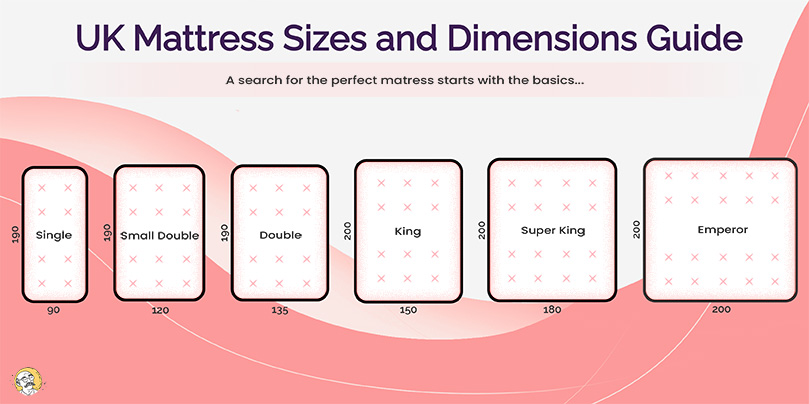 Single and double mattresses and 190cm long and the king and super king are 200cm long. As far as width goes single is 90cm, double's 135cm, the king is 150 and the super king is 180cm wide. Which one you'll need will depend on whether you sleep alone or with a partner, the size of your bed frame and naturally how big or small you are.
Tips for buying and using the best pocket spring mattress
When it comes to buying and using pocket sprung mattresses, it can't hurt to have a few tricks and tips up your sleeve. On that note, here are a few tips to keep in mind when shopping for a pocket sprung mattress.
First of all, a quality pocket sprung mattress should have at least 1000 individual coils or mini pocket springs. Anything lower than that isn't the quality you deserve. Some mattress brands might offer less than that, but we generally not advise to pick foam or hybrid mattresses that have less than coils that.
Next up, while we're on the subject of coils, don't get swayed by crazy numbers. Some mattresses come with over 10,000 and even over 25,000 individual coils, but at that point, we're just talking about very small springs and the advantages at that point are pretty much insignificant. Anything over 3000 is pretty much a gimmick and that mattress with 10,000+ coils will give you the same amount of comfort as any other hybrid mattress would.
Finally, filling your pocket sprung mattress could significantly increase its lifespan. When it comes to quilted mattresses, flipping isn't as important as it is with hand-tufted mattresses but you can still do it just in case. Firmer mattresses usually last longer so you don't have to turn them from time to time.
Buy a mattress with at least 1000 springs
Don't buy a mattress with over 3000 springs
Get a protector for your mattress to extend its lifetime
Flip your mattress regularly.
The Advantages of owning a pocket spring mattress
Finally, we thought we'd talk about some of the advantages you get once you find the perfect pocket spring mattress for yourself.
Unlike memory foam mattresses, pocket sprung mattresses tend to last the longest of all the other mattresses you can buy, because of the individual pocket springs that support your body weight. This makes a pocket spring mattress a pretty good long-term investment.
Next up, pocket sprung mattresses are known to have a lot of orthopaedic benefits. They help keep your body properly aligned at all times, offering you the ultimate comfort and pain relief.
Finally, a great pocket sprung mattress will improve your overall sleep quality which will directly affect the quality of your life, especially when it comes to temperature regulation. Pure memory foam mattress might cause heat problems as not all foam mattresses have the latest technology that keeps you cool while sleeping. 
On the other hand, hybrid mattresses often feature either a cooling gel, or special structure that mattress retailers praise for the cooling abilities. The mattress companies want to ensure that we get the optimal sleep experience so they implement various options that will ensure we stay cool.  Very often, spring mattresses are made of recycled plastic bottles, which improves our environment while we achieve a high quality sleep.
It's a great long-term investment
It keeps your body properly aligned and pain-free
It will significantly improve your quality of life.
FAQs about your new pocket spring mattress
Finally, before we close this article out, we thought we would wrap things up by answering some of the frequently asked questions that we haven't covered so far.  If you have a poor night's sleep and you have a few questions, here is your chance. Here are some of the FAQs you've asked us the most about the best pocket spring mattresses.
How do I know when I need a new mattress?
You should be able to tell that you need a new mattress if you start noticing dips and sinkage and also if you start experiencing difficulties getting a full night's rest. If you like a firmer mattress, as soon as ou notice the lack of "sinkage", you should change it.
How long do pocket sprung mattresses last?
On average, a new mattress with a pocket sprung structure will last you anywhere between 8 to 10 years. Each hybrid mattress is generally more durable than a regular one.
What is the right size of my pocket sprung mattress?
You should always choose the size of your pocket sprung mattress based on your own height and weight, as well as the dimension of your bed.
What is individual pocket spring?
Individual pocket spring means that each spring is sewn separately to its own fabric pocket instead of that all are being connected. This allows higher level of comfort.
How to extend the life of your pocket spring mattress?
Whether you have a king size mattress, a single memory foam layer mattress or medium firm mattress, you can extend its lifetime with a mattress topper or a protector.