Tennyson 4000 Pocket Sprung Orthopaedic Mattress Review
Happy Beds is known for two things – great value and bad names. Tennyson 4000 Twin Pocket Sprung Air Flow Orthopaedic Natural Fillings mattress is a mouthful, to say the least, but what it lacks in the name it makes up for in quality. Or does it? Let's find out!
Who is Tennyson 4000 Pocket Sprung Orthopaedic mattress for?
If you take a good look at the name, you're going to see that this is an orthopaedic mattress, as is often the case with pocket sprung mattresses from Happy Beds.
Even though this is advertised as a medium-firm twin pocket sprung mattress, it's significantly firmer than that. It is going to be suitable for people who are suffering from back pain.
With that in mind, anyone with a high BMI or in need of extra support could probably benefit from this one.
Still, it is also a good pick for anyone who is on the hunt for a new mattress that gives a bit more spine alignment without sacrificing a budget too much.
Add a header to begin generating the table of contents
What do we use this product for?
In most cases, you'd use an orthopaedic mattress to "heal" a bad back or maybe sort some other sleep-related issues. While it is true that this one will help you sleep properly aligned, you can just as easily sleep on it even if you don't struggle with any pain or aches from your old mattress.
7 features that makes Tennyson 4000 Pocket Sprung Orthopaedic mattress a good pick
As is the case with any other mattress, Tennyson 4000 also comes with its own set of defining features. These are the features we paid most attention to during our testing and we feel like you should know more about them if you're interested in buying this product.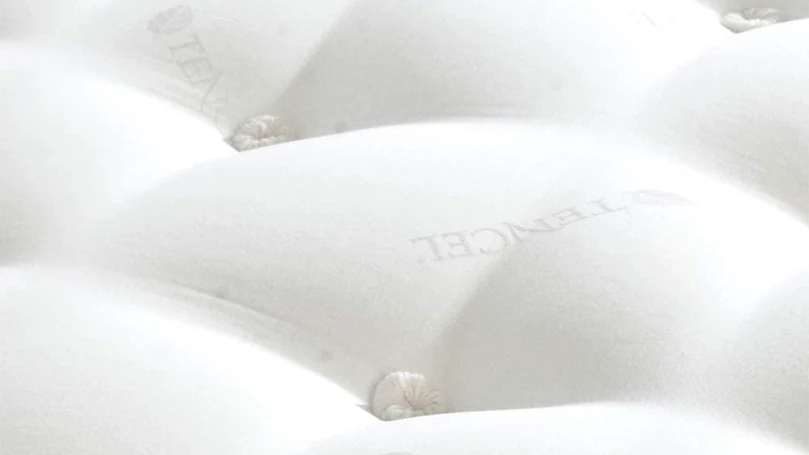 This twin pocket sprung natural fillings mattress is covered in high-quality, soft-to-the-touch, natural cotton fabric. This soft cotton cover is unfortunately non-removable, but it's a high-thread cotton cover, so it shouldn't be too hard to clean.
The wonderfully soft cotton fabric really feels premium to the touch and will feel gentle on your skin, although we still wouldn't advise sleeping directly on it. Use a cover – it'll make your mattress last longer.
Finally, even though cotton is naturally hypoallergenic, this cover isn't. With that being said, it is also not prone to attracting dust mites and other allergens, due to its natural moisture-wicking properties, amongst many others. 
Amply padded tops on both sides
This is a double-sided mattress, which means, you can flip and rotate it and sleep on both sides. Fortunately, both sides of this mattress are amply padded and hand-tufted for additional durability and comfort.
Hand-tufted mattresses are always great when it comes to retaining shape for a long time and this one is no different. The padding is high-quality, it's comfortable, it doesn't move around and it should stay as good as new for a long time.
To extend its life expectancy, you should flip and rotate your Tennyson 4000 twin pocket sprung natural fillings mattress at least once every 6 weeks.
However, we'd recommend rotating and flipping once every 4 weeks, instead of 6, at least until you break it in, which would be in the first three months of use.
To make things better, Tennyson 4000 twin pocket sprung natural fillings mattress comes equipped with hand-sewn side handles for easier manoeuvring. These really come in handy when you have to flip a 35 kg Super King-sized mattress.
Air vents & Airflow materials
As is often the case with pocket sprung mattresses, they're quite cool and breathable, but Tennyson 4000 takes it a step further.
Aside from being filled with wool, a material great for regulating temperature and keeping things pleasant, this mattress also has two air vents on each side of the mattress.
These air vents really improve the airflow within the mattress, ensuring that you stay cool during warm summer nights. However, there's only so much a mattress can do if it's really warm outside, so keep that in mind.
As we've previously mentioned, this twin pocket sprung mattress is filled with natural materials.
The three of the most predominant materials used in Tennyson 4000 twin pocket sprung natural fillings mattress are wool, cotton and cashmere.
Wool is a soft, comfortable, temperature-regulating material that is often used in pocket sprung mattresses for various purposes. Cashmere is often added for some additional softness and comfort. And cotton is a go-to choice when it comes to manufacturing high-quality, soft covers. With these natural fillings, mattress provides sleepers with the top notch sleeping experience.
Two layers of nested pocket springs
As you could tell by the sheer number of individually nested pocket springs, we're looking at two layers, instead of one.
These are not full-size coils, but they're still quite capable of properly supporting your body.
This twin pocket sprung system has proven to be great at offering a great level of support, while also being quite exemplary at isolating motion, which is not often the case with a firmer, orthopaedic mattress.
As we have mentioned earlier, this is an orthopaedic mattress. What that means is that this mattress is slightly firmer than a regular one would be and because of it, it manages to support your body weight in a much better fashion, leaving you properly aligned throughout the night, regardless of your sleeping position.
However, in reality, side sleepers don't usually benefit from orthopaedic properties and are usually much better off sleeping on a slightly softer surface. Still, if you are not sure whether you need a firmer or a softer mattress, we have a buyer's guide on orthopaedic mattresses so you can check it out to learn more.
Review of Tennyson 4000 Pocket Sprung Orthopaedic mattress
All in all, this is a fairly good mattress that will be the perfect match for anyone with a backpain. It's firm and it has solid support all around – as any orthopaedic mattress should. On top of all that, it's hand-made and hand-tufted, so you know durability won't be an issue.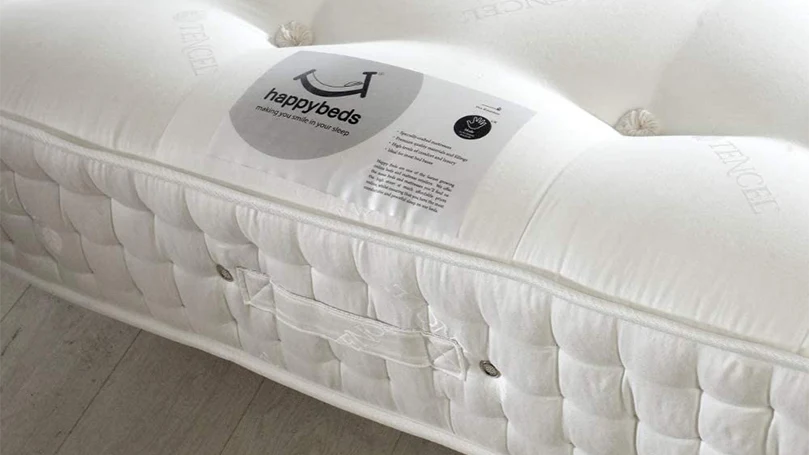 It is also quite pleasant to sleep on during warm nights since it doesn't get hot. On the other hand, the cover is not removable, nor hypoallergenic, so cleaning might be a bit of a chore. Also, the lack of padding or reinforcement on the sides leaves edge support underwhelming, to say the least. 
Bottom line – this is a fantastic pocket sprung mattress that will suit most of the sleepers, especially those who want to achieve better spine alignment as well as less pain in the back. Therefore, despite the few cons that we identified, this is still a good choice for the majority of sleepers.
Type: Pocket Sprung
Firmness: 7.5/10
Thickness: 28cm
Size: Small Single, Single, Small Double, Double, King, Super King.
Excellent support
Quite cool and breathable
Very durable.
Edge support needs a lot of improvement
Non-removable; non-hypoallergenic cover
No trial period.
3 reasons why we like Tennyson 4000 Pocket Sprung Orthopaedic mattress
If you're looking for a firm, supportive mattress – this is it
Thanks to the air vents, the mattress is very cool and pleasant to sleep on
Every layer of this mattress seems to be very durable.
Why don't we like Tennyson 4000 Pocket Sprung Orthopaedic mattress?
We do not recommend sleeping near the edges as you could easily slip and fall from the bed
A removable, hypoallergenic mattress cover should be standard practice in 2021
You do get a 5-year warranty, but no trial period, which could pose a problem for many.
2 perfect alternatives to Tennyson 4000 Pocket Sprung Orthopaedic mattress?
If you're not interested in Tennyson 4000, we feel like you might be interested in one of these mattresses, instead. These are the perfect replacements for the product we reviewed. 
This is a slightly softer alternative to Tennyson 4000, but still on the firmer side of what you'd call a medium-firm mattress.
Made Hybrid is one of the hybrid mattresses that come with the individual springs and high-quality foam that ensures optimal sleep.
From top to bottom, this one consists of a hypoallergenic, soft-quilted cover, 25 mm of cooling memory foam, 25 mm of MadeFlex bounce-back memory foam, 1800 mini pocket springs and a supportive memory foam base.
We do have a review on Made Hybrid mattress so feel free to check it out.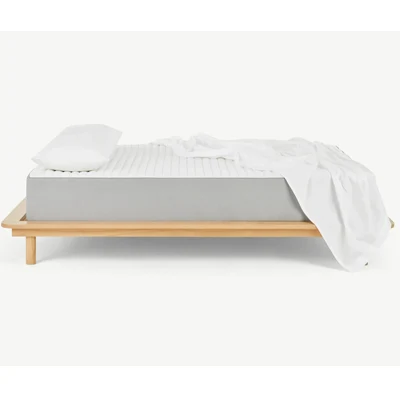 Very comfortable
Great at relieving pressure
A good fit for all sleeping positions
Good choice for people with allergies.
Some durability concerns
Known to sink in the middle
Excessive off-gassing.
If you're in the market for something premium – Simba Hybrid Luxe might just be for you.
Arguably one of the best mattresses you can buy, this one delivers on everything that you might want or need – starting from comfort and support and all the way to durability and ease of maintenance.
The Luxe version that we reviewed earlier is a fantastic pocket-sprung mattress, equipped with 3×6000 titanium aerocoil springs that ensure the top-notch comfort and support.
In addition, it comes with 10 layers, including a temperature-regulating one, made of 100% bamboo.
Excellent full-body support and comfort
Excellent edge support
Excellent durability.
Average motion isolation
It might be uncomfortable for side sleepers
Very expensive.
Consider Eve Mattress Topper if you are buying Tennyson 4000 Pocket Sprung Orthopaedic Mattress?
If you'd like to make your Tennyson 4000 a bit softer, then you should probably look into getting a mattress topper. 
Eve mattress topper is a 5 cm thick memory foam topper that will make your pocket sprung mattress quite more pleasant to lie on.
For a memory foam topper, this one is quite great at keeping things cool, but still, keep in mind that you'll be sacrificing some breathability, for some additional comfort.
Don't forget to check our detailed Eve mattress topper review to learn more about this fantastic topper.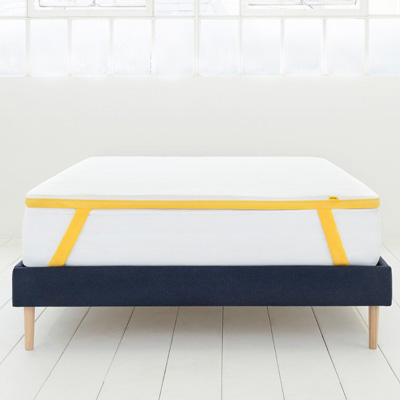 Very comfortable
Very supportive for a mattress cover
Great durability; will easily outlast its warranty.
Will need to vent for 2-3 days before using
You could get a new mattress for the price of this topper.
What makes this product better than some other similar ones?
This is a comfortable mattress whilst being accommodatingly firm, at the same time. That is not something you often see with orthopaedic mattresses, but what really sets this one apart from the others is its great durability. The current market within the United Kingdom cannot offer a better mattress for those who need an orthopaedic features.
How did we test the product?
Every mattress is a story for itself, so you have to approach it from a different perspective. As is often the case with pocket sprung orthopaedic mattresses, we wanted to test the firmness, support and durability, before everything else.
The first thing we did is have every member of our team spend 10 days and nights with this mattress, so they could take some notes and write down some thoughts.
As far as firmness is concerned, we all agreed that is a not medium-firm mattress – it's more firm than medium. We can see this one being a bit too firm for some side sleepers with a low BMI, so keep that in mind.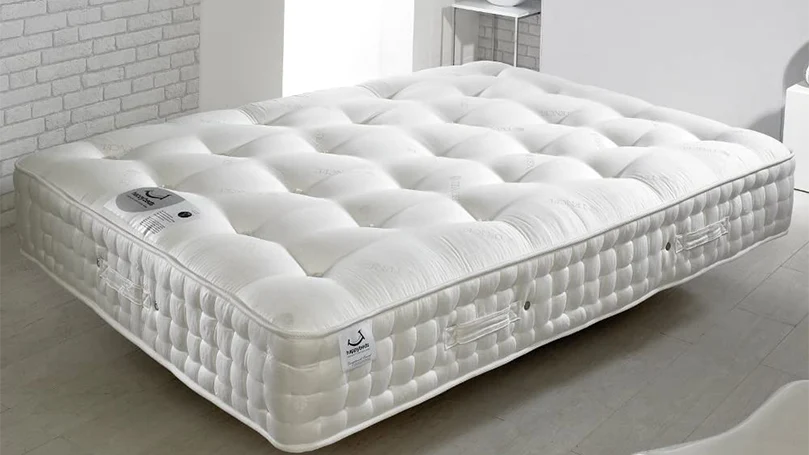 Support, on the other hand, is remarkable. We did expect it to perform well, seeing how it is a twin pocket sprung mattress with a lot of individually nested pocket springs, but even we were amazed at how well it performed.
Even if you're above 120 kg, this mattress will manage to support your weight quite nicely. Sure, it'll feel softer, but you'll still sleep in a proper position.
Finally, we can't finish our reviews without testing the durability. To test the durability, we performed the roller test, simulating the years of use and we have to say – the results were more than satisfying.
FAQs about your Tennyson 4000 Twin Pocket Sprung Airflow mattress
In the end, we thought we'd wrap things up by answering some of the frequently asked questions we've found.
Is Tennyson 4000 Twin Pocket Sprung mattress good for side sleepers?
Yes and no. If you're a heavy side sleeper, this might be a good fit for you. Otherwise, it'll probably be too firm for you.
Is Tennyson 4000 Twin Pocket Sprung mattress good for back sleepers?
In a word - yes. This is a great mattress for back sleepers.
Is Tennyson 4000 Twin Pocket Sprung mattress good for sleepers with neck pain?
If you're dealing with neck pain, the better option would be to change your pillow first.
How do I wash my Tennyson 4000 Twin Pocket Sprung mattress?
You can wash the top cotton cover with a mild detergent and a damp cloth.