6 Best Coverless Duvet Picks For Easy DIY Maintenance
Coverless duvet is a very practical thing that should provide you with quality sleep, while making the maintenance process a piece of cake.
In order to feel as comfortable as possible while lying tucked under a coverless duvet, it is necessary to consider several basic factors such as size, material and to check the best models available on the UK market.
Depending on your personal needs, you can opt for a duvet that is ideal for the hot summer months, or you may prefer one that adapts to colder nights and autumn. On the other hand, consider material that would be equally pleasing and visually acceptable. In this way, you will enjoy all its advantages, and that is, above all, the comfort you need for normal sleep.
In order to make it easier for you to choose the best coverless duvet, we have selected the 5 best of our choice. Our choice was exclusively influenced by the analysis of the most important factors that we have listed above, as well as the overnight testing that we conducted.
IMAGE
PRODUCT
DETAILS

KEY FEATURES:

Size:

Single, UK Double, King, Super King

Material:

Rayon from bamboo

Filling:

50% bamboo, 50% nano microfibre

TOG:

10.5

Machine washable:

Yes

Tumble dry:

Yes, low temperature

Warranty:

5 years

Trial:

30-night

View Latest Price

KEY FEATURES:

Size:

Single, Double, King

Material:

Polyester

Filling:

Smartfil polyester from recycled PET bottles

TOG:

4.5 ; 10. 5

Machine washable:

Yes

Tumble dry:

Yes

Warranty:

N/A

Trial:

N/A

View Latest Price

KEY FEATURES:

Size:

Single, Double, King, Super King

Material:

Polyester

Filling:

Microfibre

TOG:

13.5

Machine washable:

Yes

Tumble dry:

No

Warranty:

1 year

Trial:

14 days

View Latest Price

KEY FEATURES:

Size:

Single, Double, King, Super King

Material:

Eucalyptus

Filling:

Eucalyptus

TOG:

4.5 ; 10.5

Machine washable:

No

Tumble dry:

No

Warranty:

N/A

Trial:

30 nights

View Latest Price

KEY FEATURES:

Size:

UK Double, UK King, UK Super King

Material:

Cotton

Filling:

Hollowfibre

TOG:

10.5 + 4.5

Machine washable:

Yes

Tumble dry:

Yes

Warranty:

2 years

Trial:

N/A

View Latest Price

KEY FEATURES:

Size:

Cot

Material:

Cotton

Filling:

Polyester

TOG:

4

Machine washable:

Yes

Tumble dry:

Yes

Warranty:

N/A

Trial:

N/A

View Latest Price
1. BEST OVERALL: Panda Cloud Duvet
Panda Cloud Duvet will give you comfort during the whole year.
This light all in one duvet is so soft and fluffy that you will fall in love with it the first night. Made of the highest quality bamboo, it will be ideal for every season because it has temperature control features. Filling is made of bamboo and nano-microfiber, which guarantees that it is hypoallergenic and will not irritate even the most sensitive skin.
Organic bamboo is used, which is grown pesticide free, so this product is eco-friendly and vegan-friendly. It is even delivered in a recycled and recyclable box, with a reusable duffle bag made of bamboo. The quality of the products as well as the fact that they pay attention to the environment have brought the Panda company many awards.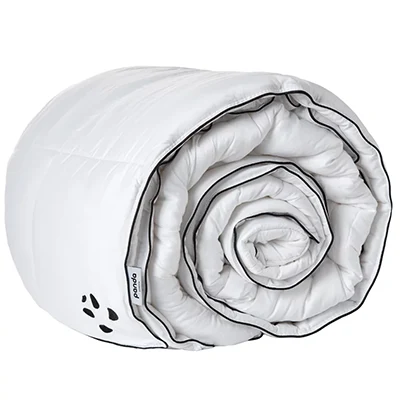 Soft and fluffy
Suitable for every season
Eco/vegan-friendly
30-night trial
5-year warranty.
2. BEST VALUE: Night Owl Herringbone
Night Owl duvet is affordable coverless duvet that does not lag behind more expensive models in terms of quality and comfort.
Fine Bedding Company offers you its coverless duvet called Night Owl Herringbone at a very affordable price, especially considering the great reputation of that company that could certainly raise the price of this product.
For all those who don't want a separate duvet cover that is never a perfect fit with duvet, and yet don't want to pay over £ 100, Night Owl coverless duvet is a great choice. Both the filling and the exterior are made of very high quality polyester. It is machine is washable, and wash it at a maximum of 40 degrees Celsius. There are three very beautiful and subtle colors available that will fit with your bedroom.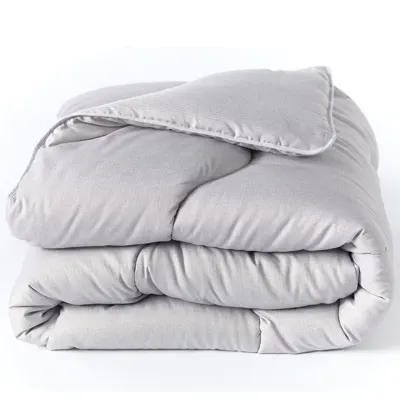 Affordable
Warm, yet not too hot
3 available colors
Fully machine washable.
No super king size available.
3. UPGRADE PICK: OTTY Deluxe Microfibre Duvet
Truly deluxe coverless duvet you won't regret buying.
This Deluxe Microfibre Duvet manufactured by OTTY is really a deluxe product that fully justifies its higher price with quality. It is a hypoallergenic microfiber duvet that is so soft and fluffy that you will feel like it is down filling, and is actually microfiber to ensure that it is hypoallergenic and also vegan-friendly. It has no crinkle sound which is characteristic of many coverless duvets.
Microfiber offers great breathability, so it will be comfortable even in during the summer. You have a 14-day trial period to make sure the quality of this coverless duvet.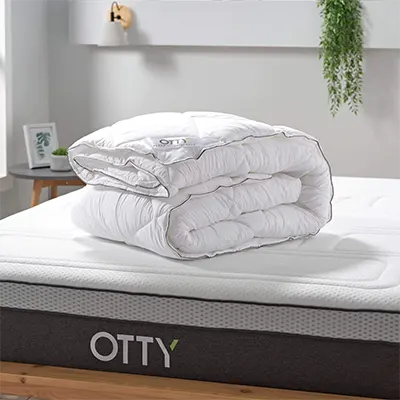 Premium product
Vegan-friendly
Breathable
14-day trial period
No crinkle sound.
No single size available
Expensive compared to most other coverless duvets.
4. BEST FOR SUMMER TIME: Mela The Air Eucalyptus Duvet
When hot nights come, cooling properties are most important, and this Eucalyptus Duvet has proven to be the best.
Mela company offers a small number of products, but we know that each of these products is topnotch. For this cooling coverless duvet they used eucalyptus, which is an eco-friendly option and also every purchase protects 25 trees in the Amazonian rainforest.
It is available in two different weights, one is lightweight which is the best option for summer time and the other weight which is for all seasons. If you also have a winter duvet, then buy a lightweight model. It keeps hot sleepers cool. It is machine washable and you are free to wash it at home because it is very durable.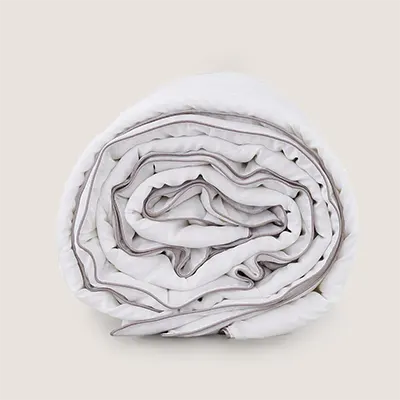 Eco-friendly
Cooling
Machine-washable
Two different weights.
No single and super king sizes available.
5. BEST FOR WINTER: EVE Warm Cool Duvet
EVE Warm: Cool is two-side coverless duvet which is best for winter, but also great for summer.
This coverless duvet will delight you because it has two different sides. One side is great for winter and that's why we chose this duvet as the best for winter. But that doesn't mean you'll have to buy another one for the summer. The other side is 4.5 TOG and is very light, which means it is ideal for the summer months. This duvet is literally the best of both worlds.
It is made of cotton and hollowfibre, so it is hypoallergenic and the machine washable at 40 ° C. It is manufactured in UK.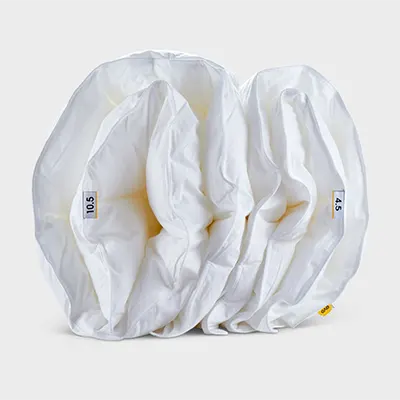 Two sides
Hypoallergenic
Machine washable
Manufactured in the UK.
No single size available.
6. BEST FOR BABIES: Coverless Duvet Dunelm
Great coverless baby duvet for every season.
Toddler's thermoregulation is not as developed as an adult's, so you need to make sure that the duvet is such that it keeps the toddler warm all the time, but not sweating. Coverless Duvet Dunelm will give your toddler just that. Coverless Star 100% Cotton 4 Tog Dunelm duvet is made of cotton, it is soft, warm and breathable.
 It is completely safe, the OEKO-TEX certificate guarantees it. You should keep in mind to avoid using this product in combination with a sleep bag or blanket. It is easy to maintain because it is fully machine washable. You can iron it on a cool setting after you tumble dry duvet on a low heat setting.
Check our Coverless Duvet Dunelm review to learn more about this product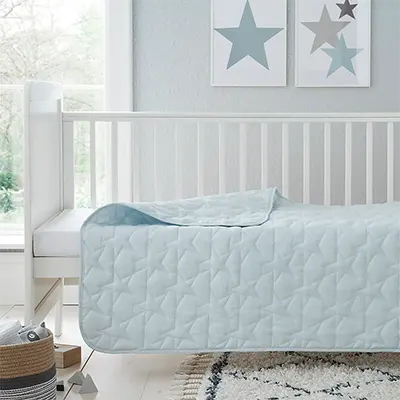 Soft
Great pick for toddlers
100% cotton
Machine washable.
Only one TOG version available.
What to consider when buying the best coverless duvet
Since you spend the third of your life sleeping, this means that the bed you sleep on and its elements are very important. In that case, the thought of finding the ideal coverless duvet is very serious. To make this incredibly important decision, start with a few basic features of a coverless duvet. This means that during the search, you should pay attention to its size, material and method of maintenance.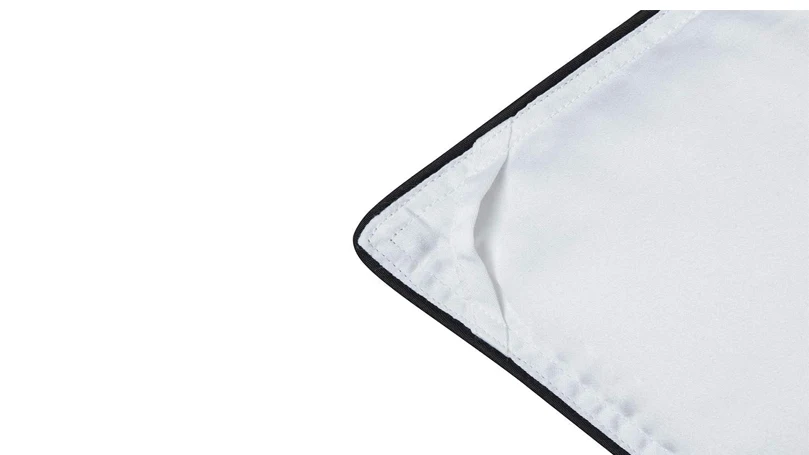 When it comes to the size of the coverless duvet, you need to review the standard sizes. After that, you need to compare the sizes with your bed. It would be best to measure it and thus determine the dimensions even if you are buying regular duvet. Remember that the bigger the blanket you choose, the more you will struggle with it and vice versa. Of course, if you do not sleep alone, it is logical that you will opt for a larger option, like double duvet. 
So, most people choose the size of the blanket that will be able to cover the whole bed, but there are those for whom it is too much. This depends solely on what you like best. If you are choosing for children, it is recommended to choose a coverless duvet of smaller dimensions so that they do not curl up too much during the night.
You can find the coverless duvet in various colors, but also materials. For example, some models are completely 'teddy bear' while others are synthetic and much lighter. Depending on whether you are more of a supporter of natural or synthetic materials, make a decision. In that case, it is important to take into account your health condition if you have a problem with asthma, eczema, itching, etc.
Such conditions can be further irritated by poor choice of bed linen. Keep in mind that the resistance of the coverless duvet will also depend on its resistance to dust and mites. So, if you have these symptoms, it may be better to consider an anti-allergy coverless duvet, because it reduces the chances of developing bacteria that cause allergies. So consider the characteristics of individual materials such as linen, cotton, silk, polyester and other synthetics.
It is recommended to wash the coverless duvet every 6 to 12 months following washing instructions. Of course, you can also wash them more often if they get dirty and you notice stains on them. For example, some people sweat a lot more during the night than others and they certainly have to wash their coverless duvet a little more often. Otherwise, mites will multiply in the bed sheets and other bedding.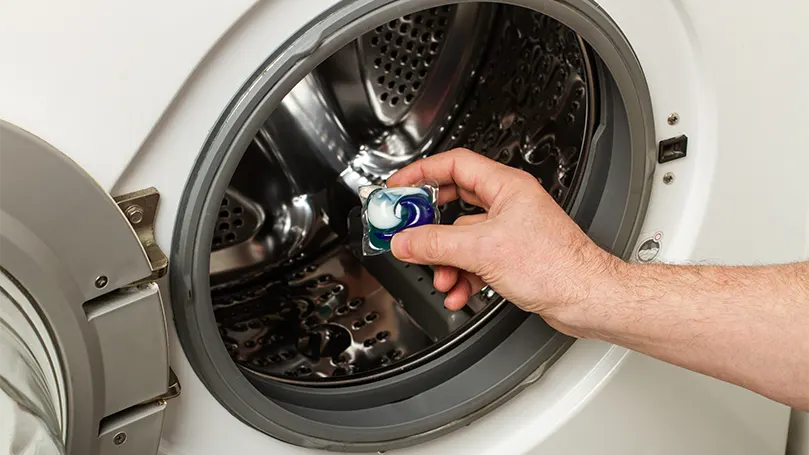 It is generally recommended that you wash the coverless duvet in a large commercial washing machine. However, you can do this at your home, using your washing machine. Remember that chemicals in dry cleaning can break down the fiber of the fill. You can dry the coverless duvet in the tumble dryer using the gentle heat setting.
Tips for buying and using coverless duvet
Coverless duvets are made of different materials, sizes and differ in other characteristics. However, it is a great opportunity to find the ideal model for you. For example, the material will directly affect how comfortable you are in your bed. In addition, it will affect how warm you are during the evening. So think about what you want to buy, which means that you need to take into account your personal circumstances, preferences and affordability, etc.
    The main thing to consider when choosing a coverless duvet is the material
    You also need to consider your personal preferences
    There are a lot of coverless duvet on the market and each of them varies in price, so you have to take price into account also.
The advantages of owning the coverless duvet
The main advantage of owning the best coverless duvet is that you don't have to think about changing the cover, whether it fits properly, crinkle sound and everything else related to the cover. That's why a lot of people want a coverless duvet. Of course, there are many other advantages.
Some of them include owning a duvet that is made of the highest quality materials, which are hypoallergenic, breathable, and also easy to maintain. Most coverless duvets are machine washable. We should not forget to mention that the producers care very much about our environment, so they are all made according to environmental standards. It is very important that you choose eco-friendly products.
    You won't have to change covers
    Coverless duvets are hypoallergenic
    Most coverless duvets are eco-friendly, vegan-friendly and cruelty-friendly.
FAQs about your coverless duvet
When you buy a coverless duvet, you are probably interested in how long it will last, to know is your investment is worthwhile. You are also interested in how to wash and tumble dry it properly to make it last as long as possible. And also whether it is suitable for summer months. We will answer all this in the FAQ section.
How long does a coverless duvet last?
If you take proper care of your coverless duvet it will last for years.
How do I wash my coverless duvet?
You can wash it in the washing machine using cold water or up to 40 degrees C.
Can I tumble dry my coverless duvet?
You can tumble dry it on a low heat.
Are coverless duvets good for summer?
There are many coverless duvets which are good for summer, so you just have to pay attention to specifications.