Mela Air Duvet Review - One of The Best Eco-Friendly Duvets
Various sleep products made from eucalyptus, bamboo and other natural materials have become increasingly popular in recent years. Sam and Matt, Mela founders, have brought some great products to the UK market, and we have tested for you Mela Air duvet, one of the products from their eucalyptus collection which also includes additional pieces of sleep equipment. 
Who is Mela Air duvet for?
Anyone who needs a comfortable, hypoallergenic and breathable duvet that will give you cloud-like comfort, is the right person for Mela Air eucalyptus duvet. It is available in two options, for summer and for the whole year. 
The 4.5 TOG model is ideal for summer, and hot sleepers who live in a warm climate or have central heating will use it all year round.
 10.5 TOG is a great example of an all-season duvet for the average UK customer, who doesn't need a real summer duvet or a duvet for very cold days.
Add a header to begin generating the table of contents
What do we use this product for?
Simply put, we use the Mela Air duvet to make us comfortable and to have a more restful night sleep than with some other duvet. And it makes us comfortable because it's soft, light and cool. In addition, we use it because it is hypoallergenic and dust mites free, so Mela Air duvet is also suitable for allergy-sufferers. Although this eucalyptus duvet does not directly affect preserving of Amazon rainforest it is still eco-friendly as it is sourced in a sustainable way from Austrian woods.
Mela Air duvet is a perfect pick for:
All those who want to save our planet and support eco-friendly products
People with allergies 
Sleepers who want a breathable, yet cooling duvet
A cozy and comfortable cover from their duvets.
Features you should know about Mela Air duvet
We will elaborate all the features you should know about Mela Air duvet in this part of our review. You will learn all about eucalyptus fill as well as other most important features.
Mela Air duvet is filled with 100% soft eucalyptus silk known also as eucalyptus lyocell, and there are various reasons why many sleep companies have started using eucalyptus for their products. Eucalyptus is very soft and silk-like. It is also highly breathable, but we can say that some other materials, such as cotton and high-quality polyester, have similar characteristics.
What sets eucalyptus apart from other similar materials is eco-friendliness. It requires 10x less water than cotton, which means that carbon footprint is significantly reduced. The company Mela uses eucalyptus harvested from regenerative forests in Austria and the Czech Republic, so all regulations are followed. Also, this duvet is OEKO-TEX certified, meaning it is free from any harmful chemicals or toxins, making it 100% eco-friendly.
If you buy Mela Air duvet 10.5 TOG you most likely have a duvet for every season. TOG rating tells you how warm a duvet will keep you. Duvets on the United Kingdom market usually have a TOG between 3 and 15, although ultra-light versions with a TOG rating of 2 can also be found, as well as very warm over 15 TOG.
10.5 TOG is right in the middle and so it will be good for both hot and cold days as it is rarely scorching hot and very cold in the UK. 10.5 TOG might be too hot for summer but due to great breathability, everyone except hot sleepers will be able to use it all the time. During the winter it will be able to keep you warm enough.
A person who constantly feels hot at night can be considered hot sleepers. In general, the sleep industry has the most problems adapting products to them, because memory foam, and also some other popular materials, do not suit them.
Mela Air duvet is a great choice for hot sleepers because it is highly breathable and cooling. 10.5 TOG will suit them for most of the year, and for the summer they can buy 4.5 TOG model which will cool them perfectly during the hottest days of the year.
Although the weighted blanket is Mela's most famous product, this duvet is intended for those who want very light duvets. Mela Air duvet is very lightweight, soft and fluffy, so it is an ideal choice for all those who want to barely feel any weight on themselves. By purchasing this duvet, you guarantee yourself cloud-like comfort.
Hypoallergenic & allergen-free
Anyone who has allergies, asthma or some other similar problem can use Mela Air duvet without fear that it may cause an allergic reaction. Eucalyptus is a 100% hypoallergenic material that is unsuitable for dust mites and other allergens, so it is allergen-free.  OEKO-TEX certification is another important feature for allergy sufferers, because chemicals can also negatively affect their condition, and in this case there is no harmful chemicals. We suggest you to use hypoallergenic sheets and pillow too.
Since this is not a cheap duvet, it will be important for you to know that it is highly durable and that you will be able to use it for years if you maintain it according to the instructions.
Mela Air duvet is a very comfortable duvet that is soft and lightweight. It is made from 100% super soft eucalyptus silk that is harvested from regenerative forests in Austria and the Czech Republic, and as it requires 10 times less water than cotton, so this is an eco-friendly and vegan-friendly alternative to down and polyester duvets. There are two options available to you – 4.5 TOG and 10.5 TOG.
4.5 TOG is for summer to give you sweat free sleep, perfect even for hot sleepers, while 10.5 TOG is an all-season duvet which is also very light considering which TOG rating it has. Durability is great, and it is also 100% hypoallergenic and OEKO-TEX certified so it is safe for everyone. It is popular choice for hot sleepers. Duvet is not machine washable but you have to clean it at dry cleaner. You can buy duvet cover that is machine washable and also made from 100% eucalyptus silk.
Material: 100% Eucalyptus silk
Softness: 9.5/10
Size: Double, King.
Durable
Hypoallergenic
All-season duvet.
High-priced
Not machine washable
No single size.
3 things that convinced us to buy Mela Air duvet
100% eucalyptus duvet combines softness with breezy airflow, so it is one of the best for hot sleepers
If you choose a 10.5 TOG rating you can be sure you have a duvet for the whole year
It is comfortable and light as down duvets, but unlike down duvets it is suitable for people who have allergies.
3 things we didn't like about Mela Air duvet
It is one of the more expensive duvets on the UK market, especially the 4.5 TOG rating model which is not all-season
Mela Air duvet is not machine washable, and if you want to buy a cover made for it, you will have to spend significant amount of money
Unexpectedly, it is not available in Single sizes, but only Double and King.
Check the alternatives to Mela Air duvet
We chose the EverComfy Aloe Vera duvet and the Eve Yin Yang duvet as alternatives, because one has Aloe Vera and the other is an all season duvet.
EverComfy Aloe Vera duvet
Aloe Vera is a natural antibiotic, anti-microbial and antiseptic, so it certainly makes sense to add it to sleep products. This microfiber filled duvet is very soft and breathable, so you won't overheat, even during  the hottest summer days. 
Considering the price/quality ratio, it is one of the very affordable duvets. There are two options available that you can choose- 4.5 and 13.5 TOG, which means that it is not suitable for the whole year.
Check our EverComfy Aloe Vera duvet review to learn more about this great duvet.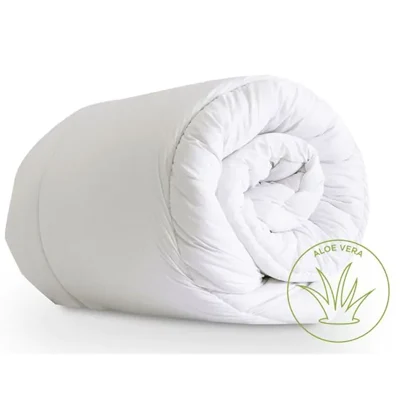 Aloe Vera-infused
Soft
Hypoallergenic.
Off-gassing issues
Cover is not removable
No trial period.
Once known under the name Yin Yang, this duvet is now known under name Warm:Cool duvet. It is certainly more expensive than the average duvet on the UK market, but there are several reasons why this is so.
The first and main reason is that it has two different sides, so whether it is hot or cold, this duvet will suit you perfectly. Another reason is overall quality. It is fully machine washable at 40 degrees C so the maintenance progress is going to be a piece of cake. 
We do have a full review on Eve Warm:Cool duvet so take a look.
Two different sides (warm & cool)
Highly durable
Breathable.
No single size
A bit more expensive
Not for very cold winters.
Consider Panda Bamboo pillow if you are buying Mela Air duvet
3rd generation memory foam is uniquely supportive and will put your head, neck and spin in the perfect position. Bamboo cover is soft, durable, hypoallergenic and grown pesticide free. It comes with a 10 year warranty and an additional in-built pillow protector. 
Panda is a recognized brand and it is known for their eco-friendly and sustainably made products. The overall quality is fantastic and this is one of those pillows that is worth every quid you pay for!
Check our Panda bamboo pillow review to dig deeper and find out more about this eco-friendly bamboo product.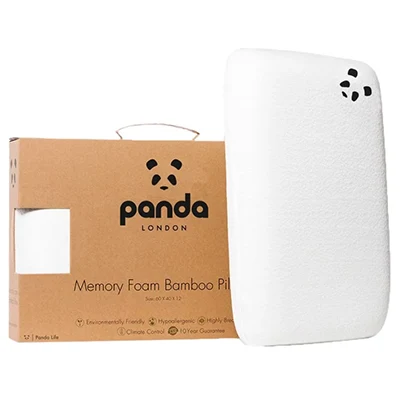 A huge level of breathability
Fantastic support
Eco-friendly.
Slight off-gassing
Not for every side sleeper
Only one size.
What makes this product better than some other similar ones?
There aren't a lot of duvets or other products in the sleep industry that are 100% made from eucalyptus and that's what sets this duvet apart and makes it better about other similar ones. Also that's why it's eco-friendly and vegan-friendly.
We really like the other features too. It is comfortable, soft and lightweight, so sleeping under it will be very pleasant. An all-season option is available and you won't have to spend money and storage space on two duvets. It should be mentioned that it is hypoallergenic.
How did we test the product?
You need to decide what size and TOG rating you want when ordering. Mela offers free shipping on all orders over £ 30 so you want to have to pay additional for shipping. In case you want express shipping, you will have to pay for it. Standard shipping is normally 48hours if ordered before 2pm but a delay may occur and then you will wait 3 to 5 business days for the product to be delivered to you.
We ordered two duets, so we could test both TOG ratings, and they arrived within the scheduled 48 hours. Off-gassing is barely present, so you will be able to use it right away.
As soon as we started testing, we noticed how light and soft both models are. They are very comfortable and will give you a good night's sleep. 4.5 TOG you will use during the summer when you need a cooling duvet, and 10.5 TOG you can use all year round, even in summer. We were not hot under it although we tested it in a room where it was very warm.
As for maintenance, we did not test it here because it is only suitable for dry cleaning. Machine washable duvet covers are very useful, so we tested Mela duvet cover that is also soft, silk-like and machine washable, but the question is whether it is necessary to be so pricey. The cover regulates the temperature very well and is pleasant for your skin, so we don't dispute its quality, we just think that it could be a bit cheaper.
FAQs about your Mela Air duvet
The answers to the frequently asked questions will make this review complete, so let's address those questions.
Is Mela Air duvet good for allergy sleepers?
Yes, Mela Air duvet is made of 100% hypoallergenic materials and free of allergens like dust mites.
How do I wash my Mela Air duvet?
Mela advises customers to clean their duvet at a dry cleaner that doesn't use the chemical perchloroethylene and you can buy Eucalyptus Silk duvet cover which is machine washable
Is Mela Air duvet good for the winter?
If you buy 10.5 TOG Mela Air duvet, it will most likely be good for the winter as well as for all other seasons.
Can I sleep with Mela Air duvet during the summer?
Yes, you can - just make sure you opt for 4.5 TOG.