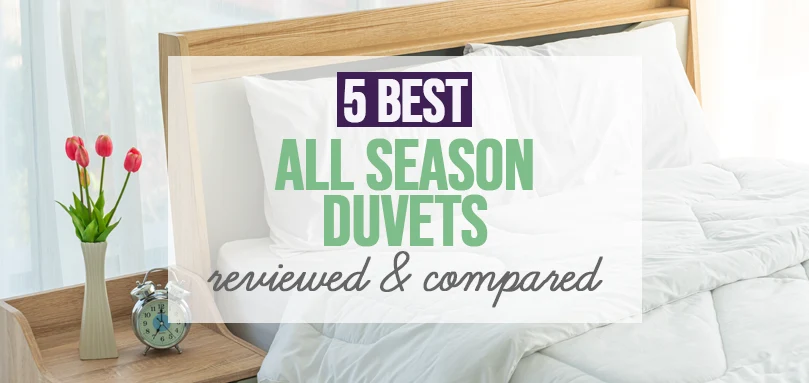 The All-Season Duvet - These are our five picks
You don't have to go through the trouble of changing your duvet every season when you can have one of the best all season duvets and use it the entire year! That's completely true and possible in 2019, as we've entered the realm of all season duvets which are keeping you warm in Winter and chill and Summer. So, what's the deal with those duvets? Why not just switch to lightweight covers, blankets or throws? Well, an all season duvet will definitely be a better, healthier and a much more comfortable solution for all seasons.
A good all-season duvet is:
Breathable 
Soft 
Fluffs easily 
Gentle to skin 
Not irritating to your skin
Not holding heat trapped
Free-of-dust-mites & moisture
Easily washed
Lightweight 
Made of natural materials
Made with appropriate TOG rating.
In duvets, you will notice a particular tog rating. This rating universally shows how hot a duvet will be. So, if you're looking for a duvet for Summer, ideally you'll pick a duvet between 1 and 4.5 togs. Duvets that are somewhere down the middle feature a 7 to 10.5 tog. And, finally, warm, cozy, Winter duvets are above 11 tog. So we decided to feature the best of the best from right in the middle. Additionally, feel free to read our guide on choosing a duvet to learn more about the duvets.
Top 5 duvets for all seasons
IMAGE
PRODUCT
DETAILS

KEY FEATURES:

Material:

100% bamboo rayon cover, 50% bamboo, 50% nano microfibre filling

Available in sizes:

Single, UK double, king, super king

Additional features:

Hypoallergenic, antibacterial cover, vegan friendly, dust mite proof, machine washable

View Latest Price

KEY FEATURES:

Material:

Microfibre and hollow fibre

Available in sizes:

Single, double, king and super king

Additional features:

Hypoallergenic, machine washable, handcrafted in the UK, 3 in 1 perfect for all seasons

View Latest Price

KEY FEATURES:

Material:

Simba-Renew Fibers made from recycled PET bottles and cotton

Available in sizes:

Single, double, king, super king

Additional features:

Hypoallergenic, global recycling standard certificate, breathable and temperature regulating

View Latest Price

KEY FEATURES:

Material:

Cotton and hollowfibre

Available in sizes:

UK single, UK double, UK king, super king

Additional features:

Hypoallergenic, 2-year warranty, machine washable at 40 degrees, manufactured in the UK

View Latest Price

KEY FEATURES:

Material:

90% Hungarian goose down & 10% selected small Hungarian goose feather

Available in sizes:

Single, double, king, super king

Additional features:

Super soft sateen cotton cover, top quality down, Oeko-Tex 100, anti-allergen standard for house dust mite allergy sufferers

View Latest Price
Nope! This one isn't a 2-in-1 duvet! Shocking, isn't it? But just because it isn't and on top of that – has all of the versatility any other duvet would have, this is our top pick for our all-seasons duvet. The Cloud duvet features an amazing 100% bamboo rayon cover which allows optimal breathability. That way it makes up for not being too dense, like the other duvets we mentioned before (unseparated). However – with a 10.5 tog rating, it's right in the middle! That's why you can use it all year round without the feeling of overheating, or being too cold. The duvet is safe for everyone – it's vegan, eco-friendly, hypoallergenic and dust mite resistant. Check our full review on Panda Cloud duvet.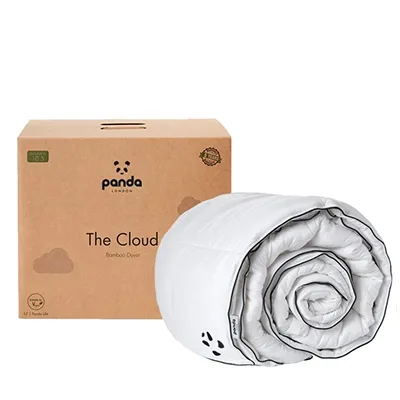 Hypoallergenic
Breathable
Eco-friendly
Bamboo smell
Only one colour
5 TOG rating is not for hot sleepers and for warm parts of the year
Slumberdown All Seasons Duvet
This 3 in 1 duvet is definitely a great choice for all seasons. Wondering how 3 in 1 is possible? Slumberdown gives you one duvet that has 4.5 TOG and which is ideal for all warm nights. The other one that has a 10.5 TOG rating is suitable for early spring, late fall and winter of course. But if you get cold, all you have to do is combine a 4.5 TOG duvet and a 10.5 TOG duvet and you get a 15 TOG duvet that will keep you warm even when it's freezing cold. The materials from which it is made are microfiber and hollow fibre, making it cosy and cooling.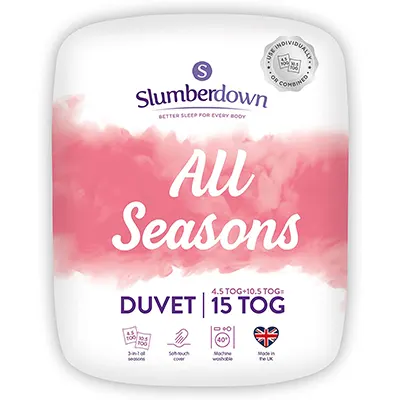 Hypoallergenic
Machine washable
Made in the UK
Durability
Breathability
Slips down when pinned together sometimes
Simba designed The Simba Hybrid Duvet using space-inspired fabric technology. Recycled PET bottles were used in the production, which means that this duvet is eco-friendly and that we should buy as many such products as possible. There is also cotton to help regulate the temperature, and cotton is also obtained from special eco-friendly programs. All the energy used in production is renewable. This duvet is very soft and comfortable and you will enjoy using it all year round. The Simba company believes that you don't need too hot a duvet, because most people live in homes with central heating, so they primarily worked on breathability to make it comfortable for hot sleepers as well. Make sure you read our Simba Hybrid Duvet review.
Breathable
Eco-friendly
Soft
A bit more expensive
Can be cold during winter
Only one design
This is another duvet made of recycled plastic bottle and cotton! In this way, in addition to allowing yourself a comfortable sleep, you are saving the planet earth. Eve Light Eco duvet has a 4.5 TOG rating, which may seem too low for an all season duvet, but don't worry, if you don't live in very cold areas, it will be enough for you. You will always wake up fresh after sleeping covered with this duvet because it is breathable, soft and hypoallergenic, so it will be ideal for everyone, even those with allergies. To always be perfectly clean, all you have to do is wash it in the washing machine at 40 degrees and let it dry on its own or tumble dry on low heat.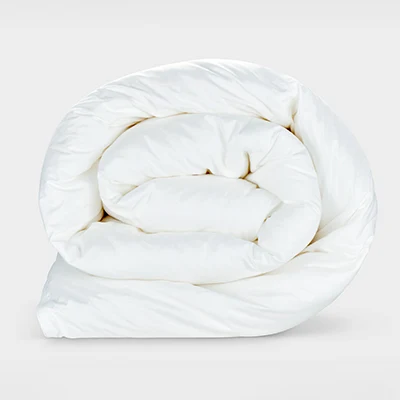 Comfy
Cotton and hollowfibre
2-year warranty
5 TOG is not for winter
Only white colour
Lower thread count
Scooms Hungarian Goose Down Duvet
Scooms offers you to choose between two types of all season duets. You can find the 2.5 TOG + 9 TOG option and the 4.5 TOG + 9 TOG. The choice is yours. If you live in very warm areas, choose 2.5 TOG and if the summer nights are not too warm in your city, then go with 4.5 TOG. Also, it will affect performance during the winter, whether you will have an 11.5 TOG or a 13.5 TOG duvet. The duvet is made of Hungarian down and feather, single country source and the filling is 90% Hungarian goose down & 10% selected small Hungarian goose feather, while the cover is cotton sateen.
Do check our Scooms Double Hungarian Goose Down duvet review to read more about this duvet.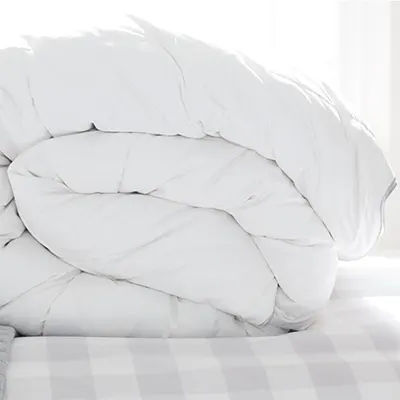 Premium filling
Cotton sateen cover
Oeko-Tex 100
Pricey compared to other duvets
Not vegan-friendly
Heavy
So, what do you think about our top pick? Did you expect something different? Have you found out something new? We hope so! Choosing the best duvet can be tricky, because no matter what we are told, there are always going to be some inconsistencies between brands, no matter how much they market it as something special. That's why we're here to test it out and tell you exactly where you stand with those products. That way you won't be wasting money, and can sleep safely and carefree for as long as you can.
FAQs about your all-season duvets
When you buy an all seasons duvet, it means you are buying one duvet that you will use throughout the year. And that is why you want to know as much about it as possible. So we will answer some more questions in our FAQs section, so that nothing about all seasons duvets would be left unsaid.
What TOG is the best for all seasons?
It also depends on personal preferences as well as the climate area where you live, but the TOG rating between 8 and 11 is generally ideal for an all season duvet.
What TOG is the best for the summer time?
If you are thinking of the best TOG rating for the summer time, look for 4 TOG rating.
What TOG is the best for the winter time?
Any TOG above 6 is good for the winter. However, the best winter TOG rating ranges from 8 to 12.
What to consider when getting the best all season duvet?
When getting the best all season duvet you should consider TOG rating, filling and cover material, as well as construction.
It is noisy either because it is made of poor-quality polyester or because it is time to fluff it with dryer balls.
What should I do if my duvet gets crunchy?
This is a consequence of very tight fabric weave, and you should wash it as often as possible to soften it.