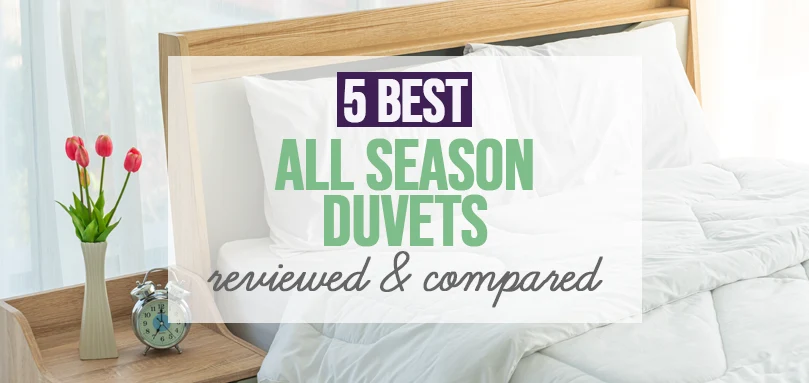 The All Season Duvet - These are our five picks
You don't have to go through the trouble of changing your duvet every season when you can have one for all! That's completely true and possible in 2019, as we've entered the realm of all season duvets which are keeping you warm in Winter and chill and Summer. So, what's the deal with those duvets? Why not just switch to lightweight covers, blankets or throws? Well, a duvet will definitely be a better, healthier and a much more comfortable solution for all seasons.
A good duvet is: breathable, soft, fluffs easily, is gentle to the skin, doesn't irritate, doesn't retain moisture or dust mites, is easy maintenance, washable, light and most of all features the best and natural materials.
In duvets, you will notice a particular tog rating. This rating universally shows how hot a duvet will be. So, if you're looking for a duvet for Summer, ideally you'll pick a duvet between 1 and 4.5 togs. Duvets that are somewhere down the middle feature a 7 to 10.5 tog. And, finally, warm, cozy, Winter duvets are above 11 tog. So we decided to feature the best of the best from right in the middle.
Top 5 duvets for all seasons
Nope! This one isn't a 2-in-1 duvet! Shocking, isn't it? But just because it isn't and on top of that – has all of the versatility any other duvet would have, this is our top pick for our all-seasons duvet. The Cloud duvet features an amazing 100% bamboo rayon cover which allows optimal breathability. That way it makes up for not being too dense, like the other duvets we mentioned before (unseparated). However – with a 10.5 tog rating, it's right in the middle! That's why you can use it all year round without the feeling of overheating, or being too cold. The duvet is safe for everyone – it's vegan, eco-friendly, hypoallergenic and dust mite resistant.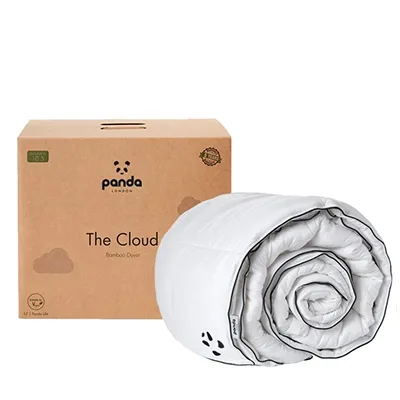 Additional info:
Materials: 100% bamboo rayon cover, 50% bamboo, 50% nano microfiber filling
Available in sizes: Single, UK Double, King, Super King
Hypoallergenic, antibacterial cover, vegan friendly, dust mite proof, machine washable.
Viceroy Bedding Luxury Hungarian White Goose Down All Season Duvet
Yes, you guessed it. We have another duvet which is multipurpose. We know it's kind of cheating because there is no 1 duvet that lasts for all seasons, but just one thicker that you can separate into two. However, how innovative is that? We definitely applaud to all of the companies which provide us with these amazing duvets. Coming up at number two, it's this amazing Viceroybedding goose feather and down duvet. Like we mentioned, it comes as one 13.5 tog duvet that you can separate into two lighter ones of 9 & 4.5 togs. Having that in mind, we'd also like to add that Hungarian goose down has an exceptionally soft and fluffy feel to it. So, if you're looking for a luxurious and lovely duvet – this one is the right for you.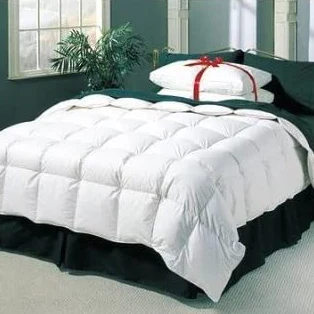 Additional info:
Materials: Egyptian cotton with an elegant check stripe pattern & 100% pure Hungarian goose down
Available in sizes: Super King only (260cm x 220cm)
Hypoallergenic, dust mite proof, machine washable at 60 degrees. The down doesn't have any smell – no need for airing.
Homescapes All Seasons Feather & Down Duvet
Again, going down the road of 2-in-1 duvets, we have this glorious Homescapes (13.5 tog) duvet which blows all the competition away with its quality. This duvet will keep you warm and comfortable for all seasons, and you literally get two (4.5 tog & 9 tog) at a price of one. Let's not forget that down products are pretty expensive nowadays – especially high-quality ones. So, yeah, for a down duvet, you might have to save up some money, but it will serve you for years to come. This also checks out: it has down-proof tight cotton cover which is breathable, the duvet (or duvets) itself is machine washable. It's lightweight, easy to use and maintain, and quite durable. What more could you ask for in a duvet?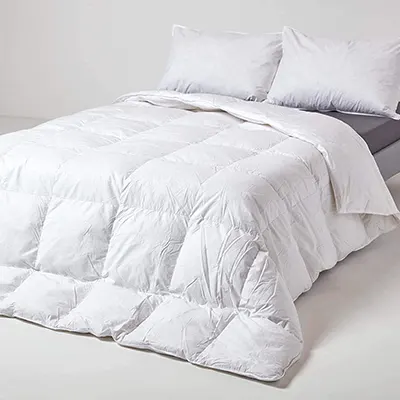 Additional info:
Materials: 100% cotton down proof anti dust mite fabric casing, 15% goose down and 85% goose feather filling
Available in sizes: Single, Double, King, Super King
Hypoallergenic, dust mite proof, machine washable. Delivered with its own zip up bag for convenient storage.
MoSurprise Luxury White Goose Down Duvet
For all of you down lovers, we also prepared an amazing 2-in-1 duvet. The MoSurprise Luxury Duvet can be used as one extra fluffy and warm 13.5 Tog duvet during colder days, while on other days you can separate them (into 4.5 tog and 9 tog duvets)! Theduvets are filled with 100% natural white goose down, which makes them extra fluffy and lightweight. The cover is 100% cotton with a 450 thread count, tight and dust mite proof. The filling is evenly distributed throughout the whole duvet with pockets. Last but not least, the down is ethically sourced, for all concerned.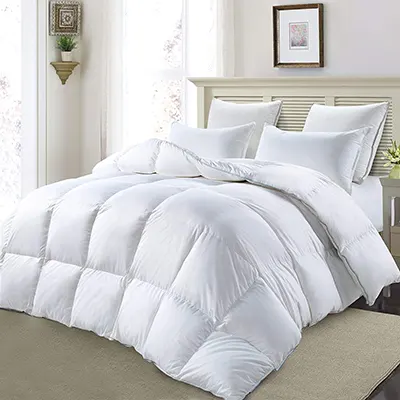 Additional info:
Materials: 100% high density cotton that prevents down from escaping, ethically sourced white goose down filling
Available in sizes: Single, Double, King, Super King
Hypoallergenic, dust mite proof, machine washable ad 40 degrees.
Snuggledown Hollow Fibre All Seasons Duvet
Is it soft? Of course. Is it breathable? Yes. Is it washable? Absolutely. This duvet checks out. All you need in a 2-in-1 duvet. A duvet for all seasons that comes in a neat little package right at your doorstep. The Snuggledown Wash and Dry Me Duvet has what it takes to make you feel comfortable throughout the whole year. With its clever design, it can be used as a 13.5 tog duvet, or seperately with two duvets with 4.5 and 9 tog. We picked this one especially because it's hypoallergenic and very easy to maintain. If you have a partner who is a hot sleeper, you can split the duvet in two and both be happy!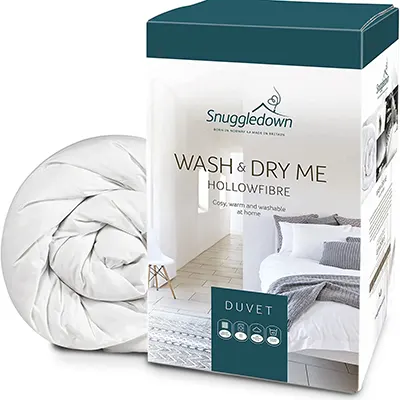 Additional info:
Materials: 100% polyester hollow fibre filling and a 50/50 polyester-cotton blend cover
Available in sizes: Single, Double, King, Super King
Hypoallergenic, machine washable and you can use the dryer too.
So, what do you think about our top pick? Did you expect something different? Have you found out something new? We hope so! Choosing the right duvet can be tricky, because no matter what we are told, there are always going to be some inconsistencies between brands, no matter how much they market it as something special. That's why we're here to test it out and tell you exactly where you stand with those products. That way you won't be wasting money, and can sleep safely and carefree for as long as you can.