Slumberdown All Seasons Duvet Review - A Great All-Around Duvet
If you live somewhere where it is a never-ending summer or somewhere where it is almost always cold, it is enough to have one duvet. But the UK is certainly not such a place, so you need at least two duets, to be comfortable at different times of the year. Or instead of two duvets, you can have one suitable for all seasons. We tested one such for you – Slumberdown All Seasons duvet and here is our review.
Who is Slumberdown All Seasons duvet for?
We can say that Slumberdown All Seasons is a duvet for everyone. Of course, there is no product that is comfortable for every person in the world, but in general this duvet will be suitable for 99.9% of the population. 
It is suitable for warm summer nights, cold winter nights, for hot sleepers, as well as for allergy sufferers. That is why we consider this duvet one of the most versatile on the UK market.
Add a header to begin generating the table of contents
What do we use this product for?
We use Slumberdown All Seasons combi duvet for a better night's sleep. Whether it is very warm outside, so we need a light duvet, or it is late autumn, so we need a duvet to keep us warm, this one will be suitable. And even when it's freezing outside, when you cover yourself with this duvet you will sleep comfortably.
We use it for cold nights
We use it for great night's sleep
We use it for hypoallergenic properties.
Features you should know about Slumberdown All Seasons duvet
TOG rating is the most important feature of every duvet, so we will first talk about it in this part of our review, and then we will address other very important features of Slumberdown All Seasons duvet.
3 in 1 design - 4.5 + 10.05 TOG
To fully understand the 3 in 1 design of this duvet, we must first explain to you what the TOG rating is. "Thermal Overall Grade," which is usually abbreviated TOG, is a number that shows us how warm a duvet will keep us through the night.
When you buy this duvet, you actually get two. One has a 4.5 TOG rating and the other 10.5 TOG. 4.5 TOG is a summer duvet, and summer duvets usually have a TOG rating between 2 and 5. 10.5 TOG duvet is an autumn / winter duvet that is sufficient for most people living in central heating throughout the winter. 
However, if you live somewhere colder or you are cold sleepers, you can combine these two duvets into one and get a 15 TOG rating for extra warmth, and there are very few duvets that have a TOG rating higher than 15.
The characteristics of the material used as a duvet filling are in fact the characteristics that your duvet will have to the greatest extent. Slumberdown All Seasons duvet is filled with soft hollowfibre which is a synthetic material. Hollowfibre is very soft and lightweight. When you cover yourself with this duvet, you will not feel almost any weight on yourself.
Also, hollowfibre is a very good material because it is breathable, thanks to the construction of fibres. Hollowfibre is a very durable, so we expect the duvet to last a long time.
Good for sleepers with allergies
At least one fifth of the UK population suffers from allergies. This is a very big problem, which requires people to use special products to keep allergies under control. This includes the use of hypoallergenic sleep products.
All allergy sufferers will be delighted to hear that Slumberdown All Seasons duvet is made of materials that are not likely to cause allergies. We also advise all those who do not have allergies to use hypoallergenic sleep products, so that allergies do not occur, because allergies are not congenital, they can occur at any age.
Washing machine & drying machine friendly
This duvet is very easy to maintain because it is fully machine washable. All you have to do is put it in the washing machine and wash it at 40 degrees C. Use a mild detergent to avoid damage of fibres. Unlike some other duvets, this one is suitable for standard size washing machine. Also, it is tumble drier friendly, so your duvet will be ready to use the same day you wash it.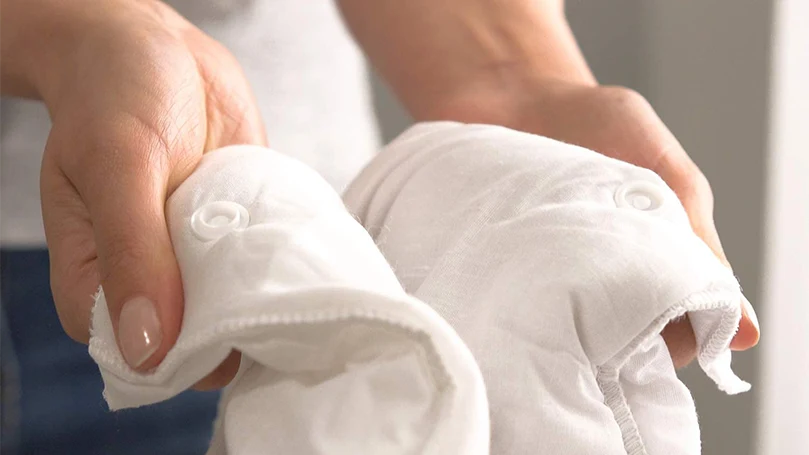 Slumberdown is a company that pays a lot of attention to sustainability. We as customers also need to think about our environment and reduce pollution. It is necessary to reduce textile and plastic waste from entering landfill and the oceans in the coming years both because of the global warming and because of the living world.
Slumberdown has been recycling textile waste for more than half a century. Also, Slumberdown is close to achieving ISO 14001 Environmental Management (EMS) certification so when you buy this duvet, you know you bought sustainably made product.
Review of Slumberdown All Seasons duvet
Slumberdown All Seasons duvet is designed to offer you a 3 in 1 solution. You have a 4.5 TOG duvet at your disposal to keep you cool during the warmer nights, a 10.5 TOG duvet for autumn, winter and cooler nights during early spring, and you can also combine them and get an ultra-warm 15 TOG duvet that will keep you warm wherever you live. It is very easy to connect them, with the help of fastenings. It is filled with highly breathable and lightweight hollowfibre. Both hollowfibre and soft touch cover are cosy.
Duvet is fully machine washable at 40 degrees C and tumble drier friendly. When you dry it, use a low heat setting, otherwise you risk damaging the hollowfibre filling as well as the cover. It is handcrafted in the UK in accordance with all sustainably manufacturing regulations. Four sizes are available and double duvet is favourite choice of couples.
Cover: Microfibre
Fillings: Hollowfibre
TOG: 4.5 + 10.5
Size: Single, Double, King, Super King.
Affordable
Machine washable
Lightweight.
Non-removable cover
Durability issues
Fastenings. 
What we like about Slumberdown All Seasons duvet
Many all season duvets are not suitable for very cold weather, but Slumberdown All Seasons duvet is a great example of a true all season duvet that you can use 365 days a year
Soft hollowfibre filling is light, so it will be especially cosy for those who like lightweight duvets
Maintenance is easy, as it is machine washable and tumble dryer friendly.
What we didn't like about Slumberdown All Seasons duvet
The cover is not removable, which means that you will have to wash the entire duvet every time, which is not necessary when the cover is removable
We don't think this duvet has a short service life, but there are customers who complained about durability
Fastenings that are located in the corners and have the task of merging 4.5 and 10.5 TOG could be better.
What makes this product better than some other similar ones?
Many manufacturers advertise their duvets as duvets suitable for all seasons, but when you buy it, you realize that this is not entirely true. Either they are too hot for summer or they are too cold if you do not have central heating. But that's not the case with Slumberdown All Seasons duvet because of its 3 in 1 design. Thanks to the 3 in 1 design, you get 3 duvets for the price of one, affordable duvet and that is what makes this product better than some other similar ones. Also, we like that it is machine was washable, made in the UK and sustainably made.
How did we test the product?
Delivery is free and you won't have to wait long, just a few working days. There are few more delivery and collection options if you want next day delivery.
Testing a duvet is certainly less complex than testing a mattress, for example, but anyhow takes time and effort to make sure everything you read in this review is accurate and double-checked. Slumberdown is part of John Cotton group so we expected great product.
So we checked craftsmanship, especially premium smart stitch finish, maintenance and durability before we moved on to performance testing when we sleep. We really liked how easy it is to wash and dry this duvet, so it can always be perfectly clean. Since this is an all-season duvet, 3 in 1, we used each of the 3 options for a week, and we also changed the room temperature. This is definitely the best way to make sure performance and TOG rating go hand in hand.
FAQs about your Slumberdown All Seasons duvet
To wrap up this review, we'll give you answers to some of the frequently asked questions about your new Slumberdown All Seasons duvet.
Should hot sleepers use Slumberdown All Seasons duvet?
We recommend it to hot sleepers since 4.5 TOG is great for them and hollowfibre filling is very breathable, so duvet won't be too hot for them when they need to use 10.5 TOG or even 15 TOG.
Is it hard to maintain Slumberdown All Seasons duvet?
No, it is very easy to maintain because it is machine washable at 40 degrees C and suitable for tumble dryer.
Does Slumberdown All Seasons duvet come with a cover?
Slumberdown All Seasons duvet does not come with a cover, so you will have to buy it separately or wash the whole duvet every time.