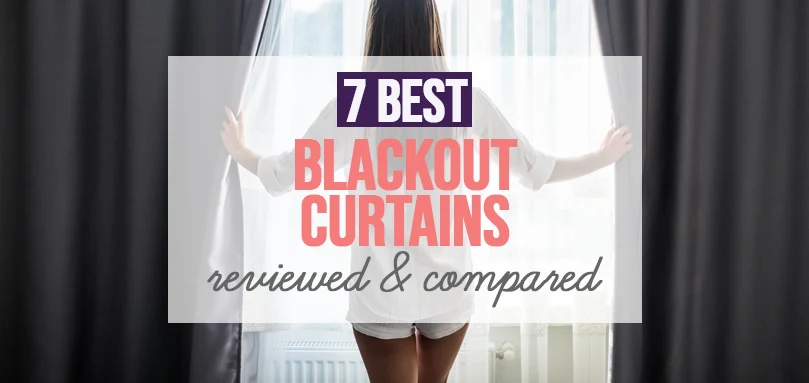 The Best Blackout Curtains for a Sunlight-Free Sleeping Experience
Most people need a dark place to be able to sleep. Nothing can help us better than blackout curtains. So today we will break down the best models available in the UK, as well as everything you need to know about this type of curtains.
Ordinary curtains have a role both to give us privacy and to be a beautiful detail in our interior. However, although they slightly dim the light coming from outside, it is certainly not enough to darken the room.
If you are also one of those who cannot fall asleep if it is not completely dark, then you will want to buy blackout curtains. It is important that they are of good quality, because otherwise they will not be able to fully fulfill their task. Best blackout curtains will completely darken the room, not just partially. That is why they are a priceless investment for all those who have difficulty falling asleep. If you are one of them, keep reading, you will find a lot of useful information regarding blackout curtains.
IMAGE
PRODUCT
DETAILS

KEY FEATURES:

- Easy to maintain

- Energy smart

- Noise-reducing

View Latest Price

KEY FEATURES:

- Easy installation

- Available in many different colors

- Sound insulation

View Latest Price

KEY FEATURES:

- 100% blackout

- Energy savings

- Noise reducing

View Latest Price

KEY FEATURES:

- Ideal for sliding doors

- Machine washable

- Elegant

View Latest Price

KEY FEATURES:

- Perfect design for girls

- Machine washable

- Quality workmanship

View Latest Price

KEY FEATURES:

- Thermal insulations

- Anti-rust grommets

- Machine washable

View Latest Price

KEY FEATURES:

- Hypoallergenic material

- 100% blackout

- 8 year warranty

View Latest Price
What to consider when buying best blackout curtains
There are 4 most important features to consider when you want to buy blackout curtains. Those 4 features are material, installation, style and maintenance. We will address each of these 4 characteristics separately, so that you know exactly what to pay attention to, whether you will make a purchase in a brick-and-mortar shop or online.
Polyester is the most commonly used material for making blackout curtains. There are models that are made entirely of polyester, while others are made of a mixture of cotton and polyester. For example, they have a cotton base and a polyester liner. Why is it necessary that they are at least partially made of polyester? The answer is that the cotton weave cannot be thick enough for the darkness to be complete, so it is necessary to add a polyester liner.
Since the role of blackout curtains is not only to make the room completely dark, but to reduce noise as well and even serve as an additional layer of insulation, microfiber is also used.
We do not want to say that the installation of blackout curtains is complicated, but it certainly requires more work than when you install ordinary curtains. Since blackout curtains are significantly heavier and larger, you will need to install a curtain rod that will be able to support them.
We advise you to make the curtain rod wider than the window, and not just how wide the window is. If rod is just edge to edge, there is a possibility that light will reach you, even if you use blackout curtains. So make it wider. Anyway, if you need extra help, there are a lot of DIY tutorials that you can find online.
You should know right away that you won't have to sacrifice style or color just because you buy blackout curtains. You will find these heavy-duty curtains available on the market in all colors and styles. Just like regular curtains. Many think they must be black, but that is not the case. They can be of any color, because certainly the color does not affect their transparency, but the material.
When shopping, think about what best fits your interior and then choose accordingly. Many opt for warm colors, because such colors contribute to the comfortable feeling you have in the room and additionally help you fall asleep.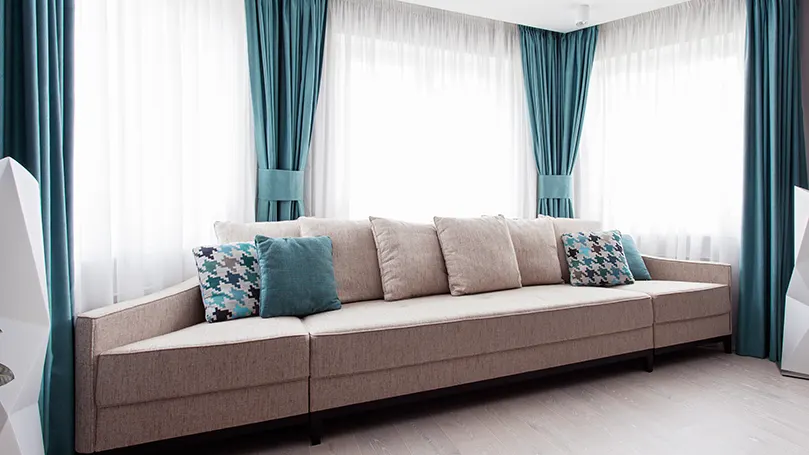 Due to the material from which they are made as well as the way the material is processed, blackout curtains get dirty more than ordinary curtains. They will gather dust, and if you have a pet, be sure you will find lots of pet's hair on them.
So you have to maintain them regularly, as well as to prevent mold from appearing. You can machine or hand wash them. If you machine wash them, use cold water programs, choose gentle cycle and do not use bleach. If you wash them by hand, then use soap and water. You can also vacuum them occasionally, but don't choose the most powerful mode.
Tips for buying and using best blackout curtains
We want to emphasize that wraparound rods are the right choice when installing blackout curtains. For two reasons, that is the type of rods you should choose. The first reason is that it is more stable than the classic rod, and blackout curtains are heavier. And also because of its shape it will allow you to place blackout curtains in such position to completely eliminate light from the room. As for how high you want to install them, keep in mind that the longer they are, the longer your window will visually look, which is very nice. So with blackout curtains you can influence the look of the room, and not just the light, noise and energy consumption.
Let the width of the blackout curtains be at least twice the width of the window.
You must maintain it regularly or they will be too dusty.
Wraparound rod is the right choice for this type of curtains.
You will find so many blackout curtains on the market that you will not be sure which one to choose. It is important to find a balance between material quality, manufacturer reputation and price. We have selected 7 models for you, and each one of them stands out in its own category.
BEST OVERALL: NICETOWN Thermal Insulated Grommet Blackout Curtains
Make your room completely dark, quiet and thermally insulated with this model.
This fantastic model, which we ranked as the best overall, will arrive at your address, ready-made. You can choose from a lot of different sizes and colors. They are made of very high quality microfiber, which is woven with triple-weave technology. NICETOWN Thermal Insulated Grommet Blackout Curtains blocks 99% UV rays and 100% light.
But that's not all. It will also help you insulate your room, so it won't be so hot in summer and cold in winter. If you live in a busy street, you will also notice how the noise level in the room is reduced by these curtains. They are made of a very durable material, so you can wash them in the washing machine without worrying that they will be damaged.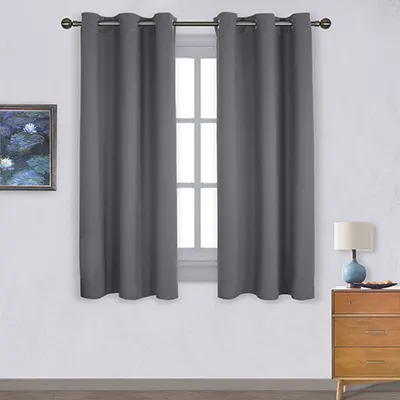 Easy to maintain
Energy smart
Noise-reducing
Ready-made, so they won't fit non-standard windows
BEST VALUE: PONY DANCE Blackout Curtains
Darken your room and spend very little money.
Made of polyester, they are available in over 15 different colors, so they will fit into any interior. Composed of three layers, it will perfectly block light and sound. It will be about 10% quieter in the room thanks to them, and they also affect the temperature of the room. They are not very heavy and they are very easy to install. It is very likely that you will be able to use existing rods without having to install new rods.
You can wash them in the washing machine, and they are very durable and fade-resistant. Just don't use bleach.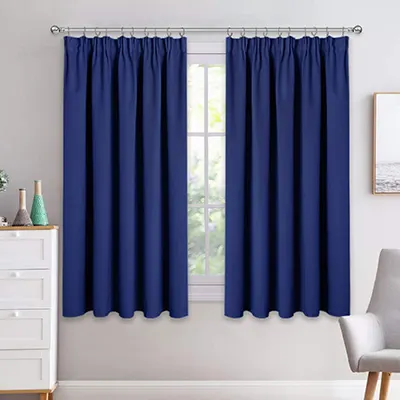 Easy installation

Available in many different colors

Sound insulation

Thermal isolation
Lighter colors block 80-90% of light
UPGRADE PICK: PureFit Jacquard Blackout Curtains
PureFit Jacquard Blackout Curtains are great choice if you want stylish ones and don't regret spending a little more money.
Their appearance will immediately show you that they are premium blackout curtains. They are made of polyester and have a special diamond pattern texture. It is this diamond pattern that gives them a luxurious look, which will contribute to the aesthetics of your room.
It will completely darken your room, as well as harmful UV rays. In addition, you will get energy savings, because they provide thermal insulation. They are also noise reducing. They reduce noise in both directions, so you will have complete privacy in your bedroom.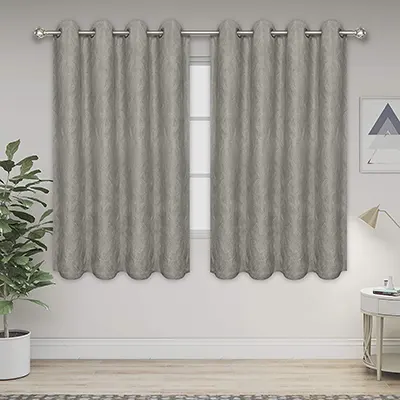 100% blackout

Energy savings

Noise reducing

Machine washable
A bit more expensive than average ones
FOR SLIDING DOOR: Rose Home Fashion Sliding Door Curtains
If you have a patio door or other type of sliding door, this is the right choice for you.
It is much more complicated to find good blackout curtains for sliding doors than for ordinary windows. But you shouldn't look any further than Rose Home Fashion Sliding Door Curtains. Their great rating on Amazon tells you that these are top level ones.
They come to your place ready to hang, so you can use them right away. It will offer you complete privacy and a dark room when you want to sleep. They are also energy efficient, so they will minimize heating and cooling costs. And when you want to wash them, just put them in the washing machine and turn on the cold water cycle.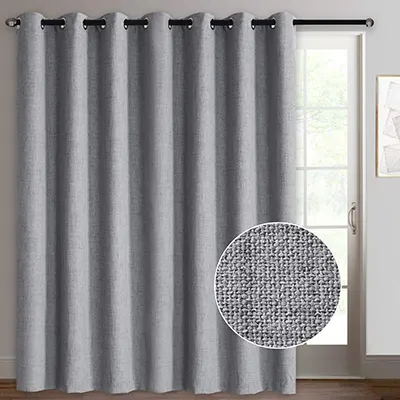 Ideal for sliding doors

Energy efficient

Machine washable

Elegant
Prices

Only two colors available
FOR GIRLS: STFLY Star Curtains for Girls
Perfect for all girls' rooms.
Every girl wants to have a nicely decorated room. These blackout curtains will make the room beautiful. They are very elegant because they have pastel shades. The ends are additionally refined and lace is added, which contributes to elegance. They also have small hollow stars, which will make the room magical. We have to mention that those stars is something that certain customers don't like, because that's why they're not 100% blackout.
They are made of polyester, and you can wash them in the washing machine and iron. They are available in two sizes.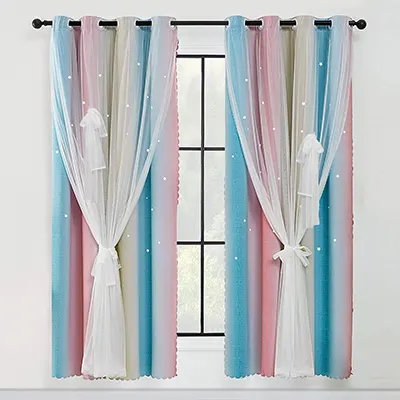 Perfect design for girls

Quality workmanship

Machine washable
They are not 100% blackout

Two available sizes
BEST THERMALLY INSULATED: Deconovo Thermal Insulated Blackout Curtain
Provide yourself with ideal conditions in both winter and summer.
As you may have concluded so far, all blackout curtains provide thermal insulation to some extent. However, if thermal insulation is equally important to you, as well as to prevent light from entering your room, choose this model.
They are made of such a material that you will immediately notice the difference in terms of thermal insulation. It will be much warmer in winter and more pleasant in summer. Of course, it will fulfill its purpose as blackout curtains, and it will also reduce the noise level coming from the street.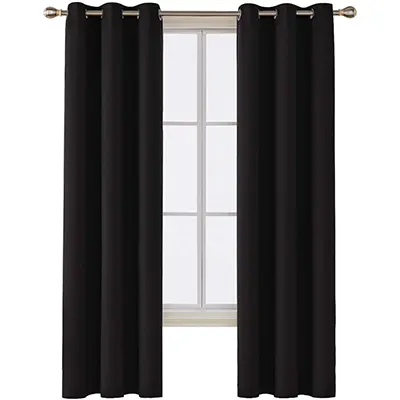 Thermal insulation

Anti-rust grommets

Machine washable

Available in over 20 colors
They are not sold as a full set
FOR NURSERY: H.VERSAILTEX Blackout Curtains
Conditions in the nursery must be particularly good, and H.VERSAILTEX Blackout Curtains will allow you to do so.
What makes this model stand out primarily as the best for nursery is that it is made of hypoallergenic material. A special microfiber is used, so you don't have to worry that something will irritate your baby.
The darkness will be complete, nothing will disturb you and the child. In addition to blocking 100% sun and UV rays, it will also serve as sound insulation, which is especially important for the room where the baby is staying. It is available in 4 different colors, so you will find the right design for both boys and girls. The manufacturer offers 8 year quality warranty.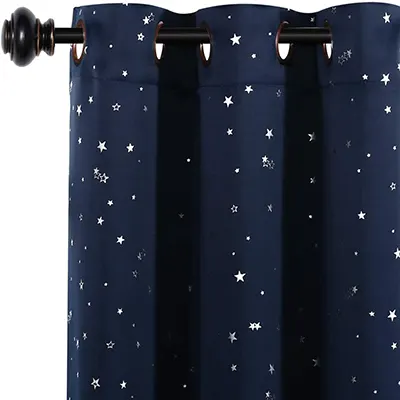 Hypoallergenic material

100% blackout

8 year quality warranty
The design does not fit into other rooms
The advantages of owning the best blackout curtains
Everyone when they decide to buy blackout curtains do so because the light in the room bothers them. This is definitely a big problem as it can disrupt the sleep cycle. And regular sleep is key to human health. While this is of course their primary purpose, you should know that it will bring you more benefits. And the primary benefit with blackout is that you will get sound and thermal insulation.
Because of the material they are made of, as well as because of the thickness, these types of curtains have a multiple role in your room. Also, you don't have to worry that you will have to buy black ones as they are available in all colors. Almost all models on the market are machine washable so you won't have any problems with maintenance.
Enjoy sleeping in a completely dark room.
Thermal insulation will provide you with pleasant conditions all year round.
Reduce the level of noise coming from outside.
FAQs about your new blackout curtains
It is certain that a few more questions were left unanswered. That is why we will do our best to answer those few remaining questions in the FAQs section and thus complete our buying guide about blackout curtains. The next three questions are what customers are often interested in, and most articles on the Internet will not give you answers.
Are all blackout curtains the same as the ordinary curtains?
Although they look similar to ordinary curtains, they are not the same because they differ in purpose, the material from which they are made and so on.
How heavy are blackout curtains?
The weight varies depending on the size of the blackout curtain, but we can say that in most cases they are heavier than ordinary curtains, and lighter than drapes.
Can I blackout my room completely with blackout curtains?
Yes, you can blackout your room completely with blackout curtains, because that is their purpose.