7 Best Electric Blankets To Stay Warm & Cozy
People will never stop looking for new ways to make them comfortable. That is why new products are constantly appearing on the market. Some are less and some are more effective. Electric blankets are a great way to be very comfortable and warm during long and cold nights.
Electric blanket is a thing that has been around much longer than you think. The first electric blanket was made back in 1936 and similar items were first used in 1921 in tuberculosis sanitariums. From then until today, manufacturers are constantly improving them, making electric blankets both more efficient and safer.
The probability that a heated throw will cause danger is only theoretical if you handle it in the right way. That's why we decided to test the numerous heated blankets available on the UK market and to single out for you the ones that are the best in our opinion. Let's make a toasty bed and enjoy the heat.
Add a header to begin generating the table of contents
Our top electric blankets
After testing dozens of models and carefully analyzing each of the features, we felt that the following seven models deserve to be top picks. There are certainly many more high-quality electric blankets on the UK market but we have not found a better one in these categories.
IMAGE
PRODUCT
DETAILS

KEY FEATURES:

Material:

Cotton

Size:

Single, Double, King, Super King

Timer:

Yes

Heat levels:

9

Warranty:

2 years

Machine washable:

Yes

Control:

Dual

View Latest Price

KEY FEATURES:

Material:

Fleece

Size:

Single, Double, King

Timer:

No

Heat levels:

2

Warranty:

3 years

Machine washable:

Yes

Control:

Single

View Latest Price

KEY FEATURES:

Material:

Fabric

Size:

Double

Timer:

Yes

Heat levels:

3

Warranty:

1 year

Machine washable:

Yes

Control:

Double

View Latest Price

KEY FEATURES:

Material:

Fleece

Size:

Double, King

Timer:

Yes

Heat levels:

9

Warranty:

1 year

Machine washable:

Yes

Control:

Dual

View Latest Price

KEY FEATURES:

Material:

Polyester

Size:

Double, King, Superking

Timer:

Yes

Heat levels:

3

Warranty:

2 years

Machine washable:

Yes

Control:

Dual

View Latest Price

BEST FOR ALLERGY SUFFERERS

BEST FOR ALLERGY SUFFERERS

KEY FEATURES:

Material:

Fleece

Size:

135 x 120 cm

Timer:

No

Heat levels:

3

Warranty:

N/A

Machine washable:

Yes

Control:

Single

View Latest Price

KEY FEATURES:

Material:

Polyester

Size:

Single, Double, King

Timer:

No

Heat levels:

3

Warranty:

N/A

Machine washable:

Yes

Control:

Single

View Latest Price
1. BEST OVERALL: Slumberdown Electric Blanket
Perfectly soft and comfortable under blanket – probably the best electric blanket you can get at the moment.
Slumberdown Electric Blanket is so soft and comfortable that you will forget you are sleeping on it. The only way it will remind you of its existence is by warming you up. It has 9 heat settings and multi-zone heating areas so it is virtually impossible you will not be able to adjust the temperature exactly the way you want.
Also all sizes except single have dual controls making it great for couples. Elastics straps will help you attach it firmly to the mattress. Slumberdown electric blanket has safety systems so it won't overheat and cause danger.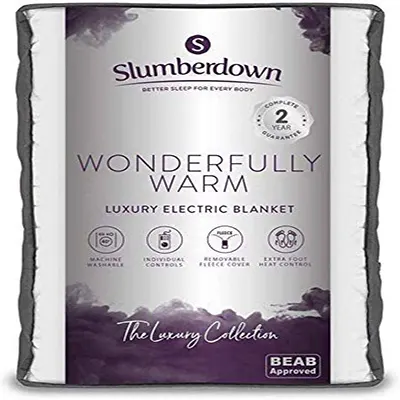 2. BEST VALUE: Silentnight Electric Blanket
Silentnight Electric Blanket is a very affordable product that will cost you 1 penny per night.
The fast heat up option means that your electric blanket will be ready in no time. It is not necessary to turn it on for half an hour before going to bed, because it only takes a few minutes to reach the desired temperature. It has easy fit straps.
Overheat protection is implemented to keep customers completely safe. It is fully machine washable, which is very rare. This electric blanket is also compatible with memory foam mattress, which is very important because memory foam mattresses are the most popular.
It is available in three sizes and has a single controller.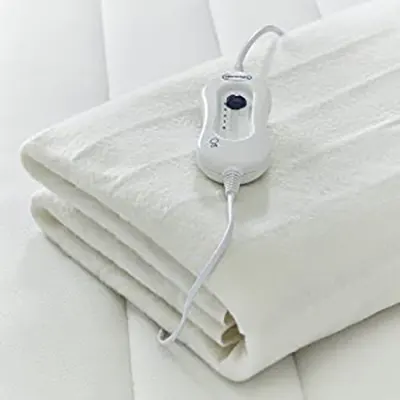 3. UPGRADE PICK: Homefront Electric Blanket
Luxury electric blanket for all those who don't mind spending a bit more money.
Homefront Electric Blanket will be equally comfortable when you want mild heat to relax after a long day and in winter when it is very cold and you really need a heat source. There are a total of three heat settings and you and your partner choose their own heat setting because there are two controllers. You will notice how soft this electric blanket is because the manufacturer chose the premium fabric.
It is machine washable, but don't forget to detach controllers. We are quite surprised it is available in only one size – Double and we guess manufacturer will make more sizes available in near future.
4. MOST COMFORTABLE: Cosi Home Electric Blanket
No other electric blanket can offer you so many adjustments and more comfort than Cosi Home electric blanket.
Most electric blankets have two separate sides so that the couples can use it smoothly. But this model has as many as 4 zones, not just 2 zones. Implementing upper and lower body heating zones is a fantastic solution. It often happens that our feet are colder than the rest of our body. This electric blanket allows you to set different temperatures on different parts.
All options are controlled via dual remote controls. It has 9 adjustable heat settings which is the largest number of heat settings available of all the electric blankets we tested. So you will be able to use it for most of the year. Super soft fleece is warm and cosy. When you want to wash it, just detach remote and wash it on a gentle 30 degree C setting.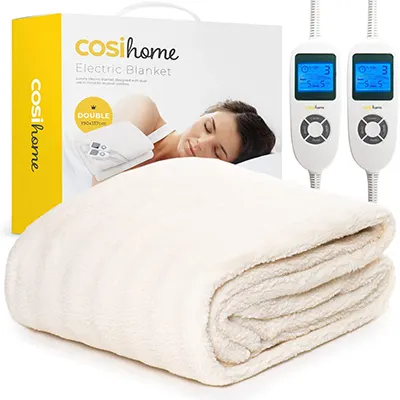 5. BEST FOR COUPLES: Dreamcatcher Electric Blanket
The sizes and dual controllers suggest that the manufacturer intended this electric blanket for couples.
The wires inside Dreamcatcher Electric Blanket are so thin you certainly won't notice them, and the material is very soft and luxurious so it will give you a great night's sleep. Just be careful not to fold it, because wires are that thin.
The cable is almost 2.5m long, which is more than enough. Two LED dual controllers allow easy and fast switching between temperature settings. It features advanced overheat protection so it is 100% safe.
Maintenance is easy because it can be washed in a washing machine at 40 degrees Celsius to eliminate dust mites. Electric blanket comes with 2 year piece of mind warranty. Single size is not available.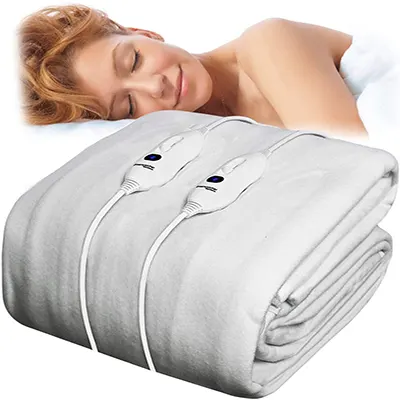 6. BEST FOR ALLERGY SUFFERERS: Bedsure Electric Blanket
Great choice for allergy sufferers who must avoid using anything that potentially contains allergens.
More than 10 million people in the UK suffer from allergies at least occasionally and that is why hypoallergenic products are so popular. Although other electric blankets from our list are hypoallergenic, we singled out this model JUST because it is tumble dryer friendly unlike others.
Of course, it is machine washable. It has automatic switch-off function, so it can't overheat. Thanks to sturdy ties, you can keep it in place firmly without moving. Three different temperatures are available. As far as we are aware of, it comes without warranty, but that can vary from place to place.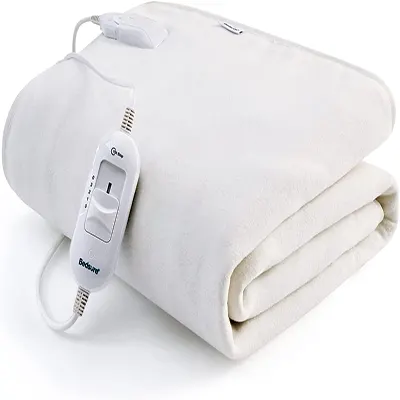 7. BEST LIGHTWEIGHT: Kleeneze Electric Blanket
Kleeneze Electric Blanket is a lightweight blanket that will keep you warm!
When winter nights come we need something more to keep us warm, not just duvet and central heating. Kleeneze Electric Blanket will do this successfully even when it is very cold outside. One of the three heat settings will always be appropriate, and the controller is very easy to use.
Polyester will keep you warm, so some use this blanket even when it is not connected to electricity. You can wash it in the washing machine, cold water is recommended. Hang dry it.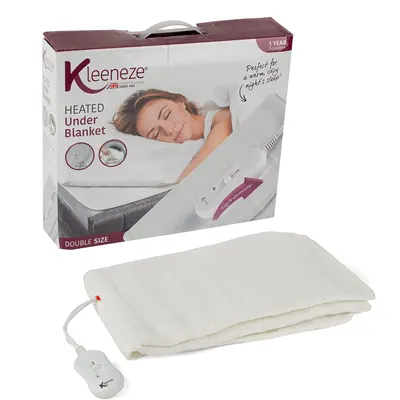 Before you buy an electric blanket
Before you buy an electric blanket you have to keep in mind that this product, although suitable for most people, should not be used by everyone. Anyone suffering from chronic health problems should consult a doctor before buying an electric blanket. Diabetes and neuropathy are diseases that are usually contraindicated.
It is recommended that people suffering from dementia, Alzheimer's disease, Parkinson's disease and other similar ones avoid using heated blanket. There are two reasons. The first reason is that people who have memory problems can forget to turn off the blanket and it can even be fatal. Another reason is poor thermoregulation, which is one of the symptoms of these diseases. Kids should use electric blanket only under parents supervision.
Types of electric blankets
Electric blankets come in all shapes and sizes. Also, there are different types and the difference between them is quite big. The two most common types are under blanket and over blanket. When you are in the market for electric blanket, you will most often find these two types on the market.
As the name suggests, you position under blanket below yourself, more precisely below the bed sheet. You lie on it and it warms you all night. Many people like that feeling and that is why they choose under blanket. Also, under blanket is very energy efficient. Since it is below you, then it means that there is a duvet over you and under blanket. It is a layer of insulation, so the under blanket easily achieves and maintains the temperature, which leads to lower power consumption too. However, its application is not so versatile, because it must be attached to the bed and you can use it only by lying on it.
Over blanket really looks like blanket, unlike under blanket. Over blanket is very versatile, because you can use it for sleeping, but also while working or while watching your favorite movie. You can wrap it around yourself anytime, anywhere. It is very comfortable, and with the help of the controller you choose which temperature you want. It is more expensive and consumes more electricity compared to under blanket. In theory, you can use both at the same time, but usually there is no need for that since most people have central heating and winters in UK are not harsh.
What to look for when buying electric blanket?
Once you have decided whether you only need an electric blanket in bed and then under blanket is a better option or you are going to use it everywhere so you will go with over blanket, you need to consider some other factors before finding the proper model you want to buy. Some of these factors are size, material and battery, and we will talk more about them in the next section.
You will notice that the choice of materials is not as diverse as when you are buying a regular duvet or blanket. This is completely logical because the material must be fire resistant. Although electric blankets are rarely a cause of fire, care should be taken. That is why manufacturers use polyester in 99% of cases. Polyester is great since it is fire resistant and soft at the same time. 
There are many types of polyester but general characteristics are usually the same. On the other hand, cotton is flammable and acrylic is not cozy so that's why those two materials are not popular for this purpose.
We guess you won't have a problem finding the right size because electric blankets are available in a wide range of sizes. You can find smaller models ideal for use during the day, as well as very large models that even couples can use without any problem.
Large electric blankets usually have two zones to be functional for couples. Since you and your partner probably do not want an identical heat setting, then everyone will have their part of the blanket. Such blankets come with two controllers and are very practical to use. And that is cheaper option than to buy two separate ones.
Frankly speaking, the danger of using an electric blanket is more of a myth than a truth. Maybe the situation was different 50 years ago, but today they are completely safe. When looking at the causes of home fires, the share of home fires as a result of electric blanket is less than 0.1 percent.
However, you should still be very careful. The most important thing is to check before you buy it whether it has been tested by a independent nationally recognized agency. If it is, then all you need to do is handle it properly, because one thing that can be dangerous is the damaged wires inside the blanket. So do not buy a used blanket and do not drink water while you are covered to prevent contact of electricity and water. Also avoid blankets without overheat protection.
Obviously you can just place electric blanket in the washing machine and wash it. How you maintain a particular blanket depends on the care instructions provided by the manufacturer. Some models have a removable cover and in that case maintenance is easy.
Remember not to dry clean it. This is another sure way to damage the wiring as if you are exposing an electric blanket to water. Dry clean requires chemicals that damage the insulation and make the blanket dangerous or unusable.
Some models have a pre-heat option and that is very useful. Just press a button on the controller and the blanket will warm before you start using it. Customers prefer to have their under blanket already warm when they enter the bed. This is certainly not a mandatory option and something that have decisive influence on your purchase, but it is convincing and if you have the chance, choose a heated blanket that features this.
Most electric blankets have a plug cord as main power source and a special device that transforms regular voltage into low voltage for safety reasons. Cable length plays a vital role, so be sure to check the cable length before buying. If the cable is short, it will be very irritating, and can even be unsafe. You will certainly not be able to enjoy the benefits of a heated blanket.
The secondary power source can be a battery. Some models come with a battery that usually has a capacity of a few hours. If you like to use your electric blanket while traveling, for example, then a battery is a great option. Otherwise it is unnecessary.
There are average electric blanket for every budget. You can find budget models with just basic features, but even such models can offer you the most things you expect from this type of product.
If you want to spend money on luxury one, you will get softer material, a controller that has as many buttons as TV remote control and many other additional features. Choice is up to you.
Tips for buying and using best electric blanket
We have already talked about safety, but we must reiterate how important it is to buy a tested product made by a respectable company. A few layers of security and you don't have to worry even if you use an electric blanket all night.
Make sure the blanket comes with a warranty. It's a basic thing that speaks of the manufacturer's trust in their product and something that guarantees that you will use the blanket for at least a few years. Do not fold blanket as you may damage the wires. Just gently roll it and don't put anything on top of it.
You should not buy electric blanket which has not been tested and that does not have overheat protection
If you like to use electric blanket outside of the bed, under blanket is not the right choice for you
Follow the maintenance instructions carefully otherwise the service life of the blank can be quite short.
The advantages of owning best electric blanket
The main advantage of owning electric blanket is that it can make our everyday life more pleasant. You can use it while watching TV, working or going to bed. Whatever moment you use it, you feel relaxed. Also, for all cold sleepers electric blanket is the best way to make them comfortable to sleep even in winter.
It is certainly worth mentioning how the electric blanket has a positive effect on our environment. You're probably wondering how. But it is very obvious. When the electric blanket heats you up, you won't need to turn the central heating to max. It is very useful for people who suffer from arthritis, fibromyalgia, but also to relieve the daily symptoms of sore muscles and menstrual cramps.
Electric blanket can significantly improve the quality of night's sleep and reduce nighttime anxiety
High-quality models are very safe and durable
Using a heated blanket is eco-friendly because you will turn down central heating during the night and thus reduce energy consumption. You heating bill will be lower too.
FAQs about your best electric blanket
We hope that after reading this guide you know exactly what kind of electric blanket you want. If any questions remain unanswered, we will do our best to provide answers in the FAQs section.
Is it advisable to wash an electric blanket in a washing machine?
No, you must not wash electric blanket in a washing machine or you will destroy it and you will make warranty invalid.
How to be sure that my electric blanket is safe for use?
First it has to be independently tested and after that initial check, you should check it every few weeks for visible signs of damage and wear and tear.
How much energy does an electric blanket need?
Heated blanket does not need much energy, you won't notice its consumption in electricity bill.
How long do electric blankets last on average?
That depends on the quality of the product and way you handle it, but you can expect electric blanket to last 5 years on average.
Will electric blankets burn?
Chances that electric blankets will burn are close to zero since electric blankets safe standards are in place.