5 Best Luxury Mattresses In The UK To Get Next-Level Sleep
If you don't mind spending a few quid on a premium mattress – you're going to love our top five luxury mattress list!
Even though the best luxury mattress UK has to offer will burn a hole in your wallet – it won't burn a hole in your heart. It is hard to put into words just how phenomenally comfortable these mattresses feel.
Instead of trying to wow you with shiny adjectives illustrating how great luxury mattresses look and feel, we're going to do you one better – we'll name you the top five, so you can check for yourself.
On that note, let's not waste any more of your precious time, and let's delve right into the world of these majestic, luxurious mattresses.
Add a header to begin generating the table of contents
Our top luxury mattresses
Here we are – our top five picks for best luxury mattresses!
We have personally hand-picked and reviewed every one of these, so you rest assured (pun attended) that each of these mattresses will be an excellent product by all means.
Now, that's not to say they're perfect. When you spend so much you have to be a bit harsh, so don't expect us to go lightly on these ones. It's for the greater good.
IMAGE
PRODUCT
DETAILS

KEY FEATURES:

Size:

Single, Double, King, Super King

Type:

Hybrid

Depth:

31 cm

Material:

Memory foam, mini pocket springs, bamboo wool, graphite

Firmness:

7/10

Cover:

Removable; 99% polyester, 1% elastane

Warranty:

10-years

Trial:

200 nights

Good for:

All sleeping positions; couples; back/shoulder/joint/hip pain

View Latest Price

KEY FEATURES:

Size:

Single, Small Double, Double, King, Super King

Type:

Hybrid

Depth:

25 cm

Material:

Memory foam, pocket springs

Firmness:

7/10

Cover:

Removable, 99% polyester, 1% elastane

Warranty:

10-years

Trial:

200 nights

Good for:

All sleeping positions; couples; back pain

View Latest Price

KEY FEATURES:

Size:

Single, Small Double, Double, King, Super King size + EU Single, EU Large Double, EU Queen

Type:

Hybrid

Depth:

39 cm

Material:

Memory foam, pocket springs

Firmness:

5.5/10

Cover:

Non-removable, Polyester

Warranty:

5-years

Trial:

60 nights

Good for:

Back and side sleepers; couples; back/shoulder/hip pain

View Latest Price

KEY FEATURES:

Size:

Single, Small Double, Double, King, Super king

Type:

Memory foam

Depth:

25 cm

Material:

Memory foam

Firmness:

6.5/10

Cover:

Non-removable, polyester

Warranty:

Forever

Trial:

365 nights

Good for:

All sleeping positions; couples; hip/shoulder pain

View Latest Price

KEY FEATURES:

Size:

Single, Double, Small Double, EU Double, EU Queen, King, Super King

Type:

Hybrid

Depth:

28 cm

Material:

Memory foam, mini pocket springs, wool, graphite

Firmness:

6.5/10

Cover:

Non-removable, 99% polyester, 1% elastane

Warranty:

10 years

Trial:

200 nights

Good for:

All sleeping positions; couples; back/hip pain

View Latest Price
Inarguably one of the best hybrid mattresses ever made!
This perfectly crafted medium-firm hybrid mattress is all you'll ever need. It's comfy, supportive, stable, pressure-relieving, and every other thing you'd say about a great mattress.
It has 10 layers, each of which is specially designed for a specific purpose. From thermoregulating wool layer, all the way to up to 6000 mini coils – this one has it all. It's the type of mattress that anyone would want.
Even when you factor in the fact that it's lacking some motion isolation, this one is still the best mattress on our list – and you can take that to the bank.
Feel free to check out the detailed review of Simba Hybrid Luxe.
2. Emma Premium Hybrid Mattress
Bask in the luxury of this medium-firm mattress!
Emma Premium Hybrid is the perfect marriage between pocket springs and memory foam.
It's not wrong to say that this mattress has it all. If your back hurts – this one will help. If your partner is a restless sleeper – this one will help. If you're just itching for a good night's sleep – this one will help.
Standing at 25 cm tall, Premium Hybrid is what many would call an ideal mattress – medium-firm with just enough softness to gently tuck you in and just the right amount of support to prevent you from sinking in.
Now, if this is not enough information for you – here's a full review of the Premium Hybrid.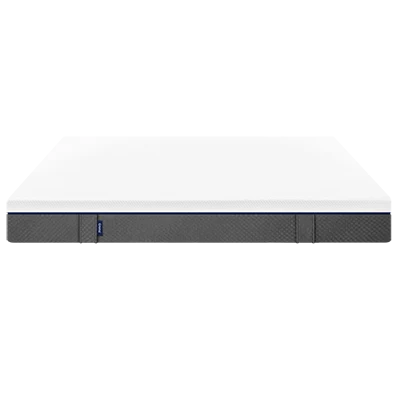 3. Silentnight Mirapocket 2000
How about some extra pressure relief from your new mattress?
Silentnight Mirapocket 2000 is encased in a durable, knitted polyester cover, with the overall height of 39 cm.
First, we have 15 cm of pressure-relieving memory foam. This generous layer is more than enough to isolate all motion and create a soft sleeping surface, making the Mirapocket 2000 perfect for restless sleepers.
Then, we have 24 cm of full-sized pocket springs responsible for the support and stability of this massive hybrid.
Overall, this is a great premium hybrid mattress, and if you want to learn more about the Mirapocket 2000 – be our guest.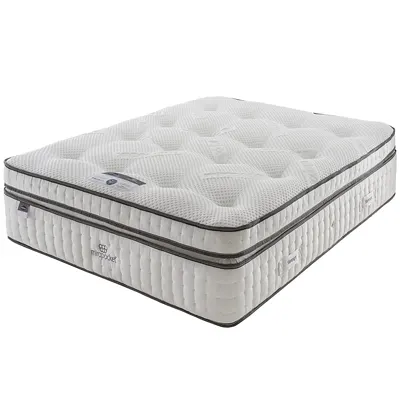 4. Nectar Memory Foam Mattress
Is the Nectar Memory Foam mattress better than the other memory foam mattresses? Yes, it is!
Nectar Memory Foam mattress is the only all-foam mattress on our list and for a good reason -its five-layer construction is on par with some of the best hybrid mattresses we've seen so far.
First, we start with this lovely quilted cover that's specially made to wick away moisture and keep you fresh and cool during the night. As we all know, that's not something all-foam mattresses are known for.
Next up, we have several layers of super comfy and supportive memory foam layers, all held up by the 7-zone high-density foam base.
To learn more about Forever warranty, five-layer construction, and other neat traits – check out the detailed Nectar Memory Foam review.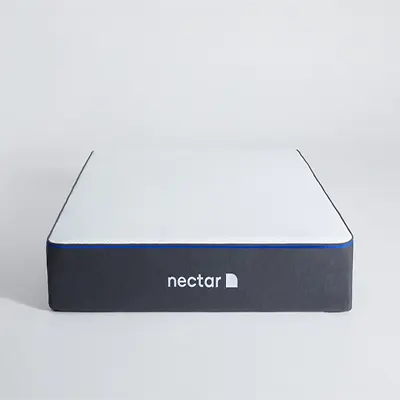 5. Simba Hybrid PRO Mattress
Pro-bably the last mattress you'll ever need!
Just like its big brother Luxe, Simba Hybrid Pro creates a flawless balance between organic materials, memory foam, and tiny titanium pocket coils.
Equipped with a super soft, hand-knitted polyester cover, Simbatex open-cell cooling memory foam, thermo-regulating wool, and multi-zone cut-out base – there's nothing much that the Pro model can't do. It can hold its weight against the best of the best in any category.
It's breathable, comfortable, very supportive, and probably as long-lasting as we've seen mattresses be.
If this one's piqued your interest and you'd like to learn a few other things – here's our full review of Simba Hybrid Pro, so knock yourself out.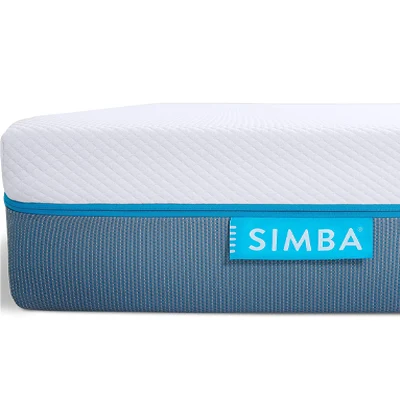 What to look for when buying best luxury mattress
This might sound controversial, but an expensive mattress is not necessarily a luxury mattress. It might feel luxurious because it costs a fortune, but that doesn't make it so. A luxury mattress must be well-made, well-designed, generously thick, remarkably comfy, and made by a reputable brand. If it lacks any of the aforementioned traits – it's just expensive. Speaking of traits, let's learn a few things about them so that you can spot a luxury mattress from a mile away.
Just like with any other material thing – a brand name means something.
However, what's different about the mattress industry is that a brand name holds even more weight. What we mean is, you can easily spend your money on an overpriced brand-name shirt that's below-average quality. However, if you spend your money on an expensive brand-name mattress – you're not getting a below-average product. You're getting yourself a premium mattress.
Brand names that make flagship quality mattresses are Simba Sleep, Dunlopillo, Eve, Emma, Harrison Spinks, Nectar, Winstons, to name a few. So, if you happen to spot a pricey mattress from any of them – you may rest assured you're not overpaying for it.
What makes an expensive mattress a luxurious one are high-quality materials.
Memory foam, pocket springs, or latex – whatever you're searching for, you need to make sure that the quality of those materials is top-notch.
For a memory foam mattress, that would be 3rd generation foam, free of any harmful or toxic chemicals, made to stand up to the test of time, capture less heat, minimize motion transfer, and revert to its initial shape as fast as possible.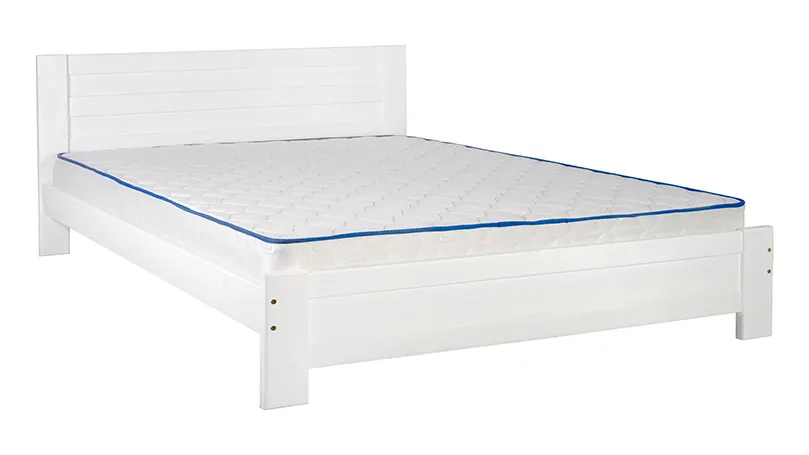 On the other hand, pocket sprung mattresses should come with titanium or steel coils. The coils should be durable, long-lasting, corrosion-resistant, silent, firm but giving, and there needs to be quite a lot of them. Big or small – it doesn't really matter as long as they're premium.
A luxury mattress needs to be at least 25 cm thick. That's the minimum requirement whether you're buying a pocket sprung mattress or a memory foam one. Anything lower than that, and there's a good chance that the manufacturers have cut corners. Surprisingly enough, they didn't cut corners to save money because you honestly can't save that much if you shave off a few centimetres from the mattress.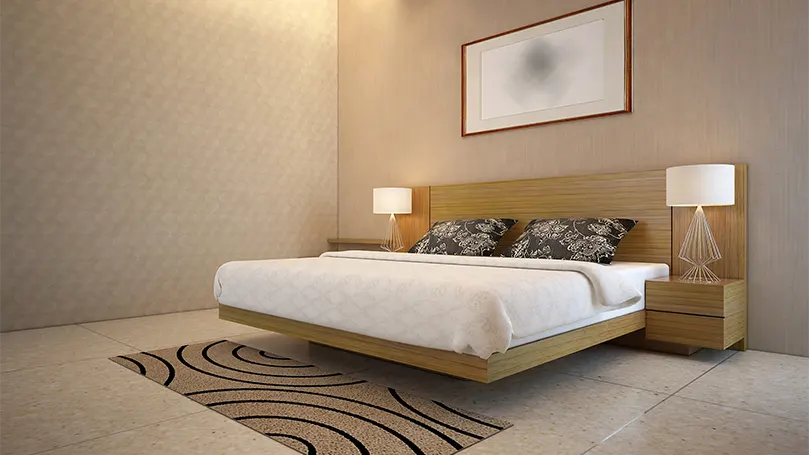 On average, it costs around 250 to 300 pounds to make a high-end luxury mattress, so saving a few quid on material when you're charging four figures doesn't make any sense.
The fact is that anything lower than 25 cm is inadequate simply for quality reasons.
25 cm is considered an ideal depth for a mattress, so anything more than that (within reason, of course) can't hurt.
Certificates and awards are also vital. As for certificates, you'll want to look at the standard ones, like CertiPUR or OEKO-TEX Standard 100 certification. These certificates testify to products' quality and safety. For example, OEKO-TEX certification proves that no harmful substances or chemicals are found within the mattress.
As for awards, well, that's pretty self-explanatory. If the mattress was awarded and was recognized by trusted establishments – it's not a waste of money.
Tips for buying and using the best luxury mattresses
It would be a shame to spend more than a thousand pounds on a mattress and then not make the most of it, wouldn't it?
On that note, we've decided to endow you with a couple of valuable tips:
Buy only from reputable sellers
Don't keep the mattress on the floor
Comply with maintenance guides
A luxury mattress has to come from a reputable source. It would be outright foolish to spend four figures on a mattress anywhere but at a reputable store – online or brick-and-mortar.
You should never keep a mattress on the floor, but we could probably let it slide if you've spent pocket change on it. However, a premium mattress deserves to be treated with respect. It deserves its thone. So, if you've spent some money on a high-quality mattress – you might as well buy a bed frame, too.
The advantages of owning best luxury mattress
What good is owning a premium mattress if you don't know what you're getting from it? So you'd have bragging rights? No, that can't be it.
Here are just some actual benefits you'd get with one of these:
Durability and longevity
Comfort and support
Improved sleep quality
Pain relief and orthopaedic properties.
We'll start with the most obvious advantage – durability and longevity. What's there to say? These mattresses are exceptionally well built from only the finest materials – they're just made to last longer.
If there's anything you can expect at this price point – that's support and comfort. These mattresses are simply in a league of their own, and you won't know what that feels like until you lie on top of one of them.
With great power comes great responsibility, and with comfort comes great sleep quality. It's that simple. A few nights on one of these, and you'll sleep like a baby.
Also, you'll wake up pain-free. And that's priceless!
FAQs about your best luxury mattresses
We've already discussed most of the essential features, traits, uses, pros and cons, and all that other stuff, but it never hurts to round things up by answering some questions with straight, concise answers.
What sets luxury mattresses apart from regular mattresses?
Quality - plain and simple. Quality brand. Quality material. Quality craftsmanship.
What are some of the well-known luxury mattress brands?
Simba, Nectar, Winstons, Dunlopillo, Emma, Eve, and Harrison Spinks are some of the most well-known luxury brands in the UK.
Are luxury mattresses long-lasting?
Yes. An average lifespan of a luxury mattress is more than ten years.
Should I buy luxury mattresses online?
Some of these you can only buy online, so, yes - you should purchase a luxury mattress online.
Do luxury mattresses come with warranties and trial periods?
Almost exclusively. There's little to no chance of spending this much money on a mattress and not getting a trial period or a warranty.