Dormeo Octaspring Hybrid Plus Mattress Review
Dormeo is known for having an extensive catalogue of premium products, and Octaspring HYBRID PLUS mattress is definitely one of them. If you are interested in buying this mattress, we suggest you keep reading our review, so you can see just how good this mattress actually is.
Who is Octaspring Hybrid Plus mattress for?
This is a premium mattress, so right out of the gate, this is for those who don't mind spending a lot of money on their new mattress. When we say a lot of money, we think of 600+ pounds since no premium mattress comes under 700 pounds. This one is ideal for anyone who is looking for a luxurious 5-zoned comfort, with increased breathability and zero motion transfer.
Also, this is a mattress that is ideal for those sleeping on the side, given the fact that it's rated medium on the firmness scale, sitting at around 5 out of 10 on the firmness scale.
With its individual pocket springs, you can be sure that you will feel no pressure on your shoulders or hips. Therefore, it is a fantastic choice for anyone who wants a pain relief and high level of comfort without being hot.
Add a header to begin generating the table of contents
What do we use this product for?
Just like any other hybrid mattress, we would use Dormeo Octaspring HYBRID plus mattress to sleep on. However, what makes this one special is the excellent pressure and pain relief, as well as the ability to perfectly conform to your body's contours, making it very comfortable for side sleepers. So, in a nutshell, we like to use this product for:
Eliminating the painful morning pain in hips and shoulders
Getting a full body contouring 
Enjoying zero movement 
Ensuring hypoallergenic sleep environment. 
Features you should know about Dormeo Octaspring Hybrid Plus mattress
Every mattress comes with a set of defining features, and in the case of Octaspring HYBRID plus mattress, we have a lot of ground to cover when it comes to mattress features. Let's check them out!
5-zoned Octaspring memory foam
What makes Octaspring HYBRID plus mattress so special and comfortable is the unique Octaspring technology. Just underneath the removable superstretch cover lies the Octaspring layer.
Octaprings are essentially memory foam springs. Not only are these unique Octaspring springs more comfortable compared to the regular pocket springs, but to ensure you make the most of it and experience ultimate comfort, each individual Octaspring spring is placed in one of the 5 zones.
These 5 body zones allow you to properly and evenly distribute the weight across the mattress, as well as experience the ultimate pressure relief, especially around the core areas such as hips and shoulders.
The Octaspring layer is truly the best of both worlds. This unique hybrid of traditional memory foam and a pocket spring allows not only for superior comfort and support, but it also provides you with an 8 x more breathable sleeping experience.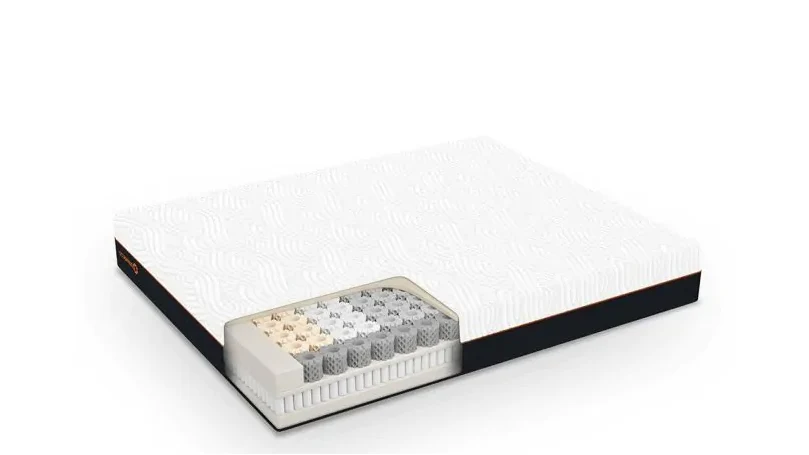 As you already know, these breathable memory foam springs are arranged in zones, which also helps provide constant airflow.
1365 individual pocket springs
The base of Dormeo Octaspring HYBRID plus mattress is resting on 1365 traditional pocket springs. To ensure complete comfort, each individual pocket spring can move freely and independently, allowing you to instantly relax and get a good night's sleep.
Also, the traditional pocket springs allow for better weight distribution, as well as improved full-body support. When you pair these with the 5-zoned Octaspring memory foam layer, you end up with a feeling of sleeping on a cloud.
Removable & washable Superstretch cover
Another neat feature of Dormeo Octaspring HYBRID plus is the fact that it comes with an easily removable and washable cover. This makes keeping your mattress clean very easy.
To top things off, this cover is made from an award-winning Supestrech fabric that is up to 50% more elastic compared to the traditional fabrics used for mattress covers, such as cotton, for example. Also, this ability to stretch in every direction makes the mattress feel even more comfortable, as you get the experience the full scope of the Octaspring technology.
Another benefit to having a luxury memory foam and pocket spring Octaspring mattress is the impeccable motion isolation. Due to the Superstrech cover and the unique Octaspring technology, you can move around as much as you want through the night, and because this mattress perfectly conforms to the contours and movements of your body – neither you nor your partner will feel a thing.
Dormeo Octaspring HYBRID Plus does not need to be flipped or turned, as it is one-sided, but since the Octaspring layer is divided into the perfectly symmetrical 5 zones of comfort, you should feel free to rotate your mattress head-to-toe once a month.
to help you with that, this mattress comes with tucked away, hidden handles that can be easily revealed when needed. This will be very helpful, as this is a deep and heavy mattress.
This Octaspring mattress will also help you sleep soundly through the night due to the Ecofresh treatment it underwent. Ecofresh is a next-generation, environmentally friendly, completely natural treatment that makes our Octaspring mattresses anti-bacterial and hypoallergenic, allowing you to sleep soundly without a care in the world.
Because of Ecofresh, you won't have to worry about dust mites, bacteria, or any other kind of allergen that might be harmful to your health.
Review of Octaspring Hybrid Plus mattress
This mattress is certainly a new take of the hybrid mattress. Making the pocket springs out of the traditional memory foam and pairing that up with the regular pocket springs definitely brings forth a new sleeping experience. An Octaspring spring is truly the best of both worlds.
Also, unlike traditional memory foam, the Octaspring springs allow for better cooling instead of retaining heat like a regular memory foam layer would.
Now, let's talk about how this mattress feels. When it comes to comfort and support, this mattress is really on another level. You will just feel the mattress cradling your body in complete comfort. Also, it will provide you with exceptional pressure relief and pain relief, as well.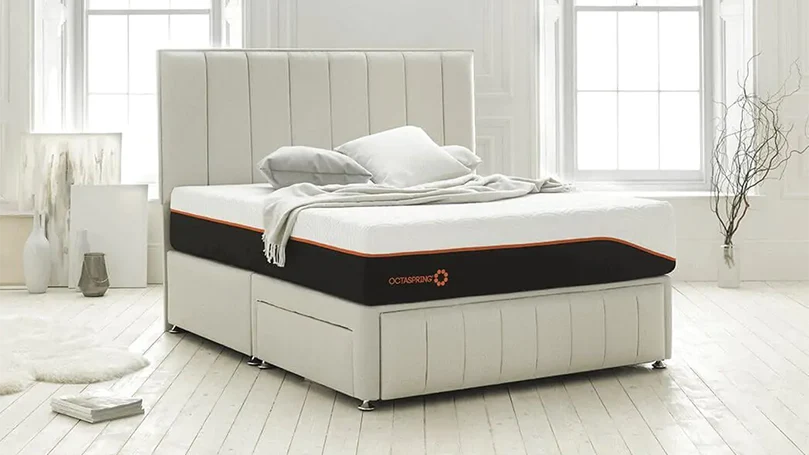 Furthermore, the constant airflow within this mattress will keep things cool all through the night, so you shouldn't have any problems falling asleep, even during the warmest summer nights.
Finally, the longevity and durability of this mattress are impressive, which comes as no surprise given the fact that you get a 20-year warranty for this one.
On the other hand, perfect alignment of the spine and body in all sleeping positions is not something this mattress can do. Due to being slightly softer, some heavier stomach sleepers may not appreciate this award-winning mattress.
Also, a 60-night trial is simply not enough for a mattress this expensive. but again, it is very unlikely you won't like this product. 
Type: Hybrid
Firmness: 5/10
Mattress depth: 27cm
Size: Single, Double, King, Super King.
Incredibly comfortable and supportive
Very cool and breathable
Excellent pressure relieving properties
Zero motion transfer.
Very expensive
Free delivery could take up to 3 weeks
It could be too soft for some heavy stomach sleepers, especially on a slatted bed base.
What we like about Dormeo Octaspring Hybrid Plus mattress
A 20-year warranty speaks volumes on the quality of this mattress.
5 body zones provide impeccable comfort all through the mattress
8 x more breathable compared to the traditional memory foam mattresses.
What we didn't like about Dormeo Octaspring Hybrid Plus mattress
For a mattress this expensive, we would expect it to be better suited towards stomach sleepers
A 60-night trial is just not long enough
The delivery could take up to 3 weeks.
Check the alternatives to Dormeo Octaspring Hybrid Plus mattress
If our reviewee simply isn't cutting it for you, have a look at some of the alternative picks we've selected for you.
Eve Premium Hybrid Mattress
If you are looking for a luxury memory foam/pocket spring mattress, Eve Premium Hybrid might just be the one for you. Eve Sleep is a serious UK brand that has been known for a while so there is no need to question the name of a brand and some overall qualities. 
What you get from this mattress is excellent support and comfort that will last you for the years to come. Also, unlike many other hybrids, this one will keep you cool during the night, even if it is a hot one.
Don't forget to check our Eve Premium Hybrid mattress review.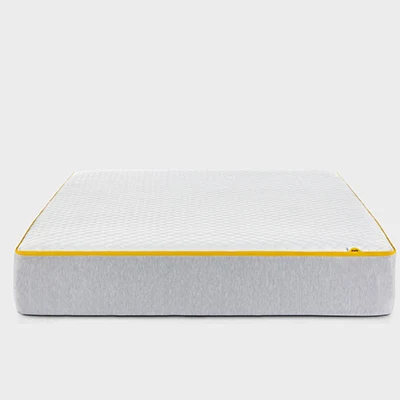 Excellent support and comfort
Great at regulating temperature
Very durable and long-lasting.
Limited sizing options
Edge support and motion transfer could be better
One of the more expensive mattresses when at full price.
OTTY Pure Hybrid Bamboo & Charcoal Mattress
OTTY Pure Hybrid Bamboo & Charcoal mattress is a solid alternative option if you don't want to break the bank, but still, get yourself a great mattress. 
This is a medium-firm mattress suitable for all sleeping positions. It is very comfortable, very durable, and it does a great job at contouring to your body and isolating movement, just like our reviewee.
It is naturally hypoallergenic due to the bamboo material which is the essential part of the product. So, if you are an allergy sufferer, you shouldn't miss this mattress.
Check our OTTY Pure Hybrid Bamboo & Charcoal mattress review.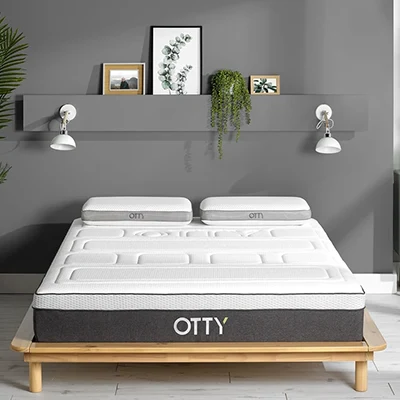 Very comfortable
Very durable and long-lasting
200-night trial period.
It should be a tad more supportive
It does get a little bit warmer on a hot summer night
No removable, washable cover.
Consider Panda Luxury Memory Foam Bamboo Pillow if you are buying Dormeo Octaspring Hybrid Plus mattress
If you're in the market for a luxury memory foam pillow – look no further. Panda memory foam pillow might just offer you everything a memory foam pillow could. 
This 3rd generation memory foam pillow is very comfortable and supportive, so you won't feel your neck or head aching because of it. Furthermore, it will do a great job of keeping things cool and breathable and will continue to do those things for a very long time. 
Also, it's hypoallergenic and has a removable, washable bamboo cover – which is always a bonus.
Make sure you check our Panda pillow review to learn more about it.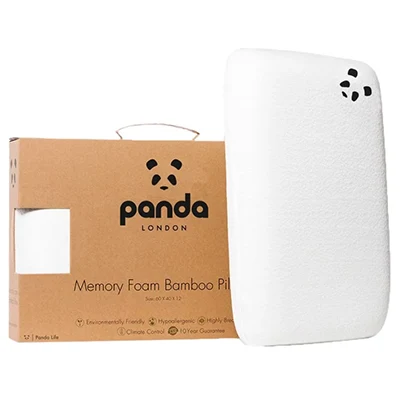 Hypoallergenic and antibacterial
Cool and breathable
10-year guarantee, 30-day trial and a free delivery.
Not good for stomach sleepers.
What makes this product better than some other similar ones?
What this one does much better than all the other mattresses we've reviewed is temperature regulation. It is remarkable just how cool and breathable this mattress is, considering just how much memory foam is in this one. Octaspring technology is truly a wonder.
How did we test the product?
To test and review this product, we first had to order it. As per usual, free delivery was an option. However, we did have to wait almost three weeks for this one to arrive. However, this one was worth the wait.
Upon unpacking the mattress and leaving it to fully expand, we've noticed some minor off-gassing, but that's to be expected from a mattress with so much memory foam inside it.
After the mattress had reached its full potential, we all took turns spending ten nights sleeping on the mattress – five of them on a slatted base and five on the flat one. The one thing we noticed is that this mattress doesn't really get along with a slatted base. On a slatted base, this mattress is closer to a 4 than a 5 on a firmness scale, and in our book – that's just too soft for an all-around mattress.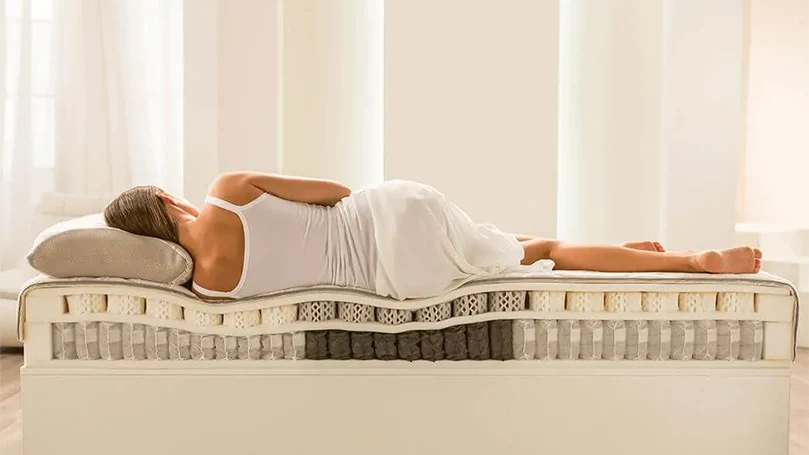 As far as everything else was concerned, we had no complaints. Both support and comfort are on an enviable level. Motion isolation and pressure relief – also great. Edge support is pretty good for a hybrid, although we could see some minor dips if we were to sit on the edge, but nothing too concerning.
Finally, as far as durability and longevity go, both our roller test and a long warranty make a strong case for this one as far as longevity is concerned. We can easily see this one lasting up to 15 years.
FAQs about your Dormeo Octaspring Hybrid Plus mattresses
Finally, let's answers some FAQs.
Does Dormeo Octaspring Hybrid Plus mattress have a trial period?
Yes. This mattress comes with a 60-night trial period.
Does Dormeo Octaspring Hybrid Plus mattress come with a warranty?
Yes. This mattress comes with a 20-year warranty.
How do I wash my Dormeo Octaspring Hybrid Plus mattress?
This one comes with a removable, machine-washable mattress cover. Just remove it, and wash in the washing machine at 40°C.