The Highest Rated Weighted Blanket for Adults in 2022
The importance of a good night's sleep can never be overlooked. Weighted blankets can help you achieve that. Here are the 10 of the best!
Many people suffer from anxiety. For them, it can be quite troublesome to have a good night's sleep, as they toss and turn and feel restless – even when they sleep. One of the things that can be quite helpful in overcoming that feeling of restlessness is the feeling of being hugged or held. For those sleeping alone, finding the perfect weighted blanket to replicate that feeling is absolutely paramount.
Weighted blankets consist of plastic pellets or ball bearings that make the blanket heavy and the average weight for these blankets is around 7 kg. One of the biggest benefits is that these can boost the production of melatonin, a sleep hormone that regulates natural sleep cycle.
Since we're very well aware that finding the right blanket to help you sleep soundly through the night is easier said than done, we've decided to step up and try and help you. After the thorough research, reading the customers' reviews, we've gone out, tested and found the best weighted blankets on the UK market, so you can curl up and have a proper rest. Let's check them out!
IMAGE
PRODUCT
DETAILS

KEY FEATURES:

Dimensions:

198 x 121 cm

Weight:

4.5, 6.8 & 9kg

Filling:

Glass beads

View Latest Price

KEY FEATURES:

Dimensions:

200 x 135 cm, 200 x 150 cm, 200 x 180 cm

Weight:

7, 9, 13, 15 kg

Filling:

Glass beads

View Latest Price

KEY FEATURES:

Dimensions:

200 x 150 cm

Weight:

7, 9, 11 kg

Filling:

Glass beads

View Latest Price

KEY FEATURES:

Dimensions:

120 x 90 cm, 150 x 100 cm, 180 x 120 cm

Weight:

2, 3, 4.5, 5.5, 7 kg

Filling:

Glass beads

View Latest Price

KEY FEATURES:

Dimensions:

from Kids to King size

Weight:

5.5, 6.8 & 9 kg

Filling:

Glass beads

View Latest Price

KEY FEATURES:

Dimensions:

200 x 150 cm

Weight:

7, 8 kg

Filling:

Glass beads

View Latest Price

KEY FEATURES:

Dimensions:

200 x 150 cm

Weight:

6.8 & 9 kg

Filling:

Glass beads

View Latest Price

KEY FEATURES:

Dimensions:

200 x 135 cm

Weight:

6.8, 9 kg

Filling:

Glass beads

View Latest Price

KEY FEATURES:

Dimensions:

200 x 150 cm

Weight:

5 kg

Filling:

Organic cotton

View Latest Price

KEY FEATURES:

Dimensions:

200 x 150 cm, 220 x 200 cm

Weight:

7, 9, 11 kg

Filling:

Glass beads

View Latest Price
We've come to the most important section of our article and that is showcasing the best weighted blankets in the UK. All of the products on our list are objectively best in their respected category, so whichever one you choose, you should be more than satisfied with it.
So, without wasting any more of your time, let's check them out!
BEST OVERALL: Calming Blankets' Adult Weighted Blanket
It's as calming as the name suggests!
This is arguably the best weighted blanket we've come across. It is perfectly designed to help relieve you of stress and improve your sleep, by evenly distributing the weight across the whole blanket. This is a glass-bead-filled blanket, with each individual pocket separately sewn. This prevents bunching and ensures a long-lasting product. Furthermore, this one comes with a velvety cover, that doesn't get very hot during the night. Unlike many other weighted blankets, you can get this one in three different colours and three different sizes, which makes it easier to find the perfect match for yourself.
High-quality cover
Cool and breathable
Very stylish and comfortable
Filled with glass beads
More expensive than some other products in the same category
BEST VALUE: Jaymag Weighted Blanket
The absolute best deal on the market!
If you're looking for a weighted blanket but aren't willing to spend more than 50 quid and some change, then, this is the product for you. This hypoallergenic, cotton covered blanket is not only cool and breathable, but very comfortable as well. It might come as a surprise given the price tag, but this one is also filled with glass beads, which is basically as good as it gets when it comes to fillings. It's quiet, easily washable – what more could anyone want from a blanket this cheap?
Here is our detailed review of Jaymag weighted blanket.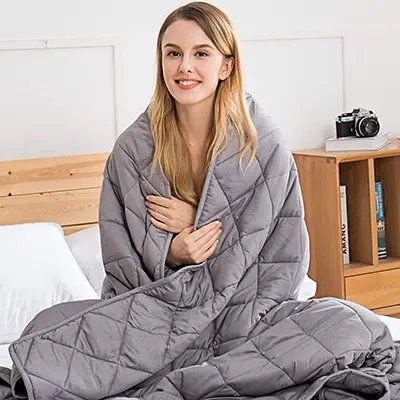 Cool and breathable
Filled with glass beads
Great weight distribution
Hypoallergenic
Not the most eye-pleasing
BEST LUXURY: Rocabi Adult Weighted Blanket
Premium weighted blanket that will give you the necessary peace to sleep undisturbed!
You can find this premium weighted blanket in the Rocabi offer. It is very comfortable, and two covers especially contribute to that, since you get coll cotton and fleece mincky covers. It is available in three different weights, and all three weights are intended for adults. Depending on your body weight, you will determine which weight you will buy. 
Since it is 100% cotton it guarantees that you will not be hot under this weighted blanket because breathability is great and it is also hypoallergenic. The cover is machine washable, and you get no hassle 30 day returns and a 365 day craftsmanship guarantee.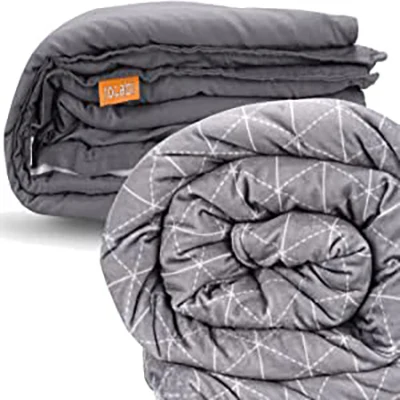 Breathable
Comfortable
365 day craftmanship guarantee
Machine washable cover
Available in 3 weights
More expensive than some other products in the same category
Only for adults 
BEST FOR KIDS: Snoozzzy's Kids Weighted Blanket
Only the best for your little ones!
If you're in the market for a kids' weighted blanket, you should look no further than a Snoozzzy's Kids. This is a great blanket for all those little rascals that are having trouble sleeping. It's filled with glass pellets, so that's a big plus. It also comes with a removable, minky cover – which makes this one quite easy to wash, which is ideal for kids. When it comes to looks – you can choose from a variety of styles, from a unicorn-printed cover to a dinosaur one – so it works perfectly for both boys and girls. Bonus points for Snoozzzy for including a plush toy in the package.
Easily washable
Removable minky cover
Glass beads fillings
Five different sizes
BEST COOLING: Luna Weighted Blanket for Adults
Super-soft cotton weighted blanket that delivers fantastic cooling experience!

Luna weighted blanket for adults comes with an innovative design and 7 layers that ensure even weight distribution and cloud-like feeling. 8 ties help you to fasten the cover and protect the blanket.
Micro glass beads improve weight distribution even more, while 7-layer construction promotes increased airflow and thus increases the cooling effect. A removable duvet cover makes your the maintenance process a piece of cake
It comes in Single and Double/King sizes, with weights of 5,5 6,8 and 9 kg, depending on whether you want more or less weight for your sleep.
Here is our Luna weighted blanket review.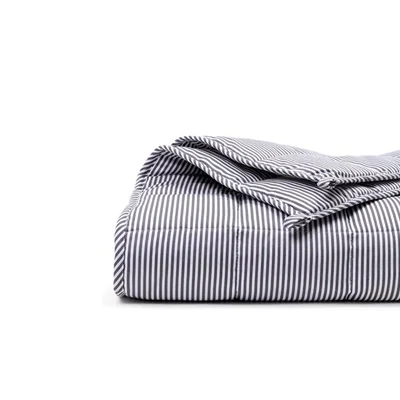 Highly breathable, cooling & moisture-wicking
Smart design; 7 layers
Machine washable.
Only two sizes available
A bit expensive when compared to similar products.
BEST WARMING: Bedsure Weighted Blanket
Bedsure Weighted Blanket has an ideal weight for all adults and will perfectly simulate DPT!
The Bedsure Weighted Blanket weighs just under 7kg, to be more precise, it weighs 6.8kg. It is a weight that will suit any adult, because it is not too heavy, and yet it is enough to simulate DPT and thus cause the release of hormones that will calm you down. 
This weighted blanket consists of 7 layers, in order to offer you softness and therefore a perfect night's sleep at the same time. The cover is 100% cotton so you don't get hot, and 12 loops on all sides will perfectly hold the entire weight in place.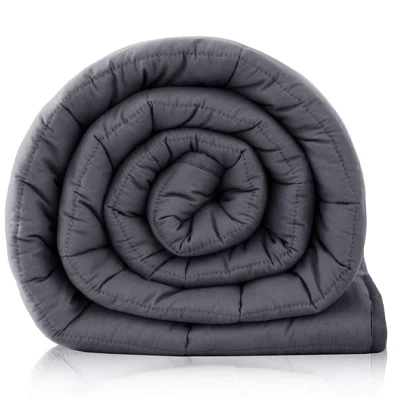 DPT simulation
100% cotton cover
7 layers
Durable
Could be too warm for hot sleepers
BEST HYPOALLERGENIC: Silentnight Weighted Blanket
The best choice for allergy sleepers!
Silentnight weighted blanket offers hypoallergenic sleep and super comfortable dreams as this blanket comes in two different weights:6,8 and 9 kg. This is the best therapy-weighted blanket also that uses smooth microfibre to reduce stress, restless leg syndrome, anxiety, insomnia, arthritis, fibromyalgia and many other disorders.
Premium glass beads are noiseless, while the high-quality stitching and loops ensure even weight distribution. It comes with 12 months warranty and free delivery. It is available only in grey colour.
We also have a review on this Silentnight's weighted blanket so take a look.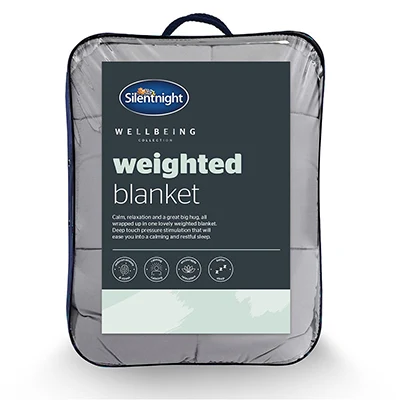 Very breathable
Beyond comfortable
Double-sided
Only one colour
Could be too light for some
BEST LOW-MAINTENANCE: Simba Orbit Weighted Blanket
Amazing in every single way!
To say that the Simba Orbit is one of the most comfortable blankets on the market would be an understatement. If we're being honest, we wouldn't expect anything less from Simba. This one comes with a removable, 100% premium cotton cover, which makes this one really easy to clean.
 It's filled with what Simba calls nano-beads, which are essentially very small, glass beads. It's very breathable, so you won't have to worry about getting too hot while you try and sleep.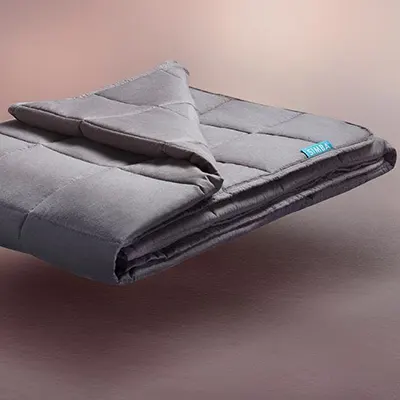 Cool and breathable
Filled with nano-glass beads
Removable cotton cover
Somewhat pricey
Only comes in one colour and two different weights
BEST KNITTED: Nectar Cloverlane
High-quality organic and knitted hug from Nectar!
Made from organic cotton in Portugal, Nectar's Cloverlane weighted blanket offers the ultra-luxurious and soft deep pressure touch stimulation and helps you fight off the stress, anxiety and insomnia. Following the sustainable production line, as well as traditional techniques, this blanket is truly a masterpiece of bedding niche.
It is also OEKO-TEX certified, alongside with the confirmation of absence of all toxic substances. Anti-bacterial, breathable, warm and easy to store (thanks to a heavy cotton bag) are side points for this Nectar weighted blanket that we reviewed earlier!
100% premium organic cotton
Cotton storage bag
Breathable, cooling and super-cozy 
Eco-friendly, free of chemicals
Machine-washable
Great for treatment of PTSD, insomnia and stress.
A bit pricey when compared to similar products.
One weight available only 
One size available only
Some people find it too warm. 
BEST EXTRA HEAVY: Baloo Soft Weighted Blanket
For those in need of extra hugs!
Baloo offers you a weighted blenket that is really heavy. It weighs as much as 11.3 kilograms, which is really heavy and is not recommended for people under 70 kilograms. For anyone weighing under 90 kgthis weighted blanket will be very heavy, but if you are looking for an extra heavy one, then this is the right choice. 
Alongside weight, this is an overall premium weighted blanket. Made of breathable cotton which is chemical-free, it will be very comfortable for you. Since it is very large, it is also suitable for couples. Another great feature is that the machine was washable, even though it is so big and heavy. Also, it will dry very quickly in the dryer.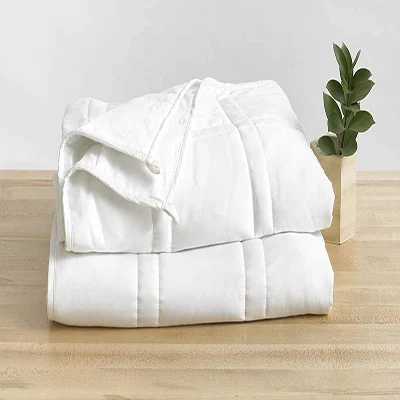 High quality cotton 
Breathable
Machine washable
Great weight range
Glass microbeads
Might be too heavy for some sleepers
What to consider when buying the best weighted blanket
When looking for a weighted blanket, it's important to know which features to look for. It's not enough just to buy the first one you come across. Many important features make up a good blanket like weight, material, how breathable it is etc. In the following section, we've decided to break things down for you and highlight some of the most important features, so you can easily find the perfect blanket for yourself.
When it comes to the weight of the blanket, the general rule of thumb is to follow a 10 percent rule. You could go a little lower than that if you prefer a lighter feel, but in general, a good weighted blanket should weigh around 10 percent of your body weight. That is, by far, the simplest way to find the perfect fit for you – just divide your body weight by 10 and you should be good to go.
However, it's important to note that this rule might not apply to everyone. So, before you buy, make sure to test out the blanket. Cover yourself and see how it feels. If you find yourself struggling to move or you just feel like you're under too much pressure, go lighter. The point of this blanket is to make you feel at ease, not trapped.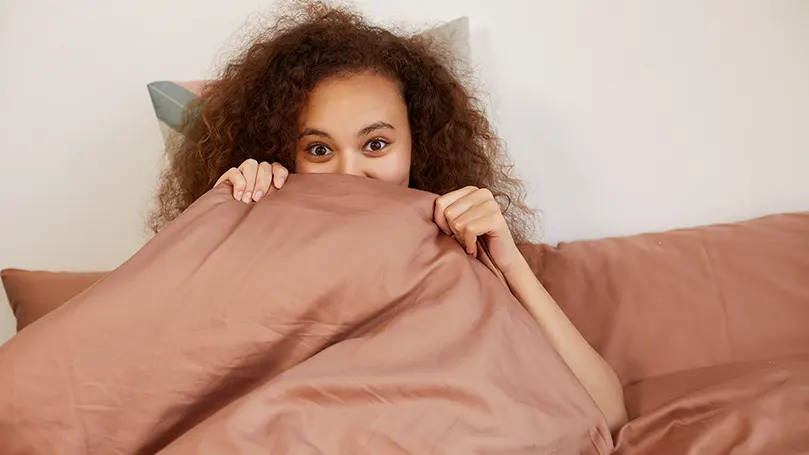 Even though it is not necessary, finding the perfect cover for your blanket can improve the overall experience significantly. That is why many recommend that you do so.
Finding the perfect cover shouldn't be too troublesome. It all boils down to the material of the cover, if we're being honest. You see, the purpose of the cover is to keep the blanket clean, and make it feel softer, hotter or colder. Washing a weighted blanket isn't impossible, but it can get a bit troubling. That's why a cover is a welcome addition.
Aside from that, a cover will affect how the blanket feels. So, if you wish to make it softer, cooler or warmer, you can do that by finding the perfect cover for it.
When finding the perfect weighted blanket for yourself, you'll also want to pay attention to the materials – all of them. When it comes to these kinds of blankets, there are two things to pay attention to – the cover material and the filling.
As far as cover material goes, it's all about personal preference. In most cases, you'd choose between cotton, which is quite soft and breathable and minky. If you don't know what minky is – it's that silky-smooth, hairy fabric most commonly used for baby blankets. Also, you may find fleece or linen blend, but those aren't that popular.
Aside from that, you'll have to pay attention to the fillings, as that will determine not only the weight distribution and affect the cleaning ability of the blanket, but will affect the longevity of the blanket, as well. In most cases, the weighted blankets will be filled with plastic poly pellets, micro glass beads, steel shot beads or in some cases even sand or grain. We'd suggest steering clear of the organic fillings. Here's why.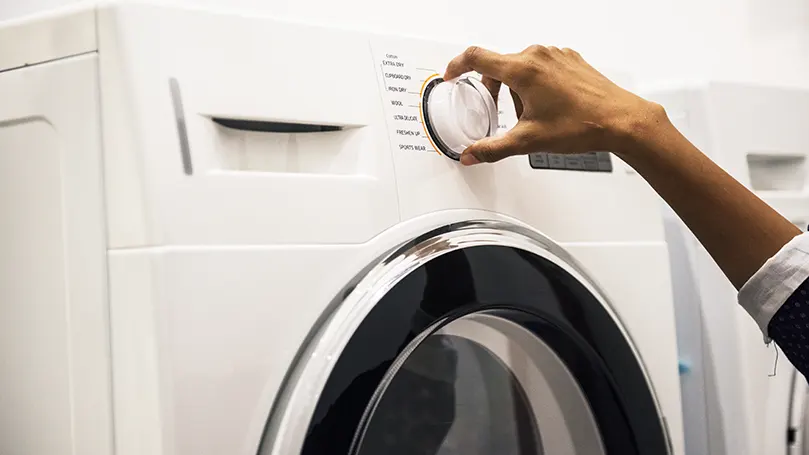 Cleaning a weighted blanket can be challenging – if you pick the wrong one.
As we've said a second ago, stay away from blankets filled with organic materials like sand, pebbles, buckwheat or grain. You see, when organic material comes into contact with water – it tends to soak it up. When that happens, getting it dry becomes pretty much impossible. That can lead to your blanket becoming mouldy or the fillings rotting and that's something you'd want to avoid. Sticking to glass, steel and plastic poly fillings will make cleaning that much easier.
In addition to that, cotton and minky covered blankets are the easiest to clean. Just make sure not to use hot water. Cold or warm water should do the trick. Also, try and wash them separately from other clothes or sheets to avoid additional agitation to the fabric.
Depending on whether you sleep hot or cold, you might want to consider how breathable your blanket is. Once again, it all comes down to the materials.
As far as covers go, if you're looking for a breathable blanket, you're ought to look for a breathable cover fabric like cotton. There are a few others like bamboo or eucalyptus fibres, but those aren't that common. Cotton is a safe bet and the best overall choice.
On the inside, glass beads fillings are your best option if you get hot when you sleep, as they're least likely to retain heat, unlike plastic poly beads.
Tips for buying and using best weighted blankets
When it comes to tips and tricks when shopping for the best weighted blanket, we'd advise being thorough in your research and trying out the blanket before you buy it. You see, you can have all the necessary knowledge on how to find the perfect blanket, but that doesn't mean you'd be satisfied with it. So, here are a few additional tips:
Always try the blanket out before you buy it or look for one with a return and cash-back policy.
Don't go too wide or too long – you want it to cover your whole body below the neck without hanging off the bed. These blankets are heavy and they can easily end up on the floor if too large.
Weighted blankets aren't meant for sharing. It sounds sad, but this is a one-person party.
The advantages of owning one the best weighted blankets
The main purpose of a weighted blanket is to make you feel at ease when you go to sleep and help improve the overall quality of your sleep. So, when you think about it, the advantages of owning a great weighted blanket are the same as a good night's sleep. People who suffer from anxiety can benefit from weighted blankets the most, but overall, they can improve your overall quality of life.
The impact of quality sleep on our life can't be stressed enough. Here are only a few of the benefits and advantages of owning the weighted blanket.
Improved quality of sleep
Anxiety and stress relief
Improved focus, motivation and overall mood
Improved physical and mental health.
FAQs about weighted blankets
Finally, let us answer some of the most frequently asked questions, just to make sure we've covered all grounds, so when the time comes for you to pick the perfect weighted blanket for yourself – you do it without a doubt in your mind.
How heavy should my weighted blanket be?
Ideally, a blanket should weigh approximately one-tenth of your body weight.
How do I choose the right weight of a weighted blanket?
It's rather simple. Divide your body weight by 10 and try out the blanket. If it feels good – you've found the perfect match.
How do I clean my weighted blanket?
You should clean the blankets with cold or warm water, without any harsh chemicals or laundry detergents.
How often should I wash my weighted blanket?
Depending on whether you use covers or now, it varies between 2 to 4 times a year. If necessary, wash more often.
Are weighted blankets suitable for everyone?
Anyone over the age of 3 can use and benefit from the weighted blankets.