Mela Weighted Blanket 2022 Review - One of our favourites
Weighted blankets have become very popular in recent years. We've already written about best weighted blankets, and now we're going to focus on our choice for the best overall. Here is a comprehensive review about  Mela Weighted Blanket, all of its features, and you can also find out more about the Mela company and other similar products in the category.
Add a header to begin generating the table of contents
Sam & Matt, Mela founders, have realized that without a proper night's sleep you can't be productive. And they decided to help all the friends and family, as well as all the other people to overcome problems with sleeping.
They concluded that a weighted blanket is exactly what is needed to help people improve sleep quality. Their focus is on producing the highest quality weighted blankets, but also other sleep-related items such as pillows, duvets, and so on. All their products are very high quality and made of natural materials.
Who is Mela weighted blanket for?
The emergence of weighted blankets is primarily associated with autism. It was thought that it would help everyone suffering from autism and similar conditions.
Over time, weighted blankets began to be used by everyone else who needed comfort, such as people suffering from PTSD and so on. Eventually, mass use began, because it is very beneficial for all those who suffer from insomnia, have an irregular sleep and wake cycle and the like. That's why the Mela Weighted Blanket is for all those people who feel it could benefit them even if they don't have any real problem. You can use it even for pets.
How did we test the Mela weighted blanket?
We first tested all three weights available when buying a Mela Weighted Blanket. Mela Weighted Blanket is available in 5.5kg, 7kg and 9kg. We find the 9kg model quite heavy, but it will be a great choice for people who body weight is above 85kg. Weighted blanket should be around 10 percent of your body weight. But of course, if you like lighter or heavier, feel free to buy such one.
We then tested what it was like to sleep using the Mela Weighted Blanket. The sleeping experience was very pleasant, because the materials are comfortable and breathable. Anti-rustle glass quartz pellets are a great choice for filling and we really liked feeling quartz pellets gave us. We didn't find Mela Weighted Blanket too hot because it is very breathable, but if you want cooling one, you can go with Mela Chill Eucalyptus weighted blanket which is model with cooling properties.
In the end, we tested how it would be washed in the washing machine. There was no problem for either the Mela Weighted Blanket or the washing machine. We got a completely clean and undamaged weighted blanket after. Don't worry how your washing machine will cope with 9kg blanket, because you can remove the weighted part.
What do we use weighted blankets for?
Mela weighted blankets can have different purposes. Some people like to use them for a night's sleep, while others like the feeling a Mela weighted blanket gives them while relaxing and watching TV. So, you can use it at any moment that seems suitable to you. There is no right or wrong use.
Features you should know about the Mela weighted
Mela Weighted Blanket has numerous features which you will like. Still, we thought the following four features are most important you should know about. Those four features include filling, cover and how this weighted blanket can affect numerous different conditions.
Glass quartz pellets filling
When you choose a weighted blanket, you will see that most models are filled with glass or plastic pellets. Glass quartz pellets filling is used for Mela weighted blankets and it is a great choice because glass pellets are smaller than plastic, so such blankets are thinner while having the same weight, so it means that your weighted blanket will not be bulky and you can easily maneuver it.
You have to keep in mind polyester and plastic filling heats up more which can bother you so glass is a premium option. Mela used special anti-rustle pellets in the production, which will provide you with complete silence during sleep.
As we have already said, the Mela Weighted Blanket is available in three weights. If you do not choose the lightest, which is 5.5 kg, it is likely that you will not have a machine big enough to wash it. Because very few machines for private use have a volume of 10kg.
But you don't have to worry about that, because you'll be able to wash the removable cover separately. That way, your Mela Weighted Blanket will always be clean, and it will fit in any washing machine. You can also remove the weighted part, so that you can wash it at home, without having to take it somewhere else for washing.
With Mela Weighted Blanket you get a double-sided removable cover which is a very important feature that gives you multiple benefits. Above all, comfort. The bottom is made of 100% cotton that will keep you cool, while the top is made of super soft quilted minky, so it is ideal to snuggle up under. Cotton is best material for all people with sensory issues.
Also, since the cover is made exclusively for this weighted blanket, it means that it will fit perfectly, which will not be the case if you would have to use another bed sheet. This cover is also top quality, very luxurious and machine washable.
Positively affect wide range of conditions
Buying this product will positively affect a wide range of conditions. In addition to improving everyone's night's sleep and providing a comfortable feeling, it can also help with much more serious conditions.
Autism is the primary condition for which weighted blanket is used, as research has shown that it significantly improves the quality of sleep for autistic people. It is also useful in ADHD, because with its weight and the feeling it creates, the weighted blanket has a calming effect on people with attention deficit disorder. It also helps with PTSD, insomnia and so on. In addition to helping with mental conditions, it also has a role in relieving pain in arthritis.
Mela weighted blanket review
Mela Weighted Blanket is made of the highest quality cotton and minky, and for the filling anti-rustle glass quartz pellets are used, so only premium materials can be found. Also, you will see that finishing at the highest level. You will notice the top quality of this product as soon as you see the branded box in which it is packed, and then when you open it and see this very luxurious and beautifully designed weighted blanket.
Its grey colour will easily fit into the interior, and you will need only a few moments to assemble it. It is so pleasant and will improve night's sleep, as well as problems with anxiety, PTSD and the like.
Beautifully made
Easy to assemble
Improving night's sleep
May be too warm
Can be too heavy for some
What we like about Mela weighted blankets
If you want a top-quality weighted blanket, this one should be your choice.
We really liked how we felt under it, even when we tried the heaviest model.
It is really easy to maintain.
What we didn't like about Mela weighted blanket
Even though we liked its breathability, it can be too hot for summer months.
The price is completely justified, but still, it can be a higher than you anticipated.
Product is too heavy for kids.
Check these alternatives to Mela weighted blanket
To make the right choice, it is always necessary to check a few alternative options which will show you whether Mela weighted blanket is best for you. Jaymag Weighted Blanket and Sumo Sleep Natural Weighted Blanket have found their place among our highest rated weighted blanket for adults. We consider them the best alternatives.
Jaymag Weighted Blanket stands out primarily for being very affordable, but it does not lag behind the much more expensive models in terms of quality. Made of hypoallergenic material, it is very comfortable and also breathable. It is filled with glass beads, which is a great option, and it is not very common when you are buying cheaper models.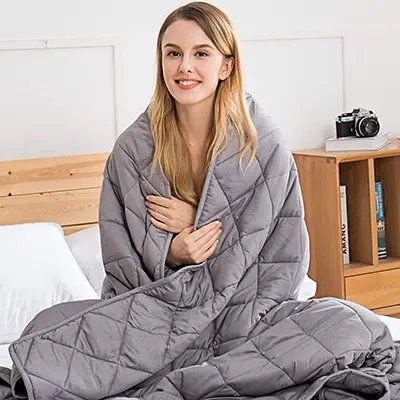 Cool and breathable
Filled with glass beads
Great weight distribution
Hypoallergenic
Not the most eye-pleasing model, but that is subjective
Sumo Sleep natural weighted blanket
While many resent the fact that only one size and weight Sumo Sleep Natural Weighted Blanket is available, its other features are fantastic. Made of very high-quality natural materials(bamboo), it is very comfortable and will also keep you cool. It is filled with eco-friendly glass beads so you will have the feeling of being hugged while you sleep.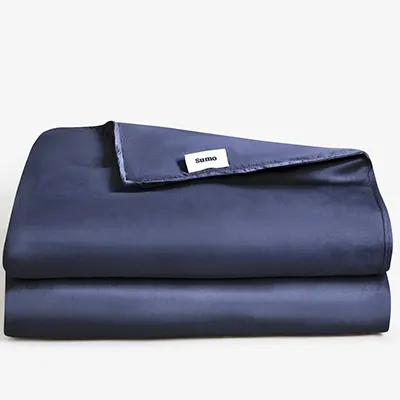 Very comfortable
Cool and very breathable
Moisture-wicking technology keeps you dry as you sleep
100-night trial
Only one size
May be more expensive than some other products in this category
Consider Panda bamboo pillow if you are buying Mela weighted blanket
To complete your sleeping experience, with the Mela Weighted Blanket you should consider buying a Panda Bamboo Pillow. This great pillow, made of bamboo, is suitable for all people, which means that it does not matter whether you are a side sleeper or sleeping in another position.
Made of very durable bamboo, it has antibacterial properties and is also highly breathable. It is suitable even for children.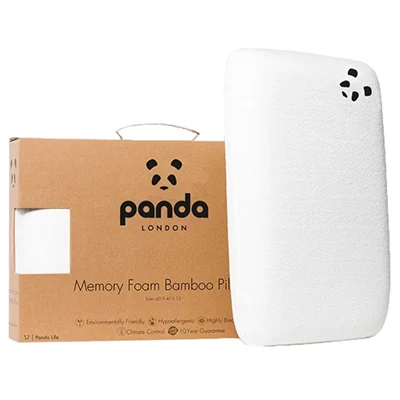 Top quality bamboo
Suitable for every sleeping position
Long warranty period
Only one size available
Issue with the chemical smell
If you want very firm pillow, you can find this one too soft
What makes Mela weighted blankets better than some other weighted blankets?
There are several features that set Mela Weighted Blankets apart from some other weighted blankets. First of all, we really liked the anti-rustle glass quartz pellets filling. It is completely quiet and takes on the shape of your body very well.
We also liked that the bottom is made of cotton which is breathable and very comfortable for your skin. And the top is made of very soft minky. Everything is made without the use of harmful chemicals or toxins.
FAQs about your new Mela weighted blanket
What bothers a lot of people is the question of whether it is OK to use their Mela weighted blanket every night. Also, since it is different from regular blankets, the question arises as to how to wash it in the right way. And since weights vary, one needs to know if a weighted blanket can be overweight. You will find the answers to these questions in the FAQs section.
Is it OK to sleep with a Mela weighted blanket every night?
Yes, it is completely fine to sleep with your Mela weighted blanket every night. If that suits you, go ahead.
How do I wash my Mela weighted blanket?
You can wash it at a maximum of 30°C or even better use cold cycle. Do not tumble dry it.
Do Mela weighted blankets have health benefits?
The positive effects of using Mela weighted blanket, as an at-home therapy for various conditions, have been proven. Of course, it will not have the same effect on everyone.
Can a weighted blanket be too heavy?
Yes, it can be too heavy. If you can't move under it, it means you've chosen too heavy weighted blanket.