7 Best Orthopedic Pillows For Treatment Of Neck & Shoulder Pain
Waking up tired and with a sore neck has to be one of the worst feelings in the world.  Now, what many don't realize, is that they can get rid of the neck pain simply by switching their pillow and using an orthopedic pillow. Forget about the persistent neck and shoulder pain with one of these orthopedic pillows!!
Considering how much strain we put on our necks during the day, especially when we're using our phones, finding the best orthopedic pillow to ease our aches when we go to sleep should be everyone's number one priority.
However, choosing the perfect orthopaedic pillow isn't easy. There are many options to choose from and finding the right one for your, let's say, back pain, can be quite overwhelming if you don't know what to look for. With that being said, we're here to help. 
We went out and tested some of the best orthopedic pillows on the market, so you don't have to! Here are the ones we found to be the absolute best choices for a proper night's sleep!
Our top orthopedic pillows in 2022
Finally, we've reached the pinnacle of our article – our top picks for the best orthopedic pillows on the UK market. As you're about to see in just a few moments – we've focused on a variety of different pillows, so we're certain everyone that's coping with some pain will be able to find a perfect orthopedic pillow for themselves.
IMAGE
PRODUCT
DETAILS

KEY FEATURES:

Filling:

Memory foam

Type:

Cervical

Cover:

Removable & washable

View Latest Price

KEY FEATURES:

Filling:

Premium memory foam

Type:

Cervical

Cover:

Removable & washable

View Latest Price

KEY FEATURES:

Filling:

Memory foam

Type:

Cervical

Cover:

Removable & washable

View Latest Price

KEY FEATURES:

Filling:

Memory foam

Type:

Cervical

Cover:

Removable & washable

View Latest Price

KEY FEATURES:

Filling:

Memory foam

Type:

Travel

Cover:

No separate cover

View Latest Price

KEY FEATURES:

Filling:

Memory foam

Type:

Cervical

Cover:

Removable & washable

View Latest Price

KEY FEATURES:

Filling:

Memory foam; microfibre

Type:

Non cervical

Cover:

Removable & washable

View Latest Price
BEST OVERALL: Simba Hybrid Pillow
Are you looking for the best orthopedic pillow money can buy? Look no further.
Simba Hybrid pillow is a pillow that you only buy once. This is a 6-layer firm pillow that is designed to provide you with maximum comfort and support and easily adapt to your body keeping you properly aligned. How? The inside of this pillow is filled with easily removable Nanocubes from Simba, which makes this one easy adjustable to your liking. Also, the layering of this pillow, more precisely Stratos active temperature regulating layer, allows this one to be the best temperature regulating pillow we've ever tested. Overall, this is arguably the best orthopedic pillow on the UK market and the best pillow your money can buy.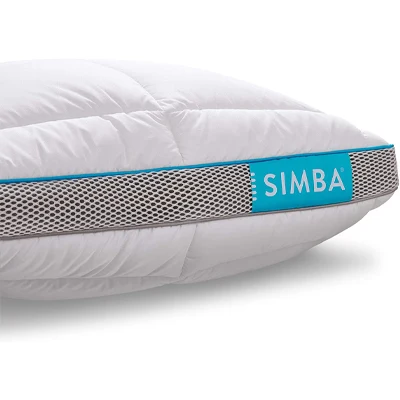 Amazing support
Impeccable cooling and breathability
Highly adjustable and ideal for every sleeping position.
BEST VALUE: Elviros Cervical Contour Memory Foam Pillow
A brilliantly designed cervical pillow that won't break your bank.
If you're looking for a great, cervical orthopedic pillow that's both very effective and affordable – look no further than this one. The unique design of this pillow is what sets it apart from the others, but it's also what makes it ideal for everyone, regardless of their sleeping position. Its great pressure relieving properties make this one of the best pain-relieving pillows on the market. It's made from a traditional memory foam, so you can expect it to easily align to your neck and head with ease. It comes with a removable, machine-washable cover – so that's a plus.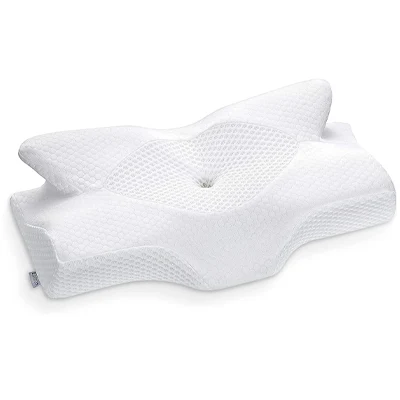 Good cervical support
Solid ergonomic design
Very comfortable.
The cover is not hypoallergenic
Not for the restless sleepers.
BEST FOR NECK PAIN: Supportiback The Orthopedic Pillow
The best supportive neck pillow for those struggling with neck pain!
If you're in the market for a pillow that checks all the boxes then this is the pillow for you. Supportiback has done a brilliant job designing and manufacturing what seems to be one of the best pillows for pain relief that have ever been made. This is a memory foam pillow, but unlike most of the other orthopedic pillows, this one adjusts to your body, instead of "putting" you in the optimal sleeping position, which means it's ideal for all kinds of sleepers. Patented Ergo-Pur memory foam combined with technology like Ergo-Bounce and Hiber-Gel Cooling Pad will make sure you stay sound asleep for a long time and wake up refreshed and pain-free. This is a game changing pillow that'll help you to achieve a deep slumber!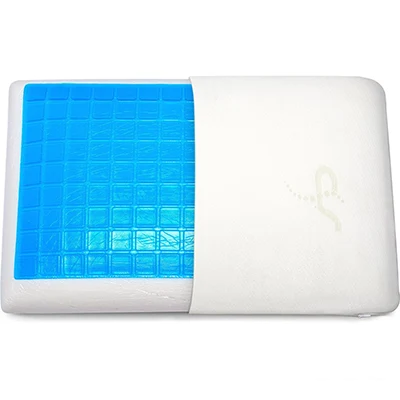 Impeccable support
Incredible cooling and breathability
Hypoallergenic, all-natural cover.
The cover is not removable. 
BEST FOR SIDE SLEEPERS: Panda Luxury Memory Foam Bamboo Pillow
If being eco-friendly and comfortable means a lot to you – choose this one!
Panda Luxury Memory Foam Bamboo Pillow is all that it claims to be. It's a luxury pillow, made from high-quality memory foam, which makes it ideal for those that like to sleep on their side. This one perfectly strikes the balance between being comfortable and supportive, which is not a lot of others can claim to do. Also, this pillow is made from natural materials, so it's very gentle on the environment – if that's something that's very important to you. The bamboo pillow cover is very soft and breathable and most importantly hypoallergenic, so you can rest assured nothing will be bothering you as you sleep.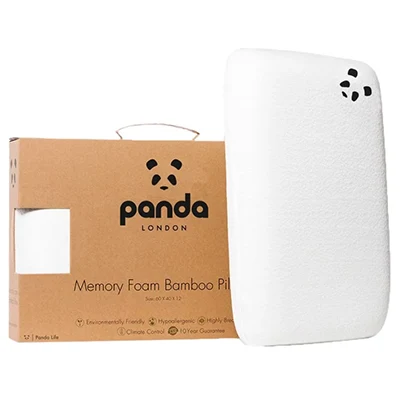 Incredible balance between comfort and support
Sustainable and eco-friendly
Hypoallergenic.
No removable cover
Not for stomach sleepers.
BEST FOR TRAVEL: SNUGL Travel Pillow
You can't forget about the proper neck support, especially when you travel!
It's easy to forget about comfort when you're travelling. However, just because it's easy doesn't mean you should do it. Having a great pillow for when you travel will save you from a lot of neck pain. SNUGL Travel Pillow provides you with much-needed support and comfort when you're sleeping in a sitting position. The ergonomic design makes this one ideal regardless of how you like to lean your head when you sleep sitting upright. Additionally, this a lightweight, easily washable pillow – so you can be certain you'll get the most of it for quite some time.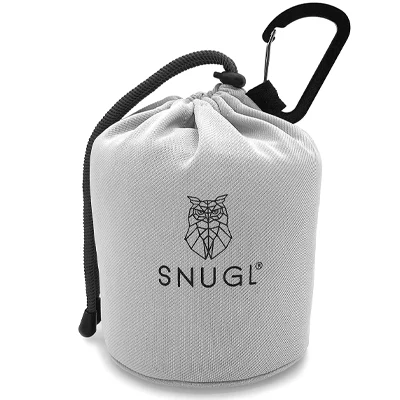 Adjustable neck support
Very cool and breathable
Machine washable.
No separate & removable cover available. 
BEST CERVICAL: ComfyCozy Deluxe Memory Foam Pillow
Just like the name says – it's comfy and cozy  contour memory foam pillow and it will make your pain go away!
Waking up with a tense and aching neck will be a thing of the past once you start sleeping on this pillow. ComfyCozy has done an excellent job designing and manufacturing a great orthopedic pillow that keeps your neck in the natural position regardless of the position you sleep in. Made from the highest-grade memory foam, these pillows are both comfortable and equally as supportive. Of course, we can't forget about a hypoallergenic, removable cover that comes with this pillow. On top of all that, when you buy this pillow, you get a silk eye mask, to make sure that the light's not interrupting you while you're sleeping.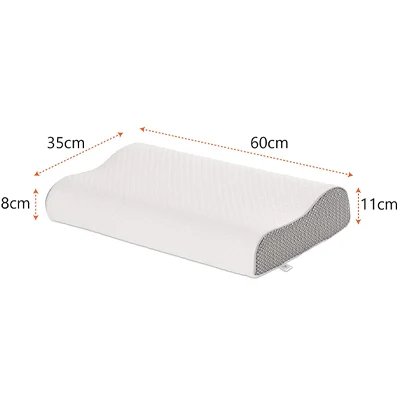 Great support and comfort
Moulds perfectly to your neck and head
Hypoallergenic, removable cover.
Not for hot sleepers
Not for stomach sleepers.
BEST NON-CERVICAL: Fine Bedding Dual Support Pillow
If you're in the market for something more traditional, yet still pain-relieving – this contour pillow is for you!
This pillow from Fine Bedding is a perfect example of how you can make a great orthopedic pillow and still retain a traditional shape and size. This non-cervical support pillow is great for those who sleep hot, but also those who prefer a cushiony feel from their pillow. The inside of a pillow is a mixture of memory foam and microfiber layers and is covered in a hypoallergenic, removable, cotton cover for easier washing and cleaning. On top of all of that, the inner layers are removable which makes this one highly adjustable. You'll be able to reach your comfortable sleep as soon as you realize how many layers you actually do need.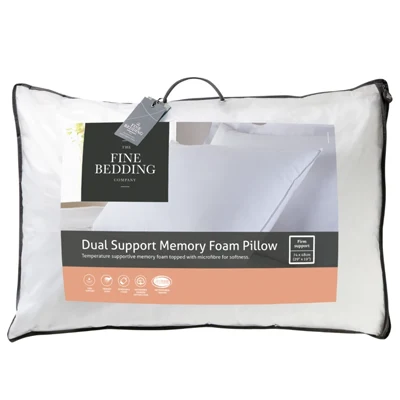 Very comfortable and supportive
Suitable for all sleeping positions
Dual-layered.
Memory foam smell tends to linger for a day or two
May be too soft.
Features to look for in the best orthopedic pillow
When you're looking to buy the best orthopedic pillow – you have to know what you're looking for if you want to achieve a spinal alignment as well as perfect night's sleep. Knowing the key, identifying the features of a product you're shopping for will make your shopping experience so much easier, regardless of what you're shopping for.
When it comes to orthopedic pillows, in general, there are few important features to look for. The most important ones are type, profile, inner layer adjustment and the cover of a pillow. Let's learn a little bit about them, shall we?
When it comes to orthopedic pillows, there are two main categories to look for – cervical and non-cervical pillows. Of course, there are subcategories of these and if you really want to go in-depth about orthopedic pillow you can find water pillows, full-body pillows, knee and lumbar pillow and so on.
What we're most interested in today are cervical pillows. Cervical pillows are easily distinguishable from regular pillows by their unique shape. In most cases, a cervical pillow will have a raised, neck support area and the main pillow dip where the head is supposed to rest. More often than not, these are made from memory foam.
Since cervical pillows are pretty much a resounding yes or no, with no in-betweens, you can also look for non-cervical orthopedic pillows, which are resembling of a regular pillow, only a lot more supportive and pain-relieving.
The profile of an orthopedic pillow is quite important. You see, considering their unique shape, you should always look for a pillow with a dual profile – for ultimate comfort. What we mean by profile is the height profile of opposite sides of a pillow. In general, the side of an orthopedic pillow is raised compared to the opposite one. That means that you can rotate the pillow, any way you like, based on your sleeping position and neck support and alignment.
For instance, back and side sleepers prefer the raised profile to be on the bottom, while the stomach sleepers enjoy their pillow the other way around.
Another thing that can be quite important when you're shopping for an orthopedic pillow is the ability to add or remove the inner layers. This feature is about far more than just comfort. Think of it as adding or removing feathers from old-school pillows. The more you add, the firmer and bigger the pillow becomes and vice versa.
Once again, your sleeping position will greatly affect how you adjust the inner layers of your pillow. If you sleep on your side, in most cases, you'll need some added height for proper alignment and support and if you're sleeping on your stomach, you'll your pillow to be a lot thinner. Back sleepers fit right in the middle between these two.
The cover of an orthopedic pillow is also a very important aspect to consider before buying. The cover will greatly affect how sound you sleep at night. Also, the cover will affect a lot more than just comfort. The covers of an orthopedic pillow should be removable, easily washable, cool and breathable and hypoallergenic. In most cases, you'll get all of these features in a cover, but if you don't, you can always get a separate pillow cover to suit your needs, but we'd always recommend looking for a pillow that checks all the boxes we've mentioned a moment ago.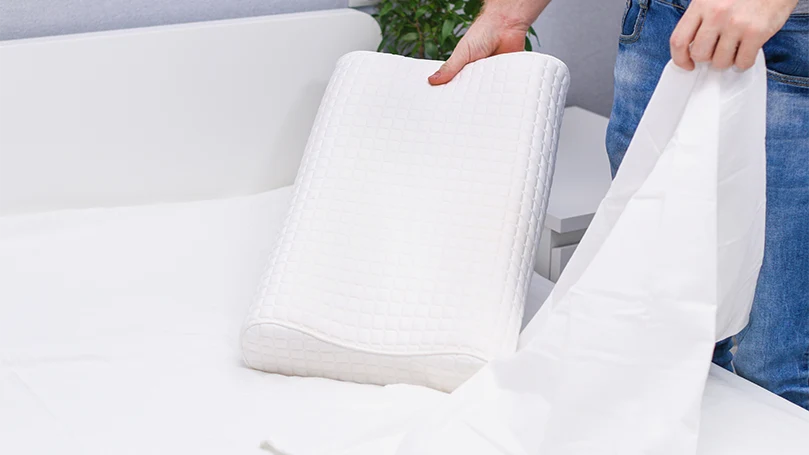 Tips for buying and using best orthopedic pillow
Being aware of the features is one thing – utilizing that knowledge is another story. On that note, we've decided to give you a few pro tips on how to buy and use an orthopedic pillow.
First up, always select the pillow based on your sleeping position. What may be pain-relieving and comfortable for a stomach sleeper, will probably be uncomfortable for a side sleeper. So, that always comes first.
As we've mentioned in the beginning, orthopedic pillows aren't only for neck and shoulder pain. There are full-body pillows, knee pillows, lumbar pillows and so on. Depending on what area is bothering you – there are different kinds of pillows to choose from. A pro-tip – every side sleeper could benefit from an orthopedic knee pillow.
Finally, make sure you find a pillow that's easily washable and we're not talking solely about a cover. The body of a pillow needs a thorough cleaning every once in a while. For the end – the final 3 tips:
Select the pillow based on your sleeping position
Find the appropriate pillow for the aching body part
Get an easily washable pillow.
The advantages of owning the best orthopedic pillow
Finally, let's take a look at some of the benefit you'll be experiencing if you do decide to get an orthopedic pillow for yourself.
First up, if you get the best orthopedic pillow you can be certain that it will perfectly mould to your head and neck, relieving you of pressure and alleviating the pain. A lot of people claim to notice significant results within the first week of using an orthopedic pillow.
Next up, the proper body alignment you get from a quality orthopedic pillow will help you relax better and release all the built-up tension from your muscles. A proper sleeping position can't be stressed enough. It will change your life for the better – that's all we're going to say.
Also, looking for the "cool" side of the pillow won't be a hassle anymore during the warm, summer days, as a quality orthopedic pillow will be very cool and breathable.
Finally, if you're dealing with allergies or if you're prone or sensitive to some common household allergens like dust mites – a great hypoallergenic orthopedic pillow will help you sleep better by repelling the annoying, sneeze-inducing pests. So, an orthopedic pillow:
Offers perfect support for your neck and head
Relaxes your whole body and improves overall health
Either side is a cool side
Helps fight against allergens.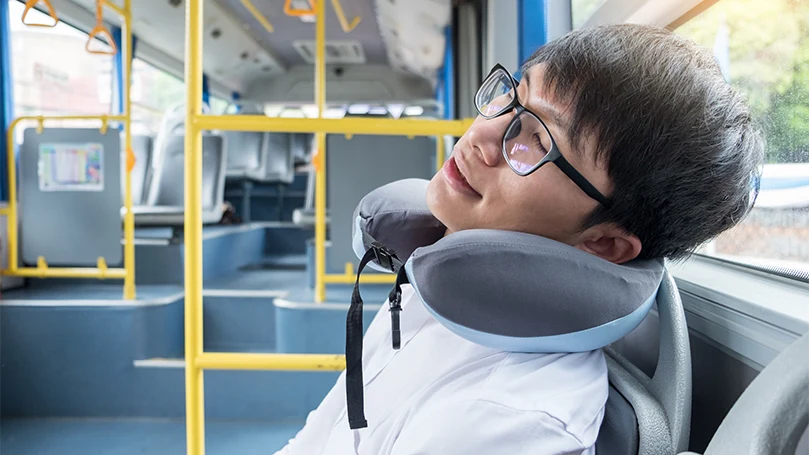 FAQs about your new orthopedic pillow
In the end, we feel like all that's left to do is answer some of the frequently asked questions on the best orthopaedic pillows. Even though we feel like we've covered all the basics when it comes to orthopedic pillows, sometimes, all you need is a straightforward answer to a direct question and that's exactly what we're going to do. Let's answer some FAQs!
What pillows do chiropractors recommend?
Most chiropractors recommend cervical pillows for improving sleep quality because they offer the best support and alignment for your head and neck.
What is the best orthopedic pillow for shoulder pain?
Depending on which position you sleep in, different types of cervical pillows could help ease the shoulder pain.
How long do orthopedic pillows last?
On average, a lifespan of a quality orthopedic pillow is somewhere between 3 and 4 years, if we're talking about a memory foam orthopedic pillow.
What is the best pillow for degenerative disc disease?
In case you are suffering from a degenerative disc disease, you should look for a buckwheat pillows as these offer better support for such condition.