Best Floor Mattress: Top Picks Reviewed In 2022
Floor mattresses are very useful. We can use them in so many different situations. But choosing the best floor mattress requires the same commitment as when buying a regular mattress. So let's find out all about this type of mattress together!
Are you expecting guests who will stay at your place for a few days? Or maybe you want to accommodate friends in your dorm room after the party? Going on a camping trip? In each of these and many other situations, you will find a floor mattress very useful.
We don't always have enough space for a bed and a regular mattress, so we are looking for a space saver. Sometimes we also need a mattress that is easy to move.
The main difference between floor mattresses and regular mattresses is that floor mattresses are designed to be placed directly on the floor, and regular mattresses are not very comfortable when placed on the floor.
There are a lot of types of floor mattresses and therefore it is not easy to choose one. We will help you! Find out which features to look for when buying a floor mattress and we also singled out our top picks for best floor mattresses.
Add a header to begin generating the table of contents
After carefully analyzing the UK sleep market, we selected dozens of models for further testing. We have written a short review for the best 5 floor mattresses of our choice. We hope that the reviews will help you to buy a mattress quickly and easily.
IMAGE
PRODUCT
DETAILS

KEY FEATURES:

Type:

Foldable

Size:

Single, Double

Material:

Foam

Removable cover:

Yes

Firmness (1-10) :

7

Depth:

10 cm

Hypoallergenic:

Yes

Anti-slip bottom:

No

Handles/straps:

No

View Latest Price

KEY FEATURES:

Type:

Foldable

Size:

190cm x 60cm x 7cm

Material:

Foam

Removable cover:

Yes

Firmness (1-10) :

7.5

Depth:

7 cm

Hypoallergenic:

Yes

Anti-slip bottom:

No

Handles/straps:

Yes

View Latest Price

KEY FEATURES:

Type:

Foldable

Size:

190 cm x 60 cm x 7 cm; 195 cm x 120 cm x 7 cm; 195 cm x 80 cm x 10 cm

Material:

Foam

Removable cover:

Yes

Firmness (1-10) :

7

Depth:

10 cm

Hypoallergenic:

Yes

Anti-slip bottom:

No

Handles/straps:

Yes

View Latest Price

KEY FEATURES:

Type:

Rollable

Size:

70 x 195 cm; 80 x 195 cm; 90 x 195 cm; 120 x 195 cm; 160 x 195 cm

Material:

Memory foam

Removable cover:

No

Firmness (1-10) :

5.5

Depth:

5 cm

Hypoallergenic:

Yes

Anti-slip bottom:

No

Handles/straps:

No

View Latest Price

KEY FEATURES:

Type:

Foldable

Size:

Single, Single Long, Double, Queen, King

Material:

100% Polyester and Polyurethane

Removable cover:

No

Firmness (1-10) :

4

Depth:

5 cm

Hypoallergenic:

Yes

Anti-slip bottom:

No

Handles/straps:

No

View Latest Price
1. BEST OVERALL: Milliard Tri-Fold Foam Folding Mattress
This is more than a floor mattress, Milliard Tri-Fold Foam Folding Mattress is a multifunctional product perfect for the guest room.
We will not be surprised if you do not feel the difference between this foldable mattress and a regular mattress because we did not notice the difference. Wondering how that's even possible? Thanks to the high density premium memory foam that is the core of this model.
Foam is not just durable and supportive, but also CertiPUR-approved, which is your guarantee that the foam has been tested and does not contain anything dangerous to human health. Allergy sufferers are going to like Miliard mattress since it is dust mites resistant. It is quite cool since the fabric is breathable. Jacquard fabric cover is removable and washable. This mattress can be transformed into a sofa if you need it.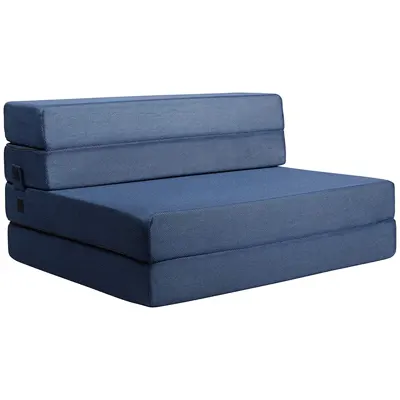 2. BEST VALUE: Badenia Bettcomfort Invitated Mattress
When not in use, turn this mattress into a 60 cm x 63 cm x 21 cm cube.
Badenia Bettcomfort Invited Mattress has a modern design, making it great for a dormitory or a small studio. Medium-hard foam is comfortable to sleep on, and during the day you can turn it into a sofa ideal for studying or playing video games. Thanks to the handles attached to this floor mattress, you will easily move it around.
It is also very light, weighing just over 2.5 kg, so it is not too heavy for anyone. When you decide that the microfibre cover is dirty, just take it off and wash it in the washing machine at 30 degrees Celsius. You don't have to wash it too often to prolong its service life, just wipe it with a wet cloth regularly.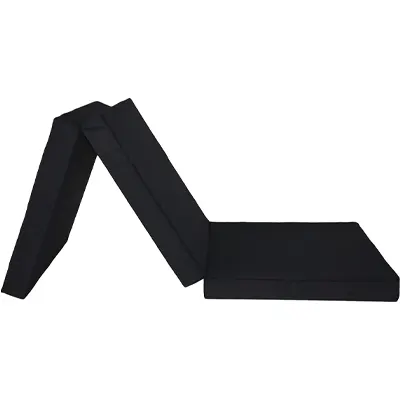 3. UPGRADE PICK: Beautissu Campix Folding Mattress
Beautissu Campix Folding Mattress is one of the most popular floor mattresses on the market due to its comfort and ease of transport.
You only need a few seconds to fold it, and then you can take it with you anywhere because it has Velcro straps that make transportation very simple. It is available in five different colours and three sizes, which is not always the case with floor mattresses. Customers have no complaints about comfort, pressure relief and support, which is why there are plenty of 5 star reviews on Amazon and other sites. 
We liked the design, and the price, although higher than average, is still affordable for most, even those on a budget. Polyester cover with zipper is machine washable at 40 degrees C. This mattress carries the STANDARD 100 by OEKO-TEX label under test number 17.HGB.26231.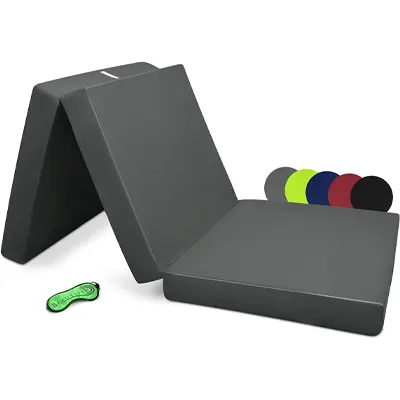 4. BEST FOR CAMPING: Vergreenweb Waterfoam Mattress
Premium Italian product that can be used as a mattress for guests, for camping and as a yoga mat.
The first floor mattress among our top picks that is not foldable but rollable. That is why it is thinner compared to others and is not machine washable. You can only hand wash it. Breathable 3D fabric will satisfy even hot sleepers, we haven't tested many memory foam products that are cooling like this one. 
It is made in Italy in compliance with all EU regulations, so it is completely safe for the UK market as well. Not only can you use it as a mattress, but you can also use it for fitness, yoga and other activities where you need a mat. We can say this is a true example of 2 in 1 product.
5. BEST ROLLABLE: FULI Japanese Floor Mattress
A traditional Japanese mattress will help you free up some space in the room.
In Japan, people slept on the floor for centuries. That tradition has not been completely abandoned even today. FULI Japanese Floor Mattress is made in Japan, so if you want to get the futon, Japanese traditional style bedding, this is the best possible choice. It is stuffed with 100% Polyester and Polyurethane, while the non-removable cover is made of soft and comfortable cotton. 
Although it is only 5 cm thick, it is very comfortable. The mattress is not washable. This Futon mattress is delivered compressed in a vacuum bag, and you should leave it for at least a few hours to regain its full size. It is advisable to add sheets to prevent any damage. You will immediately notice the high-quality craftsmanship, which can be a justification for such a high price.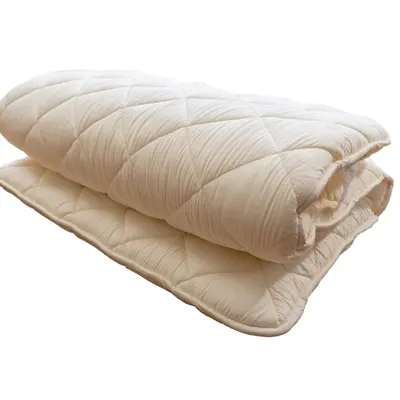 Before you buy a floor mattress
The first thing you should remember before you buy a floor mattress is not to compare it with a regular one. Floor mattress has many advantages such as portability, price and space saving, but it had to be achieved at the expense of some other things. This type of mattress is significantly thinner and therefore less comfortable. 
We are not saying that floor mattresses are not comfortable, but you cannot compare them it with a 30 cm thick hybrid mattress. That is why floor mattresses are not suitable for sleeping on for months or years. Don't expect top notch pressure relief too. Their service life is also significantly shorter.
Since they are thinner and the bed frame does not provide them with support, durability is compromised. You should take all this into consideration before you buy one, to avoid being unsatisfied and blaming the manufacturer for it, when in fact you did not know what kind of product you were buying.
What to look for when buying floor mattress
Although it may happen that you don't use a floor mattress for several months if you don't have guests or you don't have time for a camping trip, that doesn't imply that you should buy the first one you come across. You should pay attention to the following features in order to choose the best one for your needs. These 10 features are most important in general and every customer will consider something else to in accordance with personal needs.
You will notice that most floor mattresses are labeled as either rollable or foldable. Foldable floor mattress can usually be folded once or folded into three sections, hence the names bi-fold and tri-fold mattress. Foldable floor mattresses are more comfortable because in most cases they are thicker and made of high quality materials. We have to mention that these positive features negatively affect weight and price as well.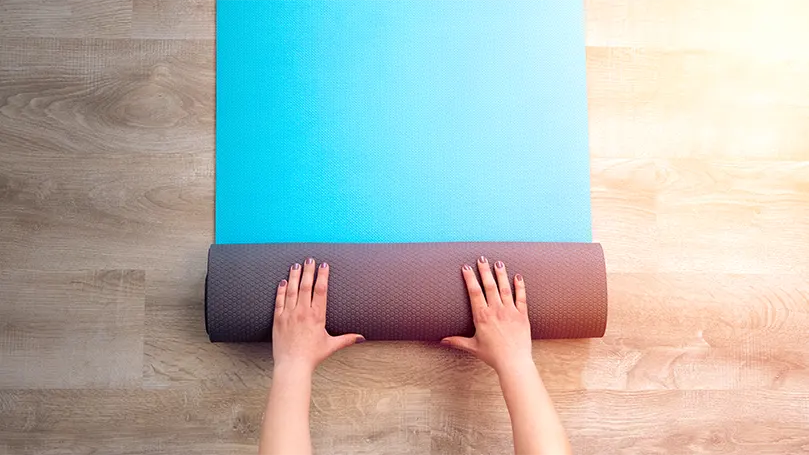 On the other hand, rollable floor mattresses may not be as comfortable or supportive, but they are cheaper. Convenience is also a big advantage of the rollable model. Since they are thinner, it is very easy to roll them and put them away. Both types have pros and cons, and the customer chooses the features he or she finds more important, simple as that.
While it is very simple to choose the size of a regular mattress because all you have to do is choose a bed frame of the desired size and then buy a mattress of the same size, choosing a floor mattress size is a bit more complicated. Some people like big beds, while others don't care that much.
In this case, preferences are not the first thing to consider. Functionality is primary. Think about how often you will use this mattress and where. If you will use it twice a year, then you certainly do not need a bulky King size, which cannot fit in a tent. For those few nights, you can sleep on a smaller mattress. If you have someone over for a sleepover every few days, then buy a bigger one.
Cover is not that important when you buy an ordinary mattress, because you will cover the mattress with bedding and it is placed on a bed frame or box spring. Durability and breathability are certainly important, but this is not something that will have a decisive influence on the choice of model.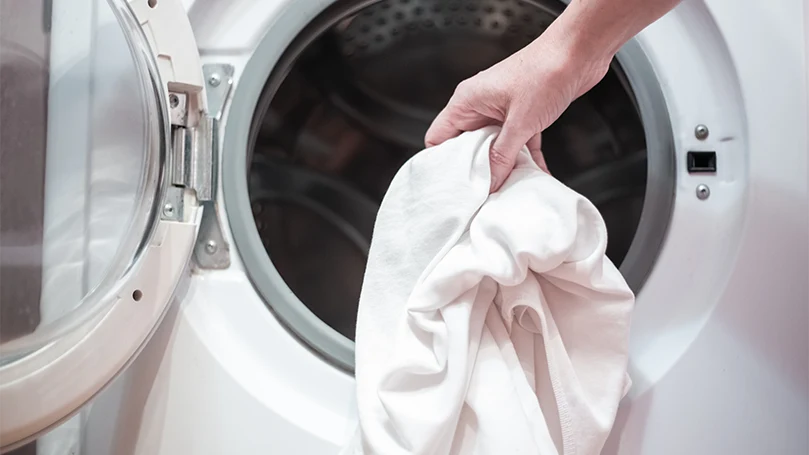 The floor mattress as the name implies that it will be placed directly on the floor. This means that the role of the cover is to protect the core from dirt, dust mites and other things. That's why it has to be very durable, and preferably machine washable. Flodable mattresses generally have removable and washable covers, while rollable mattresses come with non-removable covers that can be spot cleaned. It is great if the cover is waterproof.
Roll-up floor mattresses are usually 5 to 10 cm thick, similar to the average mattress topper on the UK market. Fold-out floor mattresses can be 20 cm thick, which is in the range of regular mattresses. But again like when we talked about dimensions, you have to pay attention to functionality.
The foldable one, which is 20 cm thick, is bulky and certainly not suitable for moving it every few days or for transporting it in the car, even when it is folded. For those who often move the mattress from one place to another, thin roll-up ones are best possible choice. However if you are on the market for support, pressure relief and comfort go for thick one.
There may be a few exceptions on the market, but 99% of floor mattresses available in the UK are made from foam. Foam is the ideal material for this purpose. A floor mattress is usually made of several layers of memory foam.
Some manufacturers decide for all layers to be of the same type of memory foam, while others prefer to combine several types of foam to get the best of both worlds. Memory foam is supportive, pressure relieving and bounce is fine. Another popular material is latex foam, both natural and synthetic. Latex has even better bounce and durability, and breathability depends on the way latex is processed. Latex can be denser which makes rolling and folding harder.
An anti-slip bottom is not only necessary for restless sleepers, but for everyone. Tossing and turning during the night is completely normal occurance. Restless sleepers do this all night, but even those who sleep very peacefully change their position at least several times during the night.
When you sleep on the bed, there is no risk of the mattress moving. But when you sleep on the floor, especially if there is only parquet under you without a carpet, then without an anti-slip bottom the mattress becomes very unstable. You certainly don't want to sleep on an unstable surface. The anti-slip bottom is usually made of patterned coarsed rubber.
It is not a question of whether the mattress is portable because it absolutely has to be portable. A floor mattress that is 50 kg heavy would be completely non-functional. However, the weight and dimensions of the floor mattress differ. So check it before you buy it.
Handles are a great addition to any type of mattress, including this one. When it has handles, it is simple to move it from one place to another. Handles should be very durable because they are sewn to the mattress.
You certainly don't want to sleep sweaty. It's not just a problem of hot sleepers. Everyone can experience insomnia due to heat when the mattress has poor temperature regulation. Foam is not a material that stands out in terms of breathability and temperature regulation because it has a problem with heat retention. But various improvements have made foam a pleasant material even in the summer. Hot sleepers can consider latex, while for everyone else open-cell or some other type of breathable foam will be more than enough.
We will always remind you to check the trial and warranty before you buy a mattress. Do not expect the trial period and warranty for a floor mattress to be as long as for a regular mattress. The service life is certainly shorter, which is natural considering that floor mattresses are incomparably cheaper.
But even though they are cheaper, they should not come without warranty and trial period. Protect your money by choosing one that you can try and replace after a couple of years if damage occurs that is not the result of your actions.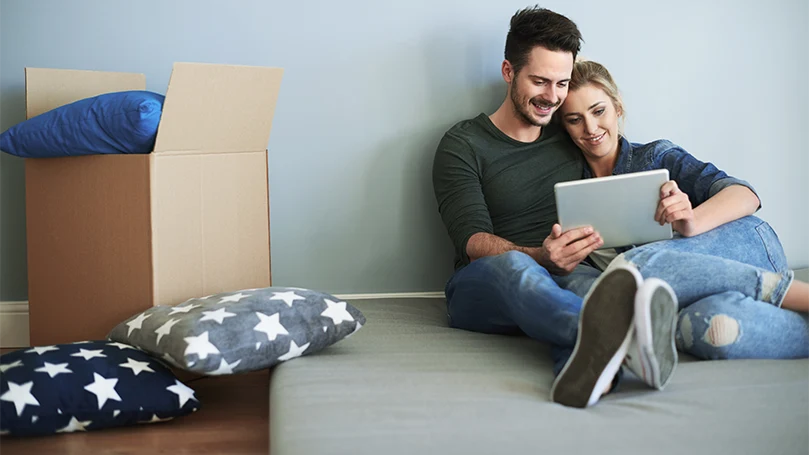 Each manufacturer provides care instructions when you buy the product. You should stick to those instructions. In most cases, maintenance involves removing and machine washing the cover. It is the simplest and most effective way of maintenance. In case the cover is not removable, then you can vacuum the floor mattress, use the mattress cover and spot clean it from time to time.
Related reading:
Tips for buying and using floor mattress
The best piece of advice we can give you is not to buy a floor mattress without first thinking about what you need it for. Although the role of the mattress in general is very obvious, the floor mattress has several other tasks besides just giving you a good night's sleep.
Everyone's budget is different, but don't pay too much for a floor mattress because you don't use it every day and its service life is shorter anyway. Maintain it properly so that it lasts as long as possible. Choose eco-friendly and hypoallergenic products because this is especially important for sleep products.
Buy a rollable floor mattress if you often take it with you and use it in different places, and buy a foldable mattress if you need a floor mattress for a guest room, for example
Choose a model that has an anti-slip base to prevent the mattress from slipping during the night
If the mattress comes with a removable and washable cover, it will make your life easier.
The advantages of owning floor mattress
There are two main advantages of owning this type of mattress. The first is that a floor mattress will enable you to always host the people you want, even if you have a small guest room or no guest room at all. But you can always find a place on the floor where you will install a mattress like this and offer it to dear people for the night.
Another major advantage is that you will not have to worry about whether you will be comfortable in the tent or whether the mattress in the hotel is comfortable. Take your portable mattress with you everywhere and be sure that you will sleep great.
Floor mattress is compact and thus portable, perfect for all types of travel
Most floor mattresses are affordable, so buying one will not be a significant investment
Your night's sleep won't suffer even when you are not at home because the floor mattress will give you much needed comfort and support.
Related reading:
FAQs about your floor mattress
Is there anything else you want to know about your new floor mattress? The last part of our guide is dedicated to answers to frequently asked questions.
How thick should the floor mattress be?
Ideally floor mattress should be thick around 10 cm, but there are certainly many good thicker and thinner models.
Is sleeping on a floor mattress healthy?
In a long run it is healthier to sleep on a regular mattress, but floor mattress is just fine for a few nights or even few weeks.
Should I go with a foldable or rollable mattress?
Answer to this question depends on your needs and preferences. To make long story short, foldable is luxurious option, while rollable is practical option.
Should I sleep on the floor if pregnant?
It is not dangerous for pregnant women to sleep on the floor, but they will most certainly want to sleep on regular bed.
Will sleeping on a floor mattress improve posture?
In theory, sleeping on a floor may improve your posture since it is easier to keep spine in proper position that way.
Are floor mattresses good for back pain treatment?
Although many consider this to be true, there is little evidence to suggest that sleeping on the floor is good as back pain treatment. However if you find this helpful, there is no reason to avoid it.