5 Best Duvets For Toddlers: Top UK 2022 Picks
Suitable duvet is one of the ways to make your child's sleep very comfortable. Duvet should be cool in the summer and warm in the winter, and this is even more important for toddlers than for adults, because the temperature regulation of toddlers is not yet fully developed.
You probably provided your toddler with a cot, a mattress and a pillow. You put a lot of effort into finding these three things so your child can sleep comfortably. 
But don't underestimate the importance of duvet. Think about how uncomfortable it is for you to sleep if the duvet is too hot or if on the other hand it is not warm enough during a cold night.
Toddlers will feel it even more than you because they don't have temperature regulation like adults. So when buying a toddler duvet, you need to consider several factors. 
We have selected for you 5 best duvets for toddlers on the UK market in 2022. as well as features to look for in duvets for toddlers, tips and advantages.
Add a header to begin generating the table of contents
Toddlers under 12 months shouldn't use a duvet
Before we move on to the main topic, we must first warn you of the potential dangers of using duvets for children under 12 months. The United Kingdom National Health Service, commonly referred to as the NHS, reports that tens of thousands of children under the age of 5 end up in hospital each year, and most of these accidents are preventable.
Among these accidents there are many suffocations as a result of using duvets in children under the age of one, who cannot push the duvet away. So until your child becomes a toddler, and that is after the first birthday, do not use a duvet and let the baby always sleep on back to avoid accidents. Stomach and side sleeping are not safe until toddler is strong enough to move on its own.
Many UK sleep companies offer toddler duvets. So it was challenging to narrow down our list to just 5 best toddler duvets, but these 5 duvets have passed all our tests and meet all the standards we think one duvet for toddler should have. Standards for duvet for toddlers are much higher than standards for duvets for adults because toddlers are way more fragile.
IMAGE
PRODUCT
DETAILS

KEY FEATURES:

Material:

Cotton

Cover:

Yes; 100% bamboo

Fill:

Filling: 50% Bamboo and 50% Nano Micro Fibre

TOG:

4.5

Care:

Machine-washable

View Latest Price

KEY FEATURES:

Material:

Polyester; cotton

Cover:

No

Fill:

N/A

TOG:

4

Care:

Machine-washable

View Latest Price

KEY FEATURES:

Material:

Polyester

Cover:

No

Fill:

N/A

TOG:

10.5

Care:

Machine-washable

View Latest Price

KEY FEATURES:

Material:

Microfibre

Cover:

No

Fill:

N/A

TOG:

4.5

Care:

Machine-washable

View Latest Price

KEY FEATURES:

Material:

Cotton

Cover:

No

Fill:

85% Goose Feather & 15% Down

TOG:

7.5

Care:

Machine-washable

View Latest Price
1. Panda Kids Cloud Bamboo Duvet
Panda Kids Cloud Bamboo duvet is a soft and fluffy duvet that is eco-friendly and socially friendly making it best toddler duvet.
This toddler duvet is so soft, fluffy and cosy that you will want to buy the adult version right away. It is filled with a blend of 50% bamboo and 50% Nano-Microfibre, both Panda's signature materials. 
Filling is placed in pockets so that it is always evenly distributed, even though the child is tossing and turning in sleep. Cloud's cover is 100% bamboo, so this duvet is completely hypoallergenic, safe for sensitive skin and anti-bacterial. Panda products are eco-friendly and socially friendly because pesticide free, organic bamboo is used.
It serves as an all-season duvet, as it is fantastic in temperature regulation. It is machine washable at 40 degrees C and it is tumble drier friendly, although the company recommends line-drying because of the environment.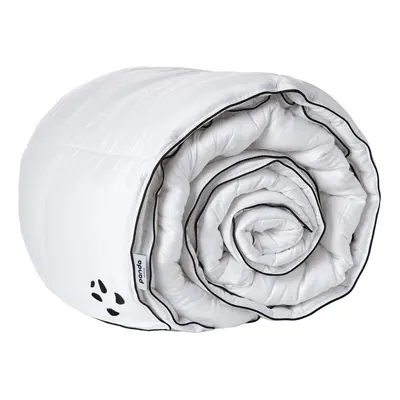 2. Silentnight Safe Nights Cot Bed Duvet
Silentnight company offers you an anti-bacterial and anti-allergy duvet that is 100% safe for toddlers.
Silentnight Safe Nights Cot Bed duvet is definitely a winner in the budget category. If you do not want to spend a lot of money on duvet or you think that your child will soon outgrow one of the cot bed duvets, then this is a great choice.
It is lightweight and TOG rating is 4, that is perfectly suitable. It is OEKO-TEX certified, so you don't have to worry about safety. It is filled with special fibers, which are soft, but also anti-bacterial and anti-allergy.
Maintenance is easy and simple, wash it in the washing machine at 40 degrees C.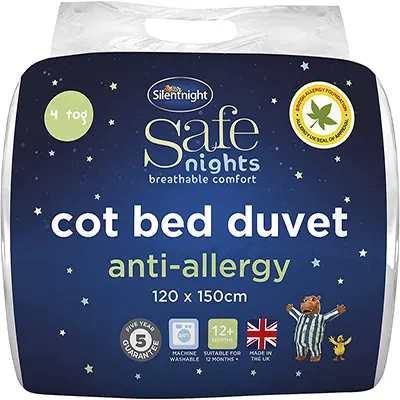 3. Zendix 10.5 Cotbed Duvet
Although it has a TOG rating that is too high for toddlers, if you live in cold areas, this duvet will keep your child warm all night long.
Several times in this guide we mention how you should choose a duet with a lower TOG rating when shopping for a toddler. However, we know that many live in places where the winter is very cold and that a real winter duvet is needed even for a child between 1 and 3 years old. 
If you find yourself in such a situation, Zendix 10.5 Cotbed duvet is a great choice as it is made for toddlers. So even though it has a high TOG rating, it is not as heavy as a duvet made for adults of the same TOG rating. 
Still, be careful and check your child regularly during the night, and make sure it sleeps on its back to avoid any danger in cot beds.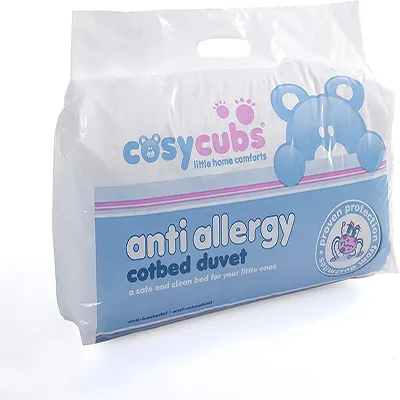 4. Eve Cot Duvet & Pillow Set
This set is the perfect combo for all toddlers who will sleep perfectly thanks to the pillow and duvet made by Eve.
Both duvet and pillow are filled with microfibre and casing is made of microfibre too. Eve decided to use 100% microfiber due to natural anti-allergy treatment. 
Also, microfiber is very durable and machine washable, so you can wash it as often as needed, without compromising service life. 
The size of the duvet is 120 x 150 cm and the size of the pillow is 40 x 60 cm. The set comes with a 2 year warranty and it is OEKO-TEX 100 Class 1 certified.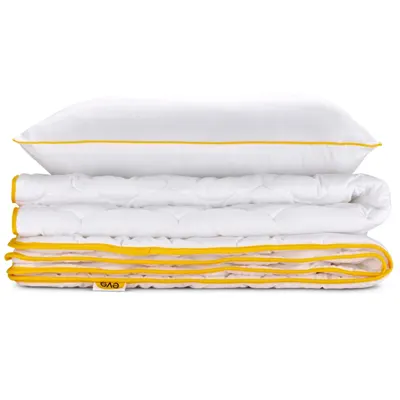 5. Littens 7.5 TOG Cot Bed Duvet
Goose feather and down mix is still a supreme choice for duvet filling.
We singled out the 7.5 TOG version which is an all-season version, but this duet is also available in two more TOG ratings – 2.5 and 10.5. 
The first version with a 2.5 TOG rating is ultra-light and intended for summer, while the 10.5 TOG rating is a duvet for very cold winters. 
This duvet is filled with a premium mix – 85% white goose feather and 15% goose down. 230 thread count 100% cotton casing further contributes to the overall quality of this premium product. 
Although filled with natural materials, it is 100% hypoallergenic.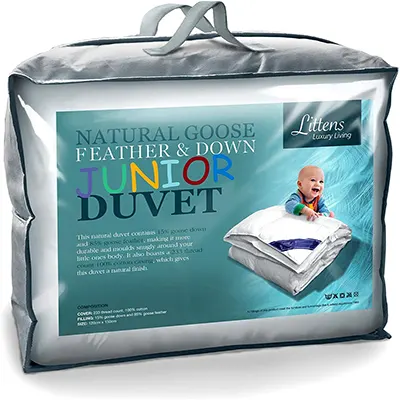 Features to look for in duvets for toddlers
It is very important to be familiar with most important features and to know what to look for in duvets for toddlers. We will tell you more about the most important features so that you know how we chose these 5 models of duvets for toddler. Also knowing these features will help you choose another duvet if you want to buy one that we did not single out.
Parents sometimes make a mistake and buy a duvet that has an inappropriate TOG rating and thus weight. Parents worry that their child will be cold during the night and then opt for an all-season duvet that has a 10 TOG rating for example. But it is suitable for adults, not for toddlers.
Toddlers need a duvet that has a TOG rating somewhere between 3 and 5.
Toddlers toss and turn a lot during sleep and this with insufficient regulation of body temperature causes them to be too hot and sweaty. Also, duvets that have a higher TOG rating tend to be heavy which is dangerous for toddlers. You should avoid weighted blankets avoid too. Although there are models for children, they are intended for older children than toddlers.
This is primarily advice intended for first-time parents, as those who have already had children know how many times they have had to wash the duvet. When you have a toddler, expect incidents to happen in bed often. And those incidents mean you'll have to wash all the bedding, mattress protector and duvet. Also you have to get rid of dust mites.
So you have to choose a duvet that is machine washable to make maintenance easy. Also, our advice is to find a duvet that is tumble drier friendly, so that the duvet is ready to use soon after washing.
Our advice is to choose natural and hypoallergenic sleep products not only for toddlers, but also for yourself. Exposure to harmful chemicals and allergens will have a negative impact on health at any age.
However, this is especially important for toddlers. As toddlers have only been in this world for a year or two, their skin, respiratory system and overall body are not yet accustomed and ready to come into contact with chemicals and various synthetic fibres. Of course, there are synthetic duvets that are completely safe. Also, allergies occur very easily in children of this age, and this can remain a lifelong problem. So choose a natural and hypoallergenic duvet like wool duvet, bamboo duvet and alike toddler pillow, best ones are made of organic cotton.
Tips for buying and using duvets for toddlers
Thermal overall grade, better known as TOG, is the most important feature of any duvet. So first you need to pay attention to the TOG rating. TOG rating should not be over 5 for toddlers, in some special cases you can buy up to 7, but our recommendation is to opt for summer models. Then check what material it is made of. Filling and cover are often made of different materials, make sure that both are hypoallergenic and have not been treated with toxic chemicals. And it is ideal if the duvet is made of natural materials.
Since you will be buying a duvet that is machine washable, pay attention to whether the cover is removable. When the cover is removable, then you don't have to wash the whole duvet every time. If it is not removable, buy a few duvet covers so you can change them often and provide your child with a perfectly clean sleep environment.
Suitable TOG rating for toddler duvet is from 3 to 5, maximum to 7
Best duvets for toddlers are made of natural materials and safe synthetic materials
Wash duvet often and even more often wash cover if it is removable.
The advantages of owning duvets for toddlers
Parents are often overwhelmed with a huge number of different products for their children of all ages. Many of these products are advertised as being exclusively for toddlers and therefore cost more, although this is just marketing and there is no difference between a toddler product and a product for person of any other age. However, this is not the case with duvets. When buying a duvet, it must be suitable for toddlers.
Duvets for toddlers are first and foremost safe. They are lightweight, which means that the child will be able to move duvet on its own and thus will not be in danger. Also, duvet are made of the highest quality and safe materials. Almost every one is machine washable because manufacturers know that duvets for toddlers are washed much more often than duvets for adults.
Duvets for toddlers are light and therefore safe
They are made of premium materials and craftsmanship is at very high level
Maintaining duvet is very easy since most of them are machine washable and tumble drier friendly.
There are numerous advantages for your toddler of buying one of our 5 picks. These are duvets made for toddlers, completely safe both in terms of their weight and materials, the way materials were processed and all other characteristics. In this guide, we also tried to help you learn which general characteristics are the most important, if one of these 5 models is not available to you, so you are planning to buy another duvet for toddler. Remember that a baby under the age of one should not use a duvet because there is a risk of suffocation.
FAQs about your new duvets for toddlers
Parents are almost never carefree. Once you have a child, a lifelong concern for your child's well-being begins. Since we know that you will certainly have some additional questions, we have singled out some of the frequently asked questions and will answer them at the end of this guide.
What age can toddlers start using the duvet at?
Toddlers are kids who are 12 to 36 months old and since it is safe to start using duvet after 12 months, practically every toddler can use duvet, but parents should always be careful.
What a TOG rating of a duvet for toddlers should be?
Toddlers should use duvets with TOG rating under 5 for several reasons. They need light duvet both because they are not strong enough to move heavier duvet of themselves and to avoid overheating.
Should toddler duvet be tucked in?
Yes, slightly. However, avoid tucking it in so hard that it makes toddler to sty only in one place. Yet, don't make it too lose when tucked in.