5 Highest Rated Bamboo Pillows on the Market in 2022
Buying an expensive mattress for a good night's sleep often isn't enough, especially if you're still sleeping on that old pillow that you've had since forever. We know it's sometimes hard to say goodbye to an old pillow. Many people get emotionally attached to their pillow (I know I do!). However, the real question you need to ask yourself is: Does it offer me full support and does it affect my sleep in a negative way? Maybe a bamboo pillow is just what you need, and we're going to talk about that more.
First of all, if you're waking up in the morning with a sore neck, stiffness, or a huge headache, it's probably time to buy a new pillow. Having a good sleeping position doesn't only depend on the mattress, but the pillow as well. Secondly, if you have troubles falling asleep, finding the right position, and sleeping restlessly in general.
If you've determined that you need a new pillow – then you've come to the right place. Bamboo pillows have become all the rage in the past few years, and for a good reason: they're far superior than any kind of pillow when it comes to support and material. Take a look at our top 5 pick for bamboo pillows that you just have to try!
Best bamboo pillows reviewed
Our 5 picks
IMAGE
PRODUCT
DETAILS

Size:

60 x 12 x 40 cm

Weight:

1.5 kg

Materials: Cover: 60% polyester, 40% bamboo fibre Filling: 3rd generation memory foam

View Latest Price

Size:

70.99 x 10.01 x 51 cm

Weight:

2 kg

Materials: Cover: 25% bamboo fiber 75% polyester Filling: 100% polyester down alternative

View Latest Price

Size:

76.2 x 50.8 x 13 cm

Weight:

1.79 kg

Materials: Cover: 40% Bamboo 60% Polyester Filling: Shredded Viscoelastic Memory Foam

View Latest Price

Size:

75 x 48 x 16 cm

Weight:

2 kg

Materials: Cover: Bamboo & polyester Filling: Mixed denisty shreded memory foam

View Latest Price

Size:

N/A

Weight:

N/A

Materials:

N/A

View Latest Price
Panda Luxury Memory Foam Bamboo Pillow
This cute Panda pillow has an easily removable pillow case and cover which is made out of bamboo fiber. It also has three layers of solid memory foam filling for optimal neck and back support. So, if you buy this pillow, you can wave goodbye to a sore neck every morning. It's one of the most supportive pillows you can find, and it's completely hypoallergenic and safe for everyone. It has an elegant design featuring a cute panda logo on a white cover which can fit in any kind of bedroom nicely. The pillow case is easy to wash, and the pillow is perfect for people that usually sleep on their back or on their side. If you are interested in this pillow, you will get a 30-day trial to make sure it suits you well, and after purchasing, you will get a 10-year guarantee. The company is also green! They donate a portion of all their proceeds annually to preserve panda's at-risk habitats.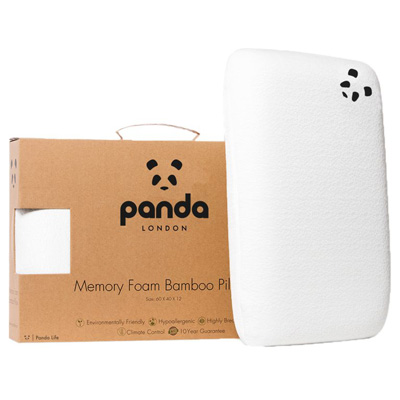 Makimoo MP2 Super Soft Queen Size Bamboo Pillow
Extremely soft and supportive at the same time, ideal for back sleepers, providing optimal positioning during sleep. The pillow is filled with polyester microfibers, and the cover is consisted of one fourth bamboo fiber. The bamboo fiber in the cover allows for good air flow, absorbs any moisture quickly and neutralises odours. It's a perfect solution for anyone that's having troubles sweating at night and getting stuck to their pillow cover. This pillow out of all five has the least amount of bamboo fiber. The upside is that it's completely hypoallergenic, doesn't cause any skin irritation and is actually good for everyone with sensitive skin, especially face. Another upside to this pillow is that it's fairly affordable, and lasts long. The pillow case is easily removable and washable, and elegantly designed so it will fit in your bedroom aesthetics.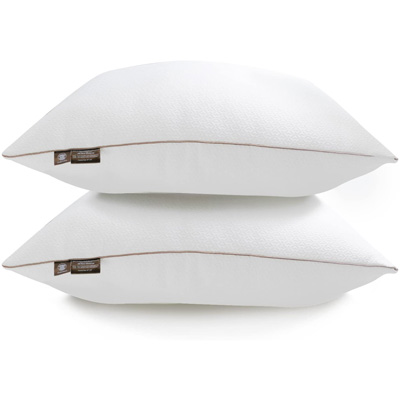 This is an orthopedic pillow which can help ease neck and back pain, as well as headaches. It preserves optimal freshness during the night, so you don't get too hot or cold while you sleep. It has an adjustable shredded memory foam filling that can offer proper support, and stays fluffy.  If it isn't fluffy enough, you can add more inside! The bamboo pillowcase is simple to clean. We recommend this pillow to people that are side sleepers and have problems with snoring, asthma, migraines and/or insomnia. This pillow will help you quickly find a comfortable sleeping position, and you will have no troubles falling asleep. Say goodbye to restless nights and say hello to the bamboo pillow!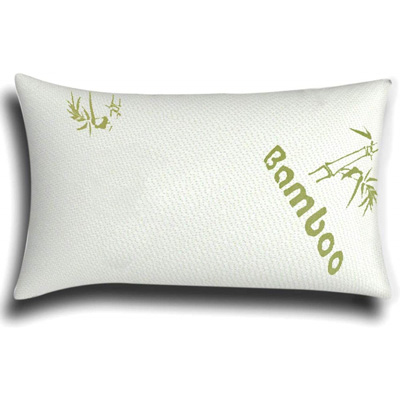 Martin Made Bamboo Pillow
This pillow has a complete bamboo fiber zipped cover which allows you to add or remove shredded memory foam at your wish. Whether you're looking for a high or flat pillow, this one can provide you with optimal support no matter how much you add or remove (unless you remove everything, of course). This pillow also minimizes your chances of waking up with a sore neck, relieves migraines, snoring and helps with insomnia. It's ideal for people who sleep on both side and their neck, so you won't have troubles finding a comfortable resting position. The pillow nicely hugs your head, all the while providing coolness and breathability. Its antibacterial, hypoallergenic and antifungal properties make it perfect for people who have problems sweating during night. The cover absorbs moisture 4 times faster than any other cotton pillow cover.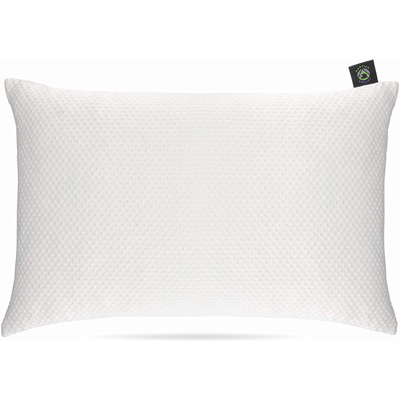 Pure Bamboo Pocket Pillow
This pillow is 60% natural bamboo fiber, and 40% cotton fiber, promising softness like you haven't felt yet. The pillow is consisted of individual pockets which are filled with polyester microfiber. This makes it especially good for people with allergies and respiratory issues, like asthma. It's ideal for people usually sleeping on their back, as it can offer them optimal support. The pillow cover is very breathable and absorbent, maintaining a stable temperature during your sleep so you won't get too hot or cold. It also has antibacterial properties and is completely organic. Try out something new and buy this gorgeous bamboo pillow for a very affordable price.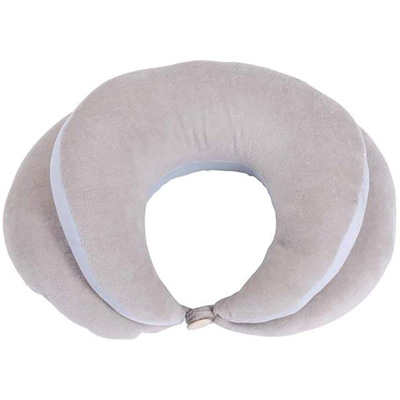 |   | Panda Luxury Memory Foam | Makimoo MP2 | The Bamboo Pillow | Martin Made | Pure Bamboo Pocket Pillow |
| --- | --- | --- | --- | --- | --- |
| Support level: | ☆☆☆☆☆ | ☆☆☆ | ☆☆☆☆ | ☆☆☆☆ | ☆☆☆ |
| Filling: | Solid memory foam (3 layers) | Microfiber (polyester) | Shredded foam | Shredded memory foam | Microfiber (polyester) |
| Good for: | Side & back sleepers | Back sleepers | Side sleepers | Side & back sleepers | Back sleepers |
| Firmness level: | Medium-firm | Soft | Medium | Adjustable | Soft |
| Washable pillow cover: | ✔ | ✖ | ✔ | ✔ | ✖ |
| Pillowcase material: | 100% bamboo | 75% polyester, 25% bamboo | 60% polyester, 40% bamboo | 60% polyester, 40% bamboo | 60% bamboo, 40% cotton |
| Trial period: | 30 days | Not specified | Not specified | Not specified | Not specified |
| Guarantee: | 10 years | Not specified | Not specified | 5 years | Not specified |
| Sleep Advisors Rating: | ☆☆☆☆☆ | ☆☆☆ | ☆☆☆☆ | ☆☆☆☆ | ☆☆☆ |
Bamboo pillows sound exotic, but it's quite the opposite – you need to have them if you want to experience a new level good rest. Bamboo fabric, which is essentially used in the making of the covers of these pillows, is hypoallergenic, dust mite free, highly antibacterial, breathable, and maintains a perfect temperature no matter what time of the year it is.  So, if you've already bought that new mattress, why not buy a new pillow to go with it? Your neck and back will certainly thank you for that.