Best Bamboo Pillows For The Allergy-Free Sleep
People are paying more and more attention to sustainability. Materials that require a lot of water or materials which are not carbon neutral are becoming less popular, while bamboo is on the rise. 
Memory foam pillows certainly have many advantages and that is why they have become the best-selling in recent years. But many customers want sleep products made from natural materials or at least they want pillow cover to be made from natural materials. That is why we've found the best bamboo pillows for you!
Cotton is great, but requires a lot of water, and must be treated with fertilizers and pesticides, so if it's not BCI cotton, then it's not an eco-friendly option. Wool and feathers are not vegan-friendly options, so what to choose? The answer is bamboo. Bamboo is hypoallergenic, durable, eco-friendly and vegan-friendly. It is not surprising more and more bamboo pillows are available on the UK market, and we've tested the best bamboo pillows UK market offers to you!
Add a header to begin generating the table of contents
Our top bamboo pillows reviewed
IMAGE
PRODUCT
DETAILS

Size:

60 x 40 x 12 cm

Weight:

1.5 kg

Materials: Cover:Bamboo fibre; Filling: 3rd generation memory foam
Firmness:

Medium

Best for:

All types of sleepers

View Latest Price

Size:

127 x 101.6 x 45.72 cm

Weight:

2.1 kg

Materials: Cover: 25% bamboo fiber 75% polyester; Filling: 100% polyester down alternative
Firmness:

Soft

Best for:

Side sleepers

View Latest Price

Size:

75 x 48 x 16 cm

Weight:

2 kg

Materials: Cover: Bamboo; Filling: Shreded foam
Firmness:

Adjustable

Best for:

All types of sleepers

View Latest Price

Size:

20 x 20 cm

Weight:

N/A

Materials:

N/A

Firmness:

Adjustable

Best for:

All types of sleepers

View Latest Price

Size:

44.5 x 29 x 21.6 cm

Weight:

310 g

Materials: Cover: Bamboo & polyester; Filling: Down alternative
Firmness:

Soft to medium

Best for:

Side and & back sleepers

View Latest Price

Size:

74 x 48 cm

Weight:

800 g

Materials: Cover: Bamboo; Filling: Hollowfibre
Firmness:

Medium

Best for:

Side and & back sleepers

View Latest Price

Size:

74 x 48 x 20 cm

Weight:

2.24 kg

Materials: Cover: 25% bamboo fibre & 75% polyester; Filling: Down alternative
Firmness:

Adjustable

Best for:

All types of sleepers

View Latest Price

Size:

44.29 x 34.5 x 20.5 cm

Weight:

3.85 kg

Materials: Cover: Bamboo Filling: Memory foam
Firmness:

Adjustable

Best for:

Stomach & back sleepers

View Latest Price
Panda Luxury Memory Foam Bamboo Pillow
This cute Panda pillow has an easily removable pillow case and cover which is made out of bamboo fiber. It also has three layers of solid memory foam filling for optimal neck and back support. Therefore, we can say that this is a bamboo memory foam pillow that will give you pain-free sleep. So, if you buy this bamboo Panda pillow, you can wave goodbye to a sore neck every morning. It's one of the most supportive pillows you can find, and it's completely hypoallergenic and safe for everyone. It has an elegant design featuring a cute panda logo on a white cover which can fit in any kind of bedroom nicely.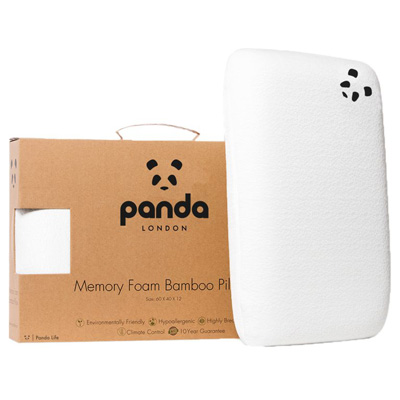 The pillow case is easy to wash, and the pillow is perfect for people that usually sleep on their back or on their side. If you are interested in this pillow, you will get a 30-day trial to make sure it suits you well, and after purchasing, you will get a 10-year guarantee. The company is also green! Panda London company donates a portion of all their proceeds annually to preserve panda's at-risk habitats.
10-year warranty
Support
Breathability. 
Makimoo MP2 Super Soft Queen Size Bamboo Pillow
Extremely soft and supportive at the same time, ideal for back sleepers, providing optimal positioning during sleep. The pillow is filled with polyester microfibers, and the cover is consisted of one fourth bamboo fiber. The bamboo fiber in the cover allows for good air flow, absorbs any moisture quickly and neutralises odours. It's a perfect solution for anyone that's having troubles sweating at night and getting stuck to their pillow cover. 
This pillow out of all five has the least amount of bamboo fiber. The upside is that it's completely hypoallergenic, doesn't cause any skin irritation and is actually good for everyone with sensitive skin, especially face. Another upside to this pillow is that it's fairly affordable, and lasts long. The pillow case is easily removable and washable, and elegantly designed so it will fit in your bedroom aesthetics.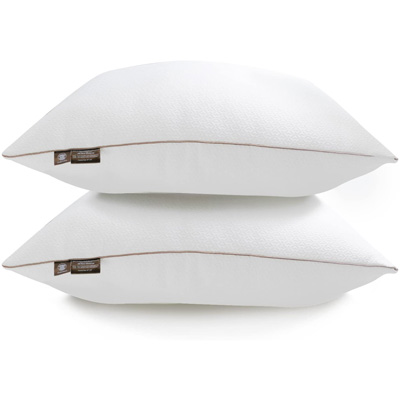 2 pack
Hypoallergenic
Vegan-friendly.
Too soft for stomach sleepers.
Martian Dreams Bamboo Pillow
This is not your everyday memory foam pillow. Instead of relying on regular memory foam, this pillow is filled with a unique mix of shredded visco elastic memory foam. This shredded, visco elastic foam is excellent for restless sleepers because it is fast-reacting, easily adaptable and very supportive. In addition to that, it is also perfectly contouring which makes it quite a bit comfortable.
The cover of this pillow is a 280GSM super thick and luxurious bamboo rayon cover for a smooth, ultra-soft feel and maximum breathability and comfort. Bamboo fibres in this cover are also responsible for the moisture-wicking properties of this one, which is another thing we absolutely love to see in a pillow.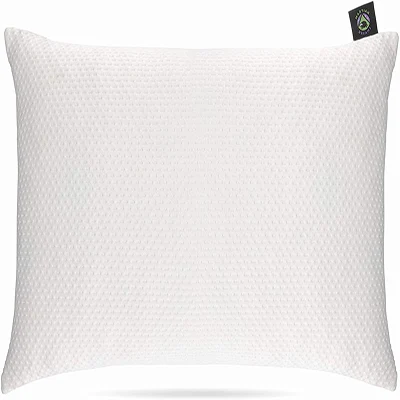 Adjustable
Cooling
5-year warranty.
Average quality memory foam.
Supportiback Shredded Bed Pillow
Recommended by more than 140 UK sleep doctors, this pillow allows you to sleep in more than five naturally aligned positions. Loosely translated, this means that this one is suited for every single sleeping position. This pillow achieves this by using shredded foam instead of regular memory foam. This allows for a much quicker recovery, and more support, which according to research can even allow sleepers to stay in REM sleep longer.
Another thing that helps you sleep better with this pillow is the Freshtouch bamboo cover. Unlike many others, this cover is not just "enriched" with bamboo, which you'll realize the moment you rest your head on top of it.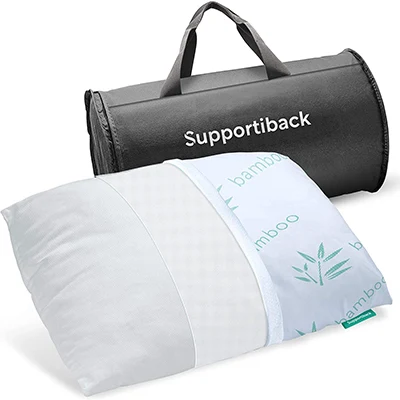 Affordable
Antibacterial  
Support.
Memory foam is not premium.
BedStory 2Pack Bamboo Pillows
This pillow is belongs to the group of softer pillows, but the combination of 90% 3D and 10% 7D fibers provides support as firmer pillows. Core is constructed in such way that it is almost impossible to rate in on firmness scale, which is actually great. Both 3D and 7D fibers are premium polyester fibers. 
The cover is made of a durable bamboo and polyester blend in a ratio of 40 to 60 percent. The cover is hypoallergenic, breathable and antibacterial, so it is great for allergy sufferers as well as hot sleepers. You get two pillows at an affordable price.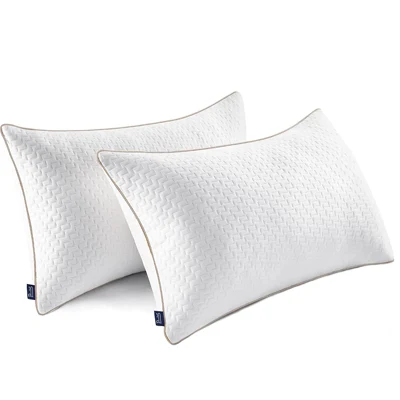 Hypoallergenic
2 pack
Bounce.
Too soft for stomach sleepers.
Silentnight Bamboo Pillow
Silentnight Bamboo pillow is one of the many pillows offered by well-known UK sleep company Silentnight, but this is the only bamboo pillow Silentnight makes. The cover is made of polyester and bamboo blend to retain all the characteristics of bamboo such as breathability, while further facilitating maintenance and improving durability. 
Pillow is filled with recycled hollowfibre and it is medium-firm. Since hollowfibre is fluffy material, Silentnight Bamboo pillow is closer to soft than firm, so it is recommended for side and back sleepers. It comes with comes with a 2 year manufacturer's warranty.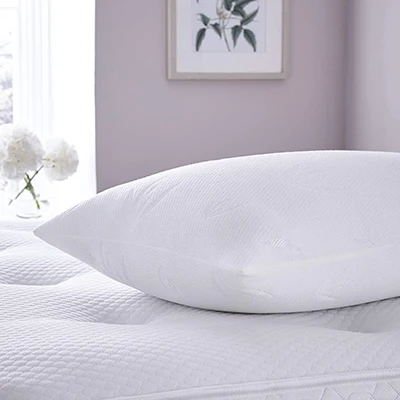 Eco-friendly
Supportive
Breathable.
Slight durability concerns.
Tminnov Premium Bamboo Pillow
If you've ever used a pillow filled with down you know how soft, fluffy and comfortable it is. But down has two downsides, and those are price and the fact that down is not a vegan-friendly option. That is why a polyester material is made, which is called down alternative because it provides a very similar feeling, at the fraction of the price and can be used by vegans. 
You will feel like you are sleeping on a cloud. The pillowcase is made of 25% bamboo and 75% polyester blend. Pillowcase is highly breathable and hypoallergenic. It is removable and machine washable, so you don't need an extra pillowcase. You should re-fluff the pillow after wash.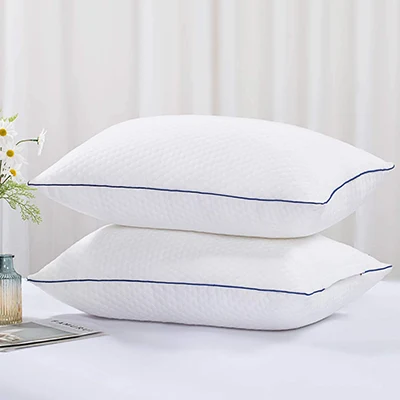 Vegan-friendly
Machine washable
2 pack.
Potentially too soft for some stomach sleepers.
Cosy Home 2pack Bamboo Pillows
Since Cozy Home Bamboo pillow is memory foam pillow. You can adjust loft and firmness thanks to shredded memory foam filling. However, this pillow is a firmer one, even when you adjust the loft, so side sleepers need to know that. Memory foam provides great support and shapes towards your head and neck, to help you maintain a natural spinal alignment. Pillowcase is made of bamboo. 
Both because of the shredded memory foam, instead of solid memory foam block,  and bamboo cover, this pillow is one of the most breathable ones and we recommend it to hot sleepers. Cover can be removed and machine washed, so maintenance is very simple.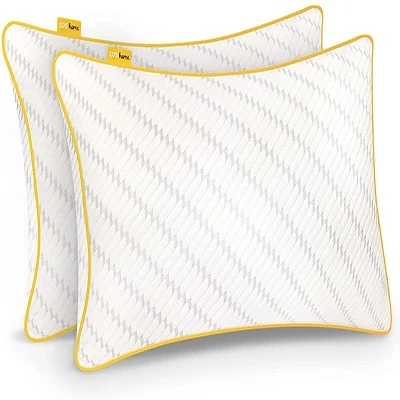 Adjustable
Machine washable
Bounce.
Too firm for most side sleepers.
What to look for when buying a bamboo pillow?
We believe that you have heard many positive comments about bamboo pillows and that you want to buy one. But you should know that bamboo pillows differ significantly from each other, as is the case with any other type of pillow. So before we move on to our top picks, we have picked the most important things to look for when buying one.
You will find three types of bamboo fabric in 99% of cases. Rayon, also called bamboo viscose, is cheaper than the other two versions of the bamboo fabric, and it has excellent characteristics, so it is used very often. Bamboo is chemically processed to obtain fibres suitable for the textile and sleep industries, so this is a semi-synthetic material. Lyocell is very similar, but the processing of raw bamboo is done in less harmful way to the environment, so if you are willing to spend a little more money, lyocell is a great choice because it is still very affordable.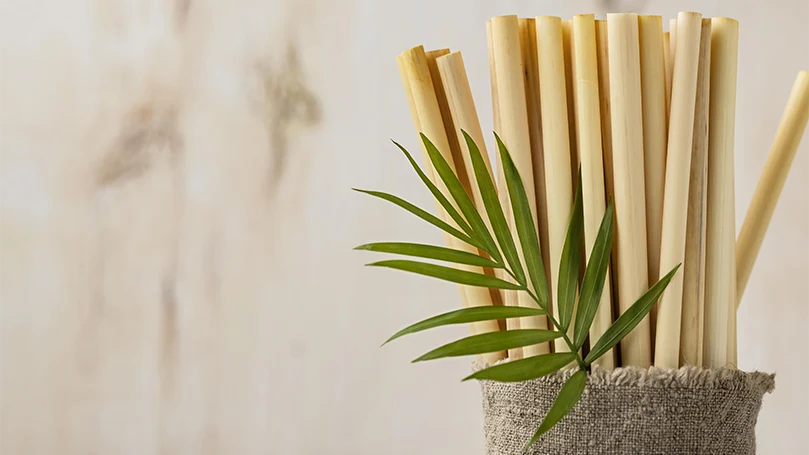 Bamboo linen is a premium option, both because of eco-friendliness and because of softness. Although lyocell and rayon are also soft and comfy, linen is the softest, and at the same time the most durable of the three. Processing requires manual labor, and like everything where manual labor is involved, the price must be significantly higher. Bamboo linen pillows usually carry hefty price tag.
Eco/sustainably sourced bamboo
You can't find a lot of materials that are eco-friendly like bamboo. In order for bamboo to grow, incomparably less water is needed than for cotton, and bamboo also grows very fast. In addition, it is resistant to various pests, so it is not necessary to treat it with chemicals during the growing phase. Bamboo is able to grow in places where most other plants cannot.
However, you should pay attention when buying a bamboo pillow to buy one where bamboo is obtained from approved forests. This way you will be sure that every step, from planting to cutting bamboo, is eco-friendly.
Temperature regulation is especially important for hot sleepers, but no one can sleep comfortably if it is too hot. Bamboo is a cooling material that will help you have a good night's sleep even during the summer.
Although bamboo is cooling and breathable, it is also necessary that the filling is adequate for the pillow to be cooling. Open-cell foam, memory foam cubes and bamboo fibre fill are good options. If you want all-natural pillow, you can consider wool filling. Wool is supreme material for temperature regulation.
Loft or height of the pillow is one of the most important features when choosing a pillow, no matter if it is bamboo or some other type. You choose the loft according to your preferences, but the most important thing to consider is your sleep position.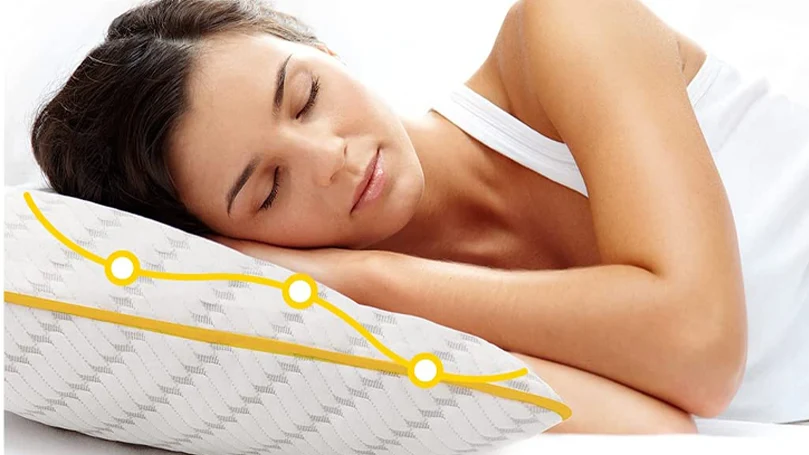 Back sleepers prefer medium loft, but loft for back sleepers can be both higher and lower, depending on preferences. Side and stomach sleepers don't have that much choice. Side sleepers need a higher loft to have enough support, while stomach sleepers need a low loft to keep the neck and spine in a natural position.
Most pillows that are advertised as bamboo pillows actually have a bamboo cover, and are filled with some other material. When we talked about cooling properties, we mentioned you should pay attention to memory foam fill or bamboo fibre fill. These are the two most common filling materials.
On the UK sleep market you will find memory foam in various forms. Microfibre and hollowfibre fillings are very popular. Choice is totally up to you.. Each of these materials has its own characteristics, and you will choose the one that has the most characteristics you need, such as support, pressure relief or softness.
Memory foam is very supportive, while other materials like microfibre and bamboo fibre are soft and are preferred by those who like squishy pillows. Side sleepers are advised to look for a supportive pillow, so that their head does not sink too much. On the other hand, it should not be too supportive nor firm, because it will cause neck pain and sleep problems.
Back sleepers can choose between more or less supportive pillow, according to preference. Stomach sleepers need very supportive and firm pillow, with low loft.
Pillows are usually not available in as many different sizes as mattresses. But there are numerous different shapes, even though we're all used to the traditional pillow shape.
Which size and shape you choose depends on many factors. You choose the shape according to the sleep position, while the size is affected by the sleep position, but also your body frame, as well as the size of the head. Don't be hesitant to choose a new pillow shape that you haven't used before, if you think that shape will suit you perfectly.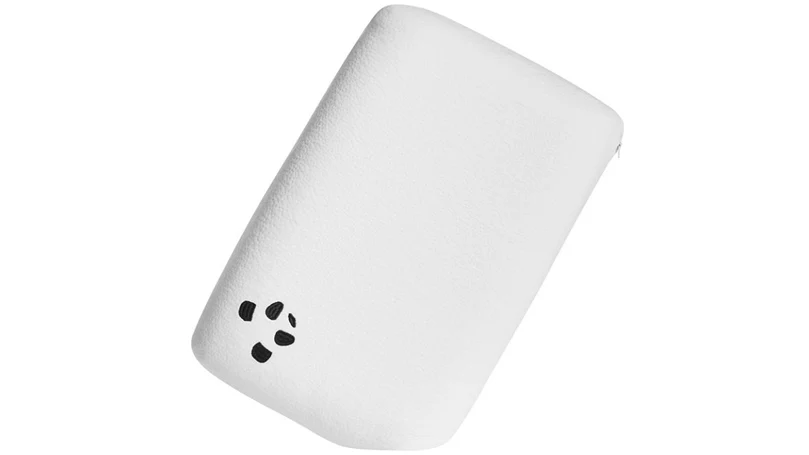 Tips for buying and using a bamboo pillow
When buying a bamboo pillow, check the percentage of bamboo, as well as the type of bamboo. Of course, if such information is available, because manufacturers often do not inform customers about the type of bamboo. After that, you should also check if the bamboo comes from approved forests. Bamboo is generally eco-friendly because it does not need large amounts of water or pesticides, but bamboo that does not come from an approved forest may not meet all standards.
In addition, follow the general guidelines for buying a pillow. Choose a pillow whose firmness and loft correspond to your sleep position. Also, our advice is to choose products from reputable manufacturers, both for quality and for warranty. Another tip we have for you is to choose a pillow whose cover is removable. This will make maintenance much easier.
Check the origin of the bamboo.         
The pillow must have loft and firmness that are suitable for your sleep position.      
Pay attention to whether it is machine washable or not.
The advantages of owning a bamboo pillow
Before buying, you should be familiar with the advantages of owning a bamboo pillow. Pollution has increased several hundred times compared to 50 and more years ago and that is why we need to start thinking about sustainable sourced materials in all spheres. The sleep industry is no exception. Bamboo is one of the materials that can significantly help us reduce pollution. It does not require a large amount of water or chemicals to grow. And it also grows very fast, which is another advantage. That is why owning a bamboo pillow is not only good for the quality of your night's sleep, but also for our environment.
Another advantage is temperature regulation and breathability. Bamboo is a highly breathable material, so it is ideal for making pillow covers. It is very soft too. That is why bamboo alongside eucalyptus is the best natural material for the sleep industry.   
Bamboo pillows are eco-friendly
Bamboo pillows are breathable and cooling
Bamboo pillows are vegan-friendly.
Bamboo pillows sound exotic, but it's quite the opposite – you need to have them if you want to experience a new level good rest. Bamboo fabric, which is essentially used in the making of the covers of these pillows, is hypoallergenic, dust mite free, highly antibacterial, breathable, and maintains a perfect temperature no matter what time of the year it is.  So, if you've already bought that new mattress, why not buy a new pillow to go with it? Your neck and back will certainly thank you for that.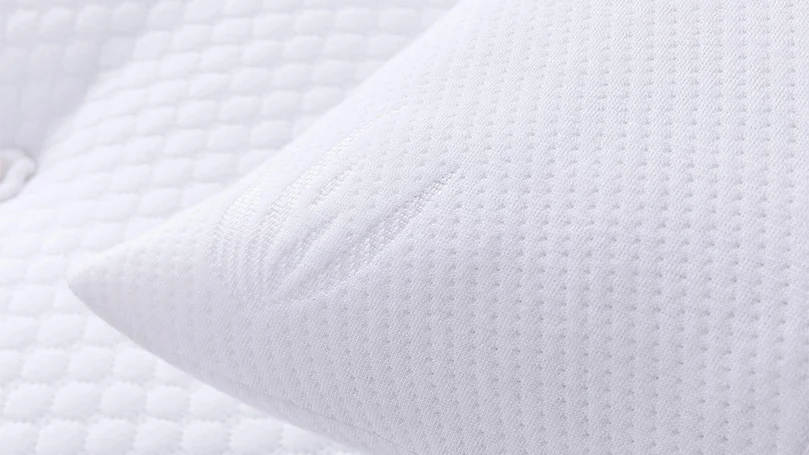 FAQs about your bamboo pillows
Since bamboo pillows are one of the newer types of pillows, customers usually have a lot of questions about them. These are answers to some of the frequently asked questions.
Is bamboo material environmentally-friendly?
Yes, bamboo is one of the best materials if you want to buy eco-friendly pillow.
Do all bamboo pillows have off-gassing bamboo smell?
You will smell characteristic bamboo odour during first few days, but that is nothing dangerous.
Are bamboo pillows free of any toxic substances?
Most of them are free of any toxic substances, but you should double-check pillow you are going to buy.
Will bamboo pillows attract bed bugs and dust mites?
No, quite the opposite, bamboo repel bed bugs and it is dust mite resistant, so this is one of the reasons why it is ideal for allergy sufferers.
How long do bamboo pillows last on average?
Generally speaking, bamboo is durable material, but service life depends on the type of the bamboo and craftsmanship.
How do I clean/wash bamboo pillows?
Many bamboo covers are machine washable, but you need to check the care instructions.
Are bamboo pillows good for allergy sleepers?
Yes, bamboo pillows are great for allergy sufferers since bamboo is hypoallergenic and anti-dust mite.
Are bamboo pillows good for hot sleepers?
Bamboo pillows are considered to be cooling and breathable, so hot sleepers often decide to buy one.
How do I fluff up my bamboo pillow?
You can turn it and punch it a few times or grab the opposite sides and shake it.