The Best V Shaped Pillow Options For Surgical Recovery 2022
Having trouble resting and feeling comfortable after your surgery? Try using one of these V shaped pillows to make your post-op recovery process easier.
It's not uncommon for people to have trouble resting after surgery or any other medical procedure. The recovery process isn't easy, especially post-op, therefore, you must do all that's in your power to make yourself cosy and comfortable. Besided getting an orthopaedic support, some pregnant women can use these v pillows as well. Nursing mothers opt for non allergenic synthetic v pillows as it gives them enough support while nursing.
One of the ways in which you can do that is by finding the best V pillows to sleep on. Not only are they comfortable, but they're also ergonomically designed, meaning they're almost guaranteed to help you alleviate the pain.
On that note, let's take a look at some of the best V shaped pillows the UK market has to offer and find your best firm support pillow!
IMAGE
PRODUCT
DETAILS

KEY FEATURES:

Dimensions:

84 x 34 cm

Weight:

900 gr

Filling:

Soft hollowfibre

View Latest Price

KEY FEATURES:

Dimensions:

43 x 43 cm

Weight:

600 gr

Filling:

Soft hollowfibre

View Latest Price

KEY FEATURES:

Dimensions:

48 x 74 x 5 cm

Weight:

1250 gr

Filling:

Soft hollowfibre

View Latest Price

KEY FEATURES:

Dimensions:

76 x 47 x 27 cm

Weight:

700 gr

Filling:

Memory foam

View Latest Price

KEY FEATURES:

Dimensions:

84 x 34 cm

Weight:

600 gr

Filling:

Soft hollowfibre

View Latest Price

KEY FEATURES:

Dimensions:

44 x 37 cm

Weight:

900 gr

Filling:

Polyester hollowfibre

View Latest Price
What to consider when buying the best V shaped pillow
Before you go out and purchase the best v shaped pillow, have a look at some of these features that you should bear in mind. These are some of the defining features that you should consider while being on the hunt for your ideal support pillow and while browsing through the reviews. We used those same features to compare and review our picks and we're certain it would help you tremendously if you knew what makes a v shaped pillow good or not.
First of all, we have to consider the material. There are several materials that are most commonly used to make a v shaped pillow. The material from which the pillow is made from will play a major role in defining a pillow. It will influence its firmness, supportiveness, comfort, hypoallergenic properties and so on.
The most commonly used materials are cotton, synthetic, soft hollowfibre polyester, memory foam and rarely feather and down. There are also synthetic filling, but also cotton and 50% polyester  combination. We also see 50% cotton material in covers of the pillows, as well as 50% polyester structures. In some cases, there are bamboo ones as well.
Bamboo material, beside cotton, is soft and gives natural hypoallergenic advantages. If you combine it with a bamboo mattress, then you have chemical-free sleeping environment that will give you a good night's sleep in your bed!
Filling material is what mostly defines the pillow's structure, supportiveness, firmness and comfort. As we've previously mentioned, the most common filling is the soft hollowfibre. Soft hollowfibre is the most popular material used for v shaped pillow for many reasons but mostly as it makes it a good and firm support pillow.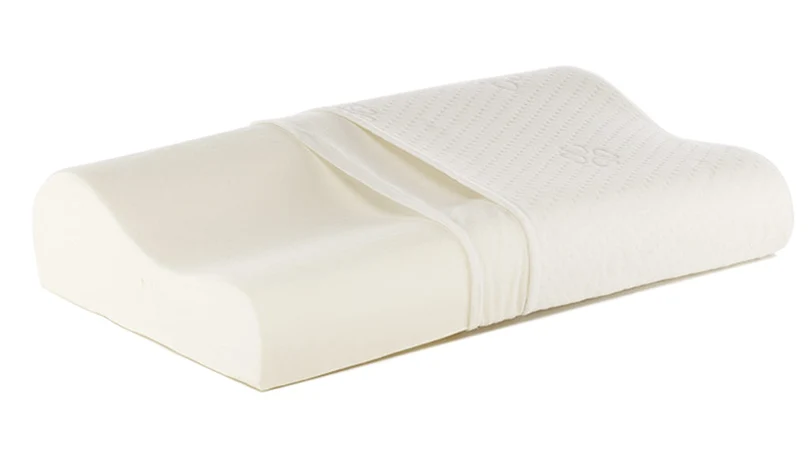 First up, it's very soft and comfortable, but at the same time just supportive enough to help with maternity aches or post-op recovery. Also, it's the most affordable option out of all the ones we've mentioned.
Next up, we have memory foam fillings. Not as common as soft hollowfibre, but still quite present. Just as any other memory foam product, this pillow is great at offering great pressure relief and comfort.
Another key feature for you to consider when shopping for the best v shaped pillow is maintenance. Most v shaped pillows are fairly low maintenance and easy to clean, but if possible, try and choose a pillow that has both removable pillowcase and is machine washable.
However, we do recommend that you use a separate pillowcase, just like you would with a regular pillow. That should help keep the pillow clean for a long time, while also prolonging its life expectancy.
Hypoallergenic properties
The post-surgery recovery process is long and hard, therefore, it's important that you take every measure to make sure you have it as easy as you can. During that period, you can't afford to risk your health. On that note, it's important that you consider the hypoallergenic properties of the v shaped pillow you're about to buy. Orthopaedic V pillows can be non allergenic as well, but majority of them provides hypoallergenic properties.
In most cases, every high-quality pillow of this kind should be hypoallergenic in one way or another, but always make sure to look through the reviews for it when you begin shopping for your support pillow. The last thing you'd want during your recovery process is to start sneezing uncontrollably due to an allergy to a point where you pop your stitches, right?
Depending on your sleeping position and the area of the body from which you wish to alleviate the pain from, you might be using this type of pillow in a different manner. For instance, a customer that prefers side sleeping that wish to get rid of the shoulder pain wouldn't use these v pillows in the same way a back sleeper with lumbar issues would.
Try and find the most comfortable position for a v shaped pillow based on your sleeping position and keep in mind that if you're dealing with issues in your lower back, a v shaped pillow is much more helpful between the knees, than it is under your neck.
The design of this pillow, as you can tell from the name, is the most defining feature of this pillow. The v shape and ergonomic design of this pillow is what sets it apart from the other ones. This pillow has been specially designed to offer pain and pressure relief, additional support and to prevent you from rolling over.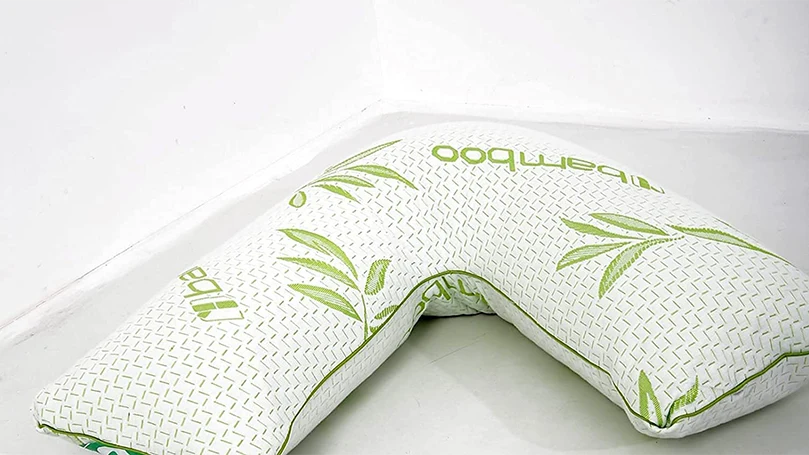 Now, some subtle differences between models exist, but they're mostly limited to the dimensions of the pillow or the surface of the pillowcase. All of them use v shape for providing optimal support for head and neck but also for other parts of the body.
Tips for buying and using the best V shaped pillow
Before you decide on a v shaped pillow, take a minute to read and consider these 3 tips. As you know, all our reviews have this section so we suggest you read it and learn additional and helpful information to find your ideal support pillow.
First up, don't just blindly choose a pillow. Not all the v pillows are the same and you need to know which one is better for you. Now, since it wouldn't be wise to buy 20 of them and then find the best one, read the reviews. Someone else has done exactly that and will provide you with all the necessary info you need.
Next up, talk to your friends and family and ask them whether they have used a v pillow previously and if they have, ask them about their impressions. They could offer you sound, first-hand advice on which one to buy, which is super helpful, especially after you read a ton of reviews.
Finally, even though most of them come with a removable pillowcase, it would be great to get another one. For one, it will protect your pillow from getting dirty and secondly, you'll always have a replacement for when one is in the washer.
Read the reviews
Consult with friends
Compare the different price ranges
Consider your bedding
Use a pillowcase.
And now for our main even – our top picks. We've tried numerous v shaped pillows and have done our best to objectively judge them and bring the back results to you. We've paid attention to special features, user feedback, price, whether it has a good support and several other factors and all of that has led us to put this list together. Let's meet our picks!
BEST OVERALL: C Stores V Shaped Pillow
Our top pick for a good reason!
 This top-selling v shaped pillow is designed for nursing, breastfeeding and for orthopaedic use.  It's a standard size v shaped pillow, that has been generously filled with soft hollowfibre for a striking balance of comfort and support, which is what you need to most during post-op recovery. It comes with a hypoallergenic cover, which is very important for those recovering after surgery. It is machine washable at 40 degrees Celsius. As you can see, it is fairly obvious why this one is a crowd favourite and our own top pick!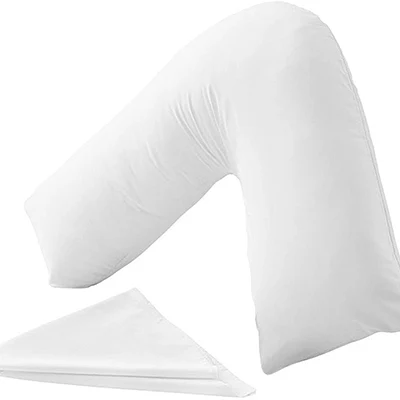 Comfortable
Soft to the touch
Easily washable
Firm support pillow.
Some longevity concerns
Tends to become lumpy after prolonged use.
BEST VALUE: Night Zone V Shaped Pillow
One of the best affordable pillows on the market!
Just like most v shaped pillows, this one is also multi-purposeful, which means it should be more than helpful to you during your gallbladder recovery process. It is a hollowfibre filled pillow, with the removable cotton/polyester pillowcases, that you can get in 19 different colours.
However, there are some concerns when it comes to the quality of the pillowcase, so we'd recommend using a separate one.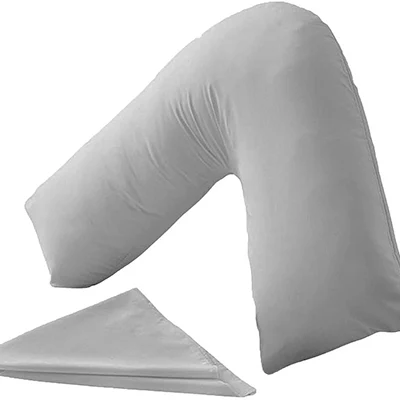 Comfortable
High quality polyester material
Soft to the touch
19 colour options to match with your bedding
Great for nursing mothers who have a baby.
Smaller form factor compared to standard v shaped pillows
Low-quality pillowcase.
UPGRADE PICK: Slumberdown V Shaped Pillow
An upgrade worth your money!
For our luxury pick, if you could call a v shaped pillow a luxury item, is a standard v shaped pillow from Slumberdown that comes with hollowfibre fill. Just like every other pillow on our list, this one can be used in a plethora of ways, including, but not limited to post-op recovery.
 Its hollowfibre filling provides a soft, comfortable feel, which we'd deemed suitable for every customer out there. Once again, we have a machine washable product, at 40 degrees Celsius so your entire bedding can stay fresh all the time!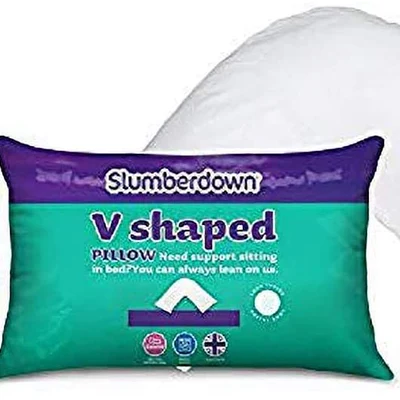 Highly comfortable
Very soft
Ultimate head support
Easily washable.
Some longevity concerns
Soft to a point of losing support.
BEST HYPOALLERGENIC: E4Emporium Bamboo Memory Foam V Shaped Pillow
Another great mix of bamboo and memory foam – one of the best non allergenic pillows!
This v shaped bamboo/memory foam firm support pillow offers great support to your neck, spine and lower back so we can say it is a firm support pillow. It's great for both sitting and sleeping and just like any other v shaped pillow, it can be used in many different ways.
Due to its hypoallergenic properties and high-quality memory foam, this one is particularly popular with breastfeeding moms, as well as people recovering from surgery. The bamboo cover is removable and washable at 40 degrees Celsius.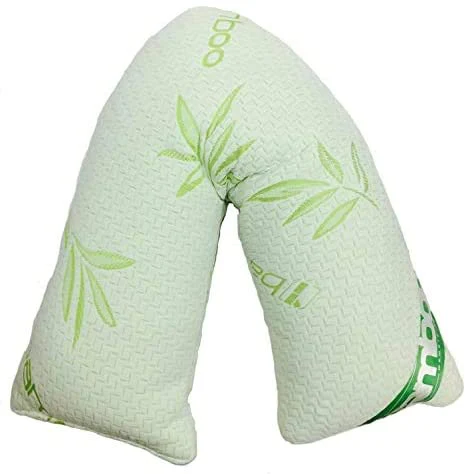 Highly comfortable
Great orthopaedic support
High quality fibre structure
Easily washable
Removable cover.
Some longevity concerns
Slight off-gassing issues.
BEST ORTHOPAEDIC: CnA Stores Orthopaedic V-Shaped Pillow
A high quality pillow to help speed up your recovery!
This relatively big, orthopaedic v pillow might just be the one to turn to during a recovery, or pregnancy for that matter. Due to its generous inner structure and soft-to-the-touch nature, this v pillow should be more than suitable for many applications.
To make things even better, the fillings are also hypoallergenic. Finally, the pillow comes with the easy-slip-on cotton pillowcases, to make the whole experience that much better and convenient.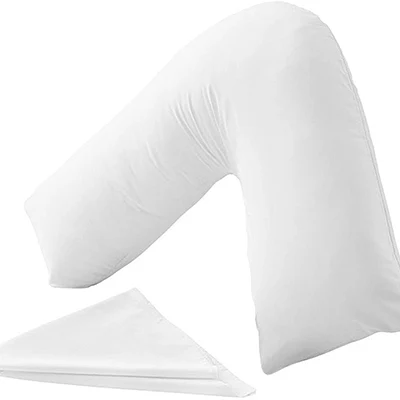 Super comfortable
Hypoallergenic
Easy washing
Removable cotton cover.
May be too soft for some sleepers.
BEST FOR SURGERY RECOVER: ROHI Medical Orthopaedic V Shaped pillow
An excellent choice for post-op recovery!
 ROHI New Medical pillow is a v shaped pillow specially designed to help you go through the surgery recovery as pleasantly as possible. It is generously filled with soft, polyester hollowfibre for increased comfort and support regardless of whether you're laying or sitting. Hypoallergenic cover is a cotton and polyester blend, making it soft and pleasant to the touch, but also quite durable. To top things off, the ROHI New Medical pillow comes with an additional pillowcase, so you can continue using the pillow even when you're washing the sheets.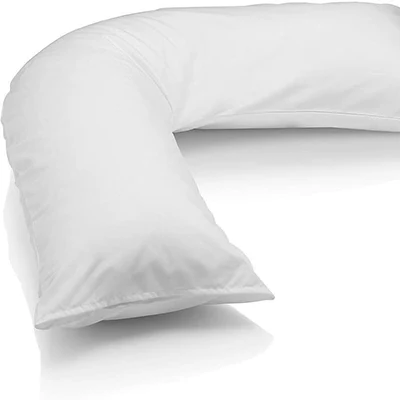 Comfortable and supportive

Hypoallergenic 

Machine washable.
Some sleepers could find it too soft.
The advantages of owning the best V shaped pillow
Finally, a v shaped pillow isn't only good for rehabilitation or post-op recovery. There are many other advantages to this firm support pillow and here are only a few of them.
First up, pregnant ladies can greatly benefit from a v pillow. Any pregnant woman knows just how awkward and unpleasant any regular task can be and that includes even sitting or lying down. A v shaped pillow is a known friend of pregnant women.
Next up, a v pillow can offer much needed lumbar support even when you're sitting in a chair. If you're someone that spends a lot of time in a chair, you could use a v pillow to help alleviate some of that lumbar pain. To improve the support, you should opt for some of the mattresses that are good for backpain, as these will eliminate the back almost entirely.
Finally, a v pillow can be quite helpful if you have a baby or a small child and you want to limit its movement while they sleep. A v shape pillow will act as a "fence" limiting your child's range of motion and the ability to toss and turn during the night. In addition, you are buying a pillow from a brand that is well known, meaning you can expect nothing but high quality product.
Each brand offers something specific, but in general, all of them offer high quality products that will not disappoint you but rather reduce your pain and give you a good night's sleep in your bed.
It is beneficial to pregnant women
It helps support the lower back while sitting or laying on a mattress
It can help keep your child/baby in place.
FAQs about your new best V shaped pillows
In the end, we wanted to wrap things up by answering some of the burning questions we noticed people have been asking before ordering or going to the stores. As you know,  our ultimate goal is to present everything a sleeper would want to know. Sometimes a simple answer to a simple question can make a world of difference and make your night comfortable!
How do I sleep with a V shaped pillow?
You'd place a v shape pillow depending on your sleeping position and the part of the body that you're trying to recover i.e. between the knees for lower back pain.
Can a V-shaped pillow prevent my neck pain?
In a word – yes. A v shape pillow can be a great way for a customer to prevent sleep-related neck pain.
Are V-shaped pillows good for back pain?
In a word – yes, these pillows are good for back pain. V pillows can be more than good for neck pain. So, feel free to use these if you have neck pain issues.
How do I clean my V-shaped pillow?
Most v shaped pillows come with removable pillowcases that are both machine and hand washable, so you shouldn't have any issues washing yours.
What about the delivery of v shape pillow?
Different stores have different policy, so your order might be subject of additional shipping charges. However, in most of the cases, the delivery is free of charge. The best thing to do is to check the stores and their policy.