Mela Pillow Review by The Sleep Advisors
Well-known British sleep company Mela, best known for its weighted blanket and eucalyptus-containing products, has only one pillow on offer. As Mela products are high quality, The Sleep Advisors tested Mela Pillow to see if it can help you sleep better and we will present our observations in this review.
There is no one single characteristic of Mela pillow that makes it completely unsuitable for one specific sleep position or body type. We can say that this pillow is generally designed to suit everyone, giving them good night's sleep. So it is bought by side, stomach and back sleepers, as well as men and women equally.
However, as no product can suit literally everyone, there is a chance that Mela pillow may not be ideal for all side sleepers or those who want an ergonomic pillow design.
What do we use this product for?
We use Mela pillow for its support, because it is safe and eco-friendly. The support that this pillow will give you is really great, and it is also very comfortable. In addition, it is completely safe because you will not be exposed to harmful chemicals. Also, it is eco-friendly you protect 1000-square-feet of Amazonian rainforest when you buy this pillow.
Features you should know about the Mela pillow
Each product has some most important features you should know more about. That's why we, in this part of the review, have singled out for you everything that is crucial for every future owner of Mela pillow to know.
You will probably be surprised how a pillow whose one of the main characteristics is sink-in softness provides such good support. And is it possible that a sink-in pillow will fit stomach sleepers. But Mela has managed to achieve sink-in softness and support at the same time, thanks to a pillow-in-a-pillow design that will provide you with comfort and support simultaneously. When you lie down, you will first sink in the ideal position for you, and then the pillow will support you while you are in that position.
Double comfort with a supportive inner pillow
And what we just told you about sink-in softness and support at the same time is possible because of the inner pillow which is highly supportive. The outer layer or to be more precise outer pillow is credited for comfort and fluffiness, while the inner pillow is in charge of support and firmness of the whole pillow.
Removable machine-washable 100% cotton-pillowcase
You don't have to be an expert on materials to notice that the quality of the cover is at a fantastic level. It is made of 100% cotton for several reasons. First of all because it is a naturally breathable material, which is also very durable and that is especially important for the pillow cover. In addition, it is very soft, comfortable and hypoallergenic.
Cotton does not cause skin irritation or other similar problems. If you want cooling pillowcases, you can find Mela pillowcases made of eucalyptus silk with 300 ply thread count.
OEKO-TEX certificate for polyester microfibre
Mela points out that they used the brand new polyester microfiber to fill this pillow, unlike many other pillows available on the market in the United Kingdom that are filled with leftover scraps of polyester to reduce costs.
Their brand new polyester microfiber fill is Oeko-Tex certified. This guarantees that the pillow is completely free of any harmful chemicals or toxins, which means that it is completely safe for sensitive groups of people, such as those with allergies and children with asthma. Oeko-Tex is well-known label for textiles tested for harmful substances.
We recommend that you pay attention to Mela pillow because although it is the only pillow on offer and they are not specialized in making pillows, but rather for weighted blankets, this is a really great pillow for night sleep. Due to the pillow-in-a-pillow design, this pillow is both supportive and fluffy. That is why it is very comfortable for all sleeping positions.
Breathable cotton cover is removable and washable, so it is very easy to maintain. Filling is a microfiber that is Oeko-Tex certified. It should also be mentioned that buying this pillow contributes to the preservation of the Amazon rainforest.
Type: Microfibre
Removable cover: Yes
Size: 70 x 50 cm
Supportive
Oeko-Tex certified
Eco-friendly.
Only one size
Rather expensive when compared to similar products
Some side sleepers may not find it that comfortable.
What we like about Mela pillow
There aren't a lot of pillows that are both supportive and fluffy at the same time 
Mela and 1Tribe are partners, so every order makes a positive impact to the Amazon rainforest    
Soft and breathable cover is very pleasant for facial skin.
What we didn't like about Mela pillow
Since it is designed for all sleep positions, it would be good to have at least one other size available
It's quite expensive, and if you buy a 2 pack, you save some money so consider this option
Most side sleepers will find it suitable, but it is slightly better option for back and stomach sleepers.
Check the best alternatives to Mela pillow
If you want a cheaper option than Mela pillow or are simply looking for different features, consider these two alternatives, as these are very good pillows, although nowhere near as versatile as Mela pillow.
As its name suggests, this is a very comfortable pillow. All those who like to snuggle into pillow will like it. It has a quality cotton 383 thread count cotton cover that is machine washable at 40 degrees C.
Side sleepers should look elsewhere as this might not be the ideal choice for those preferring to sleep on their side. But everyone can try it for 30 days.
You can check our review on Eve Snuggle pillow to learn more about this product.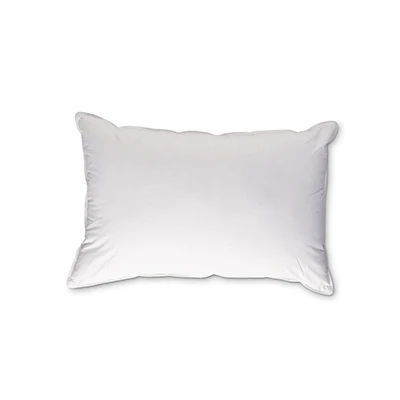 Cotton cover
Soft
2-year warranty.
Not for side sleepers
Durability
Only one size.
Snug Contour Memory Foam Pillow
This is a medium firm memory foam pillow that is ergonomically designed to support your head and neck during the night, and puts your spine in an ideal position so that you wake up rested and pain-free.
It is hypoallergenic and dust mite resistant so it might be the perfect choice for people who have problems with allergies . Cover is machine washable.
Do take a look at our Snug Contour pillow review and find out more about this product.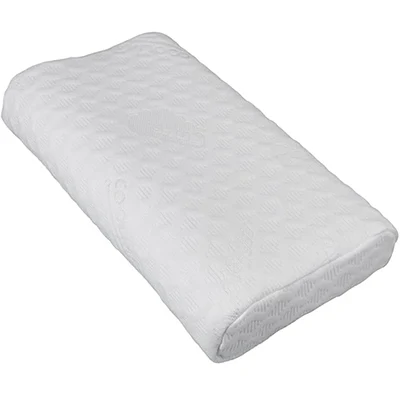 Hypoallergenic
Ergonomic design
Made in the UK.
Durability
Off-gassing
Slight heat retention issues.
Consider Mela Weighted Blanket if you are buying Mela pillow
Anyone who wants to buy a weighted blanket should definitely consider Mela blanket as it is one of the best, if not the best, weighted blanket on the UK market.
Since it is available in three weights – 5.5kg, 7kg and 9kg, everyone can find the right model for their body type and needs. It is filled with silent anti-rustle glass quartz pellets and has a double-sided cover. One side is cooling cotton and the other is fleece.
Feel free to check our review on Mela Weighted Blanket.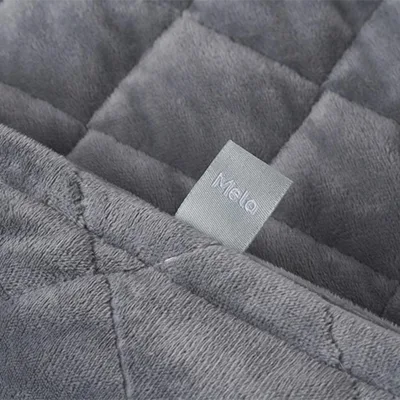 Three weights available
Double-sided cover
Machine washable.
Sometimes too warm
Too heavy for kids
High-priced.
What makes this product better than some other similar ones?
We can say that the fantastic balance between comfort and support is what makes this product better than some other similar ones. Also, the fact that it fits all sleep positions makes it a very popular choice when buying a pillow.
How did we test the product?
As Mela pillow is more expensive than 30 pounds, it means that you are entitled to free delivery. If you order before 2 pm, you can expect the pillow to be delivered to you in the next 48 hours, and in some situations this can be extended to 3 to 5 working days. Mela offers a 30-night trial guarantee only on weighted blankets, so you can't return Mela pillow.
We were lucky, so the pillow reached us very quickly. We unpacked it right away, and since there is almost no smell, we were able to use it immediately.
We have already tested some other products from their offer, so we were not surprised by the high level of workmanship. The pillow is really very comfortable, although at first it seems that you will sink too much. But just then support kicks in. You will feel it shape towards your head and then hold your head and neck in the perfect position. The morning after the overnight test we were very pleased and tried it in all three sleep positions. If we have to single out, the back sleeper was probably satisfied, but it is definitely recommended by the side and stomach sleeper from our test team.
We then washed it, following the instructions. You can tumble it dry with dryer balls to keep it fluffy.
FAQs about your new Mela pillows
In the FAQs section we will answer some more questions, and those answers should help you decide whether to order this pillow.
Is a Mela pillow suitable for all types of sleeping positions?
Yes, it can be used by back, side and stomach sleepers and they can expect similar performances.
Should hot sleepers use a Mela pillow?
Breathability is fine, and cotton is generally cooling material so hot sleepers are likely to find it good enough.
Does Mela pillow come with a removable pillowcase?
It comes with removable cover and you can buy cooling pillowcase separately.
How do I wash my Mela pillow?
It is machine washable, but don't forget to separate inner and outer parts.
How do I keep my Mela pillow fluffy all the time?
Hold opposite corners and push in and out diagonally.