Simba Sleep is one of the premium sleep companies on the UK market and although they have a small number of products, each one is well-worth your attention like Simba pillows, Simba mattress and so on. We tested Simba pillow, a height-adjustable pillow, for you and in this review you can find out if this is really one of the best pillows you can buy at the moment within the UK.
Simba pillow is true all-rounder. You have the ability to adjust the loft according to your preferences and sleep positions, which implies it can be used by side, back and stomach sleepers equally, as well as combination sleepers. Simba Sleep company made this pillow with the goal of helping people with neck pain in the first place.
That's not all, because Simba pillow is for hot sleepers also. Due to astronaut inspired temperature regulation and great breathability this is one of the best pillows that hot sleepers can buy. 
Hypoallergenic materials and maximum airflow make it suitable for people who have allergies as well ass the hot sleepers who sweat a lot at night.
Add a header to begin generating the table of contents
What do we use this product for?
We use Simba hybrid pillow for achieving good night's sleep by elevating the height of our head/neck. And you wonder how it will help you with that? By providing you with a soft, adjustable, yet very supportive sleep surface for your head and neck. 
Also, you will forget about sweaty nights due to temperature regulation and space-inspired technology that allows you cool sleep. We highly suggest this matching pillow with some of Simba mattress picks to ensure yourself the top-notch sleeping experience, including: Simba Hybrid Pro, Simba Hybrid Luxe or Simba Hybrid mattress.
Features you should know about Simba pillow
In this part of our review we will focus on Simba hybrid pillow composition and features you should know about Simba hybrid pillow, to have better understanding what are the differences compared to some of feather pillow options, foam based pillows and other pillows.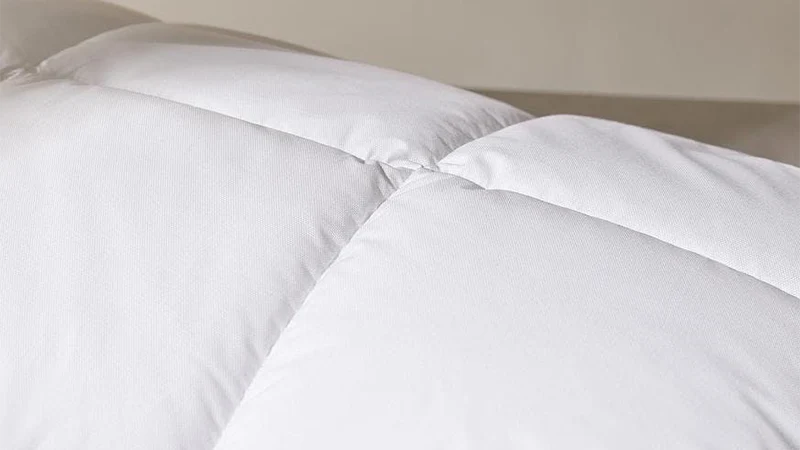 Stratos Active Temperature Regulation
Simba has always sought to improve temperature regulation by implementing astronaut-inspired technologies. Almost every Simba mattress has a unique technology that is developed for Astronauts. So Simba Sleep company used Outlast technology, originally developed for NASA, and now they have developed their own phase change materials (PCM) that absorb store and release heat for optimal comfort. This technology is called Stratos.
What exactly does this mean from the user's point of view? This means that this pillow will absorb excess heat from your body and thus cool you down. But that's not all. Unlike other pillows, this pillow absorbs excess heat and then when the nights are cold and you need to keep you warm, then it releases heat. That is really fantastic technology, don't you agree? This type of technology is designed for the needs of a space suit, so you can tell that you are sleeping on a pillow that has state of the art technology implemented. Since both halves of this pillow are not the same, to know which half is Stratos, Simba used blue stripe for Stratos and grey stripe for the other half.
Below the Stratos temperature regulated top cover is a layer of breathable and cool fibers that give you extra coolness. Mineral-enriched fibres additionally affect the temperature regulation. Also, this layer is very soft and comfortable, and also hypoallergenic. That is why this layer is very important for those who have allergies.
Lightweight & breathable Nanocubes
Remember we told you that we will explain to you how this Simba hybrid pillow differs from down / feather and memory foam pillows. We just got to that part. Lightweight and breathable Nanocubes are not made of polyurethane, from which memory foam is most often made, but of open-cell foam. Visco-elastic open-cell foam has a large number of very small cells filled with air and that is why they are great for contouring to your head and the bounce is significantly better. You will feel like you are sleeping on a feather or down pillow, but upgraded.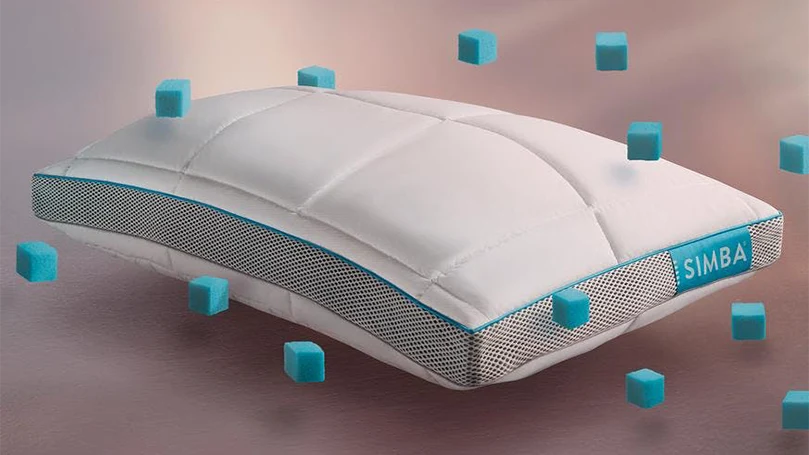 Nanocubes are highly breathable both because of the foam structure, as well as because they do not interfere with air flow like a single block of memory foam. Another thing that makes Nanocubes the most important part of this pillow is the ability to add or remove them to adjust the loft.
Mesh Border for increased air flow
Hot sleeper are sure to be thrilled with Simba pillow because each part is designed to give them a perfect night's sleep. Alongside Stratos layer, cool fibers, breathable cotton and Nanocubes, Simba added a thick ventilation strip around the middle of the pillow to make air circulation even better. That way the hot air will never stay inside of the pillow.
Hypoallergenic microfibre fill
Between the Nanocubes and the bottom cover, a microfibre fill is located. This microfibre fill is even softer than the mineral-enriched fibers found beneath the Stratos layer. Microfibre fill is hypoallergenic and durable.
Breathable bottom cotton cover
Bottom half is made of BCI sourced cotton. In addition to having all the characteristics that cotton normally has, such as softness, hypoallergenic properties, breathability and durability, BCI sourced cotton is much better for our environment. The Better Cotton Initiative promotes improved cotton farming for the environment but also for workers. Thus better standards of sustainability are achieved and the impact on the environment is reduced. This Simba memory foam pillow is suitable for vegans also.
BCI sourced cotton is not the only thing that makes this pillow eco-friendly. Open-cell foam in Simba's pillow is CertiPUR certified, which is a certificate that guarantees heavy metals and dyes were not used during production, which can be harmful to both you and the environment. CertiPUR is one of the most respected certificates in the sleep industry.
Also, Simba pillow is free of TCPP, phosphate, parabens and many other pollutants, that are safe for humans but not for the environment. This pillow meets all British fire safety regulations even though it is free of those chemicals.
Let's jump in Simba hybrid pillow review and say a few things about it. Simba hybrid pillow is a pillow that has two completely different sides. In the middle you will find Nanocubes made of visco-elastic open-cell foam instead of polyurethane which makes them very comfortable. You can add and remove Nanocubes and thus adjust loft to suit any sleeping position.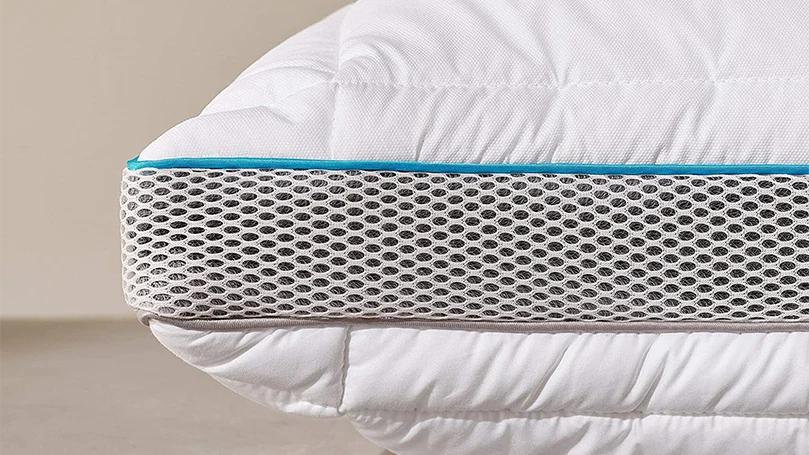 The upper part of the pillow marked with blue stripe contains Stratos technology, astronaut-inspired temperature regulation, and below are soft and cooling mineral-enriched fibers. On the underside, marked in grey stripe, is BCI sourced cotton cover that is soft and durable, and between cotton and Nanocubes is hypoallergenic and soft microfiber layer.
What the whole pillow has in common is perfect breathability. Airflow is not disturbed on any part of this pillow. It comes with 1 year warranty.
Breathable 
Temperature regulation
Eco-friendly.
High-priced
Nanocubes are not washable
Only 1 year warranty.
What we like about Simba pillow
Unlike majority of memory foam pillows, Simba hybrid pillow is one of the most breathable pillows on the United Kingdom market
Due to Stratos technology, cooling fibers and mesh border, Simba hybrid pillow has no competition when it comes to temperature control
BCI sourced cotton, CertiPUR certificate and no pollutans like TCPP make it one of the best for vegans and all those who care that the product is eco-friendly.
What we didn't like about Simba pillow
Simba hybrid pillow price is one of the most expensive synthetic pillows on the UK market, but it is still significantly cheaper than high-end down pillows, and the price is justified anyway
Nanocubes are not machine washable
Available in only one size – 50 cm x 70 cm which is a standard pillow size.
Check the best alternatives to Simba hybrid pillow
If Simba hybrid pillow price is too high for you or you have some other reason why you do not want to buy it, check out the two alternatives that we have selected for you from offer of other memory foam based pillows.
Nectar is a well-known brand that has been for years on the market. The Tencel cooling fabric added to the Nectar Premium pillow cover is something that all hot sleepers will like and that will make this pillow suitable for them, at least for most of the year. 
Support and pressure relief are good, and it is often bought by couples as you get a pair of pillows when you buy. Therefore, it is also a great choice for couples who are on the hunt for the new pillow. 
We did a review on Nectar Premium pillow so you can take a look at it for more info.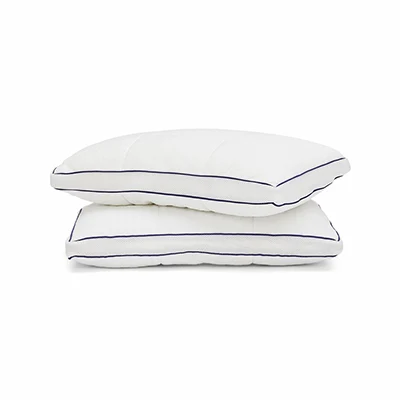 Pressure relief
Support
Breathable. 
Not the best one for front sleepers
Available only in one size – 60x40x12cm
Not machine washable.
Geltex is cooling and more responsive replacement for memory foam. It is medium firm pillow, on firmness scale from 1 to 10, it is around 7, so it is for side and back sleeping.
Some stomach sleepers may find it comfortable, but not all of them are going to be satisfied with this pillow. 
Silentnight Geltex pillow is hypoallergenic so it is also a great choice for allergy sufferers who want to get away from allergies, dust mites and germs. 
If you are interested in this pillow, you can see our in-depth review of Silentnight Geltex pillow to learn more about it.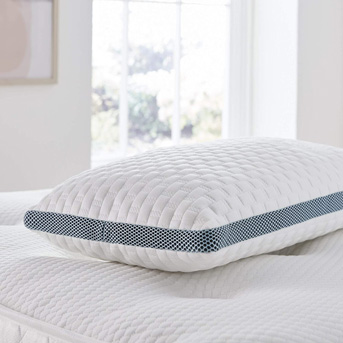 Cooling
High quality memory foam
Supportive
Hypoallergenic
Good for back sleepers.
Not for stomach sleepers
Sometimes too firm for side sleeping
Tends to get flat.
Consider Emma Hug weighted blanket if you are buying Simba pillow
The feeling when we go to bed after a long and stressful day is one of the most pleasant feelings for any person. You can further enhance this feeling as well as the quality of sleep by purchasing the Emma Hug weighted blanket.
Also, if you have some other problems like depression and anxiety, you can benefit from using a weighted blanket. 
The doctors have tested the use of weighted blankets with patients who suffered from anxiety an depression and had seen incredible results. The Emma Hug weighted blanket weighs 7 kg.
Read our Emma Hug weighted blanket in-depth review for more information on this product.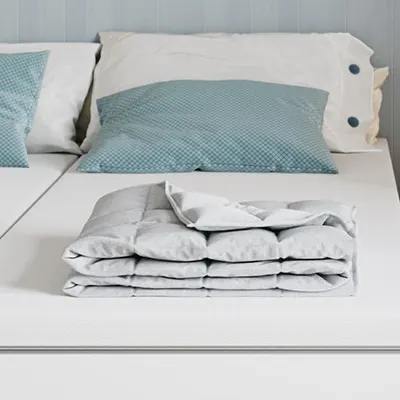 200-night trial
High quality workmanship
Modern design.
Sometimes too hot
High-priced when compared to similar blankets
Only one weight available.
What makes this Simba hybrid pillow better than some other similar ones?
We didn't know where to start, as there are so many features that make this product better than some other similar ones. We would first single out temperature regulation and breathability because it is by far the best one in that category, which is not surprising considering that Simba has implemented technology that NASA also uses. 
At the same time – the quality of memory foam is at the top level so there will be no problems with retaining the shape. On top of that, it won't lose its quality to reduce the comfort of the pillow so you don't have to worry about that. 
Also, we really like that there are two different sides of the pillow and that the loft is adjustable. It is worth mentioning that it is 100% hypoallergenic and eco-friendly. When you sleep on it, you will feel like you are sleeping on a combination of down and memory foam pillow, even though it is made of open-cell foam and soft cotton, without down.
How did we test the product?
It is a bit expensive hybrid memory foam pillow, so you should try to find Simba hybrid pillow deals. You guessed it we couldn't wait to start testing this pillow since it's one of a kind. When it arrived, we first aired it for a few hours, because although significant off-gassing is not present, it has a characteristic odour like all brand new products but not even close compared to some of the memory foam mattresses.
As soon as you pick up this pillow, you will immediately realize that it is a high-end product. The quality of workmanship of each part of Simba hybrid pillow is at a great level and we have absolutely no complaints. This is what we expected, but you should always check the product when it arrives to make sure that there is no damage caused in production or delivery.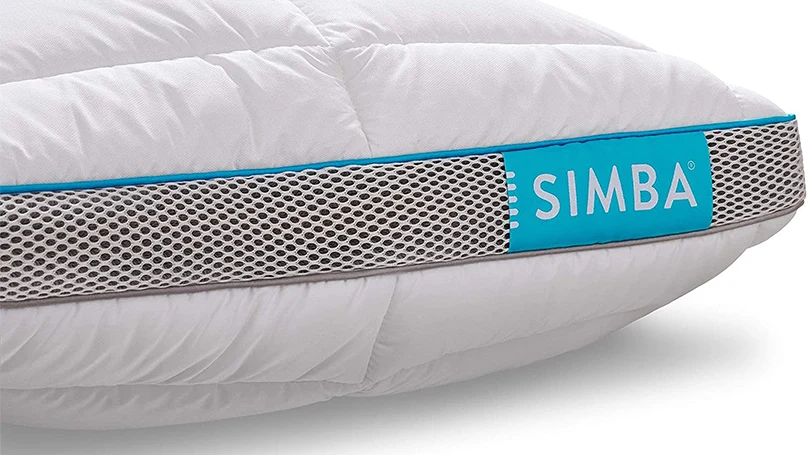 We tested it for a few days, to try it out in every sleep position. We added and removed Nanocubes depending on the sleep position in which we tested it. It has proven to be suitable for every sleep position, although they would tell me that it is a little more comfortable for side and back sleepers than for stomach sleepers, but that does not mean that stomach sleepers should avoid it.
Although temperature regulation and breathability are the main features of this pillow, we still did not expect it to be so good. It gives you a whole new level of temperature control that we believe no other pillow can give you.
FAQs about your Simba pillow
Let's end this review with answers to frequently asked questions.
Is Simba hybrid pillow suitable for side sleepers?
Yes, it is suitable for side sleepers because of the great balance between comfort and support.
Should I use Simba pillow if I am a back sleeper?
Back sleepers will be able to achieve and maintain great night's sleep using Simba pillow.
Do I get a pillowcase for my Simba hybrid pillow?
No, you don't get a pillowcase and if you want to use it for hygiene reasons you will have to buy one.
How do I wash my Simba hybrid pillow?
You can remove the outer cover and wash it in the washing machine at 40 degrees C.