6 Best Fabric Softeners for Your Beddings
If you like your clothes, bedding and towels to be soft, then fabric softener is something you use regularly. We researched and tested the best fabric softeners on the UK market.
The most beautiful feeling is when we put on a piece of clothing that is fragrant and soft. The same goes for towels, bedding and everything else. In order for everything we wash in the washing machine to be so soft, not only laundry detergent is enough, but we also need a fabric softener.
There are so many different ones on the market and every advertisement guarantees flawless results. However, there is a big difference between all these products, both in terms of quality and purpose. We have tested different products and will help you find the best fabric softener.
Add a header to begin generating the table of contents
We came up with our top picks by analyzing each of the products we will mention. In this way, we gained insight into all the ingredients, as well as the characteristics, such as the scent. Following 6 are objective winners which met our high criteria.
IMAGE
PRODUCT
DETAILS

KEY FEATURES:

Type:

Liquid

Scent:

Pink Freesia

Enough for:

45 washes

Amount:

1.5 l

View Latest Price

KEY FEATURES:

Type:

Liquid

Scent:

Linen

Enough for:

240 washes

Amount:

4.8 l

View Latest Price

KEY FEATURES:

Type:

Liquid

Scent:

Floral

Enough for:

250 washes

Amount:

5 l

View Latest Price

KEY FEATURES:

Type:

Granules

Scent:

Citrus

Enough for:

40 washes

Amount:

500 g

View Latest Price

KEY FEATURES:

Type:

Liquid

Scent:

Fruity/Floral

Enough for:

216 washes

Amount:

3.2 l

View Latest Price

KEY FEATURES:

Type:

Liquid

Scent:

Almond/Apple blossom

Enough for:

50 washes

Amount:

1.5 l

View Latest Price
1. BEST OVERALL: Method Fabric Softener
You will get laundry detergent + fabric softener for just a few pounds.
Although we said in the earlier part of the article that we recommend that you buy a separate fabric softener, if you do not want to spend extra money, then this laundry detergent + fabric softener is a great choice.
It is of good quality, and plant-based ingredients and naturally inspired fragrances are used, which are the primary characteristics for many customers. It will remove unpleasant odors and give softness and scent to your clothes.
No animals were used during testing and production, so it is cruelty-free and vegan-friendly. And the bottles are made of recycled plastic.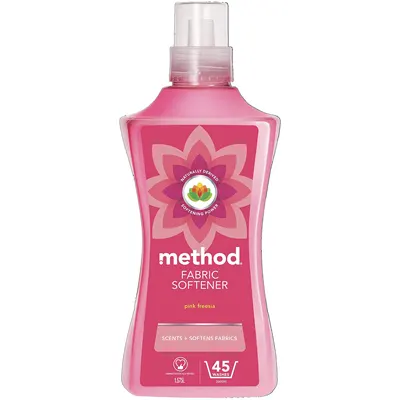 2. BEST FOR ITCHY SKIN: Fairy Fabric Softener
It is dermatologically tested so it is the perfect choice for itchy skin.
Many people like to use fabric softener, but they have sensitive skin that easily becomes itchy in contact with various chemicals. That is why it is necessary to use a dermatologically tested Fairy fabric softener.
It will give your clothes, bedding and towels softness, fluffiness, as well as a pleasant smell. It is ultra-concentrated so that a package of almost 5 liters will last you a very long time.
It is suitable for linen, because it reduces static cling and prolongs life.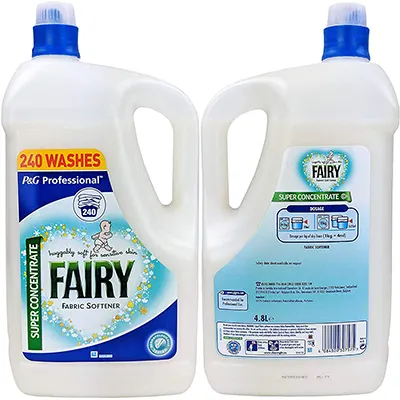 3. BEST FOR BABIES: Comfort Dermatologically tested Pure
The product is approved by the British Skin Foundation so you can use it without worries if you have a baby.
You need to pay special attention to whether the fabric softener is safe for your baby, and Comfort Pure certainly is. Recognized by the British Skin Foundation, which guarantees complete safety.
This product is dermatologically tested and all ingredients are hypoallergenic so it is ideal for baby sensitive skin and is considered the number one in UK for babies.
It is very effective in softening the laundry, so all the clothes and bedding for your baby will be soft. It will give a very pleasant, yet mild scent.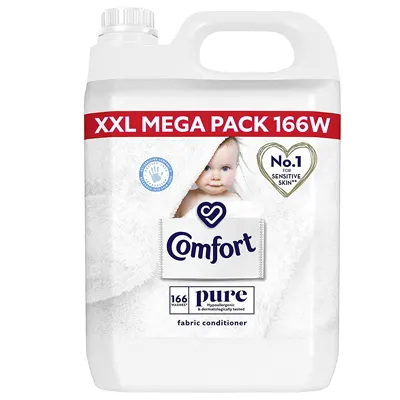 4. BEST FOR TOWELS: Lenor Unstoppables
The prolonged effect you get by using Lenor Unstoppables is ideal for towels.
As we have already said, it is not recommended to use a fabric softener with every towel wash, which is why you should go with Lenor Unstoppables because it has a prolonged softness effect. So using it you can always achieve soft towels without damaging them.
Lenor softeners are one of the most famous in the world, produced by Procter & Gamble, and in the US they are called Downy. Prolonged effect lasts up to 12 weeks. It is available in several different scents, and you should pour it directly into the drum before washing.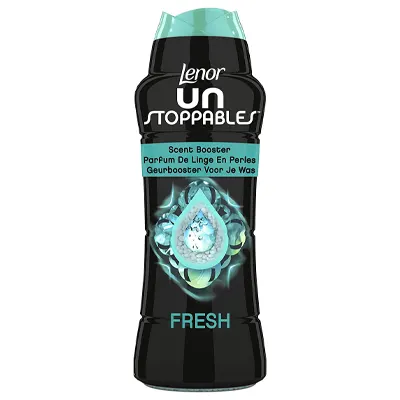 5. BEST FOR COTTON: Comfort Ultimate Care
Soften and protect your cotton clothes with Comfort Ultimate Care.
Most of our wardrobe is made of cotton, so it is important to use a product that will do no more harm than good. For cotton things, the right choice is another softener from the Comfort line, and that is Ultimate Care.
It contains pro-fiber technology that penetrates between the fibers and thus protects the fibers from damage. Since this is not only a softener, but also a conditioner. It will give a very fresh scent to your clothes, which can best be described as a mixture of fruity and floral notes.
It is ultra-concentrated, so you don't need too much fabric softener. The bottle is made of 100% recycled plastic.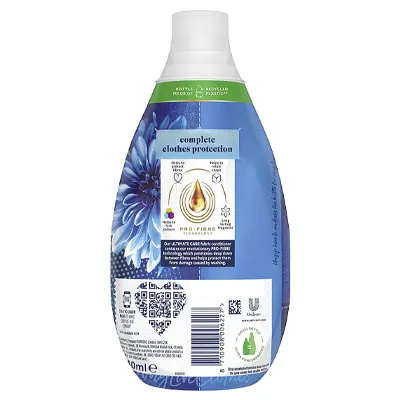 6. BEST ECO FRIENDLY: Ecover Fabric Softener
Softens and cares about your laundry without polluting environment & it is one of the best natural fabric softeners.
If you care about everything you buy being eco-friendly then this softener is the right choice for you. It will soften the laundry and make it fragrant, and all the ingredients are plant-based and biodegradable.
It does not contain palm oil and has also not been tested on animals so it is vegan friendly and cruelty friendly so it is also suitable for vegans. The scent is apple blossom and almond, and due to its natural ingredients it will not irritate sensitive skin.
It is made in Zero Waste factory from post-consumer recycled plastic.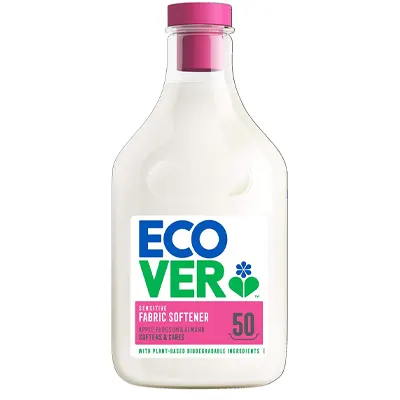 What to consider when buying best fabric softener
At first glance, all fabric softeners may seem the same to us. They all have the same role – to make our clothes smelling fresh. Although many of them are similar, and perhaps the same, there are still significant differences. First of they defer in type, because the liquid one is not the only one.
Then you have to pay attention to the fabric softener scent, because a beautiful scent is what most people buy it for. We also need to think about our environment, so we will analyze whether it is environmentally friendly.
When we talk about fabric softener, liquid fabric softeners are something everyone thinks of first. They are the most popular, you can find them in every store and they are constantly advertised. If you want your laundry to be as soft as possible, then liquid fabric softener is the best choice. It also works best in removing odors. Our advice is to buy a separate fabric conditioner or softener and not to use 2 in 1 laundry detergents, because they are never so effective.
We have to mention that there are two more types of fabric softeners, and these are dryer sheets and dryer balls. Dryer sheets are very easy to use and inexpensive. Just take a sheet and put it in a dryer and it will soften your laundry. Dryer balls are certainly not as effective as dryer sheets, and especially not as liquid fabric softener, but they are a very healthy option. And also a very affordable option, because once you buy them, you can use them numerous times.
You must know that fabric softener is not suitable for use on certain materials. It is definitely best to use it for cotton items, linen, sheets and other beddings. But there are a few materials where you should avoid using fabric softener, we can even say that you must avoid it at all costs if you want to keep the characteristics of that material.
Avoid using a softener when washing sportswear because such things are made of different types of polyester and the softener will completely destroy their features. Also, you should use fabric softener for towels only occasionally, otherwise they will lose their absorption power.
When you think about why you started buying fabric softener, the reason is probably that you noticed how someone's clothes smell so nice and then that person told you that it was from fabric softener. Liquid fabric softener will give a very pleasant scent to the clothes and eliminate all odors. A good fabric softener scent lasts long time before it loses its smell.
What you need is to find the fragrance that suits you. They all smell very nice, but you may not like a certain scent because it is too sweet and so on. The most common scents are floral and citrus, and there are also unscented laundry fabric softeners, for all those who do not like any fragrance or are allergic. Find a nice smelling fabric softener that suits you and stick to it.
Dryer balls are certainly an eco-friendly option and that is why they are used by all those for whom it is primary. The least eco-friendly option is liquid fabric softener, because most of them contain a lot of ingredients that do not decompose in water quickly, so they can be toxic to organisms in water. And since it goes directly into the water, then that can be a problem.
Although if you use small amounts, it is certain that you will not harm the planet. If you are vegan, pay attention to whether the fabric softener contains certain animal fat derivatives, as this is one of the common ingredients.
When we talk about the package, liquid fabric softener is in most cases packed in plastic packaging, and the most common size is one liter, although there are larger and smaller packages. As the planet Earth is overloaded with plastic waste, it is important to buy the package that is made of plastic that is recyclable.
Many packages are not recyclable and such products should be avoided. It's easy to check if it's recyclable, so don't miss out on doing so. Dryer balls have one-time package.
Tips for buying and using best fabric softener
Whatever you buy, you should carefully read the ingredients, so that you know what you should avoid that is harmful to the health of people and the environment. Certain types of chemicals must exist in the liquid fabric softener, but not all chemicals are equally harmful.
It is also important that you know how to use it properly. Many put it in the washing machine at the beginning of the washing cycle, and you should actually put it before or during rinsing. Because during the wash cycle most of it will go away along with the dirt and then your clothes will not be as soft as they would like.
● Add it during the rinse cycle and not during the wash cycle in order to get most out of fabric softener
● Carefully choose the fragrance because all your clothes will smell like that
● Always look for a natural fabric softener
● If you do not need all the features of liquid fabric softener, you can try dryer balls.
The Advantages of owning the best fabric softener
There are two primary advantages of owning the best softener. The first is that you will know that your clothes will be soft, fragrant and will not be damaged by untested chemicals.
And the other advantage is your health. Since the emollient is used on things that will come into close contact with both your skin and the respiratory system, it is important that these are tested and approved products for use. Especially if you have a baby, which is even more sensitive. In addition, the best fabric softener is packaged in recycled plastic bottles and is ultra-concentrated, all of which significantly reduces waste and preserves the environment.
And also who likes to put on clothes or wipe with a towel that are very hard? We would say no one.
● You laundry will be soft and fragrant for long time
● Best fabric softener won't irritate your skin nor respiratory system
● You will contribute to the preserving of our environment.
FAQs about your fabric softeners
Since fabric softener contains chemicals, much information can be found on the internet, some of which is accurate and some is not. Hence you can find answer to the question of whether it is harmful to humans in our FAQs section. We will also answer whether it should be used for certain materials and when it is most effective to use it during laundry.
When do I put fabric softener in my washer?
You can add it at the beginning, but it is best to add it during the rinse cycle.
Should I use a fabric softener on my linen?
You can use it time to time, but not always, as fabric softener can weaken the fibers.
Should I use a fabric softener on towels?
You shouldn't use it all the time, but just occasionally, otherwise your towels won't absorb as they should.
Is a fabric softener harmful to humans?
It is not harmful, but you should be careful if you have allergies, or sensitive skin and respiratory system.