The Best Mattress UK in 2021 - Our 10 Picks
Are you not getting enough sleep? Are you waking up feeling grumpy and tired? Does your back hurt? Well, if that sounds like you – you deserve to treat yourself to a new mattress. Sleeping on a lousy mattress can aggravate your existing problems and create new ones. Fortunately, the solution to all your problems is right at the tip of your fingers.
The solution is, as you could imagine, getting a new mattress and throwing away the old one so it can't cause any more pain and suffering. Since we understand that getting a new mattress is easier said than done, we've decided to put our expertise to work and come up with a list of mattresses to help you and everyone else out.
So, without further ado – let's take a look at the best mattress UK picks for 2021 and mention some of the mattress brands that are highly recognizable!
IMAGE
PRODUCT
DETAILS

KEY FEATURES:

Type:

Hybrid

Firmness:

6.5/10

Thickness:

25cm

Sizes:

Single, Small Double, Double, King, Super King, Kids, EU Single, EU Double, EU Queen

View Latest Price

KEY FEATURES:

Type:

Memory foam

Firmness:

6.5/10

Thickness:

25cm

Sizes:

Single, Small Double, Double, King, Super King

View Latest Price

KEY FEATURES:

Type:

Memory foam

Firmness:

6.5/10

Thickness:

25cm

Sizes:

Single, Double, King, Super King + EU Double, EU King

View Latest Price

KEY FEATURES:

Type:

Hybrid

Firmness:

6.5/10

Thickness:

25cm

Sizes:

Single, Double, King, Super King

View Latest Price

KEY FEATURES:

Type:

Memory foam

Firmness:

6.5/10

Thickness:

25cm

Sizes:

Single, Small Double, Double, King, Super King

View Latest Price

KEY FEATURES:

Type:

Hybrid

Firmness:

7/10

Thickness:

31cm

Sizes:

Single, Double, King, Super King

View Latest Price

KEY FEATURES:

Type:

Hybrid

Firmness:

6.5/10

Thickness:

25cm

Sizes:

Single, Small Double, Double, King, Super King, Emperor + EU Double, EU King

View Latest Price

KEY FEATURES:

Type:

Hybrid

Firmness:

7/10

Thickness:

25cm

Sizes:

Single, Small Double, Double, King, Super King

View Latest Price

KEY FEATURES:

Type:

Hybrid

Firmness:

7.5/10

Thickness:

28cm

Sizes:

UK Double, UK King, Super King

View Latest Price

KEY FEATURES:

Type:

Memory foam

Firmness:

6/10

Thickness:

25cm

Sizes:

Single, Small Double, Double, UK King, Super King

View Latest Price
The 10 highest rated mattresses in the UK
Now, for the long-awaited list of the top ten mattresses you can buy in the UK, here are our picks! 
Simba always has great products, and this bed-in-a-box is no exception. This medium-firm hybrid comes with five separate layers of memory foam and mini-pocket springs, aiming to provide you with ultimate comfort. The Aerocoil titanium springs and Simba-pure foam layers are encased in a high-quality, soft and breathable, non-removable cover.
Due to the zoned Simba-Pure support base, this medium-firm hybrid will offer a noticeable level of pressure and pain relief around the core areas, so if you're having issues with a bad back – you might just turn to this one for help or check our best mattres for bad back roundup. Additionally, the contouring and nature of foams in the Simba Hybrid make this one particularly suitable for couples, as it offers exceptional motion isolation for a disturbance-free night of quality sleep.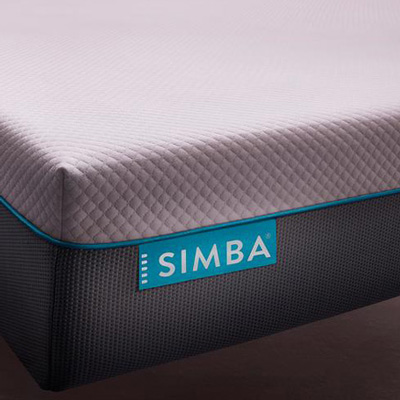 Pressure and pain-relieving
Motion isolating
Long-lasting and durable.
Not the most breathable mattress
Not supportive enough for heavyweight sleepers.
Check out our full Simba mattress review and see if you like it! They have awesome customer support and all their products are available for online purchase.
Eve's Original is a thing of beauty. It is made from three separate memory foam layers encased in a removable, machine-washable cover. Despite being an all-foam mattress, Eve Original is your typical medium-firm mattress that almost anyone could sleep on.
Eve Original is mostly tailored to those that prefer cosy, sink-into-the-mattress feeling. Thanks to the seven contour zones in the high-density foam base, Eve Original is quite supportive, despite being contouring and offering a lot of pressure relief around the core areas. It also sleeps quite calm, absorbing all the movement during the night so that both you and your partner can enjoy a blissful night of sleep.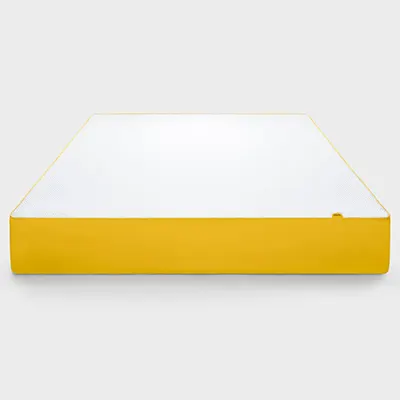 Cozy and comfortable
An affordable foam mattress
Pressure and pain-relieving
Long-lasting and durable.
Not the most breathable mattress
Often too soft for heavyweight sleepers.
As the original Eve mattress, you can get the eve hybrid mattress online and enjoy your trial period before making a final decision. If you want to learn more about the customer experience, read our eve mattress review we've recently published.
OTTY Original Hybrid is one of the most uniquely made hybrid mattresses on the market. If we take a good look at it, we'll see that this intricately made, medium-firm hybrid contains four separate layers. These are both temperature-regulating and HD-support foam, as well as a comfort layer of full-sized 16 cm tall pocket springs, all wrapped in a premium, knitted cover that is removable and machine-washable.
OTTY Original Hybrid offers excellent support all throughout, especially around the edges, which not only makes it ideal for co-sleeping; but a senior-citizen-favourite, as well. Most people suffering from lumbar issues have found this mattress to be helpful. Additionally, the mattress sleeps quite chilly due to its Blue Gel breathable foam, and thanks to the full-sized pocket springs – it also efficiently isolates motion.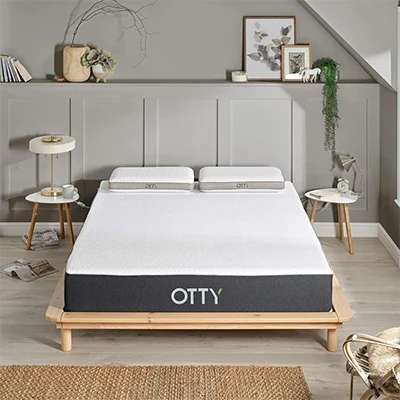 Very supportive
Excellent temperature-regulating properties
Body heat is not trapped 
Removable, machine-washable cover.
Some durability concerns
Often too soft for heavyweight sleepers.
If we've piqued your interest, you might as well read our full review on the Otty matress. You can also order Otty mattress online.
This 25 cm deep mixture of memory foam and pocket springs could just be the mattress your body is craving. Excluding the removable, hypoallergenic top cover and non-removable side and base cover, we're looking at five layers of medium-firm support and comfort. HD-memory foam base, followed by 12 cm tall pocket springs and three additional memory foam comfort layers, are what makes this hybrid so special.
As a medium-firm, 6.5 out of 10 rated mattress, Eve Original Hybrid should be a good fit for all sleeping positions. You will sleep in perfect alignment; and will be adequately supported all through the night, even if you frequently switch positions. Furthermore, if you're dealing with allergies, you'll be pleased to know that the hypoallergenic top cover won't aggravate your problems, but will instead help you cope with them.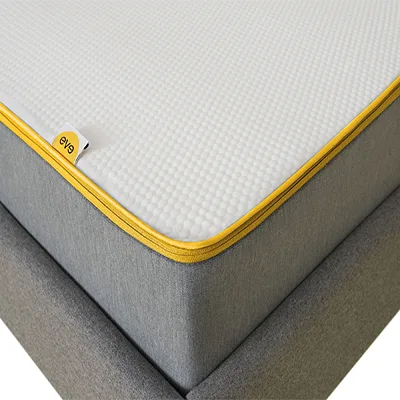 Cosy and comfortable
Supportive
Long-lasting and durable.
Sub-par edge support
Pressure relief could be improved upon.
If you're into this mattress, check out our full Eve Hybrid mattress review and if you want to learn more, you can visit the eve website.
Nectar Memory Foam mattress might just be the most breathable memory foam mattress in the UK. Starting with an Adaptive Cooling Cover moving over to the Smart Sleep and Pressure-relieving layer, this mattress aims to draw body heat away from your body and help you sleep as comfortable as possible. All of this is back up with a 7-Zone Support layer to put it all together and create this medium-firm mattress.
Due to the all-foam structure, the Nectar Memory Foam mattress offers a great deal of pressure and pain relief, as well as excellent motion isolation. In fact, the Nectar mattress is so contouring and motion-isolating that it could actually make it harder for you or your partner to move around at night. Also, due to its contouring nature, the Nectar mattress is a great fit for side sleepers.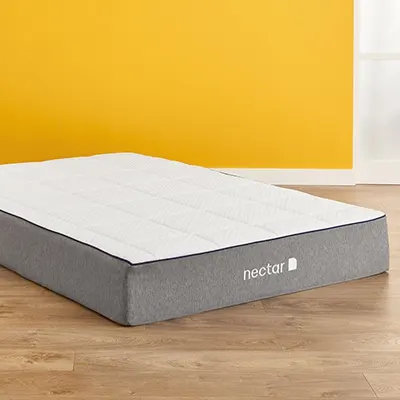 Excellent temperature-regulating properties
Pressure and pain-relieving
Long-lasting and durable.
Restricts movement
Often too soft for heavyweight sleepers.
If this was more than enough to keep you interested, feel free to check out our full review of Nectar Mattress or visit the Nectar website.
Wool, bamboo, graphite, memory foam, titanium pocket springs – these are only some of the materials found in this 10-layer wonder of a mattress. Simba Hybrid Luxe might just be the ultimate bed-in-a-box. It is slightly firmer mattress compared to the rest of the mattresses on our list, but that isn't the only thing that makes it stand out. The Luxe comes with a removable, hypoallergenic cover, up to 6000 titanium mini pocket springs and a temperature-regulating layer that will keep you both cool in the summer and warm in the winter.
What the Luxe does much better than most mattresses is it offers unparalleled support for your whole body. You won't sink into it. Instead, you'll feel like you're lying on top of the mattress that adequately supports your body weight and keeps you in an optimal sleeping position.
Very supportive
Slightly firmer than the similar ones
Long-lasting and durable
Excellent temperature-regulating properties.
Pressure relief could be improved upon
Often too firm for lightweight sleepers.
OTTY Pure Bamboo & Charcoal
OTTY Pure Bamboo & Charcoal is a medium-firm, six-layered hybrid mattress designed to fit almost everyone's needs. Similarly to OTTY Original, OTTY Pure Bamboo & Charcoal has a 16cm full-sized pocket spring base, surrounded and upheld by high-density memory foam for additional support and comfort. On top of those, we have a charcoal-infused embroidered cover and a bamboo & charcoal memory foam layer for improved temperature regulation, as well as moisture-wicking and anti-bacterial properties.
As such, OTTY Pure Bamboo & Charcoal offer not only a great level of support, comfort and airflow, but also a great deal of motion isolation, with just the right amount of bounce. Coupled with anti-bacterial properties, OTTY Pure might just be the most advanced mattress that most of you will get to enjoy, whether you sleep cool or warm, peaceful or restless, or with or without a sleeping partner. Especially thanks to its natural fillings.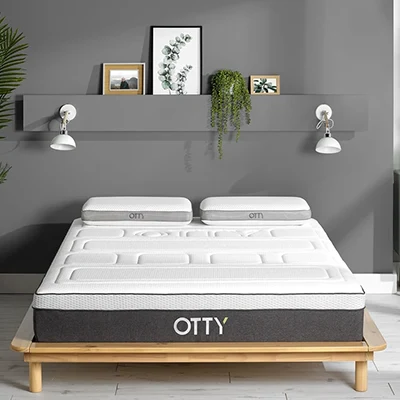 Very supportive
Hypoallergenic
Excellent temperature-regulating properties.
Non-removable cover
Minor off-gassing problems.
Emma Premium is yet another hybrid on our list. Made from five separate layers, this medium-firm hybrid from Emma aims to deliver you with premium support and comfort, hence the name. At 25 cm deep, Emma Premium is ideal for most bed frames, and due to an HRX foam base – it will work on both slatted and firm bed bases. Full-sized pocket springs within this one offer more than just support and comfort. When paired up with Emma's own Airgocell and viscoelastic memory foam, they make up a breathable, pressure-relieving sleep surface, encased in a removable, machine-washable polyester cover.
All of this makes Emma Premium an objectively comfortable, all-around mattress suitable for all sleepers. Emma Premium feels nice and cosy, while effortlessly following your body's curves, offering much-needed pressure and pain relief, as well as adequate spinal support and alignment.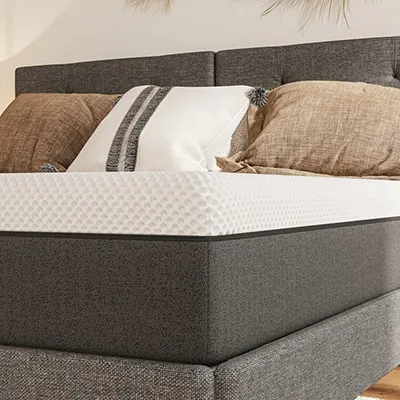 Pressure and pain-relieving
Excellent motion isolation
Long-lasting and durable.
Sub-par edge support
Not the most breathable mattress.
Including the removable, anti-bacterial top cover and the anti-slip base, Eve Premium hybrid is a seven-layered medium-firm mattress. With two foam layers for active cooling, Eve Premium is one of the most pleasant mattresses to sleep on. When you add 1500 12 cm tall full-sized pocket springs and an additional two layers of memory foam to the mix, you end up with a comfortable, supportive, temperature regulating hybrid mattress that comes in a box and yet unwraps to be 28 cm deep.
With so much to offer, including silver strands woven into the top cover fabric for anti-bacterial purposes, it's hard to see where this mattress wouldn't fit in. Even though it isn't as great at isolating motion as it probably should be, we can still see couples using this as their main mattress.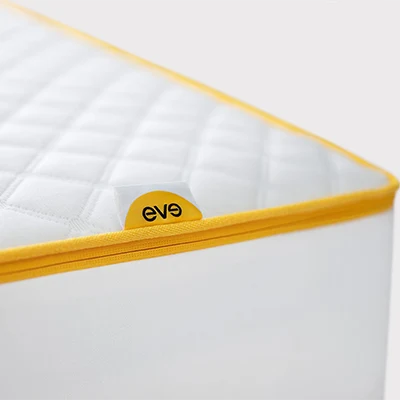 Very supportive
Depth 28cm
Excellent temperature-regulating properties
Long-lasting and durable.
Sub-par edge support
Only available in three sizes.
Simple, yet effective – Emma Original is UK's most-awarded mattress, despite being an all-foam, three-layer mattress. It's the simplicity of this cosy, all-foam, medium-firm Emma mattress that makes it so special. Once you remove the machine-washable polyester cover, you're left with a zoned, counter-pressure HRX cold foam base, pressure-relieving Visco elastic memory foam layer and "ultra-breathable" Airgocell foam layer.
These three, combined, make up for a medium-firm mattress best suited towards couples and side-sleepers, but that doesn't mean that others can't sleep on it, as well. Emma Original is supportive and comfortable enough for all sleeping positions, and when you factor in hypoallergenic and pressure-relieving properties, excellent motion isolation and competitive pricing – you get an excellent, all-around Emma mattress that anyone could enjoy.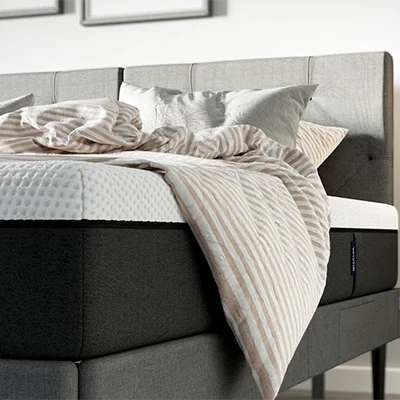 Pressure and pain-relieving
Excellent motion isolation
Long-lasting and durable.
Not the most breathable mattress
Often too soft for heavyweight sleepers.
What to Consider When Buying the Best Mattresses?
What you need to understand when it comes to shopping for the best mattress is that there is no single, best mattress for everyone. The first and most important thing you should focus on when buying the best mattress is comfort – how the mattress feels to you. You have to test out the comfort and support before buying.
Naturally, that's not the only thing you should be focusing on as there are many other defining features of a mattress such as the size and firmness of the mattress, your body weight and the position you sleep in, the type of mattress and finally, whether you're experiencing any discomfort during sleep. In addition, the material used for making a mattress is also crucial. Whether it uses open cell foam or latex, may be important to you, especially if you like a certain material more than other ones. Also, do not forget to consider the trial period that companies offer for their products. The trial period allows you to test the product before you buy it.
Comfort is one of the key factors when choosing the best mattress as single double king super may not be appropriate for every one. However, comfort is something that's not easily quantifiable or explained as it includes a lot of things like motion transfer, for example. It's closely knit with the rest of the things down the list and it can't exactly be viewed as a separate feature, if we're being completely honest. It is something very subjective and it will vary from one individual to another.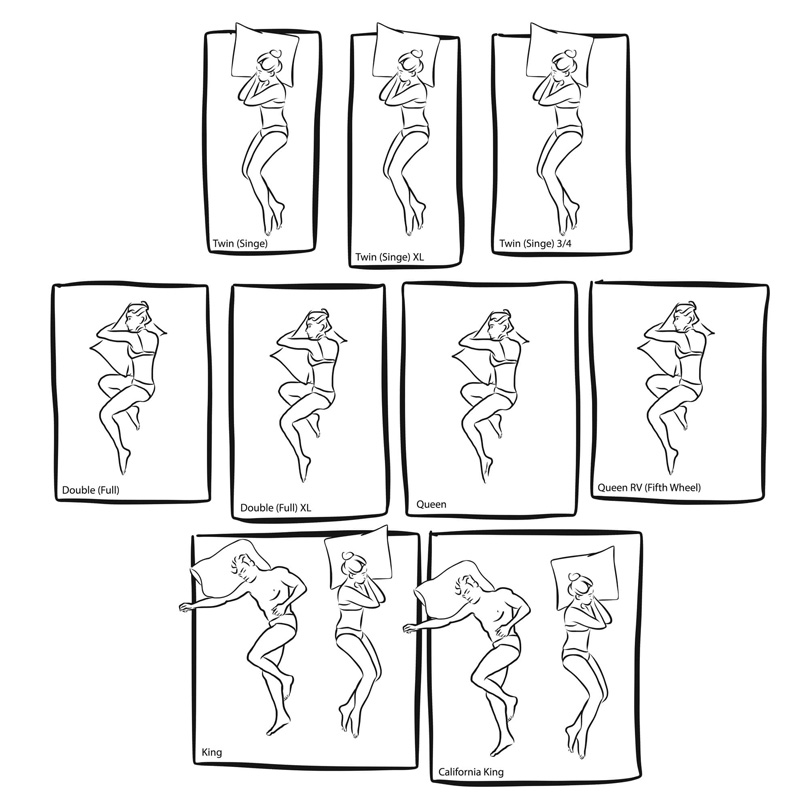 On the other hand, finding and choosing the right size of the best mattress is rather easy. You'll have to consider the frame and size of your bed, the size of the room, whether or not you'll be sleeping alone or with your partner, as well as your height and weight. From single, small double, double mattress, to super king – you need to know the sizes. Based on those factors, you'll generally decide between:
Twin Size (99cm x 190cm) (39" x 75")
Full Size (137cm x 190cm) (54" x 75")
Queen Size (152cm x 203cm) (60" x 80")
King Size (193 cm x 203 cm) (76" x 80")
California King Size ( 183cm x 213 cm) (72" x 84").
In addition to these, you can always order a custom-sized mattress.
To put it simply, the firmness of the mattress is basically how soft or hard it feels. Although it might seem rather easy to determine the firmness, in reality, it's not that easy. Once again, you're dealing with a subjective feeling – whether something feels soft or hard to you. However, there's something called a firmness scale. That is a simple scale, from 1 to 10, that is used to measure how hard the mattress is, with 1 being the softest, naturally.
Your weight will somewhat determine how soft or firm you want your mattress to be. Once again, none of this is definitive, as only you can decide what feels right. In general, however, it is considered that a person on the heavier side of the spectrum should choose firmer mattresses (7 or up, on the scale) as these will offer more support for your body.
The position you sleep in can impact the firmness of the mattress you choose. In general, there are three main sleeping positions – back, side and stomach. Of course, there are variations to this and you also have to consider the fact that people tend to turn when they sleep.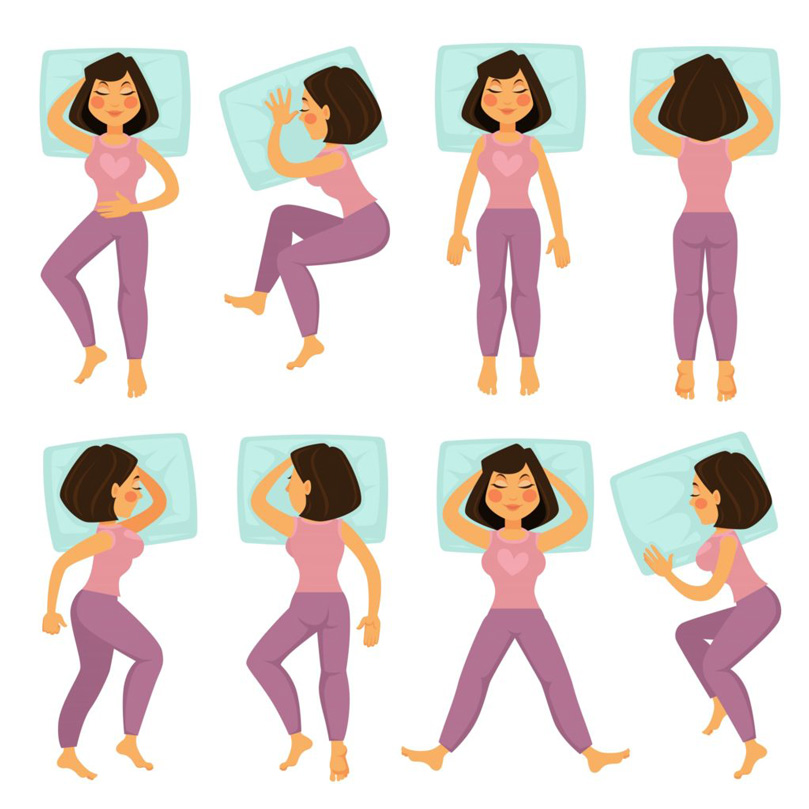 Now, why is this important? Well, it all comes down to support and comfort. Those sleeping on the back or stomach, generally need more support to keep their body in alignment, anatomically speaking – so they usually gravitate towards firmer types. On the other hand, side sleepers can benefit from a softer mattress so that the hips and shoulders can sink in a little deeper thus keeping the spine and the rest of the body properly aligned.
There are four main types of mattresses – memory foam, latex, innerspring and hybrid. Each type of mattress has its own pros and cons.
Memory foam mattresses are known for their 'hugging feel' and they're ideal for people that prefer a softer base, as well as for those who sleep on their side or get cold during the night.
Latex mattresses are ideal for those who tend to move around a lot when they sleep. They offer solid support, they don't feel hot, they're eco-friendly, but they won't offer the same relieving feeling as the memory foam ones will.
Innerspring are one of the most popular types on the market, which is understandable since they tailor to many.  These can come with mini pocket springs as well. Mini pocket springs offer substantial support and bounciness, which many prefer. However, if you require some pressure relief, you should probably look elsewhere.
Finally, hybrids are the newest addition to the mattress world and as you can tell from the name – they combine the best of all worlds. They're both firm and supportive, while simultaneously offering relief to those in need.
Back pain, neck pain & other problems
For those suffering from any kind of sleep-associated pain, mattress hunting can be quite challenging. In general, you ought to look for something according to your body type, weight and sleeping position. Based on that, you'll be able to find the right mattress for yourself that won't cause you any back pain problems. We have a selection of the best mattresses for back pain so you can take a look at some of the picks that we found for you.
Generally speaking, people suffering from back pain and neck pain after waking up need to find a mattress that will keep their body in alignment. For those, we'd recommend memory foam layer or hybrid mattresses for optimal results. However, you should keep in mind that a pillow could be also causing back pain issues, especially in your neck area. Luckily, there are night trial options that allow you to try out products before finalizing the purchase. It helps you to find the most ideal mattress and pillow for your night's sleep!
Trial period is highly important feature when buying a mattress, especially an expensive one. Before you buy a bed in a box, you want to try out that bed in a box. You want to test it's firmness, size and support level as getting a double king super size mattress is not cheap at all. That's where the trial period comes in – you take a mattress to try it for a couple of months before you decide whether you like it or not. For example, Silentnight Studio company offers 60 night, whereas Wilde Elite or Brook Wilde company offers 100 night trial period.  100 nights guarantee 10 weeks of testing and 3 weeks of getting used to the mattress, which is more than enough to see if the mattress suits you. Also, Tempur company offers 3652 nights guarantee, 10 years warranty for their products.
However, all companies that offer the trial period for their bed in a box, mattress, pillow or any other item, in fact guarantee for their products. That's why they offer the trial period in the first place – so you become relieved of a pressure for making a payment. Remember, before you think of a new memory foam pocket mattress, make sure you check the extension of a night trial period, whether it offers 200 nights guarantee, 10 year guarantee or some other period. Don't forget that the all mattresses come in a vacuum packed box and therefore you need to let them "air" a bit before you start using them.
What separates an ordinary mattress from a great one?
This is the most important question for us today. So, what are the thing that makes the mattress a good mattress? The best mattress to buy online has to be comfortable and good for your health. Second, it has to have some additional features that separate it from other mattresses. Will it be a luxurious cover? Nice, cooling gel layer? Or, maybe the fact that it's good on your budget? Whatever it is, it needs to have something "more" that will make us stop and say: "I want that one!" So, let's start with defining the rules by which we are going to pick and evaluate the best mattress options.
This was rather expected, putting the comfort first. But we can't stress this part enough. The mattress that provides you quality comfort also contributes to your health. Good mattress needs to take away all the pressure from your body and to treat you with perfect softness. This means that a comfortable mattress mustn't be too soft. Mattresses that are too soft allow you to sink in and may hurt your back this way. Anyway, the sleeping surface that is too soft doesn't provide the ideal relaxing effect.
So, after comfort, we need to seriously talk about support. All of the top 5 UK mattresses we featured here have 5 stars for support. This feature is not important only for those who have back or neck problems. It is important to have a supportive mattress as a prevention. It's widely known that ill-designed mattresses or unsupportive mattresses can harm your health. They don't just influence your back, shoulders and neck. They influence the quality of your sleep, mood and energy level. Some studies talk about serious correlations between poor sleep and hormones. So, having all this in mind, it's no surprise why we have put the support feature on the important second place. If you're unsure of the kinds of mattresses which are good for you, you can see some differences between them with some memory foam, spring and latex guides we created just for you.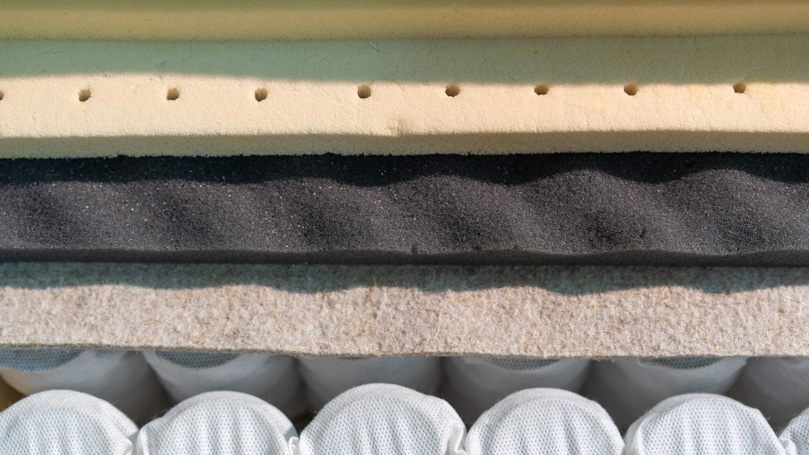 Moving on from supportiveness, we come to another feature that is also directly associated with health. So, besides being good on your bones, muscles and overall body alignment, a mattress needs to be good on your respiratory system and skin, too. Breathability of the mattress plays a very important role in the quality of your sleeping experience. So, the breathability level of the mattress is our third important criteria. Buying a mattress online can be tricky because you never know what to expect, unless you are buying from a known and recognized company. Luckily, we're here to give you all the necessary information so you can be prepared for the trial period.
We have to make sure you also know our criteria for the price-to-quality ratio. Indeed, some of the mattresses that made our list are pricey, but it's for a good reason. We are not going to sugarcoat any of the products in order to promote them, because we care for the health of our readers. If a mattress or a pillow we review is overpriced – we will definitely tell you that. In this case, we really took a lot of factors into consideration, such as the quality of the material, hypoallergenic properties of the materials, sturdiness, support and all of the above mentioned features. The reason we have to tell you this is because it's important to know that buying a new mattress whether it's from a shop or online is a serious investment. You want your mattress to last as long as possible and support your body in a way that it'll promote healthy sleep.
The details that complete the picture
Now, the last criteria will be concerning extra positive features of the mattress that are not directly associated with your health. So, now, we are talking about luxury, not necessities. Things such as: easy maintenance, aches and pains elimination, cooling effect, easy to remove cover, eco-friendliness etc., will all fall into this category.
So, since we are clear about the rules, let's start with our list of top 5 mattresses!
The advantages of owning one of the best mattresses
The advantages of a quality mattress can only be explained in words so much. Until you lie down on a quality mattress, you can't fully appreciate the benefits of sleeping on a quality surface. However, we can try and, frankly, that's what we're going to do.
Arguably the greatest advantage of owning the best mattress is the effect of quality sleep on your mind and body. Once you start waking up rested, without any pain and discomfort whatsoever, you'll find yourself enjoying life like you've never done before. Research has shown a direct correlation between high-quality sleep and general happiness and that's exactly what you get with the best mattress.
Another, often overlooked, advantage of quality mattresses are their hypoallergenic properties. A significant part of the human population suffers from allergies and low-quality mattresses are one of the main culprits. With a quality product – you can forget about allergies!
To sum it all up, here are some of the main advantages of owning the best mattress.
Better Quality Of Sleep
Stress Reduction
Improved Posture
Less Snoring
Pain Relief.
The definition of a pocket-sprung mattress
One of the most popular types are pocket sprung mattresses. Pocket sprung mattresses are defined by their main support layer made from individually nestled pocket springs. Each of these springs are encased in their own "pocket", made from various fabrics. In some other sprung mattresses, these springs don't move as a unit. Each spring moves independently in a pocket sprung mattress, which allows for a greater ease of movement, improved support and comfort, as well as some noticeable pressure relief.
Fully body support
Pressure relief and motion isolation
Durable.
Could become audible over time
Sub-par edge support
Rarely come with a removable cover.
The definition of an open coil mattress
An open coil, otherwise known as standard sprung, is the mattress made of hundreds coils, usually made from high tensile steel. Unlike pocket sprung mattresses, open coil mattresses don't have individual coils or springs. Instead, they're all connected to each other, and they all work as a unit. They're spread through the entire mattress, offering solid support and comfort, as well as some pressure relief. They aren't considered too durable, but if made well, they could last a long time.
Fully body support
Good price to value ratio
Often orthopaedic.
Could become audible over time
Sub-par edge support
Sub-par motion isolation.
The definition of foam mattress
Memory foam mattresses are one of the most popular types of mattresses today. More often than not, you can find two or more types of memory foam in a single mattress, often in the form of mulitple layers of memory foam. Usually, there is a support and a comfort layer. Support layer is usually firmer and made from high-density memory foam, whereas the comfort layer is usually made from softer memory foam.
They're great at relieving pressure and pain, they isolate movement, they offer great support all throughout the mattress, they're good for your back and they're always quite comfortable.
Excellent support
Excellent pressure relief and motion isolation
Very comfortable.
Some off-gassing issues
Slight temperature regulation issues
They can be quite heavy.
The definition of latex mattress
Latex mattresses aren't entirely made of latex. They are usually either a a mattress with a foam layer or a pocket sprung mattress with a durable and supportive latex layer added to the mix. Latex is a natural product, so often, mattress manufacturers combine latex with other natural fillings.
What makes latex mattresses special is that they're eco-friendly, naturally hypoallergenic, easy to take care of and they often last a very long time.
Pressure-relieving and elastic
Naturally hypoallergenic; eco-friendly
Extremely durable.
One of the most expensive types of mattresses
Some people are allergic to latex
Some may find them too firm.
The definition of sprung-memory foam mattress
Nowadays, we can also experience sprung-memory foam mattresses, otherwise known as hybrid mattresses. Combining the excellent support of springs with the comfort and pressure relief of memory foam, hybrid mattresses truly bring us the best of both worlds. Many would agree that they're the best, most complete mattresses you can by. They are often very supportive, as well as comfortable. They offer great pressure and pain relief, as well as great motion isolation. They are also durable and long-lasting.
Excellent support and comfort
Pressure relief and motion isolation
Very durable.
Edge support is a common problem
They might retain heat
They're often more expensive than similar products.
So, the Simba hybrid mattress came out as an absolute winner in this competition. And, no wonder it did! This mattress has it all, the comfort and the support at a reasonable price. Of course, we need to be clear about one thing here. All the mattresses that even made our list are amazing. This list was merely picking the best mattress from the best ones. So, whether you choose Otty, Eve, Simba or Casper you can't go wrong. They are all good for something and have some specialty of their own. Try out the mattresses from our list and see why did they end up on it!
As with any other product, people want to know more than simply how much does a product cost or how good it is. People buy products, mattresses in this case, for various reasons. Therefore, we've decided to briefly go over some of the most frequently asked questions. Here they are.
What is the most comfortable mattress in the UK?
Any of the products we've named in our list could be considered as the most comfortable mattress in the UK – the only difference would be personal preference.
What mattress do chiropractors recommend?
In general, chiropractors recommend either hybrid or latex mattresses, as they offer significant full-body support.
Is it better to sleep on a firm or soft mattress?
Generally speaking, firm mattresses are better, however, if you're sleeping on the side, you might enjoy a softer mattress quite a bit more.
How do I choose a good mattress?
First of all – follow your body. Secondly, you can use our guide to determine which mattress would be best suited to your needs.