OTTY Original Hybrid Mattress Review by The Sleep Advisors
Many would argue that OTTY Original Hybrid mattress is the best mattress on the UK market in terms of price to value ratio. Considering that is a mighty claim, we wanted to test it out and see for ourselves whether that's true or not. Let's start this OTTY hybrid mattress review!
Who is OTTY Original Hybrid mattress for?
Quite frankly, this OTTY mattress is for everyone. However, if we really had to pinpoint a group of people who are most likely to benefit from a mattress such as this one, we'd say that it is people with backaches and other sleep-related pain problems which can really get the most out of this one. Although this is not advertised as an orthopaedic mattress choice, it sure does have a lot of qualities that would put it in that category. Let's jump into OTTY mattress review and find out why this product made his cut.
Add a header to begin generating the table of contents
What do we use this product for?
This OTTY mattress is a mattress that we could use if we wanted to improve our overall sleeping experience. Judging from the nights we've spent with this mattress, we're positive that almost everyone could benefit from this OTTY hybrid– one way or the other.
This is a very comfortable, very supportive mattress at a very competitive price, that will not only have you sleeping like an angel but will also keep you cool during the night. As you might know, hybrids, in most cases, are not really known for being cool and pleasant to sleep on. Thanks to Cool Blue gel memory, OTTY Sleep factory can offer a lot, especially to hot sleepers!
Features you should know about OTTY Original Hybrid mattress
Now, let's take a look at some of the defining features of this OTTY hybrid mattress.
Removable & washable cover
OTTY Hybrid is one of the two OTTY mattresses that come with a removable and machine-washable mattress cover, which is also a top layer. This is a fairly thick, knitted polyester cover (97% polyester and 3% spandex) that is easily removable and machine-washable at 40 degrees.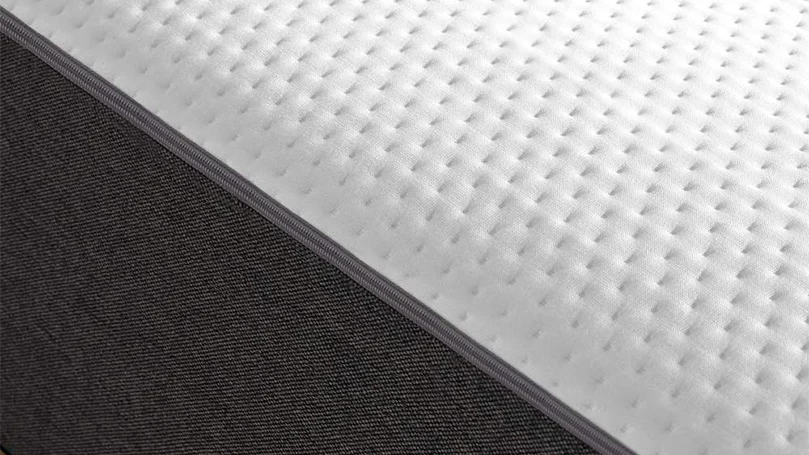 It is also quite flexible and durable, which means you can wash it as often as you'd like. Furthermore, since there is 3% spandex in this mattress cover, it is also resistant to wrinkles and shrinkage. The ideal top layer, in our opinion!
Temperature regulating memory foam
One of the most unique features of OTTY Original Hybrid is temperature-regulating blue memory foam. This blue memory foam is infused with gel, which helps with breathability and overall temperature regulation. Since the gel is infused in memory foam, it increases its responsiveness and helps it dissipate heat in a much more efficient way. Among all hybrid mattresses, this one, with gel memory foam layer, might offer the best cooling properties.
2000 Encapsulated 16cm pocket springs
This mattress also contains up to 2000 individually encapsulated, full-sized, 16 cm tall pocket springs. It is not common for a hybrid to have full-sized springs, but this is precisely what sets OTTY mattress apart from the competition. Each pocket spring moves individually, providing solid bounce and excellent support.
Therefore, a level of support is good and this pocket sprung OTTY mattress is going to be a good choice for sleepers with neck/shoulder pains. Also, they're placed right underneath the Reflex Foam layer, which helps with the smooth transition, as well as the comfort.
The entire mattress is supported by a high-density foam base that stands 4 cm tall. This layer not only brings stability and foundation to the entire mattress, but it also helps keep the pocket springs off the ground, thus extending their life. We could say it is also a base layer.
FIRA and CertiPur certificates
Every mattress from the OTTY catalogue is in accordance with the UK fire and health regulations. To prove that, OTTY Original Hybrid comes with both FIRA and CertiPUR certificates under its belt.
FIRA certificate guarantees that the mattress is fire retardant, and the CertiPUR certificate guarantees that the mattress is free of any harmful chemicals and/or toxins, such as TCPP, parabens or phosphates. Therefore, your sleep experience will be free of any toxic materials.
Review of OTTY Original Hybrid mattress
After reviewing OTTY mattress, we feel like it's safe to say that this might just be the best mattress at this price point. Since it is a combination of springs and foam, it is certainly one of the best hybrid choices you can make at the moment.
OTTY hybrid mattress is remarkably comfortable and supportive, which is to be expected from a hybrid with full-sized pocket springs and several layers of memory foam, both regular and high density. What we were most impressed with is the support you get from this mattress – thanking again partly to pocket sprung structure. Thanks to its Airflow side support layers, this mattress is as comfortable and supportive near the edges as it is in the middle.
Another very strong point of this, and pretty much every other OTTY hybrid, is the remarkable temperature-regulating. This OTTY mattress doesn't get hot and steamy, even during the hottest summer nights. OTTY mattress has really struck gold with their Blue Gel memory foam.
With a mattress this good, at this price point, it is almost rude to talk about the things that are "wrong" with it, but we did find a few minor disadvantages to OTTY Original mattress.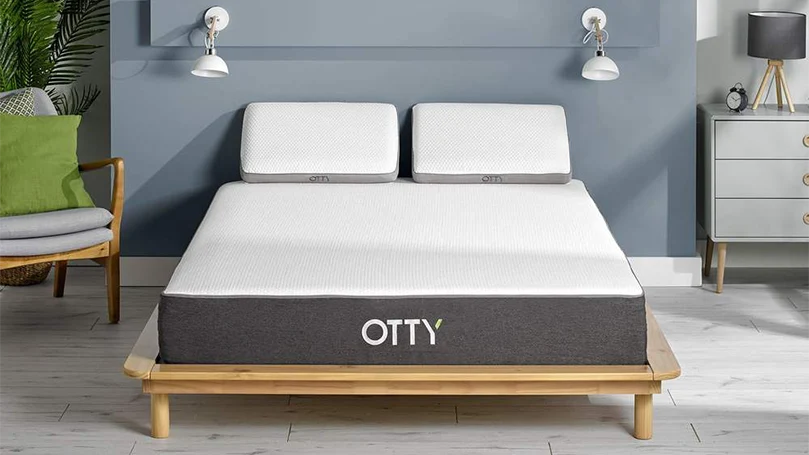 First of all, the lack of handles is somewhat a problem. You do need to rotate the mattress once every six months to help it evenly break in and to avoid voiding the warranty, and the lack of handles makes that task somewhat harder. Memory foam mattresses (though this one is not made 100% of memory foam layer) are often heavier and therefore this might be a slight problem for maneuvering.
Also, we've rated this OTTY mattress as 7.5 out of 10 on the mattress firmness scale, which means it could be too firm for some lightweight side sleepers.
Finally, we have noticed some complaints about the durability of this particular mattress, but in our own experience, we haven't found any reason to be worried about the durability of OTTY Original Hybrid.
Very comfortable and supportive – great for those who need side support
A traditional pocket sprung mattress
Exquisite temperature-regulating properties with Cool Blue Gel memory foam
Removable and washable cover.
It might be too firm for some sleepers due to firm side
No side handles to move mattress directly
Some customers have complained about the durability.
What we like about OTTY Original Hybrid mattress
You probably won't be able to find a more breathable hybrid mattress
Excellent support all throughout the mattress
Motion-transfer free
You can get it in virtually every size.
What we didn't like about OTTY Original Hybrid mattress
It is slightly firmer than a medium-firm mattress which could be a nuisance for some
The lack of side handles makes rotating the mattress somewhat difficult
There have been reports of the mattress sagging after only a year of use.
Check the alternatives to OTTY Original Hybrid mattress
This OTTY mattress review would not be complete without our suggestions for the alternatives. If you don't happen to find OTTY Original Hybrid interesting or appealing, don't worry – we've come prepared. Here are two alternative options for you to consider – Simba Hybrid Luxe and Eve Original Hybrid.
Simba Hybrid Luxe mattress
A Simba Hybrid Luxe is as luxurious as mainstream hybrid mattresses go. Unlike other  memory foam mattress options that often consist of a couple of layers only, this one has 10 different layers.
It comes with a removable cover, it is hypoallergenic, and most importantly – sleeping on it feels like heaven on Earth. All in all, this is a quite similar mattress to our reviewee – only a lot more expensive.
You can check our in-depth review on Simba Hybrid Luxe mattress.
Excellent full-body support and comfort
High quality memory foam mattress

Excellent edge support
Excellent durability.
Sub-par motion isolation
It might be too firm for side sleepers
Very expensive.
Eve Original Hybrid mattress
Eve Original Hybrid is another fairly similar mattress to our reviewee, but with a few minor differences. It is noticeably less firm, making it virtually ideal for everyone.
However, even though it is a bit softer, it is still incredibly comfortable, extremely supportive, and possibly more important – very durable.
If you would like to learn more about this fantastic mattress, we highly recommend you checking out our Eve Original Hybrid mattress review.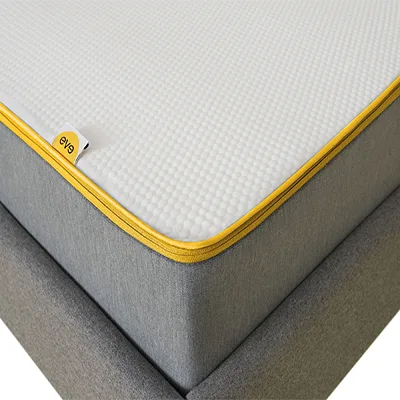 Excellent build and design, top-notch quality
Excellent comfort, support and durability
Removable, hypoallergenic top cover.
Sub-par edge support
Somewhat limited sizing options
Pressure relief could be improved upon.
Consider Panda Luxury Bamboo Memory Foam pillow if you are buying this OTTY mattress
Panda Bamboo Memory Foam pillow is one of the best pillows you can buy and sleep on. It is 12 cm deep, making it perfect for both side and back sleepers. It offers a substantial amount of support for your neck and head, but it isn't too firm or uncomfortable like some other, similar gusset pillows.
Apart from that, it is also quite durable, does a great job of keeping things cool and breathable, and is also vegan and hypoallergenic.
We have a full review on Panda luxury bamboo memory foam pillow so check it out.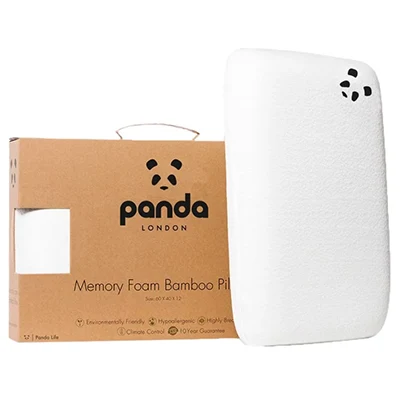 Hypoallergenic
Temperature regulating and breathable
10-year guarantee.
Not good for stomach sleepers.
What makes this product better than some other similar ones?
What makes this OTTY mattress special? Well, we could say excellent support or incredible temperature regulating properties, but in reality – it is all of that and more. Expert reviews praise this product everywhere! OTTY hybrid is truly one of the most complete, all-around, medium-firm hybrid mattresses on the market, and if you manage to get it while it's on sale – there is no way you will be able to get a better value for money mattress anywhere else. The quality of springs is great and it is the perfect choice for a slatted base bed. At the same time, it eliminates the motion transfer problems so you will not get that bouncy effect that can ruin your night's sleep.
How did we test the product?
We have always tried to be as objective as possible when we do our mattress reviews, and that was also the case when we were testing this OTTY hybrid product.
Each of our team members has spent ten nights sleeping on this mattress. During that period, they've written down all of their impressions, and by the time all of us were done with the testing process, we've sat down, compared our notes and drafted up our review.
The first thing we've noticed is that OTTY Original Hybrid fully expands much faster than some other mattresses. Within 6 hours of writing this OTTY mattress review, the mattress was ready to be slept on. What all of us agreed on is that this is truly one of the most comfortable mattresses on the market. It is pleasant around the pressure points, it doesn't sink too much, even if you're a heavy person. It offers excellent support for almost all types of bed frames, regardless of your sleeping position, and it truly excels at keeping things cool and dry all through the night.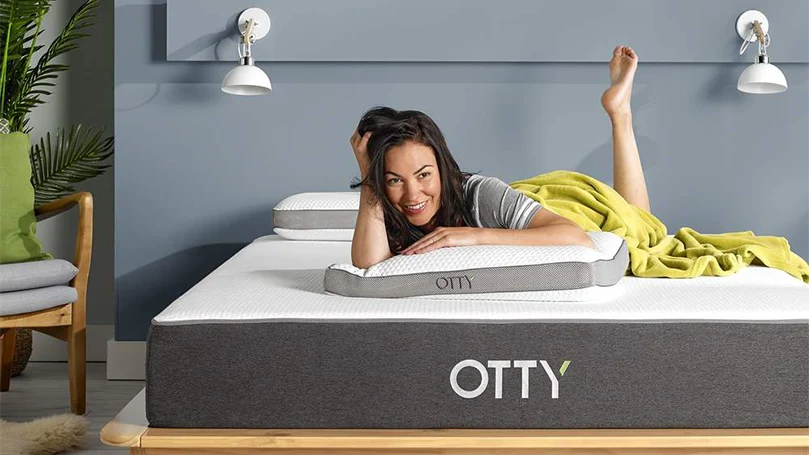 Since we've noticed several complaints about the durability of OTTY mattress, we paid special attention to the mattress during the roller test. Fortunately, we haven't noticed any signs of sinkage as some of the customers have said they have. However, we did notice that OTTY hybrid probably won't last as long as you would've wanted. Realistically, you're looking at about 6 to 7 years, but, at this price point, in our opinion – that's more than enough. Better to change the mattress than a bed base.
FAQs about your OTTY Original Hybrid mattress
In the end, we wanted to end our OTTY hybrid mattress review by answering some of the questions about OTTY hybrid we've found online.
Do I have to buy OTTY bed frame/base to use the OTTY Original Hybrid mattress?
No. You can, but OTTY Original Hybrid will work great with any kind of bed frame or base you might already own.
How do I maintain my OTTY Original Hybrid mattress?
Rotate the mattress once a month for the first six months and then quarterly for the rest of its life. Also, the cover is removable and machine-washable, so you'll be able to keep it clean without any issues.
How firm is this OTTY Hybrid mattress?
We'd rate this OTTY mattress a 7.5 out of 10 on the firmness rating scale.
Does this OTTY Hybrid mattress come in a box?
Yes. Like all other hybrids, this OTTY mattress is a bed-in-a-box.
Is OTTY Original Hybrid mattress good for side sleepers?
Yes. Even though it is on the firmer side, it is still quite good for side sleepers.
Is OTTY Original Hybrid mattress good for back sleepers?
Yes. This OTTY mattress is excellent for back sleepers.
Is OTTY Original Hybrid mattress good for stomach sleepers?
Yes. This OTTY hybrid is perfect for stomach sleepers.
Does this OTTY mattress come with a free trial period?
Yes, it does. In the time of writing this OTTY mattress review, we received 100 night trial period. It means you can try the product for 100 night trial period before purchasing it.
Do OTTY company offers delivery for this product?
Yes, there is the premium delivery included in the price and the product is delivered to your room of choice. There is also old mattress removal option if needed.