Simba Hybrid Essential Mattress Review
Simba is known for their high-quality, award-winning products, so it is always a pleasure when we get to review one. Today, we're going to be looking at the entry-level hybrid mattress from Simba – Simba Hybrid Essential. So, is it as good as their other hybrids? Well, let's find out.
Who is Simba Hybrid Essential for?
Essential Simba Hybrid mattress is advertised as a medium-firm mattress, which it is, to a certain degree. However, sleeping on Simba Essential might not be as comfortable for stomach sleepers as it would be for those sleeping on their back or side. 
Even though this Simba mattress is medium-firm, it leans slightly more towards medium rather than firm. It won't be the ideal pick if you want to get more support for your neck, shoulders or hips.
Add a header to begin generating the table of contents
What do we use this product for?
As is the case with any other Simba mattress, we'd use this one to get a good night's sleep. As simple as that.
The mix of Aerocoil pocket springs and Simba's own patented memory foam layers is what we'd call a perfect match. This mixture is what allows for a comfortable, pressure-relieving sleep surface that we feel like a lot of people might enjoy. In general, this product is ideal if you:
Want a medium-firm mattress
Want a breathable and cooling mattress
Want a protection against dust mites and bacteria 
Don't need additional support for your pressure reliving points.
Features you should know about Simba Hybrid Essential
As you already know, every mattress has its own set of defining features and characteristics, and this Simba mattress is not different. Let's talk a little bit about them.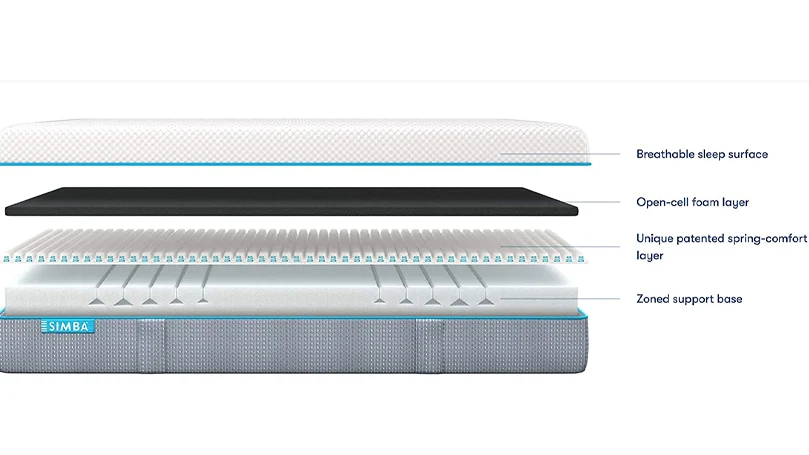 1500 Simba Aerocoil springs with titanium alloy
Aerocoil comfort layer is Simba's own patented pocket springs technology that is the base for all of their hybrid mattresses. When it comes to this one, in particular, when can count up to 1500 individually nestled titanium-alloy mini pocket springs used to bring both comfort and support to Simba Hybrid Essential.
These pocket springs come in handy at drawing away the excess heat trapped by the memory foam by improving the airflow and breathability of the mattress.
Another way in which Simba achieves a cooling sensation from their hybrid mattresses is by incorporating Simbatex cooling layer.
In its essence, Simbatex is an open-cell memory foam active cooling layer that lets the warm air escape, leaving you sleeping as cool and as comfortable as possible.
Unlike regular memory foam, open-cell foam has more "air bubbles" to allow for easier warm air distribution and temperature regulation. That is essentially how Simbatex cooling layer works.
Spring & foam combination
As we've said in the beginning, this Simba's hybrids are a wonderful combination of spring and foam, and that includes this one.
By putting these two together, you get the best of both worlds. By combining these layers, you get to experience the supportive nature of a foam mattress and the breathable nature of the pocket springs' one.
To top all of that off, you also get improved edge support, pain and pressure relief, motion isolation, and so much more.
Hypoallergenic knitted cover
This Simba mattress is encased in a hypoallergenic knitted cover to ensure a great sleeping experience. This breathable sleep surface is not only soft and comfortable, but its hypoallergenic properties will help you fight off dust mites, bacteria and other allergens that could disturb your good night's sleep.
Unfortunately, the cover is not removable or machine-washable. Luckily, the cover is very high-quality and durable, but even then, we'd advise using a mattress protector to ensure it lasts longer.
Breathable & hypoallergenic
Latex's open cell structure is made up of millions of interconnecting microscopic air bubbles, ensuring unparalleled temperature regulation and breathability. Millions of air bubbles will quickly absorb all the excess heat and have you sleeping cool in no time.
Furthermore, latex is naturally anti-allergenic, anti-microbial and anti-bacterial, and paired with Actipro technology – this mattress is made completely hypoallergenic and safe to use.
From top to bottom, this Simba hybrid mattress is made from the following layers – hypoallergenic cover, Simbatex active cooling layer, Aerocoil pocket springs comfort layer and zoned, memory foam support base.
The zoned support base is a foam layer strategically cut to ensure the most comfortable sleeping experience and improve pressure and pain relief around the core areas like shoulders. This alone makes this Simba Hybrid mattress a great option for all who like to sleep on our side.
Furthermore, because of the symmetrical comfort zones of the supportive foam layer, this Simba hybrid mattress does not need to be flipped or turned – only rotated from head to toe.
Suitable to all bed frames
If you want a highly compatible mattress – Simba Hybrid Essential has got you covered. Due to its finely crafted supportive base, as well as the wide variety of available sizes, this Simba mattress will fit virtually all bed frames, regardless of their base or size.
This Simba mattress will work on both slatted and firm bed bases, without any noticeable difference in support, firmness or comfort.
As far sizes go, you can get this Simba mattress in a UK Single, UK Double, UK Small Double, UK King and UK Super King size. On top of that, you can also get this mattress in EU Single, EU Large Double and EU Queen.
Review of Simba Hybrid Essential
Now, let's review this mattress!
Let us start by saying that this mattress was everything we'd expect Simba Hybrid mattress to be. It's comfortable, reasonably supportive, offers great motion isolation, doesn't sink, doesn't have edge support problems and is very durable. Springs were completely silent, which was to be expected from patented Aerocoil mini springs, and the foam base felt very comfortable and adequately supportive.
The soft, hypoallergenic cover was quite pleasant to lie on, although we did use sheets, which we recommend you do, as well.
All in all, sleeping on the Simba Essential mattress was quite pleasant for us.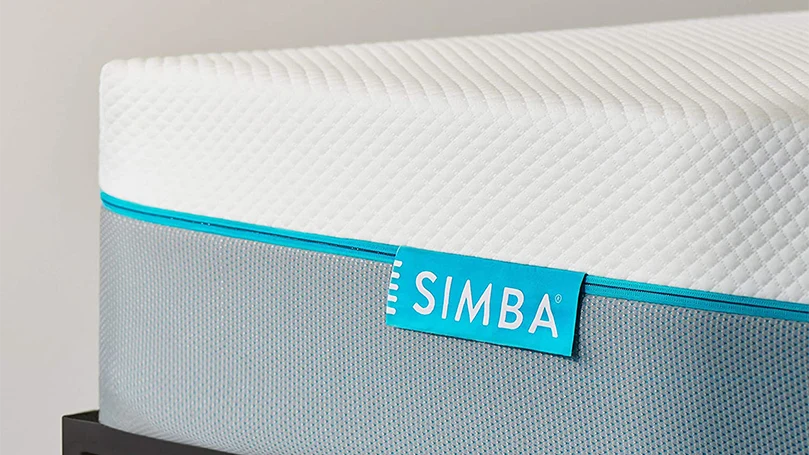 As is the case with any other Simba mattress, Simba grants you a 10-year guarantee on this product, as well as a lengthy trial period. When you purchase this one, you get a 200-night trial that you can use to test this mattress out. If you don't happen to like it, you can return it, free of charge, and get yourself a full refund.
However, this Simba Hybrid mattress isn't flawless. Despite Simba's best efforts, Simba Essential does manage to get a bit hotter than the rest of their hybrid lineup and is more in terms of a foam mattress.
Also, not having a removable cover is not something we like to see these days, but we guess we could live with this one.
Type: Hybrid
Firmness: 5.5/10
Thickness: 20cm
Size: UK Single, UK Double, UK Small Double, UK King, UK Super King size + EU Single, EU Large Double, EU Queen.
Very comfortable
Anti-allergenic
Very durable.
Not the most supportive or firm enough if you prefer to sleep on your stomach
Non-removable cover
Not the most breathable mattress on the market.
What we like about Simba Hybrid Essential
An abundance of sizes makes this one fitting for virtually every bed frame out there
A 10-year guarantee, a 200-night testing period and a possibility of a full refund make this one a worthy investment
It is a very durable mattress that could very well serve you for 10 years.
What we didn't like about Simba Hybrid Essential
Despite being a hybrid, this one is not too cool or breathable, and it might get quite toasty on a hot summer night
We would've liked to see side handles for easier rotating
As is the case with every Simba mattress, the price point may be a bit too high for some customers.
Check the alternatives to Simba Hybrid Essential
If this Simba Hybrid mattress isn't cutting it for you, and you need to choose another mattress to fit your needs- we've prepared a few pocket spring/foam alternative picks for you.
Without a doubt, Luxe is the best mattress Simba has to offer.
10 layers of unparalleled comfort and support
are what this Simba mattress brings to the table. The luxe design also provides the luxe sleeping experience. Equipped with
up to 6000 individually nested pocket springs
, Simba Hybrid Luxe is guaranteed to transform your sleep in more ways than one. 
The top line of mattresses from Simba Sleep company that you don't want to miss!
Do check our Simba Hybrid Luxe review.
Excellent full-body support and comfort
Excellent edge support
Excellent durability.
Average motion isolation
It might be too firm for side sleepers
Too expensive for an average customer.
A step underneath the Luxe Simba mattress, Hybrid Pro is like an older brother to the Essential hybrid. This medium-firm hybrid is everything that our reviewee is – only better. You can feel the difference right after you lay down on it and check how firm it is. 
It's anti-allergenic, comfortable, has up to 5000 individual pocket springs, offers great full-body support, and is noticeably more cool than the Essential Simba mattress.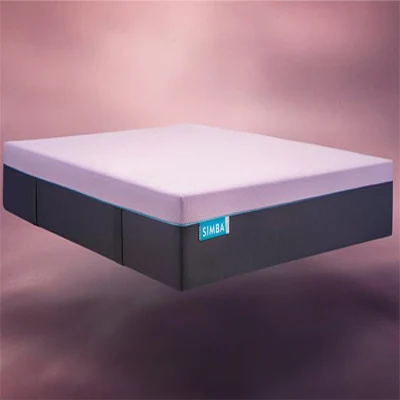 Very comfortable and supportive
Available in a variety of sizes
It is very durable.
Motion isolation could be better
Non-removable cover
Too expensive for an average customer.
Consider Simba Hybrid Pillow if you are buying Simba Hybrid Essential mattress
Simba's own Hybrid pillow is a great match for any Simba mattress, so if you do decide to purchase our reviewee – consider adding this pillow to the shopping cart, as well.
Filled with Nanocubes, this memory foam pillow is a great choice if you're struggling with neck pain. Pair that up with the active temperature-regulating Stratos cover, and you'll get a pillow that will provide you with the best sleep of your life.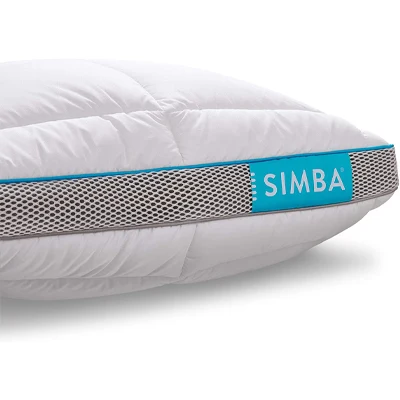 Cool and breathable
Very durable and long-lasting due to a lot of spare Nanocubes
It offers great neck support.
Too thick for stomach sleepers when fully filled
It could be a bit more comfortable
Too firm when fully filled.
What makes this product better than some other similar ones?
As far as we're concerned, the strongest point of this Simba mattress is its durability and longevity. With proper care and maintenance, we are confident that you could get around 10 years worth of night sleep out of this mattress, which is quite fitting considering the 10-year warranty you get when you purchase this vacuum-packed hybrid mattress from Simba.
How did we test the product?
To test this product, we first had to order it. Simba made this one an Amazon and eBay exclusive, so thank's to Amazon Prime, we had the fortune of next-day delivery – free of charge.
Our new mattress came in a box – rolled and vacuum-packed. It took about half a day for it to fully expand, and once that happened, we've placed it on a bed and began our testing.
Each of our team members had 10-nights to spend with the mattress, as is always the case with our mattress reviews. What all of us agreed on right away is that this was one of the most comfortable mattresses we've had the pleasure to sleep on, despite being a bit too soft for the stomach sleepers. As far as firmness goes, we'd rate this one as a medium-firm mattress – a 5.5 out of 10 on the firmness scale.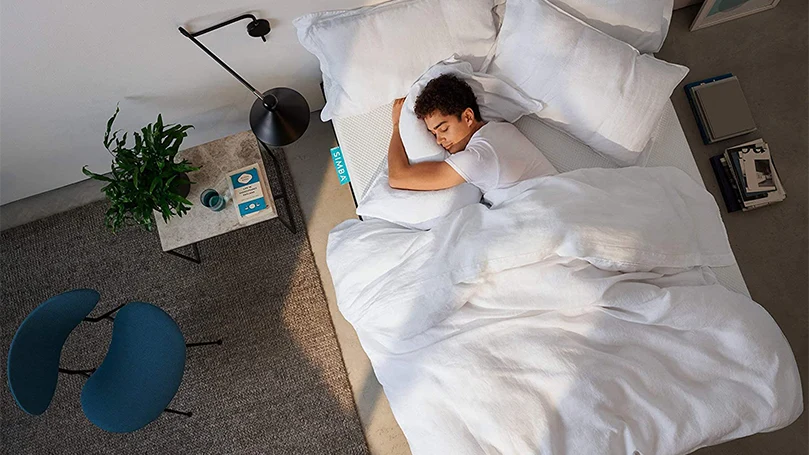 To test its durability, we've put Simba Essential through a number of tests, starting with the roller test. As expected, the mattress passed the test with flying colours, as all the other Simba mattresses did. It is safe to say that you'll be sleeping on this one for a number of years.
All in all, this is not the best mattress money can buy, but we're sure many people will comfortably sleep on Simba Essential.
FAQs about your Simba Hybrid Essential mattress
In the end, let us answer a few questions about this hybrid mattress.
How much does weigh Simba Hybrid Essential?
Simba Essential weighs 27 kg and is 20 cm deep.
What type of sleepers should use Simba Hybrid Essential mattress?
This mattress would be most comfortable for people that like to sleep on their side or back.
How do I clean my Simba Hybrid Essential mattress?
This mattress does not come with a removable cover, so you can clean it by vacuuming or wiping it with a damp cloth.
Does Simba Hybrid Essential mattress come with a warranty?
Yes. You get a 10-year warranty with this mattress.
Does Simba Hybrid Essential mattress have a night trial period?
Yes. You get a 200-day trial period when you purchase this mattress.