10 Best Orthopedic Mattress Picks UK: Enjoy Neck, Back & Joint Pain Relief 2022
What if we told you that you no longer have to wake up in pain? Well, with these 5 orthopedic mattresses – that might just be true. Pick the best orthopaedic mattress UK market offers and sleep painless!
Finding the best mattress can be quite overwhelming, especially if you're struggling with sleep-related pain. It's not uncommon for people that sleep on low-quality mattresses to experience lower and upper back pain, hip pain, shoulder pain and so on.
If you belong to this group of people – first of all, we hope you get better. Secondly, we believe we can help you.
More often than not, aching back, neck or hips is due to bad alignment during sleep and the only culprit is the mattress you're sleeping on. 
Because of that, we've set out to test and find out, which one of the UK's most popular mattresses can take the crown of the best orthopaedic mattress. Here's what we've found out!
IMAGE
PRODUCT
DETAILS

KEY FEATURES:

Type:

Hybrid

Thickness:

31cm

Firmness:

6.5/10

View Latest Price

KEY FEATURES:

Type:

Foam

Thickness:

18cm

Firmness:

6/10

View Latest Price

KEY FEATURES:

Type:

Innerspring

Thickness:

28cm

Firmness:

5.5, 6.5 or 7.5/10

View Latest Price

BEST FOR LOWER BACK & HIP PAIN

BEST FOR LOWER BACK & HIP PAIN

KEY FEATURES:

Type:

foam

Thickness:

20cm

Firmness:

6/10

View Latest Price

KEY FEATURES:

Type:

gel foam

Thickness:

22cm

Firmness:

6.5/10

View Latest Price

KEY FEATURES:

Type:

Innerspring

Thickness:

39cm

Firmness:

8/10

View Latest Price

KEY FEATURES:

Type:

Pocket sprung

Thickness:

25.5cm

Firmness:

8/10

View Latest Price

KEY FEATURES:

Type:

Hybrid

Thickness:

25cm

Firmness:

6.5/10

View Latest Price

KEY FEATURES:

Type:

Hybrid

Thickness:

25cm

Firmness:

7.5/10

View Latest Price

KEY FEATURES:

Type:

Hybrid

Thickness:

25cm

Firmness:

6.5/10

View Latest Price
Finally, we've come to the most important part of the article – our best orthopedic mattress picks. Before we begin, we must say that all of these are great at what they do and we're positive at least one of them will do a great job at easing your pain. On that note, let's check out our top 5 UK's orthopaedic mattresses!
BEST OVERALL: Simba Hybrid Luxe Mattress
If you're looking for the best of the best – look no further!
If you're looking for the ultimate experience when it comes to pressure and pain relief – Simba Hybrid Luxe has you covered. Once you lay your body onto these 10 layers, you'll forget other mattresses even exist.
This one is by far the most advanced orthopaedic mattresses we've tested and it's almost impossible to find anything wrong with this one. it has 10 layers for the ultimate sleeping and relaxing experience. 
It boasts Simba's Aerocoil hybrid technology that keeps you supported, comfortable and cool – all at the same time.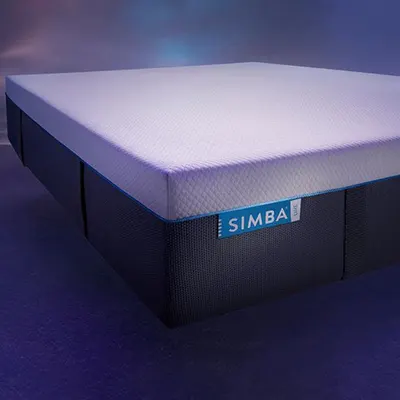 Impeccable support due to Simba-Pure layer with edge support
10 layers for incredible comfort and weight distribution
Great for pain and pressure relief.
May be more expensive than some other products in this category
Might be too soft for some heavy sleepers.
BEST VALUE: Emma Essential Mattress
Essential(y) – it doesn't get much better than this when it comes to value for money!
Emma Essential is made from heavenly comfortable memory foam so you can be certain that your body will thank you for it. When it comes to pressure relief – it doesn't get much better than this. You get 2 layers of memory foam – one for support and the other one for comfort.
On top of all that, you get 7 zones of support that evenly distribute weight and offer pressure and pain relief. Additionally, even though we're talking about a memory foam mattress, Emma Essential is made from quality foams so you can be certain you won't get hot during the night.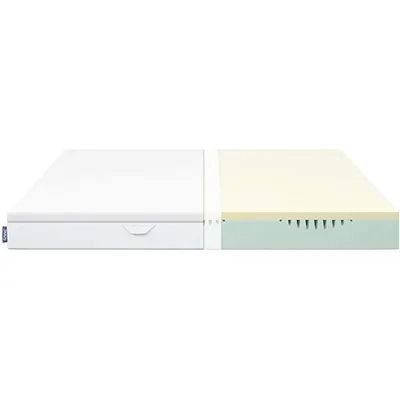 7 zone support for ultimate comfort and pressure relief
Very cool and breathable
Fantastic support and motion isolation.
Some find it too thin
Memory foam smell tends to linger for a few days.
BEST LUXURY: Winston's Finest Pure Wool 11500 Pillow Top Mattress
If you prefer the finer things in life – you're going to love this mattress!
Like we've said, an orthopaedic mattress does not have to be made from foam to be good. An innerspring mattress can also come in quite handy if you're in need of spinal support and some additional firmness.
 Winston's Finest 11,500 pillow top model will provide you with just that. Great support and comfort come from 11,5000 individual coils, gently tucked in between layers of natural wool and cotton.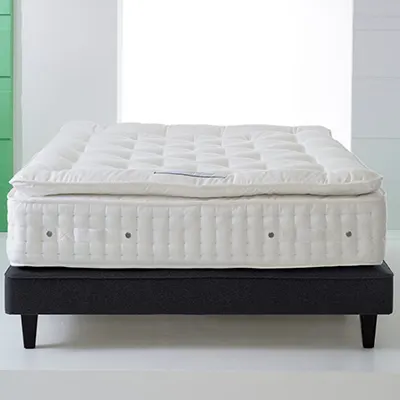 Great, full-body support due to 11,500 individual coils
Comfortable
Great weight distribution.
May be more expensive than some other products in this category
Not the greatest pick for pain relief and motion isolation.
BEST FOR LOWER BACK & HIP PAIN: Silentnight 7 Zone Memory Foam Rolled Mattress
If you'd like to forget about the pain in the lower back & hips – try this one out!
Silentnight 7 Zone memory foam mattress is one of the most comfortable orthopaedic mattresses on the market. Not only is it made from the highest-quality memory foam that will make you feel like you're sleeping on a cloud, but it also comes with 7 zones of support so you can be certain that each part of your body will enjoy the finest treatment. 
Naturally, like every orthopaedic mattress on our list, aside from pain and pressure relief, this one also provides you with substantial support for a foam mattress, while also being hypoallergenic on top of all of that.
Check our Silentnight 7 Zone mattress review for more information.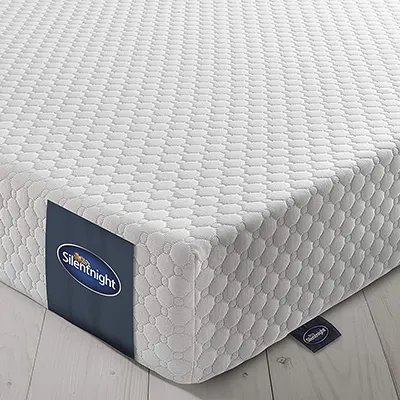 Great weight distribution and pressure relief due to 7 support zones
Remarkably comfortable
Hypoallergenic
Some may find it too thin
Could get warm during summer nights
BEST GEL MEMORY FOAM: Inofia Gel Memory Foam Mattress
If you want the contouring feeling, but you still like to sleep cool – this gel mattress is the one for you!
For our final pick, we've gone with Inofia gel memory foam mattress. This one combines all of the best features an orthopaedic mattress has to offer.
It's cool and breathable, it offers more than solid support due to 3-layer all-foam system and to say that it's comfortable would be an understatement.
When it comes to pain and pressure relief, Inofia gel mattress really does a splendid job.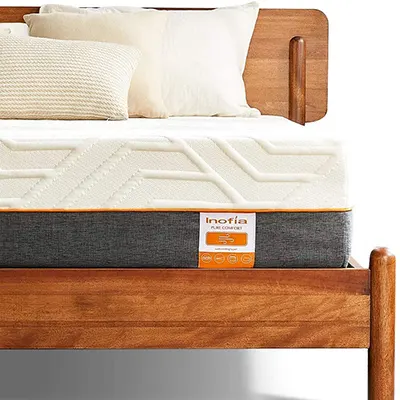 Wonderfully comfortable
Great support and motion isolation due to 3 layers of foam
One of the best mattresses at dissipating body heat.
Memory foam smell tends to linger for a few days
Might be too soft for some heavy sleepers.
BEST FOR BACK SLEEPERS: Silentnight Eco Comfort Miracoil Ortho Mattress
An affordable, orthopaedic mattress!
The miracle of the new, improved Silentnight Miracoil is a zoned spring system which constantly adjusts to your body's movements, providing you with support and comfort. Also, you'll get a generous layer of comfortable, sustainable fibres acting as a comfort layer, providing you with a bit of pressure relief.
With the spinal support you get from the Silentnight Miracoil, you can easily enhance your sleep, reduce back aches and pains, while also keeping you cool and dry all through the night.
The mattress is quite firm, so it should be a pretty good match for back and front sleepers. Side sleepers, on the other hand, might want to look for something a tad bit softer, or get themselves a topper.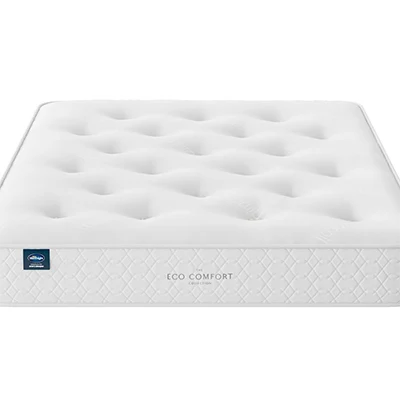 Great for stomach sleepers

Supportive and responsive

Excellent value for money.
Too firm for side sleepers

Motion isolation could be better

Some edge-support issues.
BEST FOR HEAVY SLEEPERS: Rest Assured Adleborough 1400
You can rest assured that the Rest Assured will hold you down as you sleep – no matter how big and burly you are. 
One of the many features of the Rest Assured Adleborough 1400 Pocket Ortho mattress is that it's designed for heavier sleepers and those in need of extra support. As an orthopaedic mattress, this one's rated firm, so you can be certain that you'll get to experience some next-level support with this one.
With that being said, side sleepers probably won't have a fun time with this one, as the Adleborough 1400 offers little to no contouring and pressure relief. It will keep your spine aligned only if you sleep on your front or back.
However, what it will do is keep you cosy and cool all through the night, which is rare quality in mattresses these days.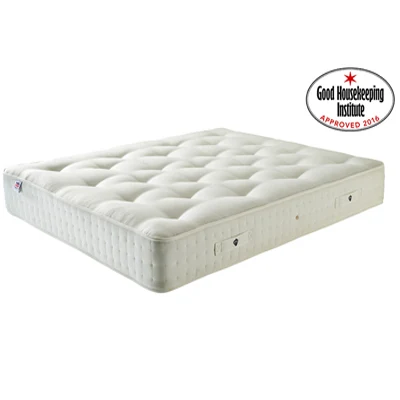 ideal for heavy and stomach sleepers

Very supportive

Cool and breathable

Hypoallergenic.
Too firm for side sleepers

Motion isolation needs improvement

Durability and longevity concerns

No removable cover.
BEST ALL AROUND: Eve Original Hybrid Mattress
A solid choice for all kinds of sleepers! 
If you were ever wondering if there was a mattress that could satisfy anyone, well, this one could come close. Eve Original Hybrid is not your typical orthopaedic mattress. In fact, it's noticeably less firm than your average orthopaedic mattress.
However, this one excels at being a good fit for a lot of people, and seeing how there are many lightweight sleepers that would find this one firm – we guess you could say this one can pass as an orthopaedic mattress for some sleepers.
Overall, this is a solid mattress. It is comfortable and supportive, which is essential. But also, the Original Hybrid is also long-lasting and durable, which is a major bonus for a mid-range mattress such as this one. All in all – a good, well-rounded mattress.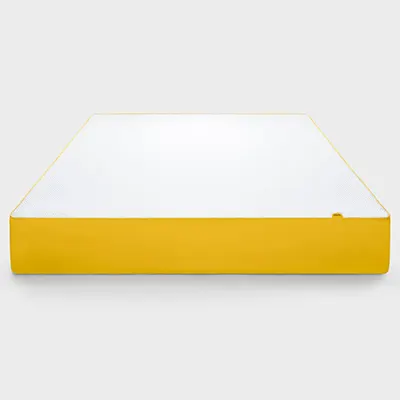 Suitable for all kinds of sleepers

Excellent comfort, support and durability

Removable, hypoallergenic top cover.
Sub-par edge support

improvement

It could be a bit better at alleviating pressure.
BEST COOLING: OTTY Original Hybrid Mattress
One of the best hybrids on the UK market! 
OTTY Original Hybrid might just be one of the best mattresses ever made. Brilliant combination of foam and springs make this one both very supportive and very comfortable. This mattress is on the firmer side of the medium-firm mattresses, rated at 7.5 out of 10, making it pretty much ideal for a versatile orthopaedic mattress.
On top of it all, the OTTY Original Hybrid is also brilliantly cool and breathable – especially for a mattress with so much memory foam.
Pressure relief and motion isolation are also on a very high level with this one.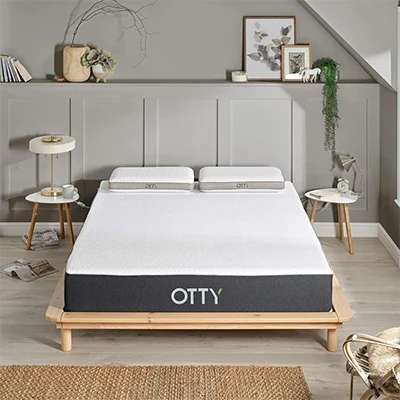 Very comfortable and supportive – great for those who need side support
Exquisite temperature-regulating properties

Removable and washable cover.
No side handles to move mattress directly

Some customers have complained about the durability.
BEST HYPOALLERGENIC: OTTY Pure Plus Bamboo & Charcoal Mattress
Top ortho-hypoallergenic mattress!
Let us just start by saying that this one is not your everyday orthopaedic mattress. It's softer, noticeably, but when you factor in the support you get out of this medium-firm frame – you can't just ignore this mattress, whatever the category. Its ingenious construction makes it so that almost anyone can just lie down, fall asleep, and wake up rested – any place, any time. In addition – it is hypoallergenic.
OTTY Pure Plus Bamboo & Charcoal will perfectly contour alongside your every curve, keeping your whole body and spine perfectly aligned no matter the position you sleep in.
What it will also do is minimize motion transfer to a point where you can leave your cup of tea on one side of the bed, jump on the other, and not spill a drop. 
Here is our OTTY Pure Plus Bamboo & Charcoal mattress review.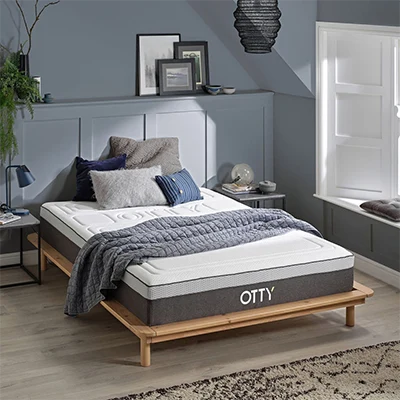 Very comfortable and supportive

Excellent temperature regulation

Hypoallergenic.
Lack of side handles

No removable cover durability

Minor off-gassing.
What to consider when buying best orthopedic mattress
First and foremost, when you're trying to find the best orthopedic mattress – it's important to realize what you're looking for. Identifying the key features of a mattress will help you find the one that matches your perfectly. When it comes to orthopedic mattresses, you have to consider the type of mattress, how supportive it is, does it do a good job of relieving pressure and so on. On that note, here's what you have to pay attention to.
As you already know, you can choose between innerspring, memory foam, hybrid and latex mattresses. However, you should consider another type of mattress if you're looking for something that's great for pressure and pain relief and that is a gel memory foam mattress.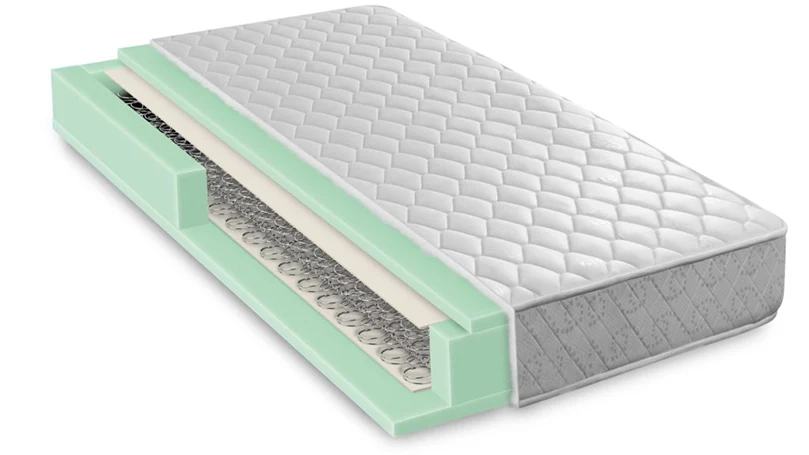 As far as orthopedic mattresses go, your best options are regular hybrid, memory foam and gel memory foam mattresses as they provide the best balance of comfort, support and pressure relief.
Gel memory foam is quite similar to regular memory foam. It still does an awesome job contouring the body and relieving pressure points, but what it also does really well, is keep the body cool during the night, due to the gel infusions.
Depending on your sleep position, you'll require different levels of firmness and support to properly enjoy yourself once you go to sleep. As far as orthopaedic mattresses go, it's important to strike that perfect balance between firmness and support, so you keep your body properly aligned as you lie down.
Also, you have to make sure the mattress isn't too firm, because you'll need some pressure and pain relief as well. You can do that by finding a mattress with several support zones. We'd recommend going for a medium-firm mattress, the one with zone support properties, as that offers a perfect balance between support and comfort.
Those who suffer from chronic pain, especially the pain in the hip or shoulder area, can greatly benefit from a plus, pressure and pain-relieving mattresses. In most cases, the hip and shoulder pain are caused by improper support and lousy weight distribution.
A lot of things will affect the mattresses' ability to relieve pressure. First of all, the firmness of the mattress is really important, as we've already mentioned. Secondly, zoned support is crucial if you want to alleviate pain in certain parts of the body. A good hybrid or a memory foam mattress will certainly be your best bet if you're looking for the ultimate pressure relief.
The type of mattress you need will be heavily influenced by your sleeping position. Not everyone sleeps in the same position – as you are aware. Some people sleep on their stomachs, others on their backs, some like to lie on their side and of course, there are those restless sleepers that switch sleeping positions during the night.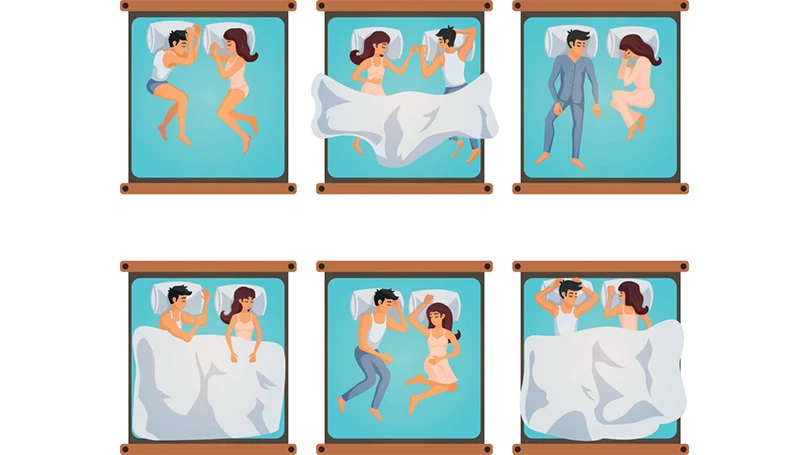 This is important to consider when choosing a mattress because, depending on how you sleep, your mattress should keep your body properly aligned and supported, which is key when it comes to pain relief. For example, stomach sleepers prefer firm mattresses, while side sleepers prefer softer mattresses. It all comes down to good alignment and optimum support in key areas such as the hips and shoulders if you want to get rid of the annoying pain.
The edge support of a mattress is very important when it comes to orthopaedic mattresses. Edge support, in essence, refers to the amount of resistance offered around the mattress's edges. If you'd like, think of it as a mattress frame of sorts, because that's what it actually is. The frame of the mattress is made stronger with additional coils or other types of layers to prevent sinking and to keep you on the mattress at all times.
The main goal of the edge support is to, well, provide extra support. This is particularly crucial if you are a restless sleeper who tosses and turns at night. Edge support is essential for pain relief because it keeps you on the main portion of the mattress, where you can experience the most benefits of zone support or other important features.
Another important feature to look for in an orthopaedic mattress is the motion isolation. In general, most memory foam, gel foam or hybrid mattresses are great at motion isolation, as they're not quite as bouncy as innerspring mattresses are. This can come quite in handy if you're sleeping with a partner who's a restless sleeper.
A great motion isolating mattress will keep you sound asleep as you won't be bothered by the constant movement of your partner. This also comes in handy if you're the one that moves around, as motion isolation not only absorbs movement, but it helps keep you in place, as well.
Your doctor will know your condition and therefore it is highly advised to visit your doctor regularly. Whenever you have a new pain, you feel an improvement/less pain, report that to the doctor. Based on your condition and current state, the doctor might be able to determine whether, for example, you should go for a firmer or softer mattress – or how to find your best orthopedic mattresses. Any change or pain you feel has to be reported as it is crucial for your recovery and proper treatment. 
How does the best orthopaedic mattress can help you?
Now that you know which of the mattresses are best for pain relief, let us take a closer look at some of the advantages these mattresses bring to the table.
First of all, sleeping on a quality mattress improves the overall quality of life and eliminates any pain that you might experience. Waking up without pain will make sure you enter the day with a smile on your face. Being in pain and feeling grumpy, on the other hand, will only bring you down and affect your life negatively .
Additionally, many people have reported, they have gotten rid of chronic back pain, simply by switching up the mattress they sleep on. Even in instances where the pain wasn't due to a bad mattress, a quality mattress managed to help.
Finally, a great orthopaedic mattress can help you recover a lot better and faster. If you're an athlete, for instance, your body needs quality rest if you plan on recovering and going back to training. Also, properly relaxing your muscles and joints can prevent injuries in a major way.
Improves overall quality of life
Helps with chronic pain
Better recovery and injury prevention.
Tips for buying and using best orthopaedic mattress
Now that we've gone over some of the key features of the best orthopedic mattress, we thought it would be good to give you some additional tips on how to reduce your aches and pains.
For starters, an orthopaedic mattress does not necessarily need to be soft or medium firm. Even though pressure relief is important, sometimes the pain is caused by improper spinal alignment, so you could benefit from a firmer mattress, innerspring or a latex mattress. This is especially true if you're a stomach sleeper. Still, a supportive mattress that suits your sleeping position is going to be the best pick for you – so take it consideration.
What we've found out during our testing is that most of these mattresses work really well with a great pillow. That way, you can be sure that none of your body will hurt in the morning ever again.
Finally, a great orthopaedic mattress must be great at weight distribution. If the mattress can't do a good job of distributing your body weight, you're going to end up in even more pain than before.
Orthopaedic mattress can be firm
Mix with a great pillow for ultimate comfort
Weight distribution is very important for an orthopaedic mattress.
5 Extra tips for making your back/joint paint bearable
Back/joint pain is something truly inconvenient and some people simply look for ways to make it bearable while they're trying to live the normal life. While the best thing to do is to visit a professional chiropractic or doctor, to check about your pain or condition, there are a few things you can do to make this pain bearable. Of course, if your pain does not go away or becomes even worse, make sure that you visit doctor.
Keep the good posture all the time
One of the key things for making your joint/back/shoulder pain bearable is to keep your spine aligned. Make sure that you keep your spine aligned during your everyday activities like sleeping, walking or sitting
A physical activity helps you to maintain a healthy body and healthy lifestyle. Make sure you have enough physical activity during the day – this can be a simple 30 minute walk, an extensive workout session or yoga session.
Avoid resting in bed whenever you can
One of the things you should avoid at all costs is staying in the bed (except when you want to sleep). Try to spend time in bed only when you sleep through the night. If you plan to watch a movie at home, sit in an arm chair instead you would lay down in your bed.
Keep feet-shoulder-width apart
This is super important as this is a proper and good way to ensure yourself a healthy posture. Whenever you are awake, make sure you keep feet-shoulder width ratio as this is highly important during day-to-day activities.
Roll your shoulder back and forth
This easy and quick exercise is highly valuable that you can do anytime and anywhere. It does not take you much of your time, while it boosts your body tremendously and helps your (neck) muscles from becoming stiff.
FAQs about your new orthopedic mattress
Finally, we thought it would be wise to answer a couple of questions that people seem to ask quite often. Knowing the answer to some of these questions could help you make the best possible decision when the shopping time comes. Let's check out our answers.
What makes orthopedic mattress "orthopedic"?
Orthopedic mattresses have a specific goal in their design - to alleviate the pain and relieve pressure points, while giving an adequate spinal support. The majority have higher level of firmness that lead to more support, which is exactly what orthopedic experts recommend.
Can I treat my back pain issues with an orthopedic mattress?
Yes, you can. Just make sure you find the right firmness/support-comfort ratio so you enjoy your night's sleep.
What type of mattress is most recommended by chiropractors?
Chiropractors will regularly recommend latex mattresses as they then to offer great spinal support.
Why should I opt for an orthopaedic mattress?
If you're having trouble with chronic pain, you should definitely give an orthopaedic mattress a try. It will alleviate your pain and make it more bearable, unless it eliminates the pain entirely.
Are orthopaedic mattresses the same as the regular mattresses?
Not quite. Orthopaedic mattresses are specially designed to relieve, alleviate and prevent pain.