Rest Assured Adleborough 1400 Pocket Ortho Mattress Review
If you are looking for a mattress with orthopaedic support, and one that can handle a heavier sleeper, Rest Assured Adleborough 1400 Pocket Ortho mattress might just be what you're looking for. Will this mattress live up to its expectations, or will it fail – we're about to find out.
Who is Rest Assured Adleborough 1400 Pocket Ortho mattress for?
Rest Assured Adleborough 1400 Pocket Ortho mattress is specially designed for heavier sleepers and the ones in need of extra support. As an orthopaedic mattress, this one is rated as firm, and we'd agree with that assessment.
As such, this mattress is ideal for front and heavy sleepers, although we can't see why back sleepers wouldn't be able to enjoy this one as well. Side sleepers, on the other hand, will almost certainly find this one too firm and uncomfortable, so if you prefer sleeping on your side – this one is not for you.
Also, couples that like to cuddle and spoon will probably want to look at some other, softer Rest Assured mattresses.
Everyone else – feel free to test this one out.
Add a header to begin generating the table of contents
What do we use this product for?
As is the case with almost every mattress offering orthopaedic support, the Rest Assured Adleborough is ideal for alleviating pain by providing sufficient support, all while being comfortable at the same time.
Now, comfort is subjective, we know that, but seeing how most heavy and front sleepers look for something firm – it's safe to say they will find this one comfortable.
With all that being said, we can:
Use this mattress to get a great night's sleep
Use it to help alleviate back pain
Use it to provide optimum back support for heavy sleepers
Use it to receive personalised support due to pocket springs
Use it to help with post-surgical recovery
Use it to help keep dust mites at bay.
Features you should know about Rest Assured Adleborough 1400 Pocket Ortho mattress
Now, let's take a look at what makes this mattress special.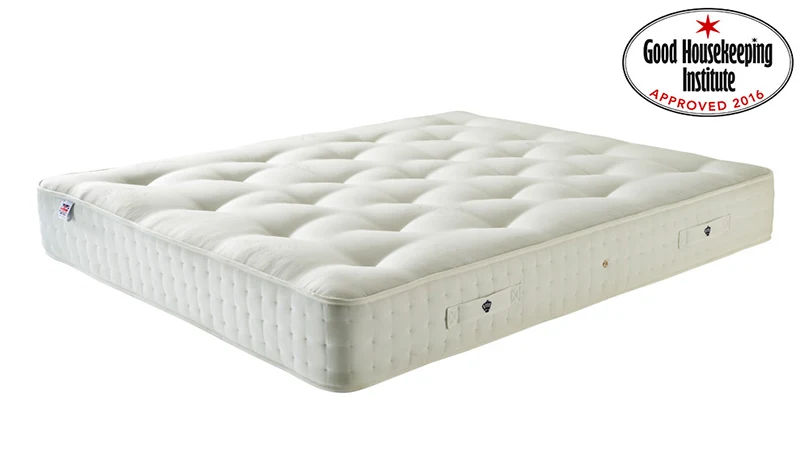 1400 individual pocket springs for extra firm support
The base of this mattress lies in 1400 individually wrapped pocket springs offering enhanced support for the full body, especially in the back. It is not common for an orthopaedic mattress to come with only 1400 springs, and we're fully aware that this isn't an amazingly high spring count, but when they're full-sized and well-made, as is often the case with Rest Assured mattresses – the number shouldn't be an issue.
Springs move individually, offering not only necessary orthopaedic support, but also an adequate one. You'll stay supported where you need to – though we recommend it for back pain treatment. Rest Assured's pocket springs are very tight for enhanced durability, but they won't do much for motion isolation. However, you will get some additional bounce, which is something couples could appreciate.
Air vents & improved airflow
On each side of this pocket sprung mattress, we can see an air vent for improved airflow. Unlike memory foam mattresses, pocket sprung mattresses don't generally have any trouble staying cool and breathable, but it is always nice to see an air vent to help even further with ventilation and airflow.
This will not only help with cooling but will also help vent the unpleasant sweat odours that tend to build up over time. The strategically placed air vents will help dry out the mattress from the inside out, so you can stay dry all through the night.
No foam & harmful chemicals
If you are worried about toxins or harmful chemicals – don't be. You won't find any inside of this mattress. This mattress is completely free of foam and chemical treatments.
To attest to this, the mattress is approved by the National Bed Federation, UK's most prestigious mattress regulatory body.
Damask is a reversible, jacquard-patterned fabric, which means that the pattern is woven directly into the fabric instead of being printed on it.
Now, you won't notice any intricate design on this sleeping surface, but the unique woven technique used to make this cover will provide all the necessary softness and comfort you could desire. In addition to that, the cover is also hand-tufted for extra support and durability, so it's not all just for looks. Plus, the fresh mattress cover eliminates all common household allergens creating a healthier sleeping environment.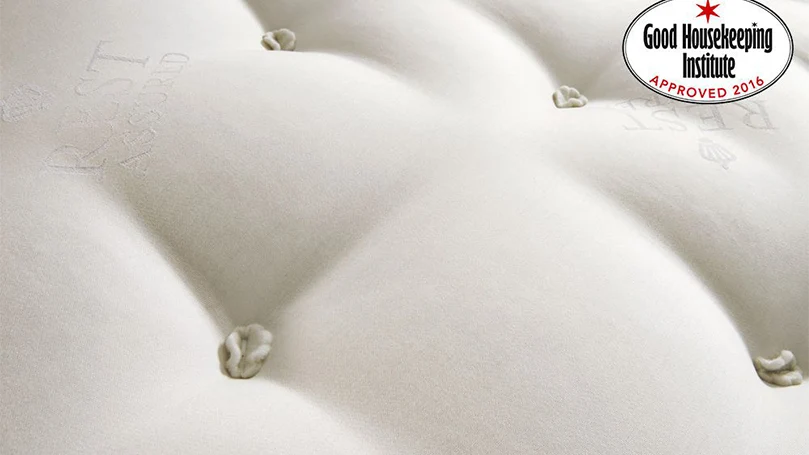 The cover is not removable, which is common for pocket sprung mattresses. On that note, you might want to consider getting a mattress topper.
Like many other pocket sprung mattresses, this one is single-sided. Loosely translated, that means that you don't have to flip it over once every few months. All you'll have to do is rotate it from head to toe once every three months and you should be golden.
To help you rotate the mattress easily, we have two turning handles on each side. You will handle a Single mattress, but believe us when we tell you that if you get a King-size mattress – you'll be thankful for those handles.
Instead of covering the pocket springs with memory foam, Rest Assured decided to use soft polyester fillings. Not only are those fillings more affordable, but they're also better than memory foam in some cases.
They're equally soft and comfy, but they don't retain heat nearly as much as memory foam does. So, in addition to the air vents and pocket springs, this one also improves its breathability with soft polyester fillings.
To top things off, the polyester fillings are found underneath the fresh mattress cover are also hypoallergenic, which means they're not known to harbour allergens, ensuring that you get a good night's sleep even if you struggle with allergies.
25.5 cm of mattress depth
At 25.5 cm, this hand-tufted mattress is ideal as far as anyone's concerned. Anything around 25 cm is universally considered to be perfect for a mattress.
At this depth, the mattress will fit most bed frames perfectly and will offer uniform support regardless of the base. And, it'll also be a perfect fit for most standard fitted sheets. But, that's hardly the reason why we consider 25 cm deep mattresses "ideally deep".
We do this because, at 25 cm, you can expect proper support, as well as enough give, so that when you lie down, the mattress gently cradles you.
To be fair, gentle cradling won't be something you'll experience with this one, seeing how this is a firm mattress, but that's not the point here.
5-year warranty & free delivery
To top things off, Rest Assured Adleborough 1400 Pocket Ortho mattress comes with a 5-year warranty, protecting you from all the manufacturing defects. However, a 5-year warranty does not cover failure to properly maintain and take care of the mattress. If you stain or otherwise destroy this mattress – you'll immediately void the warranty. So, try not to do it.
A long-term warranty is especially useful with mattresses tailored to heavier sleepers, which is what this one is. Now, we can't guarantee that this one will last you 5 years if you're a very heavy person, but knowing that you have a warranty to rely on will certainly help ease your mind.
In addition to all of this, the mattress also comes with free delivery and shipping.
Review of Rest Assured Adleborough 1400 Pocket Ortho mattress
Now, let's take a look at the review of Rest Assured Adleborough 1400 Pocket Ortho mattress.
This one looks just like any other hand-tufted pocket sprung mattress. It has that recognizable, comfortable look that we all like. But, as we know, looks aren't everything.
Not everyone will find the Adleborough comfortable. This is a firm mattress – 8 out of 10 on the firmness scale as far as we're concerned. As such, this mattress is tailored to a specific audience. An audience that is often overlooked by the mattress manufacturers – heavy and front sleepers.
As we've already said, this mattress offers superb support all throughout, so even the heaviest sleepers will comfortably rest and sleep on it. However, we do have some concerns as to how long. After all, there are only 1400 pocket springs inside of this one, and we do have a feeling that if you're over 17, 18 stone – this one will sink rather quickly. 
So, durability isn't its strongest suit. Fortunately, rotating handles will help you while turning this mattress head to toe, which is something you have to do if you want this one to last.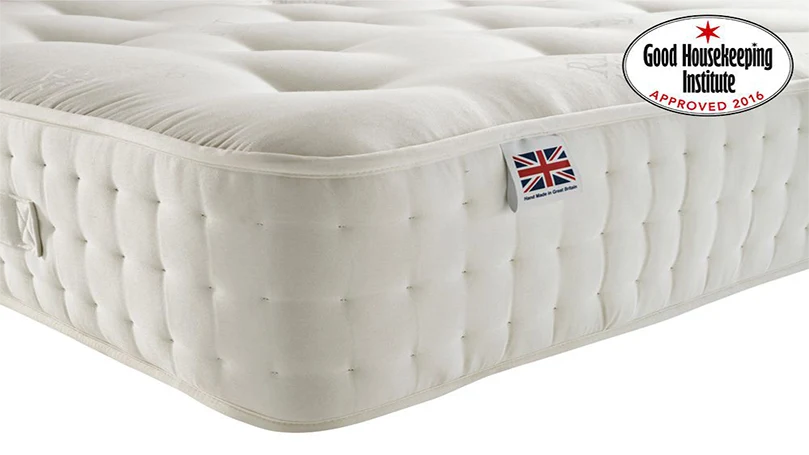 However, it rarely is. You do have to consider that aside from being firm and supportive, these mattresses also have to be comfy, and that's a hard balance to strike if you plan on tailoring to an audience over 100 kg.
On the bright side of things, this mattress won't ever have you feeling hot or sweaty, thanks to the air vents, pocket springs, soft polyester fillings and damask cover. Plus, all of these are also hypoallergenic, so you'll also get to experience a healthier sleep environment.
On the other hand, as is often the case with firm mattresses, motion transfer will be somewhat of an issue if you share the bed with a restless sleeper, so keep that in mind.
Type: Pocket sprung
Firmness: 8/10
Mattress depth: 25.5 cm
Size: Single, Double, King, Super king.
Orthopaedic support
Ideal for heavy and front sleepers
Cool and breathable
Hypoallergenic
Comes with turning handles.
No removable cover
Too firm for side sleepers
Some durability concerns
Motion transfer.
What we like about Rest Assured Adleborough 1400 Pocket Ortho mattress
One of the rare products tailored to front and heavy sleepers
Very cool and breathable thanks to the air vents, pocket springs, and polyester filling
Free of harmful chemicals
Resistant to dust mites and other household alleregens.
What we didn't like about Rest Assured Adleborough 1400 Pocket Ortho mattress
Prone to sinking after a few months if you weigh over 110 kg
Side sleepers will find this one too firm
Motion isolation is almost non-existent
Does not come with a removable cover.
What makes this product better than some other similar ones?
The greatest thing about this mattress is the fact that is tailored to front and heavy sleepers, which is not something that we generally see. Most mattresses, even the ones dubbed "orthopaedic" are often only ever so slightly firmer than the regular medium-firm mattress, and as such, aren't quite suitable for the heaviest users – but this one is.
Even though support might not hold up over a long period of time – we can't hold that against it. Any mattress will sink over time if you place something very heavy on top of it. The only difference is, this one won't do it as quickly as the others.
How did we test the product?
When you have to test a "niche" product such as this one, you have to pay special attention to the things that matter. In this case – it was the support that was our main focus. Heavy and stomach sleepers require more support than others, and since this mattress is tailored towards them, we wanted to make sure to test this to the limits.
We ordered our new mattress from the Mattress Online store, and we got it in less than 48 hours. The delivery was free and the mattress arrived in perfect condition.  If you want a Saturday delivery or if you want to recycle and dispose of your old mattress, you will have to pay a small fee. Upon unwrapping, we've left it to expand for a few hours, and then we began our testing.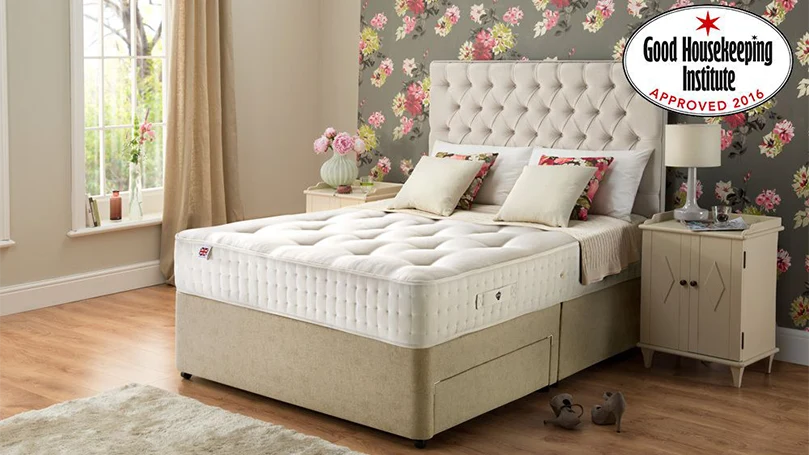 Fortunately, we have a heavy bloke in our midst, which allowed us to see this mattress for what it's worth, and from his point of view – this one was as supportive as the next best thing. The rest of us also took turns testing this mattress in various conditions and on various bed bases, and aside from a few side sleepers – we found this one quite good.
We also performed a roller test to simulate long term use and see how this one stacks up over time, and even though we've said there were some sinkage and durability concerns, that only really applies if you sleep in the same exact spot night in and night out, and you weight over 17 stone.
If you're below 100 kg – your new mattress will last you a long time.
FAQs about your Rest Assured Adleborough 1400 Pocket Ortho mattress
Let's answer some FAQs to wrap this review up.
Should sleepers with back pain use Rest Assured Adleborough 1400 Pocket Ortho mattress?
They absolutely should. This mattress will offer exquisite back support which will help alleviate back pain.
Is Rest Assured Adleborough 1400 Pocket Ortho mattress appropriate for side sleepers?
Not quite. Even if you're a heavyweight side sleeper, you should consider some other Rest Assured mattresses.
Is Rest Assured Adleborough 1400 Pocket Ortho mattress good for back and stomach sleepers?
Yes. Both back and stomach sleepers will enjoy sleeping on this mattress.
Should sleepers in the post-surgical period use Rest Assured Adleborough 1400 Pocket Ortho mattress?
It depends. This mattress is generally good for post-op recovery, but it all depends on the position you're instructed to sleep in during the recovery. However, seeing how most post-op recoveries require you to sleep on your back - this one should be fine.
How do I clean my Rest Assured Adleborough 1400 Pocket Ortho mattress?
Since you don't get a removable cover with this one, you'll have to clean the mattress either by vacuuming or spot-cleaning.
Is Rest Assured Adleborough 1400 Pocket Ortho mattress double-sided?
No. This is a single-sided no-turn mattress that doesn't require flipping - only rotating.