Airsprung 1200 Pocket Mattress Review
Airsprung 1200 Pocket Memory Mattress is simply perfect if you love a slightly firmer feel of pocket springs and the blissful comfort of memory foam – or at least it should be that way. Whether that's really the case, we're about to find out in the following review of the Airsprung 1200 POcket Memory mattress.
Who is the Airsprung 1200 Pocket mattress for?
As a medium-firm, pocket springs and memory foam mattress, Airsprung 1200 should be a good choice for just about anyone.
Full-sized pocket springs should offer all the necessary support and alignment for when you lie down, and the generous, 5 cm deep layer of memory foam should gently cradle your body's curves, leaving you with the feeling of divine comfort and relaxation.
With that being said, we can't really pinpoint the specific group for which this mattress was made, since it was obviously made to tailor to everyone's needs.
Add a header to begin generating the table of contents
What do we use this product for?
As is often the case with a medium-firm mattress such as this one, the use-case scenarios are vast.
First of all, a medium-firm mattress, especially a pocket spring/memory foam combo such as this one is perfect for couples. It offers excellent motion isolation, so your partner's movement won't disturb you. And, due to individually nested pocket spring, each sleeper has individually tailored and adequate support.
But, that's hardly the extent of what we can use this mattress for. In addition, we can:
Use it to get a great night's sleep
Use it to alleviate pressure and pain in the back, hips, and shoulders
Use it to get adequate spinal support and alignment
Use to minimize motion transfer.
Features you should know about Airsprung 1200 Pocket mattress
Now, let's take a closer look at what makes this mattress different from all the others, by exploring the unique features it offers. As we have previously said, this is a medium-firm pocket sprung memory foam mattress. We'd rate it as 5.5 out of 10 on the firmness scale. Now, as a 5.5 out of 10, you could even say that this mattress is medium, instead of medium-firm, but since we're dealing with pocket springs, you'd still get adequate support and outstanding balance.
As such, this mattress is a good choice for pretty much anyone. Back and side sleepers will particularly enjoy this one because it will allow them to gently sink into the foam while still being supported by the pocket sprung layer. Front sleepers could still enjoy this one, although if you are a bit heavier – you might want to consider getting a firm topper to use with this one.
Due to 1200 individual springs, swapped in cloth pocket, this mattress will offer a pretty high level of support. But, just being supportive isn't enough to make the mattress good. However, since we're dealing with pocket sprung support, we will get to experience tailored support in the areas where we need it the most.
1200 individual pocket springs
Inside of this mattress, you'll be able to find 1200 full-sized pocket springs, each of them individually nested in a separate cloth pocket. The springs are nice and firm, but more importantly, they're quite responsive.
It is important for springs to be responsive if you want to prevent breakage, sagging and sinking, and the springs inside of this mattress by Airsprung promise to deliver just that.
All in all, this is a comfort mattress core.
Another neat feature of this mattress are its hypoallergenic properties. None of the materials or fabrics used in the manufacturing of this mattress are known to inhibit common household allergens like dust mites, mould or regular dust. Therefore, you can be more than certain that you won't have any issue with allergies because of the mattress you sleep on.
Damask is a special kind of women fabric that is often used for mattress covers. In this case, we have a Damask cotton cover, specially designed to last long, keep the moisture away from your body, and help you sleep cool and dry all through the night.
The cover is also hypoallergenic, like the rest of the mattress. Finally, the cover is also hand-tufted for durability, as well as some good looks.
Single-sided with 29 cm of depth
At 29 cm, this mattress would not be easy to flip or turn. Fortunately, you don't have to do that. This is a single-sided mattress. Therefore, the only maintenance you'll have to do in order to evenly break this mattress in is to rotate it, head to toe, once every three months.
However, we have to note that rotating your mattress isn't optional. If you don't do this, you will both void the warranty, as well as shorten the lifespan of your mattress.
Sadly, there are no rotating handles on the sides, so you will probably have to get someone to help you rotate it once the time comes.
This pocket sprung memory foam mattress comes with a 5-year warranty.
The manufacturer's warranty will protect the mattress during this period against all manufacturing defects. However, it won't cover for defects caused by improper use or failure to maintain, as we mentioned earlier.
Loosely translated, this means that if a spring breaks or the foam develops imprints – you will get reimbursed. However, if your tear the stitching, stain your mattress, or fail to rotate it regularly – you won't have a warranty to fall back on.
As is often the case with mattress-in-a-box such as this one, you will get to enjoy free shipping and delivery if you live in UK mainland. The mattress will arrive in a matter of days, and it will either be left in front of your door if you select the contact-free delivery. However, you could still go for the room-delivery service, so you don't have to haul the mattress from the front door to the bedroom.
Additionally, if you have an old mattress that you want to get rid of, you could also ask for a mattress disposal service.
The disposal service isn't free, but it is still a lot more affordable and convenient than if you were to do it all by yourself.
Pearl Luxury Pillow Top mattress comes with a 5-year warranty, which is pretty standard for most open-coil mattresses nowadays.
It's always good to have a warranty, just in case something goes wrong. But, we wouldn't worry too much about it because this mattress is built to last.
However, we have to note that this warranty won't cover for user negligence. It's simply there to protect your investment from manufacturing defects. If you end up being the one ruining the mattress, you can kiss the warranty goodbye.
This mattress is handcrafted in the UK, which means it supports the UK's economy and helps reduce the environmental impact. This also means that the mattress conforms to all UK standards, including the fire-regulatory standards.
In addition to all of that, the mattress is also approved by the National Bed Federation, which means you can be certain you will receive a high-quality, safe product.
Review of Airsprung 1200 Pocket mattress
Now, let's take a look at the Airspung 1200 pocket memory mattress review.
This is a 29 cm deep mattress, meaning it is slightly deeper than what we would consider being ideal. However, it is still suitable for pretty much any bed frame and base you can think of.
The base of this mattress is the 24 cm tall pocket spring layer which comfortably lies underneath a 5 cm deep memory foam layer. These two combine for a medium-firm mattress, suitable for pretty much every sleeper. However, some heavyweight front sleepers might find this one too soft.
The support you get out of this one is excellent everywhere except around the edges. This is a common problem with pocket sprung mattresses, so if you prefer sleeping near the edge – you might want to look for another mattress.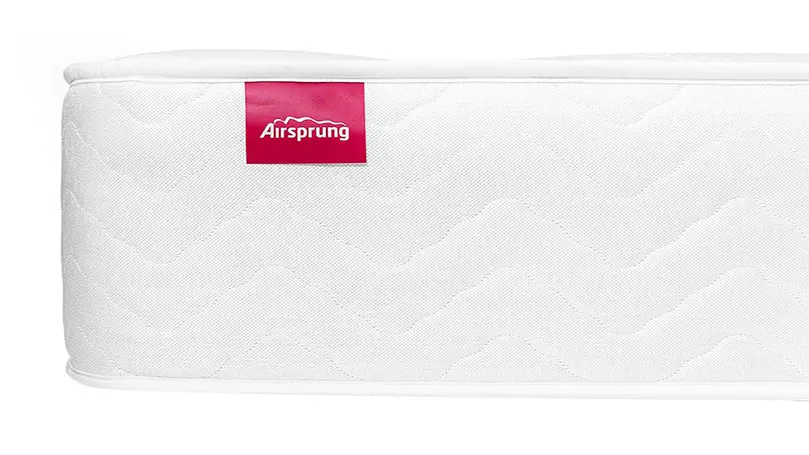 As far as comfort is concerned, we don't have any complaints. The mattress feels nice and comfy. You won't feel much motion transfer as you move, nor will it disturb you if you share the bed with a restless sleeper. Also, the mattress doesn't get hot and is hypoallergenic. There's only 5 cm of memory foam inside of it, and that's just not enough to retain heat and have you sweat during the night. All in all, we'd say that this is an objectively comfortable mattress.
On the other hand, we don't have a removable mattress cover with this one, so you might want to get a mattress protector in order to keep this one nice and clean. Also, the lack of rotating handles makes your life a tad harder than it has to be, but seeing how you'll only rotate the mattress four times a year – this really shouldn't bother you too much.
Type: Memory foam
Firmness: 5.5/10
Mattress depth: 29 cm
Warranty: 5 years
Size: Single, Double, King, Super King
Removable cover: No
Trial: None.
What we like about Airsprung 1200 Pocket mattress
The 1200 pocket memory mattress offers an excellent mix of support and comfort
Thanks to springs and memory foam, the mattress isolates motion excellently
The mattress keeps cool and dry even during the warmest nights.
What we didn't like about Airsprung 1200 Pocket mattress
Hard to rotate without the side handles
It does not come with a removable cover
It dips around the edges, making sitting or sleeping near the edge somewhat uncomfortable.
What makes this product better than some other similar ones?
This mattress is an all-around package. It has most of the things that make a mattress great, and aside from below-average edge support – it really doesn't struggle in any other category.
But, the greatest advantage to this mattress have to be financing options. You can buy this mattress by making partial payments over the course of three, six, or twelve months – without any interest. As you know, it is hard to avoid paying interest when you want to finance your purchase, but in this case, you don't have to worry about it.
How did we test the product?
As is always the case, the first order of business is ordering the product we want to test. As per usual, the delivery for the mainland UK was free and swift. Our new mattress arrived in three business days, just in time for testing.
The first thing we did was unpack the mattress and inspect it for physical damages. Fortunately, there weren't any, nor did we notice any significant off-gassing. There was a bit of an odour, but nothing that didn't dissipate in a matter of hours.
Next up, we wanted to test the mattress in different conditions, as well as on different bases. We expected to see a significant difference in support between solid and slatted bases, but we didn't really notice anything.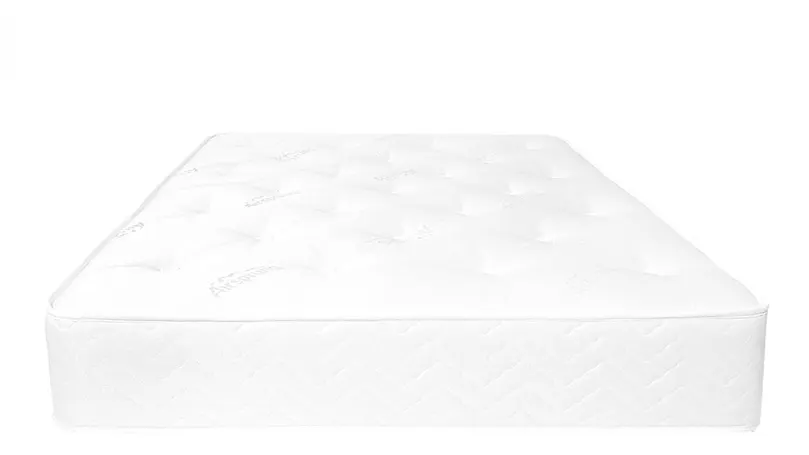 We also did some hands-on testing, where we spent several days lounging and sleeping on the mattress, testing its support, comfort, breathability, motion isolation, responsiveness and so on.
Finally, we concluded our testing by simulating long-term usage with our trusted roller, to test the durability and longevity of the mattress.
After we did all that, it was time to write this review.
FAQs about your Airsprung 1200 Pocket mattress
In the end, let's answer some FAQs.
Is Airsprung 1200 Pocket mattress good enough for people who sleep on the side?
Yes. This mattress is very good for side sleepers.
Should back and stomach sleepers use Airsprung 1200 Pocket mattress?
Back sleepers should have no problems sleeping on this one. However, heavyweight front sleepers might find this one too soft.
Should people with hip, neck or back pain sleep on Airsprung 1200 Pocket mattress?
Aboslutely. This mattress should provide adequate support and help anyone struggling with sleep-related pain.
How do I clean my Airsprung 1200 Pocket mattress?
You can either vacuum or spot-clean the mattress since it doesn't come with a removable cover.
Does Airsprung 1200 Pocket mattress contain any harmful chemicals?
No. It is approved by the NBF, which means there are no harmful substances found anywhere in this mattress.
Is Airsprung 1200 Pocket mattress fireproof?
Yes. This mattress conforms to UK fire regulations, ensuring its fireproof status.
What sizes does Airsprung 1200 Pocket mattress come in?
You can get this mattress in Single, Double, King, and Super King.