4 Best Daybeds For Adults To Get More Sleep Space
Do you want to learn what it takes to find the best daybeds? Here's all you need to know!
If you're ever in need of extra sleeping space, getting your hands on one of the best daybeds for adults is a great place to start. These versatile beds are a wonderful solution if you're pressed for space in the guest room or if you just want a sofa bed that can turn into a full-sized double bed when necessary.
Now, the problem arises when you have to find the perfect one. With so many options to choose from, it can be quite overwhelming trying to find the right one. Not everyone knows what a day bed needs, but – we're not everyone.
We've had our fair share of experiences with various day beds, and we've decided to share that experience and knowledge with you. So, without further ado, let's take a look at what makes a day bed great, what to look for when buying one, what are some of the benefits you'll get to enjoy, and finally – let's take a look at the best of the best.
Off we go!
Alright! It's time for the main even – our top five picks for the best daybeds for adults!
We've handpicked and tested all of these, and we're quite confident that whatever your day bed needs are – one of these will come through for you!
IMAGE
PRODUCT
DETAILS

KEY FEATURES:

Dimensions:

192 x 93 x 73 cm

Mattress included:

Yes

Material:

Metal, foam, polyester

Trundle included:

No

View Latest Price

KEY FEATURES:

Dimensions:

197 x 95 x 96 cm

Mattress included:

No

Material:

Metal

Trundle included:

No

View Latest Price

KEY FEATURES:

Dimensions:

200 x 105 x 92 cm

Mattress included:

No

Material:

Metal

Trundle included:

Yes

View Latest Price

KEY FEATURES:

Dimensions:

208 x 87 x 97 cm

Mattress included:

Yes

Material:

Wood, foam, polyester

Trundle included:

No

View Latest Price
1. BEST OVERALL: Made Harlow Day Bed
An elegant piece for a modern sleeper!
If you need a day bed that will speak to the interior designer inside of you – Harlow will do it for you! Its large body and super comfy and plump cushions will be perfect for your lazy days, as well as overnight guests.
With two arm rests on each side, Harlow is perfect for day-to-day lounging, but that doesn't mean you won't be able to sleep peacefully on it after a long, hard day. Grab a duvet, blanket and a pillow and you'll see for yourself.
Its contemporary/mid-century design will certainly turn some heads, and the contrast between black metal and deep pistachio green will make it a suitable fit for pretty much any room you put it in.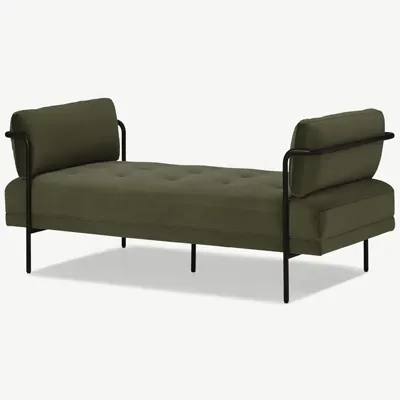 2. BEST VALUE: EGGREE 3ft Single Day Bed
This day bed could very well be the definition of a value pick!
Would you believe us if we told you that you could get a day bed that's less expensive than some memory foam pillows out there? Well, you better believe it, because Eggree day bed is!
If you have a spare single mattress lying around and you want to repurpose it, getting your hands on this day bed would probably be the best decision ever.
Its strong and sturdy, but also simple frame will fit great with most rooms, and if you're daring enough – this day bad might just become a central piece of furniture on your patio. Just put a mattress on there, throw pillows on top of it, and voila – you have yourself a nice, elegant day bed.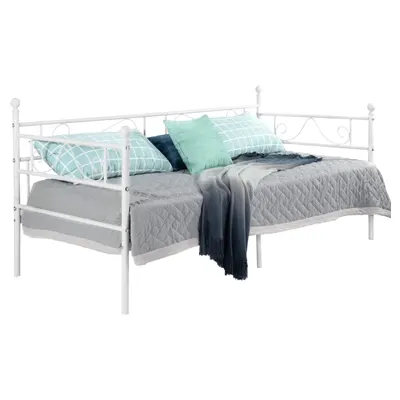 3. BEST FOR LIVING ROOM: Honeypot 3 Seater Large Sofa bed
Give your knees and ankles what they need: Support, comfort, and relief from pain!
This pillow is designed to relieve pain in the hips, back, and knees, making it ideal for those resting on their back, or those who are recovering from an injury or surgery. Due to its half-moon shape, this pillow easily fits both underneath your knees and your ankles.
The memory foam construction ensures that you'll get the support you need all night long, while the removable soft cover provides comfort and more importantly – super easy maintenance.
Best of all, this pillow can be used on any type of bed or a chair. Whether you're looking to rest or just to enjoy yourself while working in your office chair – this cushion has got you covered.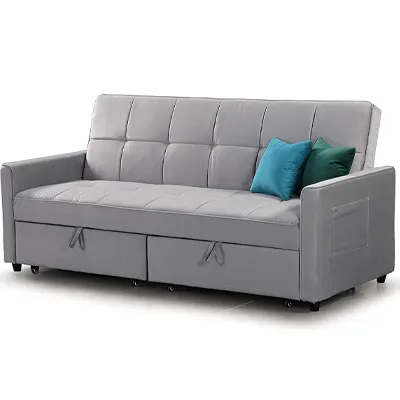 4. BEST EASY ASSEMBLY: Lyon Cream Metal Guest Day Bed
Easy to put together metal bed frame with sprung slats for a base!
If there was ever a metal day bed frame that's easy to assemble – it's this one.
Lyon Cream is a simple, yet good-looking bed frame. Its creamy-white steel frame is a sight to behold, and when it's paired with the right mattress – this one's a daybed to remember.
Manufactured for easy self-assembly, this day bed won't give you any headaches come the assembly time, even when the time comes for you to put the slats together. They'll just slide into place, and provide you with extra support where you need it the most.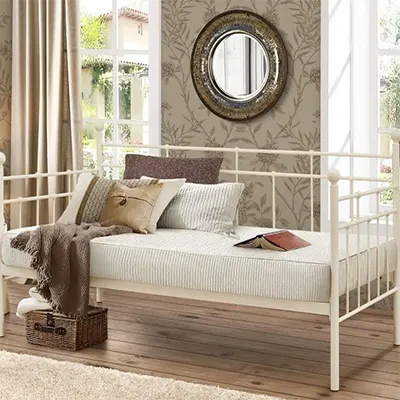 What to look for when buying the best daybeds for adults
How do you decide what bey bed to get? Do you go for a sturdy wooden frame and solid pine construction or do you just get metal ones? Do you look for a pull-out trundle bed or just a frame that comes with two twin mattresses?
Well, let's find out. Here's what to look for when buying day beds for adults.
Mattress & its dimensions
Some daybeds come in two sizes – two-seater and three-seater. Other's come with mattresses.
The first ones are called "seaters" because when they're in their sofa bed form they offer a seating area. However, as we already know, these turn into full-sized beds, and at that point, you need to be interested in the mattress size.
These will come with cushions, not mattresses, and in that case, the only thing you need to concern yourself with is whether the room is big enough for your daybed frame.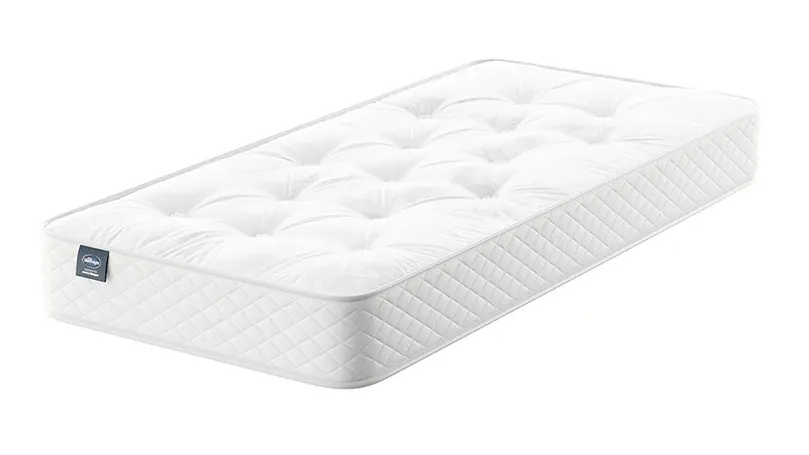 On the other hand, if you get a day bed with a trundle mattress – you'll have to think about the mattress, too. As a general rule of thumb – you'd look for a firmer mattress.
Most of the time, you won't have to buy a separate mattress. Instead, you'll use the one that comes with a bed, so you'll want to make sure it's a quality one – even if it's a thin mattress. Naturally, you'll still have to keep the size in mind, because what good is a guest bed if it can't fit the room it's in?
Some daybeds come with a trundle.
Generally speaking, these are most often found in kids' rooms, for when their friends come for a sleepover. However, that's hardly all a pull-out trundle is good for.
What you'll want to pay attention to when looking for a daybed with a trundle is the actual mattress. Most of the time, the mattress inside of a trundle will be a single-sized mattress, although you might encounter an occasional twin size mattress in one of these – even in the UK.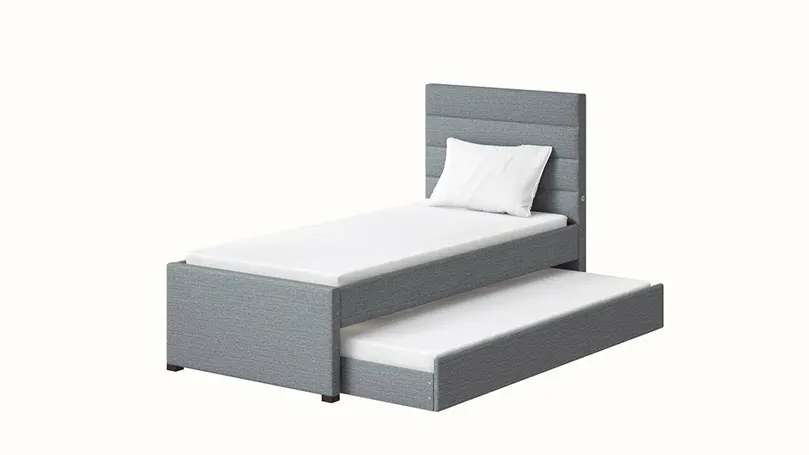 The thing to remember is that single-sized mattresses are narrower than twin size mattresses, so if you ever end up needing to replace yours – don't expect a snug fit.
Most (almost all) daybeds won't come assembled, which is why you'll want to make sure that the assembly process is as simple as possible.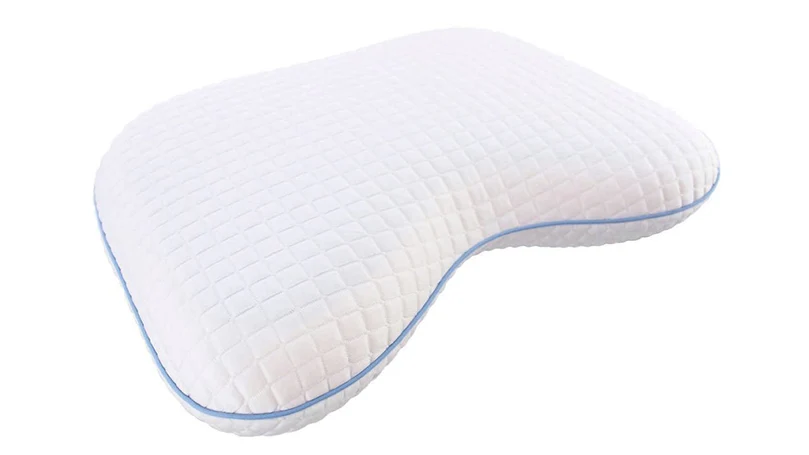 So, whenever you're shopping for a day bed, make sure it comes with detailed assembly instructions and all the necessary tools. Otherwise, you might just end up with an IKEA-like assembly experience, and we all know how "fun" that is.
The weight and design of daybeds, whether they're wooden daybeds or metal ones, are very important.
The thing about daybeds is that they rarely stay in place. You'll probably move them around quite a bit, unlike your regular bed. Therefore, you'll want to make sure the one you get is not too heavy or hard to move around.
As for design, that's pretty self-explanatory. The goal is to find the one that fits the style and decor of the room and does not stick out like a sore thumb. For instance, if you're looking for a day bed for your cabin in the woods – a wooden daybed is probably a better choice than a metal one.
Tips for buying and using the best daybeds for adults
Now that you know what to look for in a day bed – let's take a look at some tips for buying and using one.
Don't focus on the price too much – We tend to look at the price tag whenever we don't know what we like or what's good. That's not really a good approach in this case. Daybeds aren't necessarily better if they're more expensive, nor are they worse if they're affordable. Keep in mind the things that make up a good day bed and make your decision based on that.
You don't need a guest room – Most people will tell you that you don't need a daybed if you don't have a dedicated guest room. Well, we're here to tell you they're wrong. Just imagine how uncomfortable (and unsanitary) it is when you put your feet on the table to watch a game or a movie. Why wouldn't you just get a pull-out daybed instead? Why wouldn't you enjoy the comfort of a cosy bed while you're watching TV?
Consider your needs – While it is true that pretty much anyone could benefit from a daybed, before getting one – you should really consider your needs. Do you often have overnight guests? Do your kids have their friends over? Do you need something that saves even more space? Answer all those questions and assess your needs before making a purchase. That way, you'll never doubt your decision.
The advantages of owning the best daybeds for adults
What good is an extra bed if you aren't getting anything from it? Fortunately, that's not something you need to concern yourself with when it comes to day beds because these come with an array of advantages and benefits.
Here are some of them!
They offer a very good value
Compared to some other pieces of furniture that we sit, sleep or lounge on – day beds are very affordable. Most of the time, they will be a lot more affordable than your average three-seater sofa bed or a platform bed, even though they will be both of those rolled into one.
Limited space is a major problem for a lot of people. Thankfully, daybeds are one of those pieces that really handle this problem effortlessly. When they're all tidied up, they take up as much space as a regular sofa. On the other hand, when need be, you can just move some stuff around and turn your new daybed into a full-sized one. Also, if you remove the mattress – the trundle underneath could easily become a storage drawer.
They are versatile pieces of furniture
A perfect daybed frame will be a versatile piece of furniture. It can be your second bed, your everyday go-to lounge pad, your guest bed, your storage unit, and so on. Throw pillows on there and scatter cushions around it, and you'll have yourself a nice piece of patio furniture if you want. There's pretty much nothing these can't do. 
FAQs about your daybeds for adults
We all have problems that we need answers to. And, while we can't do much about your everyday struggles, what we can do is offer you some answers to burning questions about daybeds!
What is the best type of mattress for a daybed?
As far as the type goes - you can do pretty much anything. The thing that actually matters when it comes to mattresses and daybeds is that you get a mattress that's at least medium-firm on the firmness scale.
Can I use a daybed for everyday sleep?
You could. However, we'd really suggest sleeping in a regular bed and on a full-sized, quality mattress on a day-to-day basis.
Do daybeds use box springs?
No. A day bed and a box spring don't really go hand in hand.
How long do daybeds last on average?
It all depends on how often you use it. However, a quality day bed will probably last you upwards of eight years.
Where should I keep my daybed?
To put it simply - wherever you want. Put it in a guest room, living room, kids' bedroom, or even a home office. If there's a place and need for it - put it there.