If you are looking to learn a thing or two about a platform bed – the most versatile bed frame there is – you've come to the right spot! 
What is a platform bed? Is it just a box spring on legs? Are they made from solid wood, or do they have a metal frame? Do they come with a solid base or wooden slats? The answer to all those questions is – yes.
When it comes to versatility, adaptability, and style options, you pretty much can't go wrong with a platform bed frame. A bed like this one has everything you might need – clean lines, minimal design, storage space, headboard, compact profile – you name it. Or, it could have none of those – totally up to you.
Now, we are fully aware of how confusing that might be. After all, if a bed frame could be all that or none of that – what is it that defines it as an actual type of bed frame? What are its benefits and drawbacks? Do they squeak? What are the benefits? Let's find out! 
Add a header to begin generating the table of contents
What are the advantages of platform bed frames?
As we've said in the beginning, a platform bed frame could do and be a lot of things. Loosely translated, that means that these beds should come with a variety of different benefits. And, would you have it – they really do.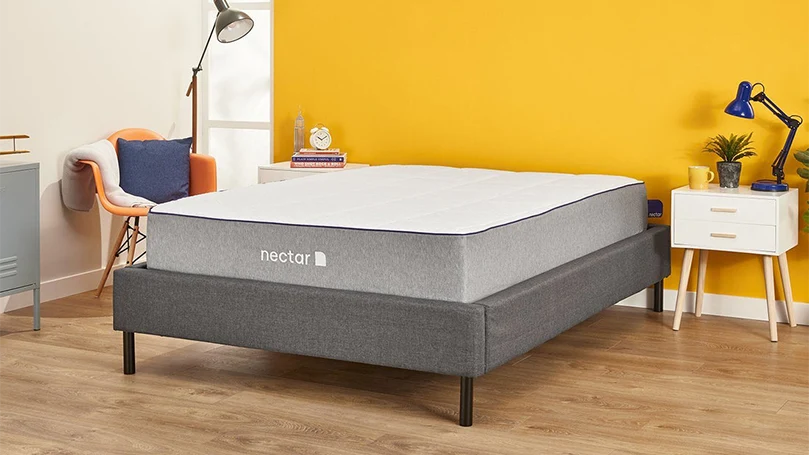 Some platform bed frames are equipped with storage drawers – either on sides or in the front. As is usually the case, the bigger the frame – the more storage you get.
Now, we know you wouldn't think of a low profile bed frame like a platform as your go-to storage unit bed frame, but life's full of surprises.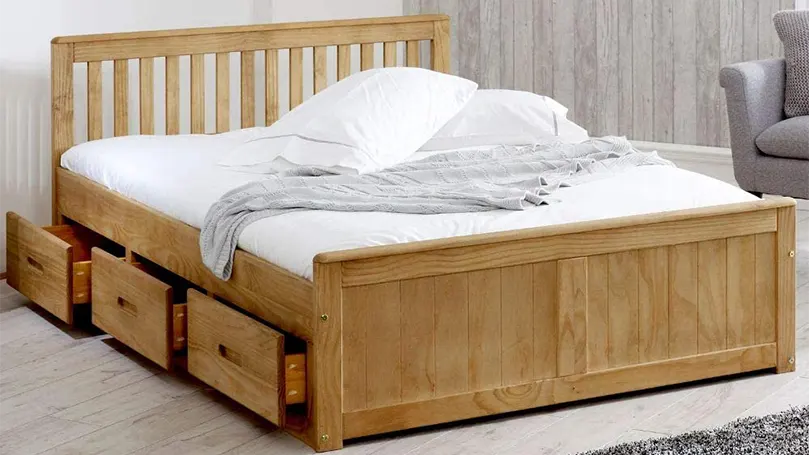 Apart from sometimes being a storage bed, a platform bed frame comes in a variety of styles.
You can find it in both metal and wooden construction. You can find it with or without a headboard (or a footboard). You can find it in a traditional or a modern style.
Basically, whatever the style and decor of your bedroom is or whatever brilliant idea you might have – you'll find a matching platform bed.
Can function without box spring/foundation
Any first-rate platform bed will be a perfect base for your mattress without the need for a box spring or a foundation.
Whether you opt-out for a slatted base platform or a solid base one, you can rest assured that your mattress won't suffer any damage, and will stay properly supported for years to come.
Suitable for all types of mattresses
A platform bed is a perfect companion to your bedroom because it's suitable for all types of mattresses. You can choose any of the popular mattresses today, whether they're made from memory foam, pocket springs, or both, and comfortably sleep on them as they stay supported by your new bed frame.
Do platform beds ruin mattresses?
Generally speaking, platform bed frames don't ruin mattresses. However, they might. So, let's delve into this problem for a bit.
Most people equalize platform beds with box springs. As we all know, box springs aren't suitable or necessary for modern mattresses, which very well might be the reason why some are led to believe that platform beds ruin mattresses.
However, that is just not true.
A quality platform bed, regardless of whether it has a solid or a slatted base, will not ruin your mattress. It doesn't matter if it's made from metal, light oak, solid hardwoods, or sustainable mango wood – a platform bed frame is not detrimental to your mattress.
It's a bed base like any other – it just looks different.
A platform bed frame does not squeak.
Some people are worried that a platform bed might squeak. However, that's just another piece of misinformation stemming from the fact that people equalize box springs with platform beds.
While one could make an argument that old slats could become squeaky, that almost never happens. And, even if it did happen, it is very easy to fix a squeaky bed frame – no matter which one it is.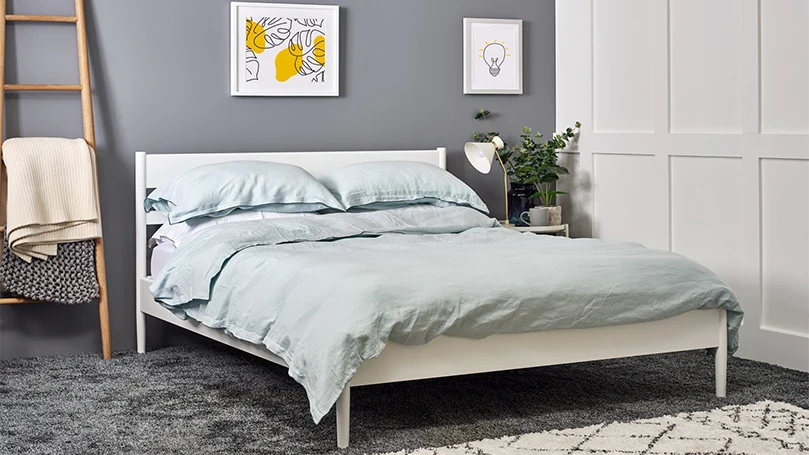 How much weight can a platform bed hold?
Almost all platform beds can hold about 500 pounds or just above 200 kilos on average, but there are some sturdy wooden beds that could easily hold up to 1000 pounds or more.
The things that are mostly responsible for the bed's weight limit are its size and the materials used to make it. As we said, some wooden beds could easily hold 453 kilograms or more, but if we really want to get into the big boy category, we have to switch to metal or steel.
Also, as a general rule of thumb, king sizes will usually be a bit sturdier than smaller ones, which is understandable. A king or even a double bed is supposed to support two people, and a single is supposed to withstand just one, so there's that.
Do platform beds come with headboards and footboards?
A platform bed frame can come with both a headboard and a footboard, but it could also come without either of them or as a headboard-only bed.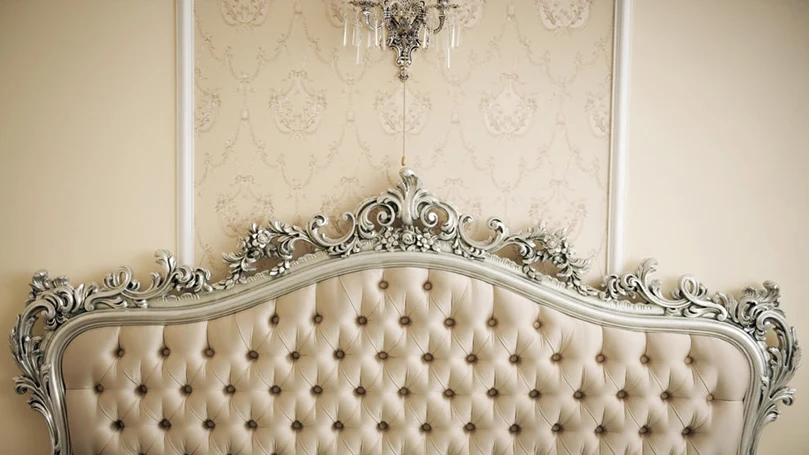 To be fair, people usually go for a platform bed frame with a headboard, rather than without one. On the other hand, a footboard is a very rare occurrence these days.
What are the disadvantages of platform bed frames?
Even though these bed frames are very versatile, as you could so obviously see a moment ago – they are not without their drawbacks.
Here is the biggest problem platform bed owners have to deal with.
You will rarely find a tall platform bed, which could pose a problem for both tall people and senior citizens. You could make up for the low profile with an extra-tall mattress or a box spring, but we wouldn't advise doing either. If you need a taller bed frame – just get something else.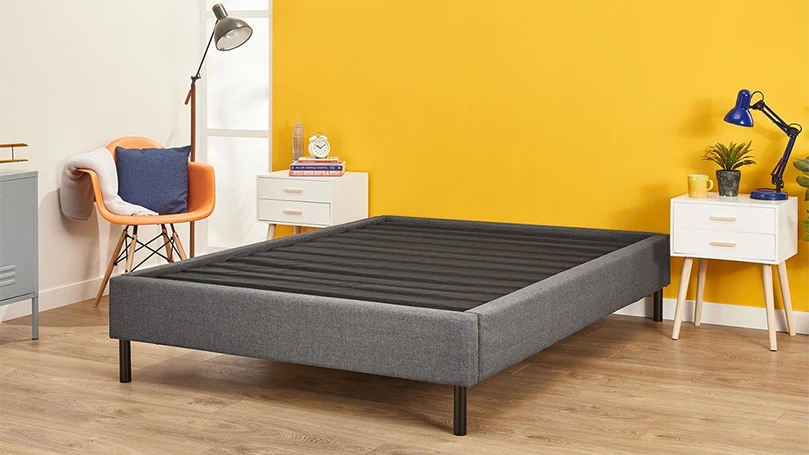 Are there different types of platform bed frames?
Surely, a bed frame this versatile has to come in different types and styles, right? Right.
Here are some of them.
A classic platform bed frame is your run-of-the-mill bed base that's simply used to prop up your mattress off the floor. It doesn't come with a headboard or a footboard and is usually the least expensive kind of platform bed frame and is sleek, elegant and contemporary at the same time.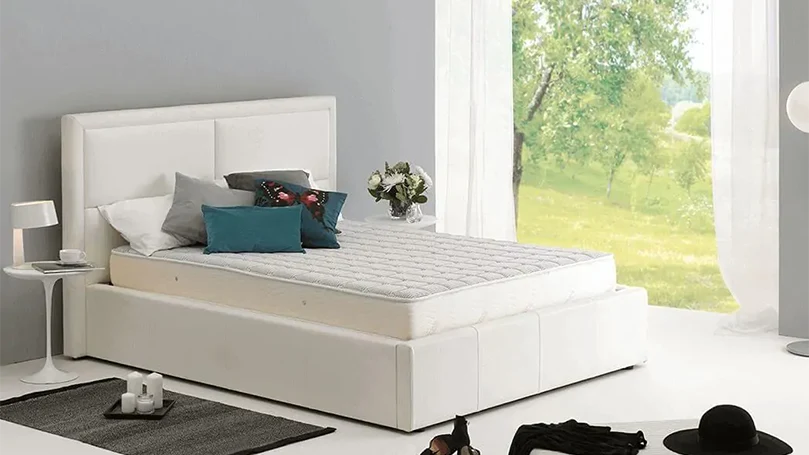 Headboard & footboard platform beds are exactly as they sound – bed frames with both headboard and a footboard. They're the most popular type of platform beds, mainly because of the added convenience of the headboard.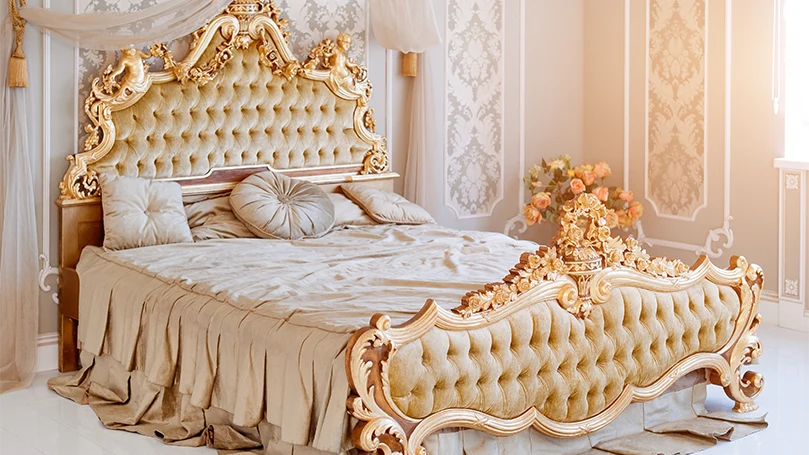 A platform bed doesn't have to be "naked". In fact, upholstered platforms are quite common. However, keep in mind that this could indicate a lower-quality wooden frame, although not necessarily. Sometimes, it is purely an aesthetic choice, as some people prefer the look of fabric over the look of wood.
Storage drawers on a platform bed are very popular at the moment. Whether you lack room size or just want extra storage space, a platform bed with storage drawers could be the solution you are looking for.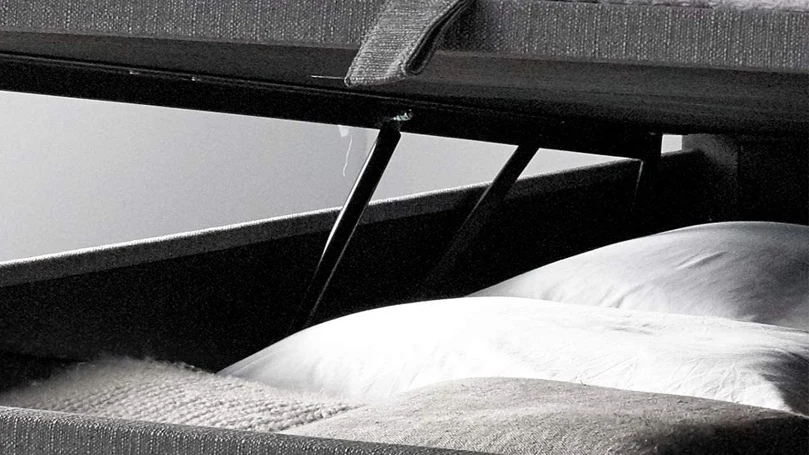 Naturally, you wouldn't expect to get the same amount of storage space as you would with an ottoman bed frame, for example, but a drawer or two may just satisfy your needs.
One of the common style choices for platform bed frames are "tucked in" legs.
By placing the legs a tad to inside, you get an illusion of a floating sleeping surface, so it can both look and feel like you're sleeping on a cloud.
One thing to note is that this does not affect the overall stability of the bed frame, contrary to popular belief.
What are the different types of platform bed surfaces?
Just like you can shop around for different styles and types, you can also make your pick for the preferred base of a platform bed.
A solid base is probably your best choice when it comes to bed bases. It provides brilliant support all throughout, and it works with any mattress whatsoever.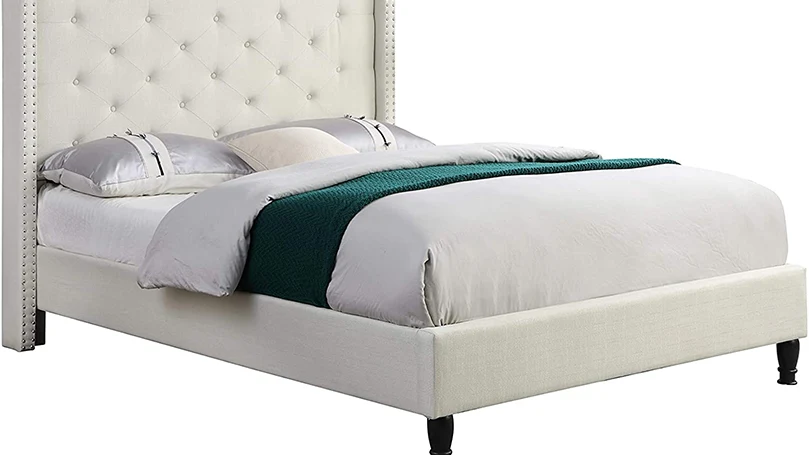 Unlike the frame, the wood used for the solid bases doesn't have to be as hard and high quality. What's usually used is something like plywood or hardboard.
Another common bed base you can expect to find is a slatted base. Slatted base is probably the customers' favourite because it usually results in a softer sleeping surface while also helping with airflow and breathability.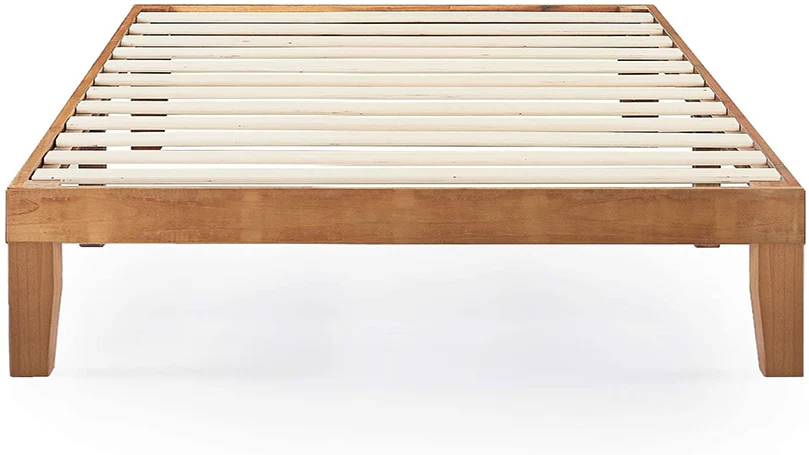 However, it would be best if you always kept in mind that slats shouldn't be more than 7 cm apart. Otherwise, you won't be comfy, and you might ruin your mattress.
A metallic base is usually reserved for platform beds that take box springs and foundations.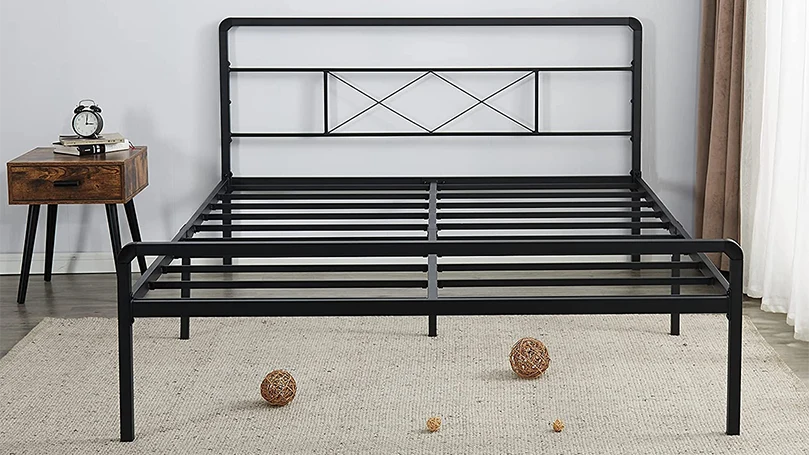 Metallic rails are usually too far apart to serve as an actual base for mattresses, so they're either used as a foundation for a box spring or a foundation for a separate solid base.
Do platform bed frames come in all sizes?
Platform bed frames come in all sizes, making them suitable for any bedroom.
The most common sizes available in the UK are:
Single
Double
King
Super king.
However, in-between sizes like Single and Small Double are also available, although not as often as the previous four.
Do I need a platform bed frame?
We can't tell you if you're the perfect customer for a platform bed, nor can we promise you you'll get the best sleep in your life if you just make a switch to a new bed frame.
However, if we just take a look at everything we've learned about platform beds in these few minutes – it becomes kind of impossible not to recommend platform beds.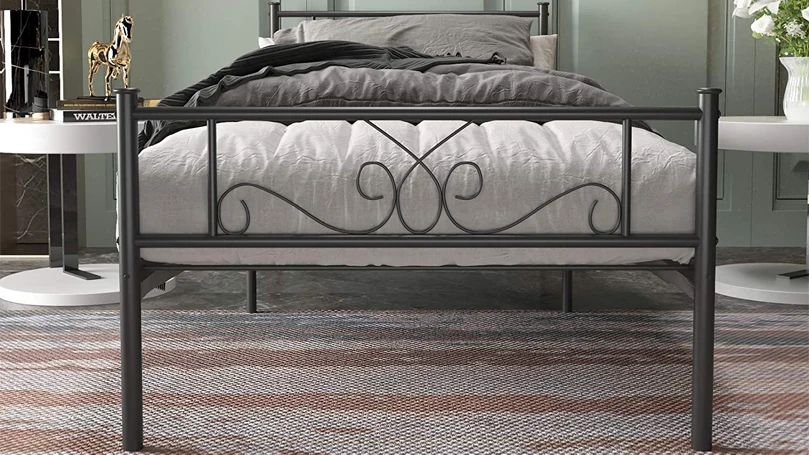 They're stylish enough to fit any bedroom. They're suitable for any and every mattress out there. They provide an array of different benefits. And, generally speaking, they tend to be the least expensive out of all bed frames on the UK market.
All things considered, what do you think – do you need a platform bed?