Nectar Platform Bed Frame Review
Nectar is known for their excellent mattress, but they're not shy about their other products, as well. Today, we are going to take a look at the Nectar Platform bed frame and find out whether it is worth spending your money on. Let's begin!
Who is the Nectar Platform bed frame for?
Nectar Platform bed frame is for everyone in need of a new, stylish platform bed frame that can seamlessly fit any bedroom or any décor. The simple and minimalist design allows the Nectar Platform bed frame to not only serve as solid support for your Nectar mattress but to also add to the overall look and feel of your stylish bedroom.
Add a header to begin generating the table of contents
What do we use this product for?
To put it simply, we would Nectar Platform bed frame as any other bed frame. You'd assemble it, put your mattress on top of it and go to sleep. A slatted base such as this one should be more than suitable for any kind of mattress, although you might feel a slight decrease in firmness compared to the flat base, but that is to be expected, and is nothing to be worried about. Generally, Nectar Platform bed frame is for sleepers who:
Want a versatile base for any type of mattress
Less firmer base for their mattress
Need a stylish platform bed for the bedroom
Want to enjoy high quality product from a well known company.
Features you should know about Nectar Platform bed frame
To fully understand why you should even consider getting the Nectar Platform bed frame instead ofother bed frames, we have to look at the features that make it special. So, let's hear about them.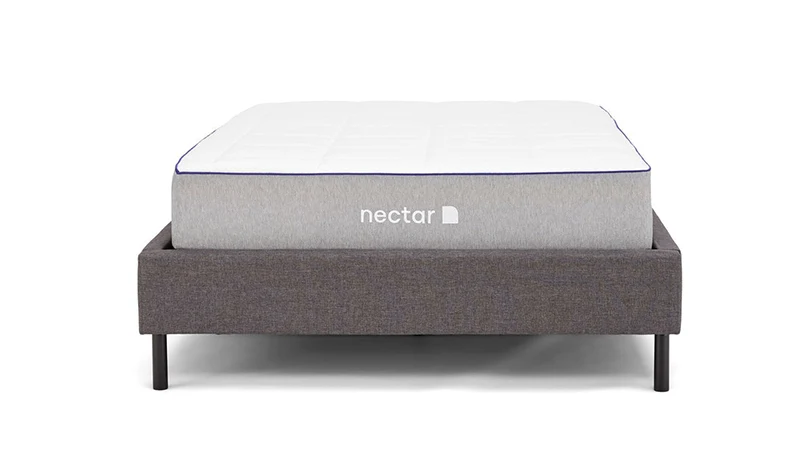 As we've said, the design of the Nectar Platform bed frame is very simple, yet very elegant. The body of the bed frame is upholstered with semi-dark polyester material that's very pleasant and soft to the touch.
Polyester is a very common upholstery choice since it is very durable and can take quite a beating. It won't stain easily, as it is not the most absorbent material out there, so, nothing to worry about there—all in all, a solid option for upholstery, especially in this colour.
The entirety of the bed frame is supported by the black rubberwood legs. Rubberwood is always a solid choice for the furniture legs, mostly because it is quite cost-effective. However, just because it's cost-effective does not mean it's manky.
Rubberwood is easily stainable, which makes it ideal for matching the colourway of the furniture, but it is also very durable and sustainable. It won't scratch easily, thanks to the hardwood from which it is made of.
16cm of space under the bed
Nectar Platform bed frame stands on black rubberwood legs that are 16 cm tall. As you could imagine, this is not quite enough clearance for you to store a lot of things under the bed. However, you could put several thin boxes underneath it if you don't have any other place to store them.
The base of the Nectar Platform bed frame is slatted. Now, what kind of wood these slats are made of – we couldn't find out. However, the wood does seem to be quite sturdy and durable. We'd assume that it is probably some kind of affordable hardwood.
Be that as it may, the slats do seem firm and of solid quality. They're not sprung; they're just regular, flat slats, and they're no more than 7 cm apart, which about as wide as you would want them to be.
Review of Nectar Platform bed frame
All in all, Nectar Platform bed frame seems like a solid option. It offers a solid money-to-value ratio, especially if you can get it on sale. Also, if you decide to pay off the Nectar Platform bed frame over time, you can do so with 0% interest over the period of 3, 6 and 12 months, which is always nice to see.
As far as design goes, the Nectar Platform bed frame looks pretty good. It is a simple design – that is both modern and elegant at the same time. The toned-down colourway makes it ideal for pretty much every bedroom, and that is something we can appreciate.
As far as the build quality and durability goes, we haven't noticed any major issues whatsoever. The bed frame seems very well built and will probably last you a long time. In case it breaks early, you do have a lifetime warranty to fall back on. Also, there is a 365-day return and trial period for you to fall back on, in case you end up disliking it early.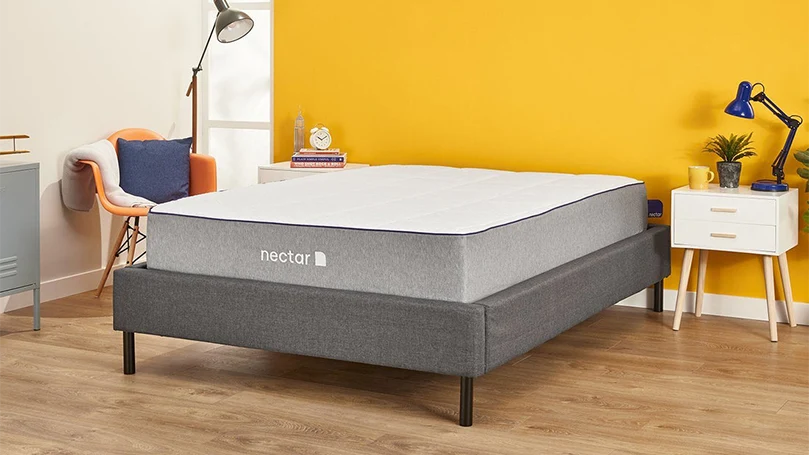 The slats also feel nice and supportive, and for a slatted base – they do a pretty good job of keeping your mattress moderately firm, seeing how they're almost 7 cm apart. Whether you opt for a memory foam mattress or a hybrid one, it is going to give you enough support.
On the flip side, we don't really know what kind of wood is used to make the slats. According to Nectar – they're made from "solid wood", which doesn't really tell us a lot.  However, this is still a durable product but don't expect the lifespan as if you were having a metal bed frame.
Type: Platform
Material: Rubberwood; fabric
Available sizes: UK Single, UK Double, UK King, UK Super King
Weight limit: /
Trial: 365 days
Delivery: Free – 5 days
Warranty: Lifetime
Slat type: Solid slats
Assembly service: Self-assembly.
Great design
Good value
Easy to assemble.
No Nectar Headboard for this bed frame
It only comes in the UK sizes.
What we like about Nectar Platform bed frame
Nectar Platform bed frame is really easy to assemble
It offers a very good price-to-value ratio – especially when on sale
Contact-less and free shipping and delivery.
What we didn't like about Nectar Platform bed frame
The information available on this bed frame could be more transparent
The lack of EU sizes might cause some mattress compatibility issues
Rubberwood is not a premium material.
What makes this product better than some other similar ones?
If we were to compare the Nectar Platform bed frame to some other similar ones, we'd say that what this one does best is finding the perfect balance between a regular bed frame and an underneath-the-bed storage bed frame. The product resembles of a box spring bed frame than to ti high level of support. It is just high enough so that you can stuff some things underneath it, but it still looks low profile enough so that it is not an eyesore.
How did we test the product?
To test the Nectar Platform bed frame, we first had to order it. Fortunately for us, this was very easy and virtually effortless. All we had to do is add the required information, and on the fourth (working) day, upon placing our order – we had the Nectar Platform bed frame in front of our office. The delivery was free, as expected.
As you probably know, the Nectar Platform bed frame comes disassembled, but don't worry – the assembly process is the complete opposite of the one you'd expect from IKEA. In the box, you get the manual, as well as all the other necessary tools and trinkets to assemble the bed frame. It took us no more than an hour to assemble the whole thing together, and once we were done with it – we began testing it.
The first thing that caught our eye was the beauty of the design. It is so simple, soft and modern, yet so functional.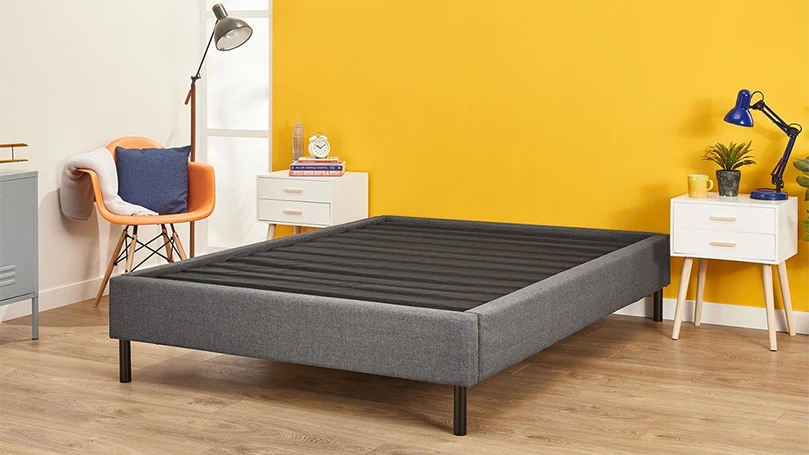 We tested this bed frame with three different mattresses, including a Nectar mattress. We've used a memory foam one, a hybrid one and a pocket sprung one. We are chuffed to say that all three of them performed quite well, and we haven't noticed any substantial softening with any of them.
The slats felt quite good. They're quite wide, so they do offer more than enough support, and they're just as far apart as you'd want them to be, so they don't make that much of a difference in terms of how well will the mattress feel. However, we do have to say that because we don't know from which wood were they made of – we can't really speak of durability with confidence.
Overall, the Nectar Platform bed frame does seem like a solid product, especially at that price point.
FAQs about your Nectar Platform bed frame
To wrap things up, we thought it would be useful if we were to end this review by answering some of the most frequently asked questions about the Nectar Platform bed frame.
Can I use other mattresses on Nectar Platform bed frame?
Yes. You can use any mattress of Nectar Platform bed frame, as long as it is the correct size.
How tall is Nectar platform bed frame?
The Nectar Platform bed frame is 39 cm tall without the mattress. The total height of the bed will depend on the height of the mattress, as well.
Does Nectar Platform bed frame come assembled?
No. You have to assemble Nectar Platform bed frame by yourself.
How do I clean my Nectar Platform bed frame?
The upholstery won't stain easily, so most of what you'll have to do is just wipe the dust off with a damp cloth.
Does this Nectar bed frame have storage space?
No, there is no dedicated storage unit. However, there is 16 cm of low profile clearance underneath the bed that you can use as a storage space.