Nectar Memory Foam Mattress Review - Premium Sleep Experience
Memory foam mattresses are among the best sellers due to their comfort, support, durability and many other features they have. Nectar also offers a memory foam mattress, which is 25 cm thick and medium-firm. Here is your Nectar Memory Foam mattress review by The Sleep Advisors.
Who is Nectar Memory Foam mattress for?
Nectar Memory Foam mattress is great for you if you want comfort and support at the same time. This is a very high quality medium-firm memory foam mattress that hugs your body, but prevents sinking into it, which is very important because at the same time you are comfortable and have no pain in the morning. 
Also, this mattress is for all those prone to allergies because it is hypoallergenic. And for all those for whom the preservation of our environment is very important. Nectar Memory Foam mattress is carbon neutral and contains no harmful substances, dyes and as none of these were used during the manufacturing process. If you combine it with Nectar Premium pillow, you will have your night's sleep much improved. 
Add a header to begin generating the table of contents
What do we use this product for?
We use this product to make us comfortable and to keep us from getting hot while we sleep. It should be used by all those who have pain in the spine, shoulders, pelvis and other parts of the body because it is supportive and pressure relieving. Also, the Nectar Memory Foam mattress is often used by couples because it minimizes motion transfer and therefore offers a high-level of comfort and support. 
Features you should know about Nectar Memory Foam mattress
Nectar Memory Foam mattress is a truly great product that has so many different features that make your sleeping experience as good as possible. We have singled out as many as 7 features that we will tell you more about, because it is important that you know a little more about all these features. After all, a mattress is something you will spend 6 to 10 hours on every day, it is important that you get better informed before buying.
3 layers of CertiPUR foam
If you have never heard of CertiPUR it is a certification program administered by a not-for-profit organization. Although it is called CertiPUR-US, it is also valid in the UK. It is very important that the memory foam mattress you buy is made of CertiPUR foam as is the case with this mattress.
This is a guarantee that the mattress is mercury, heavy metal and lead-free, then flame retardant free, as well as that an independent laboratory has tested durability and other characteristics. That way you will be sure that you are buying quality product, and above all safe one.
Open cell foam for optimal breathability
Mattress manufacturers always try to make memory foam as breathable as possible, because it is certainly one of the shortcomings of this material. Open cell foam is great for optimal breathability because it never disrupts air flow and only then is it possible that you don't get hot while sleeping on a memory foam mattress.
If the manufacturer wants us to say that their mattress is really supportive it is not enough to make mattress that provides support only in the middle. It is necessary that support is felt on the entire surface, including the edges. Nectar Memory Foam mattress has as many as 7 different zones of support, so wherever you move during the night, support will always remain the same.
Pressure relieving memory foam
The shoulders and hips are the primary pressure points on our body when we sleep. That is why there is frequent pain in these parts, as well as in the rest of the body after waking up. While we may be used to that feeling, it is very harmful in the long run. Nectar Memory Foam mattress is designed to relieve common pressure points because it is made of adaptive memory foam.
Quilted polyester cooling cover
Cover is very important because it is the only part of the mattress with which your body has direct contact. The cover for Nectar Memory Foam mattress is cool and breathable, which is the most important thing. It is so designed to draw heat away from your body. Also, it is soft and comfortable.
25 cm is a standard mattress thickness, but thickness is certainly not the most important factor. While it is certainly important that the mattress is thicker than the topper, which means it is at least 20cm thick, memory foam mattresses are generally thinner than those with springs. That's why a memory foam mattress 25 cm thick like this one is great.
Mattresses usually come with a warranty because they are expected to last you for years. The warranty period is usually between 5 and 10 years. That's why you won't be able to believe it when we tell you that the warranty for Nectar Memory Foam mattress lasts forever. Yes, Nectar will repair or replace the mattress as long as you have it. By doing so, they want to show you how much they believe in the quality of their product and that it will not break as soon as the warranty ends.
Review of Nectar Memory Foam mattress
Nectar Memory Foam mattress is a 25 cm thick medium-firm mattress with 5 layers. The first layer is a quilted cooling cover, then a layer that is breathable and supportive, the next two give firmness and pressure relief, and at the bottom is a base layer. Motion transfer is virtually non-existent, making it ideal for couples. All those who have problems with joint pain will benefit from using this mattress.
It has one of the longest, if not the longest, trial period of all mattresses on the market lasting 365 nights. Also, it has a forever warranty which is unprecedented.
Type:

Memory foam

Size

: Single, Small Double, Double, King, Super King

Mattress depth

: 25 cm

Support

: 8/10

Firmness

: 6.5/10

Removable cover

: No

Care instructions

: Vacuum or wipe clean with a damp cloth.

Hypoallergenic

: Yes

Warranty

: Lifetime warranty

Trial:

365-night trial.
What we like about Nectar Memory Foam mattress
Motion transfer is so minimized that you won't be bothered even by a partner who moves a lot while sleeping
Really great for all those with shoulder, hip, and back pain
The cover and the first layer do a great job of regulating the temperature.
What we didn't like about Nectar Memory Foam mattress
There are no handles which makes moving more complicated
Off-gassing, although very slight, you will probably be able to sleep on it the first night
As you heat up more and more during the night, it becomes softer, which some customers may not like.
Check the best alternatives to Nectar Memory Foam mattress
As the alternative to Nectar Memory Foam mattress, we present you two mattresses also made of memory foam, namely Made's Memory Foam mattress and Silentnight 7-zone Memory Foam mattress. They will serve as a good reference point for comparison with Nectar mattress.
Made's Memory Foam mattress
This 4-layer memory foam mattress is great for joint and muscle pain. Because of the support, it is chosen by many who need to treat their pain. Since a trial period is available, anyone can take it and try it without risk. 
This mattress is suitable for sleepers who have problems with allergies as it is hypoallergenic. The mattress is among the best memory foam mattresses for hot sleepers that you can find online as well. The overall height of the product is 25cm. 
We have an in-depth review of Made's Memory One mattress so take a look.
Good support
Excellent durability
Suitable for hot sleepers.
Requires time for getting in shape
Minor off-gassing problems
Not the first pick for side sleepers.
Silentnight 7-zone Memory Foam mattress
Support and spine alignment is what you will notice during the first night of sleep on the Silentnight 7-zone Memory Foam mattress. Motion insulation is also great, so it is a good choice for couples. 
In overall, it is very a comfortable mattress that will give you the superb comfort and a good support regardless of your sleeping position. On top of that, it is not so expensive so you can get a good price for the superb comfort!  While it is suitable for all typed of sleepers, the hot sleepers may not like it as it can get hot.
We have a full review of Silentnight 7-Zone memory foam mattress so check it out.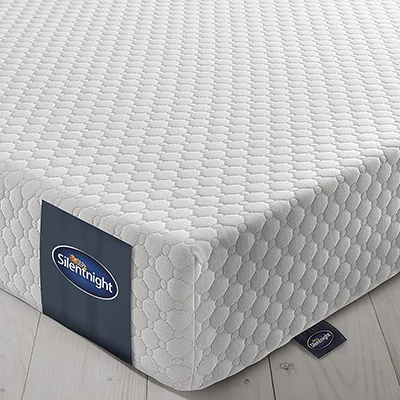 Pressure relief
Comfortable
Suitable for all sleeping positions.
Non-removable cover
Off-gassing issues
Some durability concerns
Not suitable for hot sleepers.
Consider Panda Mattress Topper if you are buying Nectar Memory Foam mattress
Panda is a well-known brand that provides eco-friendly and high-quality natural products. Panda Mattress topper is a premium topper that will completely transform your old mattress. Instead of buying a new mattress, the Panda Mattress topper will be the solution in most situations. 
Support, comfort, durability and breathability are at the highest level, and it should always be mentioned that all Panda products are eco-friendly.
Check our review of this product to learn more about it before buying it.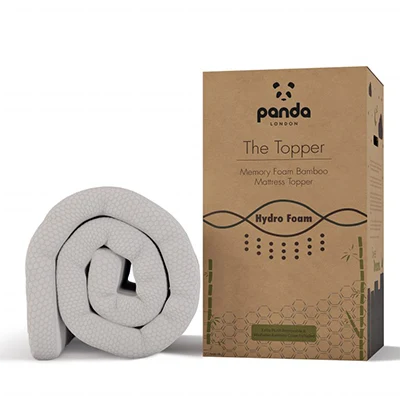 East to maintain
Durable
Highly breathable
Hypoallergenic.
Off-gassing issues
More expensive that similar products
Cover washable only in cool water.
What makes this product better than some other similar ones?
What sets Nectar Memory Foam mattress apart in our opinion is that it fits all sleeping positions. If you are living with a partner, this mattress is going to minimize the motion transfer that can be inconvenient during tossing and turning. It is also a fantastic choice for treatment of shoulder, hip or back pain as it offers a good level of support. In addition, you can use it all the time as it won't get hot and therefore it is a good choice for hot sleepers. The 365-night home trial is something you won't get in many other places, so it is better than the competition when it comes to the duration of the trial period.
How did we test the product?
Although you have a whole year to try it, we have spent a few nights testing Nectar Memory Foam mattress. After we received the two pieces we ordered (we ordered Single and King size so we could try different sizes) we started different tests. Delivery was free and we only waited a few days for it to arrive, although you can find comments from customers who waited a little longer and were not satisfied because they have to wait. Still, that could be a shipping company's problem, not Nectar's directly. 
We first tested single size, where we could see most of the features. When you lie down on Nectar Memory Foam mattress, you will slightly sink into the mattress, and you will feel like mattress is hugging you. However, if term "sink" reminds you of back pain, know that support is great. You will sink just enough to be comfortable sleeping. The mattress is more than enough firm, supportive and pressure relieving. Breathability is also satisfactory for memory foam, although one member of our team who is hot sleepers gave a slightly lower rating for breathability than the others.
After that, we tried the king size, first of all to check the motion transfer, because that is one of the most important characteristics of the mattress that couples look at. Movement isolation is great, you practically don't feel like there is anyone in the bed next to you.
FAQs about your Nectar Memory Foam mattress
Old mattress removal is something that interests all customers when buying a new mattress, as well as to learn more about the trial period, delivery and maintenance. We will address these topics in our FAQs section.
Does Nectar offer old mattress removal?
Yes, Nectar offers old mattress removal, and you have to pay £ 40 for that and it will be done separately from the delivery of your new mattress. Also, you need to take the old mattress out of the property, where it will be picked up.
Does Nectar offer a trial period for Nectar Memory Foam mattress?
Yes, Nectar memory foam mattress comes with 365-night home trial which means you have whole year to test it.
Is delivery of Nectar Memory Foam mattress free of cost?
Delivery is free of cost as well as return if you are not satisfied with the product.
How do I maintain my Nectar Memory Foam mattress?
You can vacuum it and use lukewarm water and vinegar or baking soda and similar natural products to remove stains.
Is Nectar Memory Foam mattress waterproof?
No, Nectar Memory Foam mattress is not waterproof so you have to be careful not to spill something on it.