Silentnight 2800 Pocket Memory King Size Mattress Review
Silentnight is known for their Mirapocket pocket springs mattresses, and Silentnight 2800 Pocket Luxury might just be one of the best ones they ever made. Is that really the case, well, let's find out?
Who is Silentnight 2800 Pocket Memory King Size mattress for?
As a medium-firm support, pocket spring mattress 2800 Pocket Luxury is tailored to just about everyone. Standing at 33 cm tall with 2800 individual Mirapocket springs, this mattress could just be the mattress to help you get a good night's sleep.
Furthermore, like any other medium-firm support mattress, 2800 Pocket Luxury promises to deliver not only comfort, but stability and support, as well. With all that in mind, it is easy to picture this mattress in a lot of bedrooms.
Add a header to begin generating the table of contents
What do we use this product for?
If you are waking up feeling sore and tired, it could just be due to a bad mattress. With 2800 Pocket Luxury and the support and comfort it brings to the table, you could very well start waking up feeling fresh and rested.
The double-layer Miracpocket support system in this one, guarantees that you will be properly supported all through the night. In addition to that, the unique nature of this mattress also provides easy movement and excellent weight distribution, so this one is as good for couples, as it is for solo sleepers. So, the product is perfect for:
Keeping the spine aligned
Ensuring optimal comfort
Ensuring zero motion transfer.
Features you should know about Silentnight 2800 Pocket Luxury King Size Mattress
To better understand what makes this mattress special, we ought to take a good look at some of its unique features.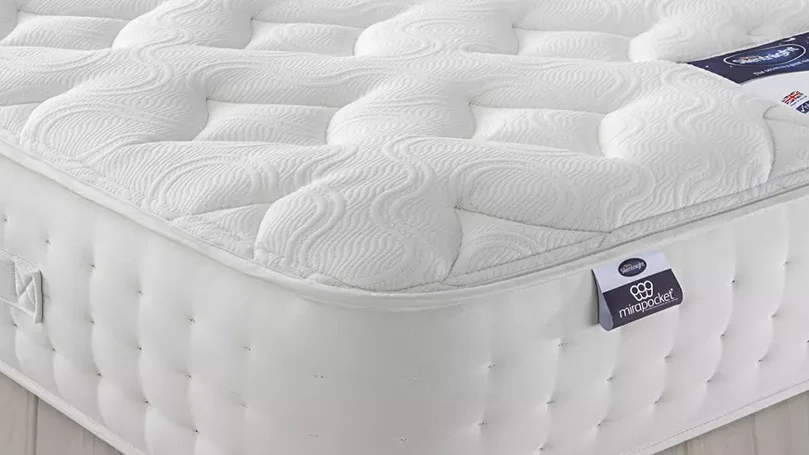 Silentnight 2800 Pocket Luxury is made from EcoComfort fibres, meaning that there is no trace of any potentially harmful chemicals inside this mattress. To be fair, considering that this mattress is completely void of memory foam, there is nothing to worry about as far as potentially harmful chemicals are concerned, and what's even better – all the materials used in manufacturing this mattress are eco-friendly, but more on that later.
2800 pocket springs for medium-firm support
The base of the 2800 Pocket Luxury is a double-layer Mirapocket support system, designed to offer medium-firm, tailored support, minimize motion transfer and allow for better breathability, as well as excellent weight distribution.
Since each pocket spring can move independently on its own, regardless of the position you're sleeping in, you can rest assured that you will be adequality supported all through the night.
Eco fibres for increased breathability & sustainability
Made from recycled plastic bottles, EcoComfrot fibres inside of this mattress are sustainable and eco-friendly. This not only allows Silentnight to protect the environment, but also to produce a comfortable mattress that is not too expensive.
The Eco-comfort layer can be found right on top of the Miracpoket layer, providing the sleepers with not only comfort, but improved breathability and airflow, as well.
Hand-stitched and quilted cover
The cover of the 2800 Pocket Luxury is not removable or machine-washable. However, it is hand-stitched and quilted. A cover this high-quality can be often found on much more expensive mattresses, but with Silentnght 2800 – you get all that at a much more reasonable price.
Since the cover is not removable, you should feel free to cover it up with a waterproof mattress protector. That way, you won't have to worry about any spills or cosmetic damage that could ruin your mattress, or even worse – void the five-year warranty.
Another great thing about your new mattress, if you decide to go with this one, are its hypoallergenic properties. Silentnight 2800 Luxury is a hypoallergenic mattress. Loosely translated, that means it is anti-bacterial, anti-allergenic and won't become succumbed to dust mites, mould or other kinds of common household allergens.
Silentnight has achieved this by treating the materials with Purotex.
Silentnight 2800 is not a double-sided mattress, meaning you won't have to flip or turn it to maintain it. However, like any other new mattress – you will have to rotate it every once in a while.
Considering that this mattress is 55 kg heavy and 33 cm deep – you'll need all the help you can get once the rotating time comes. Fortunately, Silentnight was aware of this, so they've stitched side handles to the cover of this mattress for easier manoeuvring.
At 33 cm deep, this is not your average mattress. Many could argue that this mattress is too deep, and that you could easily shave off a few centimetres off of it. Since you can't do that, the one thing we recommend you do is to make sure your bed frame isn't too high, otherwise, you might have trouble getting out of bed in the morning, especially if you're a senior citizen.
Review of Silentnight 2800 Pocket Memory King Size mattress
Now, for the main event – the review of Silentnight 2800 Pocket Memory King Size mattress.
First of all, this is a true medium-firm pocket sprung mattress, which means it is suitable for most sleeper types. We say most sleeper types, because this mattress not only offers medium-firm support, but also a great spinal alignment, excellent motion isolation, just enough bounce and to top it all off, unlike many other pocket sprung mattresses – this one also offers excellent edge support.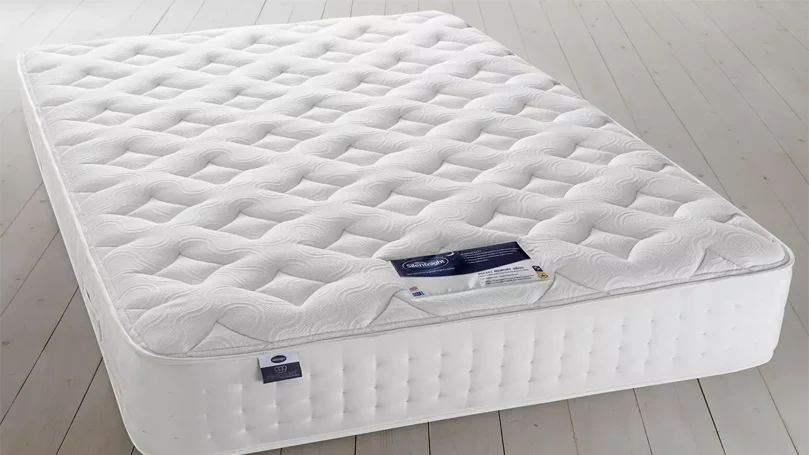 Even if we wanted to, at this price point, we couldn't really find many things wrong with this one, which is obvious if you just go on Amazon and take a look at the average customer ratings. People love this mattress and that is not by accident.
To top things off, the Luxury Pocket 2800 proved to be quite durable during our testing, and we're quite confident it will easily outlive its 5-year warranty.
The only real drawback of this mattress is its size. It is very heavy and quite deep, and unless you have someone around to help rotate it – you are going to have a very, very tough time doing it on your own.
Type: Pocket spring
Firmness: 6/10
Mattress depth: 33 cm
Size: Single, Small Double, Double, King Size, Super King Size.
Supportive and comfortable
Durable
Hypoallergenic. 
33 cm deep
Very heavy
Often out of stock.
What we like about Silentnight 2800 Pocket Memory King Size mattress
A true medium-firm mattress for everyone to enjoy
Resilient to common household allergens like dust mites, mould or bacteria
One of the most durable mattresses in this price range.
What we didn't like about Silentnight 2800 Pocket Memory King Size mattress
At 33 cm deep, it might be too big for most bed frames and fitted sheets
At King size and Super King size, this mattress weighs 55 and 65 kilos
It is often sold out and out of stock due to its popularity.
What makes this product better than some other similar ones?
Silentnight 2800 Pocket Memory King Size Mattress is truly one of the best mid-range products we've come across. Stacking two layers of nearly full-sized pocket springs on top of one another might seem strange, but this mattress is proof that it was an ingenious move.
This pocket sprung mattress will not only award you with the best nights of your life, but it will also protect you from dust mites and other allergens, all while properly supporting your body regardless of the position you sleep in.
To top it all off, 2800 Luxury Pocket will easily outlast its warranty period, quite possibly even double it, and if all that doesn't make it a worthy purchase – we don't know what is.
How did we test the product?
Like with any other mattress, our goal was to deliver you with the most objective review possible. But, in order to do that, we first had to order the product. One free delivery and two days later, we had our new mattress in the office.
To make sure we provide you with an objective review, we had all of our team members spend ten nights with this mattress. During those 10 nights, it was up to them to note their experiences and impressions, so we can, later on, put them all together and come up with objective truth.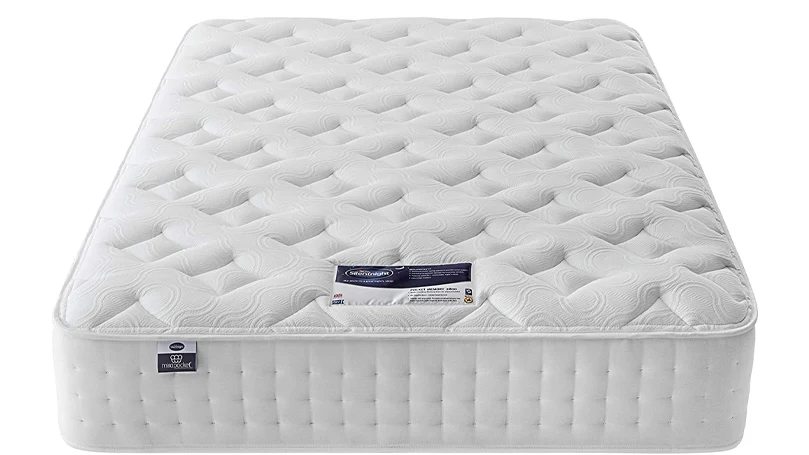 During the testing, we've used the mattress on both slatted and firm bases, to see how it behaves, and whether there are any noticeable differences between the two. Also, we've simulated both summer and winter nights by playing around with the thermostat to test the breathability of the mattress, and of course, we've performed our trust roller test to see whether we're dealing with a durable or a fragile product. We're lucky to say that in this case, the product was quite durable.
FAQs about your Silentnight 2800 Pocket Luxury King Size mattress
In the end, we wanted to wrap things up by answering some questions about our reviewee.
Does the Silentnight 2800 pocket luxury mattress come with a trial period?
No, the Silentnight 2800 Pocket Luxury does not come with a trial period.
Does the Silentnight 2800 pocket luxury mattress have a warranty?
Yes, the Silentnight 2800 Pocket Luxury comes with a 5-year warranty.
Can I use the Silentnight 2800 pocket luxury mattress on a slatted bed base?
Yes. As long as you don't use it on a slatted base with more than 7 cm of clearance between the slats.
Do all Silentnight 2800 pocket luxury mattress sizes have the same amount of springs?
Yes. Regardless of their size, all of these mattresses will come with the same number of pocket springs.
Do I need deep fitted sheets for my Silentnight 2800 pocket luxury mattress?
Yes, absolutely. At 33 cm deep, this mattress will be too big for most regular-sized fitted sheets.
Do I get free delivery on the Silentnight 2800 pocket luxury mattress?
Yes. You will get free delivery when you purchase this product.
What is the weight of the Silentnight 2800 pocket luxury mattress?
The weight of this mattress depends on its size. Single weights 31 kg, Double weight 46.5 kg, King size weights 54.5 kg and the Super King size weighs 65.5 kg.