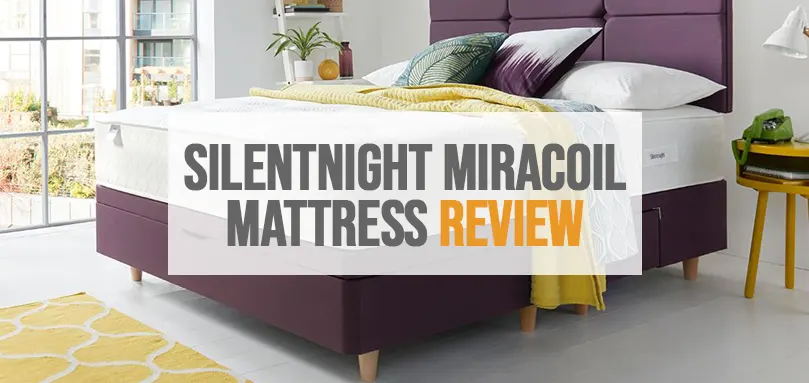 Silentnight Miracoil 2021 Review
You need to make the most out of your 8 hours in bed, therefore, you need a good mattress! One of the mattresses that came to mind was the Silentnight Miracoil mattress, therefore, we've decided to test it out. Is it any good? Well, let's find out together!
Who is Silentnight Miracoil for?
Who can benefit from a quality mattress? Well, anyone, if we're being completely honest. Silentnight Miracoil is one of those mattresses that seems to be a solid fit for anyone. It looks good, it's quite firm and supportive and it doesn't lack any important features. If we were to nit-pick, we'd say heavier sleepers and stomach sleepers are the ones that this mattress was made for, but that's hardly all that this one is good for…
How did we test the product?
As you already know, finding the perfect mattress isn't easy. A mattress could easily be a perfect fit for your partner and a complete opposite to you and we've kept that in mind. When we test these products for our reviews, we try to as thorough and objective as possible, even though we both know mattress feel is purely subjective.
Now, just because the feeling of a mattress is subjective doesn't mean that there is no good way to separate a good product from a bad one. Every mattress, regardless of the type or price point is defined by its key features, such as firmness, zoned support and edge support, pressure relief, ease of movement and motion transfer, breathability and cooling properties, durability, trial period and finally, warranty.
When we test these products, our team pays special attention to each of these features. We have to if we wish to present you with a clearer picture of each product. Our team consists of several individuals of different body types and sleeping preferences which is key to delivering an objective verdict. We pride ourselves on being thorough in our testing and being objective with our verdict, which is something you'll notice in just a few moments.
What do we use this product for?
Those in need of some extra support can benefit from this product in more than one way. Extra firmness and support allow for a much more pleasant and comfortable experience for those that like to sleep on their stomachs or for those packing a few extra pounds.
Features you should know about the Silentnight Miracoil
As we've previously mentioned, each product has a set of its own defining features and properties and Silentnight Miracoil is no different. As you're about to see, Silentnight's team of experts has come up with several, unique features to really set this one apart from the competition…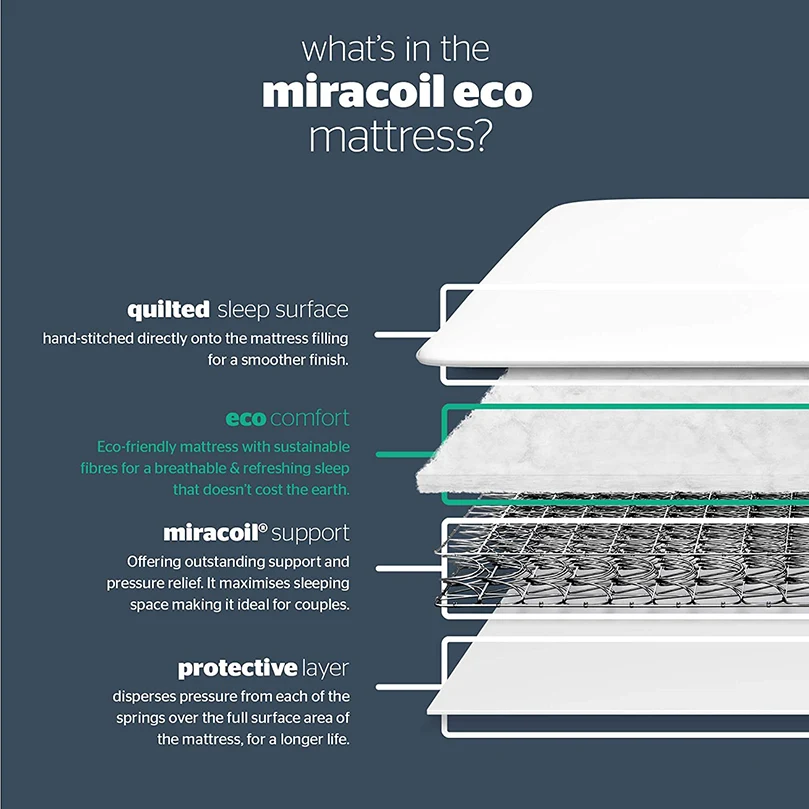 The Miracoil spring system by Silentnight provides exceptional zoned support, superior spinal alignment, maximizes sleeping room, and decreases motion transfer for less partner disruption, making it perfect for couples, as well as restless sleepers.
The Miracoil spring design is different from the others in the way that it has a continuous length of coils 'knitted' into a series of interwoven springs that are connected vertically rather than horizontally to provide better and firmer support for your or your partner's body.
Furthermore, Miracoil systems boast up to twice as many coils compared to the regular coiled mattresses, providing you with much better weight distribution and pressure relief.
Even though it is non-removable, the luxurious cover on this mattress is truly something special. This is a high-quality, quilted damask cover that ensures the most comfortable, slip and motion-free sleeping experience. This high-quality cover is the standard for all of Silentnight's mattresses.
The cover is just one of several layers of this mattress. It is only when you put them all together that you are able to experience the quality of this mattress to the full extent. This brings us to our next point…
The Miracoil spring system's unique zoned design provides comfort and support for people of all shapes and sizes. Miracoil's unique shape has twice as many springs as a traditional circular spring system, offering additional pressure relief, edge to edge support for optimum sleep space, and zoned support right where you need it most.
On top of that, memory foam layers ensure that you get the most comfortable sleeping experience. The top memory foam layer is 25 mm thick, which is just enough to properly contour your body and relieve some of the pressure from the usual pressure points like hips and shoulders.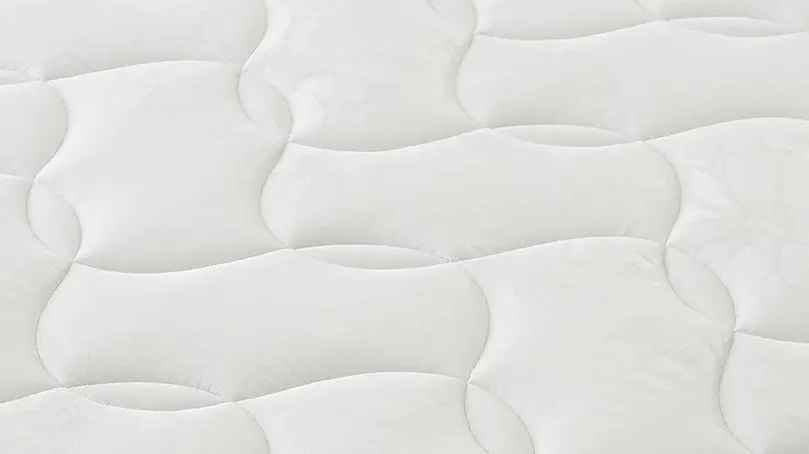 Just like any other high-quality mattress, Silentnight Miracoil is hypoallergenic. Having a hypoallergenic cover is not only important if you're suffering from allergies or perhaps asthma, as anyone can appreciate and enjoy an allergen-free sleeping environment. This is most definitely one of the features that you should always look for in a mattress.
As you already know, we're looking at a non-removable, luxurious, quilted damask cover. What you don't know is that the cover, as well as the rest of the mattress, has been treated with Purotex, a natural probiotic that helps combat almost all of the known allergens, ensuring the utmost sleeping experience.
Review of Silentnight Miracoil
If your goal is to find a reliable, durable, firm, but still comfortable mattress to sleep on, then this one might just be the right for you. Silentnight Miracoil is specially designed to offer substantial support and fantastic spinal and full-body alignment, while still providing more than enough comfort and sinkage. Miracoil system offers great zoned support, which makes this one very good at equally dispersing body weight and relieving the pressure, even though it is on the firmer side of the spectrum.
Naturally, the mattress isn't without its flaws. The quilted cover is non-removable, which makes this mattress very hard to clean, so we wouldn't recommend breakfast in bed. Additionally, even though this one has some leeway and it does contour to your body nicely, if you're lightweight and you sleep on your side – you might want to take a look at something different.
Finally, we have to mention that Silentnight offers a 60-night trial for this and every other mattress in their catalogue, as well as the 5-year warranty, for this one in particular.
Substantial support
Great pressure relief
Hypoallergenic
Non-removable cover
Some people may find it too firm
It's single-sided which might affect the durability in the long run
What we like about Silentnight Miracoil
The excellent support system provided by the Miracoil technology
The price-to-value ratio is excellent compared to some other models in the price range
Arguably the most breathable memory foam mattress on the market
What we don't like about Silentnight Miracoil
The non-removable cover makes this one hard to thoroughly clean
Lack of side handles makes rotating the mattress more difficult than it should be
Some side sleepers will find this one too firm
Our recommended alternatives to Silentnight Miracoil
In case that the Silentnight Miracoil does not do it for you, you can always look for an alternative that might. To make things easier for you, we've decided to present you with two alternative picks – Vesgantti Pro Hybrid and Silentnight 2000. Here's a brief overview of both.
Vesgantti Pro Hybrid Mattress
Similarly to Silentnight Miracoil, Pro Hybrid from Vesgantti also combines springs with memory foam to ensure great support and comfort. Pro Hybrid is a multi-layered, pocket sprung/memory foam mattress with 7 zones of support, ensuring you feel comfortable and rested every time you fall asleep.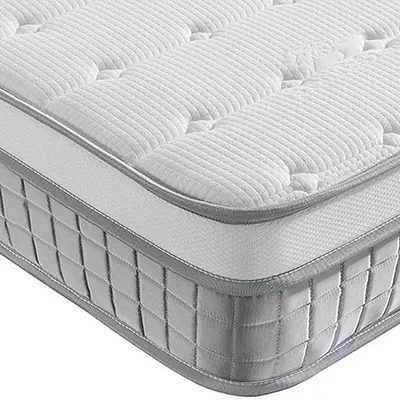 Zoned support
Breathable
Great price-to-value ratio
Some edge support concerns
Not the best at isolation motion
Very strong memory foam smell
Once again, we have a pocket sprung/memory foam mattress as an alternative option. Unlike Miracoil, Silentnight 2000 uses Mirapocket zoned spring system to ensure utmost support, pressure relief and comfort. This one comes with 2000 individually nested springs and a 15 cm layer of memory foam on top of them.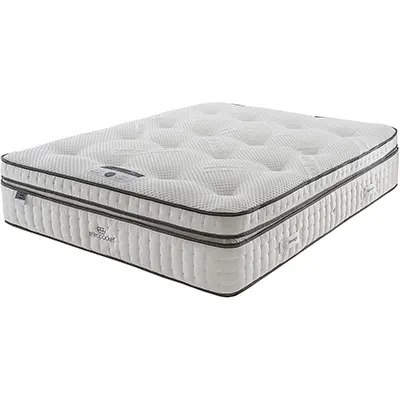 Very comfortable
Great pressure relief
Hypoallergenic
Too much sinkage for stomach sleepers
Some find it to be too thick
Can get warm
Consider Silentnight Airmax Mattress Topper if you are buying Silentnight Miracoil Mattress
As we've said, Silentnight Miracoil offers great support, but it is a bit on the firmer side. Therefore, a mattress topper could come in handy. More precisely, an Airmax mattress topper from Silentnight could just be what you need. Additionally, with an easily washable mattress topper, you don't have to worry as much about cleaning your mattress.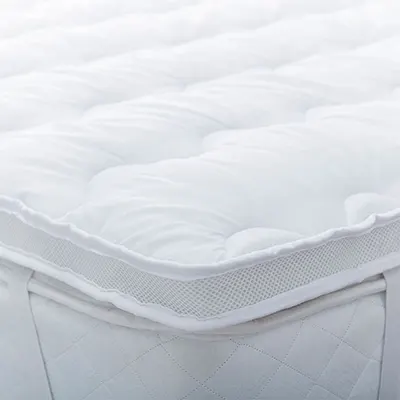 Soft and comfortable
Hypoallergenic
Easy to clean
Below-average cooling properties
Not suitable for soft mattresses
Not thick enough when under pressure
What makes this product better than some other similar ones?
What Silentnight Miracoil does much better than the rest of the products in a similar price range is it keeps you properly aligned, supported and cool while you sleep. Those three are definitely the strongest points of this mattress, especially if you're on the heavier side and you struggle to find a mattress that's going to support your weight, but still, keep you cool and comfortable.
FAQ about your new Silentnight Miracoil Mattress
Finally, we wanted to answer some of the FAQ we thought you might find helpful. We've noticed that people are wondering how to wash this mattress and are asking some questions about the durability of it, so we've decided to provide an answer to some of them
Are Silentnight Miracoil mattresses durable?
Yes. Silentnight Miracoil mattress is fairly durable and you can expect it to last you at least 8 years.
How do I wash my Silentnight Miracoil mattress?
Lightly spray the solution of water and laundry detergent onto the mattress and dab it with a damp cloth until clean.
How thick is Silentnight Miracoil mattress?
Silentnight Miracoil is 24cm thick.
Does Silentnight Miracoil mattress come with a cover?
No. Silentnight Miracoil mattress does not come with a cover and if you want one you should buy it separately.