Nectar Hybrid Mattress Review - The Latest Nectar Mattress
Every time a UK sleep company launches a new mattress on the market, and especially when it is a well-known company like Nectar Sleep which also markets its products in the USA, that product immediately comes to the top of our property list. Here is your Nectar Hybrid mattress review by The Sleep Advisors where you can find out all about this new mattress model.
Who is Nectar Hybrid mattress for?
Unlike Nectar Memory Foam mattress which can be too soft for stomach sleepers, especially since it gets softer throughout the night, Nectar Hybrid mattress is suitable for all sleeping positions. 
Whether you sleep on your side, back or stomach or you are a combination sleeper so you change sleep position many times during the night, this Nectar mattress will suit you.
Also, Nectar Hybrid mattress is for allergy sufferers since it is made of hypoallergenic material and is not a suitable environment for dust mites and other allergens.
In addition, this Nectar mattress is CertiPUR certified, which is a certificate that guarantees the environment, health and safety properties of polyurethane foam. Let's start this Nectar mattress review and find out more about this great product!
Add a header to begin generating the table of contents
What do we use this Nectar mattress for?
There are so many things we use Nectar Hybrid mattress for, so we will mention only the most important ones, and those are pressure relief and support. Also, we use this Nectar mattress for a comfortable night's sleep, as well as for improved air flow. Breathability is good for mattress that has 3 foam layers. Couples use this Nectar mattress to avoid feeling their partner's move in bed, because this mattress minimizes motion transfer.
8 features that distinguish Nectar Hybrid mattress
Nectar Hybrid mattress, like any hybrid mattress, is more complex than regular memory foam or some other type of foam mattresses. There are a lot of Nectar mattress layers that affect performances differently. In this part of our review, learn more about the most important features of this mattress.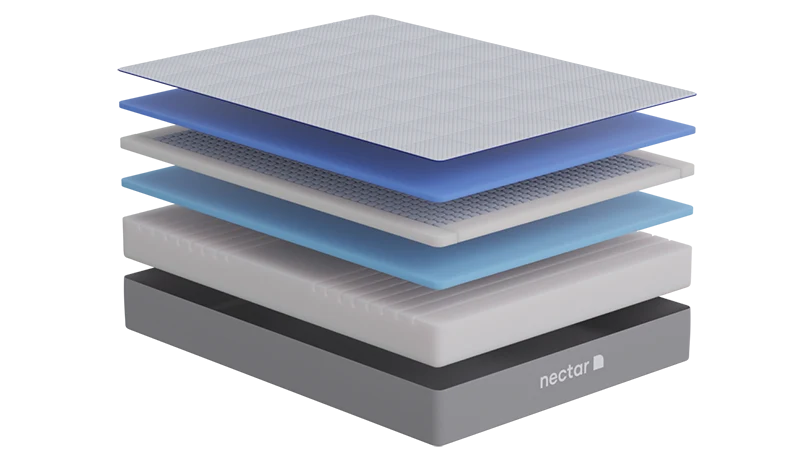 When we talk about the thickness of this Nectar mattress, every of the available 5 sizes are of the same thickness – 25 cm. We can't say that is extra deep for a hybrid mattress, because other memory foam mattresses and hybrid mattresses are generally thicker because they have multiple layers.
This Nectar mattress is an average thick hybrid mattress and would be expected to be closer to 30cm thick, as it has 6 layers. But 25 cm is more than enough in this case because all the layers are high-quality and will give you everything a hybrid mattress should give you. Probably even more than some hybrid mattress that is 30 cm or more thick but made of low quality materials.
1,600 individually encapsulated micro-springs
If we count out positioning base material, the spring layer, which consists of 1,600 individually encapsulated micro-springs, is located exactly in the middle of this Nectar mattress. This layer is the main difference between Nectar Hybrid mattress and Nectar Memory Foam mattress.
It separates the upper and lower layers and significantly improves breathability. Since each of the 1600 micro-springs is individually encapsulated, motion insulation is great, making this mattress great for couples. It also improves support and comfort, as it is in charge of micro-adjustments. It does not significantly affect the bounce, especially compared to traditional pocket springs, as this layer is only 2.5 cm thick.
This Nectar mattress has a total of 6 layers, and they are arranged as follows, if we look from the bottom to the top. Positioning base material does not directly affect comfort, support or pressure relief, but it is very important because it keeps your mattress in place, not allowing it to move on the bed frame. Next is the first memory foam layer. It is a high-density 7 zone supportive base. This layer has channels that are arranged so that certain parts of the body sink deeper and this is most important for spine alignment.
Slow response memory foam comes next and then it will "hug" you and relief your body of pressure. Next up is the 1,600 individually encapsulated micro-spring layer we talked about in the last paragraph. Over the micro-spring layer comes a dynamic support layer that perfectly regulates the temperature and improves airflow. Lastly, the quilted cooling cover that is closest to you draw heat away from your body. Cover is not removable.
Adaptive memory foam for pressure relief and spinal alignment
It is a very uncomfortable feeling when we wake up every morning with pain in the pressure points. And long term it can lead to chronic pain and deformity. This mattress will solve this problem, because it is designed so that you can feel the pressure relief as soon as you lie on it.
The abovementioned 7 zone supportive base allows you to achieve spinal alignment and sleep in a neutral position, which is very important for your neck, spine, shoulders and hips.
If one partner is a restless sleeper and the other partner is a light sleeper, this can be a very big problem. And even if you are not a light sleeper, it is not pleasant when you feel the mattress move every few minutes.
Nectar Hybrid mattress almost completely neutralizes the motions of your partner, so you can both move as much as you want, without waking your partner. Motion isolation is so good that you won't even spill a glass of wine located on the other side of the bed.
Major issue with most memory foam mattresses or those that contain few layers of memory foam is heat retention and that is why hot sleepers often avoid buying such a mattress. Nectar company has done a fantastic job in this field.
Micro-spring layer plus improved construction of memory foam layers, as well as quilted cooling cover enable constant airflow. That is why you will be comfortable sleeping on it even during the summer.
It takes about a month to get used to a mattress, even one that perfectly suits your sleep position and preferences. That's why most mattress manufacturers give a trial period, but Nectar company has gone a step further. They give you the opportunity to try this memory foam mattress during whole year. Yes, you read that right! You have 365 nights available to determine if this memory foam mattress is the mattress you want to sleep on for the next many years and even decades. If not, you can return it and get your money back.
If you are surprised by the opportunity to try this mattress for 365 days, then you will be completely stunned when you hear that it comes with forever warranty. The warranty range is usually between 5 and 15 years, and Nectar Sleep gives you a lifetime warranty on this mattress.
For the first 10 years, if any damage occurs that is not your fault and wear and tear is noticeable, you will get a brand new Nectar mattress. After 10 years, they will fully repair your mattress for free and even shipping will be free. Certainly the best warranty conditions on the market.
Review of Nectar Hybrid mattress
Nectar Hybrid mattress is a medium firm mattress which is the most common firmness for mattress in a box. Due to the combination of several different layers of foam and micro-spring layer, it is suitable for all sleep positions. It has a total of 6 layers and is 25 cm thick. It is very comfortable, because Nectar mattress is neither too soft nor too firm. It allows you to sink, but only so much that you are comfortable and feel the pressure relief, and then it will give you support adapted to different parts of the body so it will keep your spine aligned.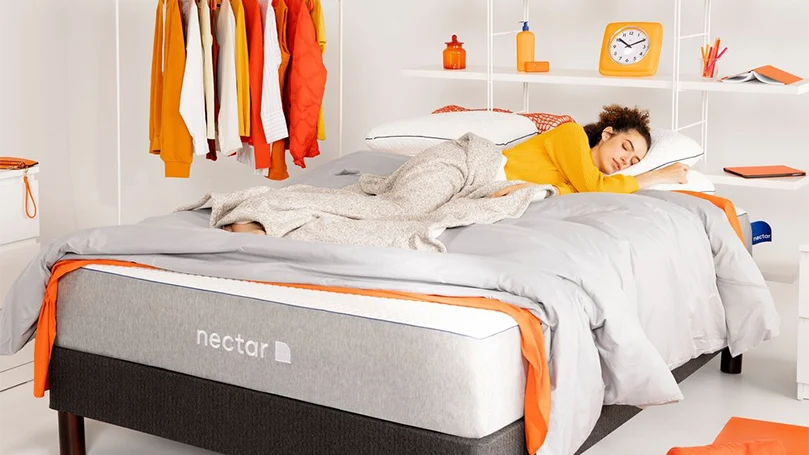 Breathability has been significantly improved, so hot sleepers will like it. It is a great choice for couples because there is no motion transfer, and also for allergy sufferers because it is hypoallergenic. It is one of the few climate-neutral mattresses available on the UK market. Like other Nectar mattresses, this Nectar mattress also comes with forever warranty and you have a 365-night trial.
Lifetime warranty

365-night trial

CertiPUR certified.
New to market

No handles

Off-gassing.
Things we like about Nectar Hybrid mattress
Needless to say how fantastic are lifetime warranty and 365-night trial

This Nectar mattress minimizes motion transfer to the point that you won't know you're sleeping with someone in bed

Support, comfort and pressure relief are very good and will satisfy different sleep positions and needs.
What we didn't like about Nectar Hybrid mattress
While we're sure this is a great mattress, it's new to the market, which means no one has used it for an extensive period of time yet

There are no handles, which makes it a bit difficult to move

Slight off-gassing is present due to foam layers, but you should not worry about that because it is CertiPUR certified.
Check the alternatives to Nectar Hybrid mattress
When buying any product, it is advisable to compare it with some other similar products and determine which one suits you best. Emma and Simba, as well as Nectar, belong to group of premium UK sleep companies, so take a look at their hybrid mattresses.
What makes the Emma Hybrid mattress stand out is comfort. Although hybrid mattresses are above all great in providing support and pressure relief, especially when they are a bit firmer, the Emma Hybrid mattress is first and foremost very comfortable.
 When we say that it is firmer, it means that we would give it 7, on a firmness scale from 1 to 10. Of course, it also depends on your body weight. Support and pressure relief are good, and motion isolation is great. 
We like that it has a removable, machine washable cover because that makes maintenance easier. You don't have to worry about whether it will suit you, because you can try it for 200 days and return it in case you don't like something.
Don't forget to check our Emma Hybrid mattress in-depth review to learn more.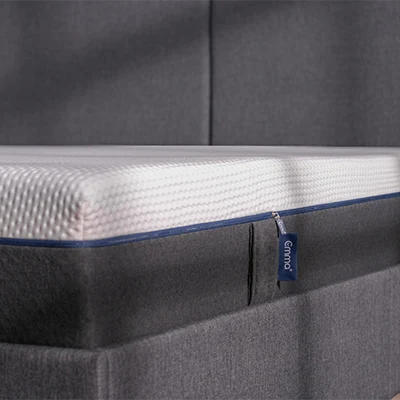 Pressure relief

Machine washable cover

Side handles.
Sometimes too warm

Edge support could be better

Expensive when compared to similar products.
The Hybrid Pro is one of three mattresses manufactured by Simba and all three are hybrid, so this sleep company specializes in this type of mattress. They differ in the number of layers and therefore the thickness. Hybrid Pro has 7 layers and is 28 cm thick. 
It has several layers of foam, and even two layers of titanium Aerocoil springs, of which there are a total of five thousand. Aerocoil springs provide both comfort and support. The temperature regulation of this mattress is great, so you won't be too hot nor too cold. 
If you find this mattress interesting, read our review of Simba Hybrid Pro.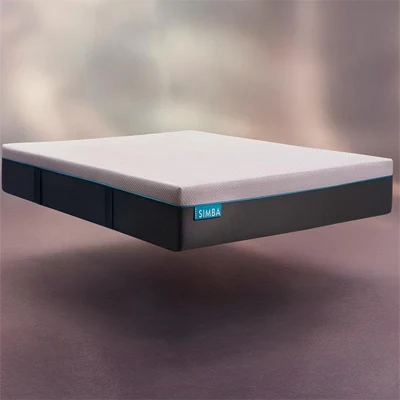 Temperature regulation

7 sizes available

TCPP-free, CertiPUR certified.
High priced

Non-removable cover

Potentially too soft for heavier sleepers.
Consider Silentnight Geltex Pillow if you are buying Nectar Hybrid mattress
No matter how good Nectar mattress is, you also need a suitable pillow so that your whole body is in a healthy position and that you can sleep comfortably. 
Consider Silentnight Geltex pillow if you are buying Nectar Hybrid mattress because it is cooling and supportive pillow. It has a gel infused core that regulates temperature, and breathability is A + due to hollowfibre filling and cover with air mesh walls. 
It is most comfortable for side sleepers, and is also good for back sleepers. Although it offers firm support, the loft is not ideal for stomach sleepers. It is hypoallergenic and vegan-friendly.
We have a full review of Silentnight Geltex pillow.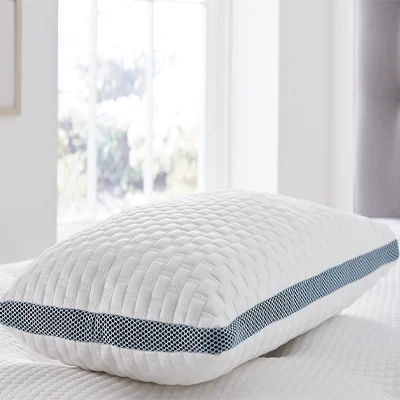 Support

Cooling

Soft cover.
One size only

Not the best for stomach sleepers

Tends to get flat.
What makes this Nectar mattress better than some other similar ones?
Let's start with pressure relief. In this field, this mattress achieves enviable results and everyone in need of relieving pressure will enjoy sleeping on it. After that, we should mention the breathability which makes it better than many other mattresses that contain foam and that is why hot sleepers will also buy it.
The next important feature is the minimization of motion transfers, which is among the three most important features for each couple. And finally, lifetime warranty. This absolutely sets it apart on the market and we can say that it is the best buy, although it is high-priced, but no matter how much it costs, it is great investment since you will use it for decades.
How did we test this Nectar mattress?
When ordering Nectar Hybrid mattress, you need to choose what size you want and whether you want old mattress removal. Free delivery as well as return is included. If you want old mattress removal you have to pay an extra £ 45 to Nectar Sleep company and you should know that it is from outside the property only. Nectar Sleep company has excellent support, so you can contact them for any additional information.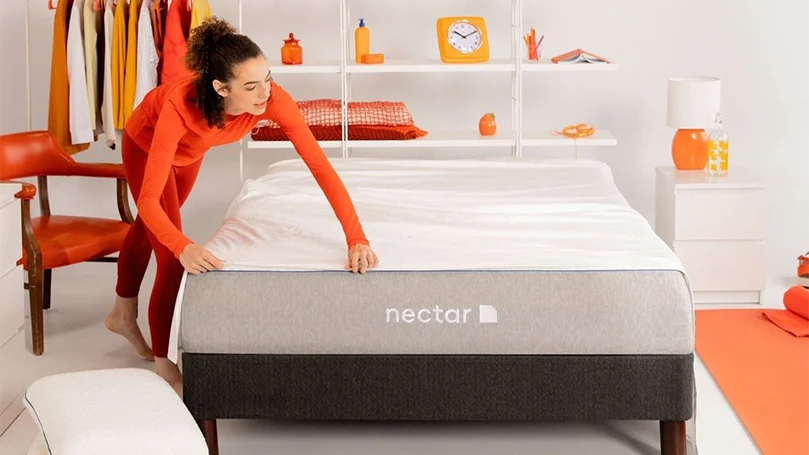 As this is a premium Nectar mattress, we wanted to test this Nectar mattress as much detailed as possible and share our impressions with you. After leaving it for a while for the off-gassing to disappear, we started a multi-day test where all members of our test team spent at least 3 nights sleeping on it. First it was important for us to determine that it was really comfortable for all sleep positions and very quickly we were sure of that. Whether you sleep on your side, back, stomach or change several positions, you will be comfortable. Support as well as pressure relief are excellent and overall you will get a very pleasant sleeping experience. Since this is a memory foam mattress, we expected to notice some smell. However, there was no sign of an unpleasant off-gassing memory foam smell.
Our recommendation is to use sheets because the cover is not removable. If you notice stains, you can spot clean them, but it's still better to use sheets. Another test we paid special attention to was the durability test. Since it has a lifetime warranty, we wanted to make sure it was really so durable so we subjected it to a roller test which Nectar Hybrid mattress passed with flying colours.
FAQs about your Nectar Hybrid mattress
All we have left to do is give you answers to some of the frequently asked questions and thus complete this Nectar mattress review.
Is Nectar Hybrid mattress good for side sleepers?
Yes, firmness of this Nectar mattress is great for side sleeping position, because they will be able to achieve spine alignment and have great night's sleep.
Should back sleepers use Nectar Hybrid mattress?
Back sleepers will definitely benefit from using Nectar Hybrid mattress.
Should sleepers with neck pain sleep on Nectar Hybrid mattress?
All Nectar mattresses are good for sleepers with pain. Sleepers with neck pain and pain in other parts of the body should use this mattress because it is pressure relieving and comfortable.
How do I clean/maintain my Nectar Hybrid mattress?
Cover is not removable and therefore not machine washable so it can only be spot-cleaned with a mild detergent.