5 Best Earplugs for Sleeping UK
In order to improve your sleep, it is necessary to choose the appropriate earplugs. There are many different options on the UK market that differ in material, price, noise reduction level and so on.
Noise pollution has become a very common problem. The noise produced by the civilization around us is a serious obstacle for many people to fall asleep and stay asleep for several hours uninterrupted. Some people are more sensitive than others and they cannot sleep at all without earplugs.
That's why there are so many options on the market, so it can be difficult to choose the ideal fit for you. If you choose the best earplugs for sleeping, they will completely block out the noise while not compromising your comfort or irritating the inside of your ears.
Add a header to begin generating the table of contents
Our top earplugs for sleeping in the UK
Safety was of course the primary factor to consider when choosing our best pick. After that, we analyzed the "noise reduction rating" as well as whether they are comfortable and whether you can sleep undisturbed with them in your ears. Following 5 earplugs for sleeping proved to be best in the UK.
IMAGE
PRODUCT
DETAILS

KEY FEATURES:

Material:

Foam

Reusable:

No

Storage:

Yes

Noise reduction (db):

38

View Latest Price

KEY FEATURES:

Material:

Silicone

Reusable:

No

Storage:

Yes

Noise reduction (db):

88

View Latest Price

KEY FEATURES:

Material:

Silicone

Reusable:

No

Storage:

No

Noise reduction (db):

22

View Latest Price

BEST FOR NOISY SURROUNDINGS

BEST FOR NOISY SURROUNDINGS

KEY FEATURES:

Material:

Silicone

Reusable:

Yes

Storage:

Yes

Noise reduction (db):

27

View Latest Price

KEY FEATURES:

Material:

Silicone

Reusable:

Yes

Storage:

Yes

Noise reduction (db):

27

View Latest Price
1. BEST OVERALL: Beary Quiet Ear Plugs
Upgraded design and BPA free material are enough to win in the best overall category.
Do you want to sleep like a bear during hibernation? Beary Quiet Ear Plugs will make it possible for you. Whether the source of noise is snoring, neighbor, traffic, airplane or something else, you can count on it to reduce noise by up to 38 decibels. Plugs are made of foam that is non-toxic and BPA free.
This product is vegan-friendly since it is Against Animal Cruelty. You will get the case to store it safely during the day and when you are not using ear plugs. And you even get a 30-night trial to make sure the plugs fit your ears. One pack contains 60 ear plugs / 30 pairs. Available in one size only so some customers find it too small or too big.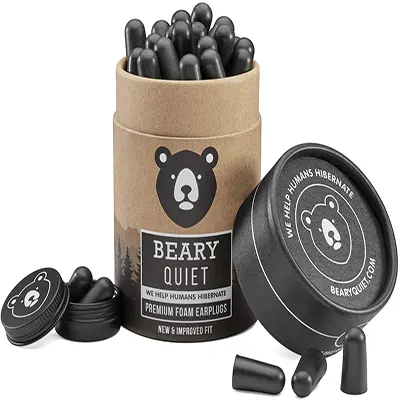 2. BEST FOR SIDE SLEEPERS: HouChanges Soft Foam Ear Plugs
Provide yourself with silence by buying these best value and best foam earplugs.
For all those who want to sleep in silence and achieve a good night's sleep, but also for those who work in a low/medium-noisy environment, these are great earplugs.
You will get 4 different pairs in one pack. They are made of silicone, in very bright colors, so that it would be noticeable to have them in your ears. They have a special shape so they will fit you perfectly. It is only important that you follow the manufacturer's advice on how to use them. If you sleep on your side, you can cut off a part so that it does not protrude from your ears.
They are made so that you can hear alarm in the morning, which is great, but not suitable for very load environments. Therefore, these are not 100% noise cancelling earplugs.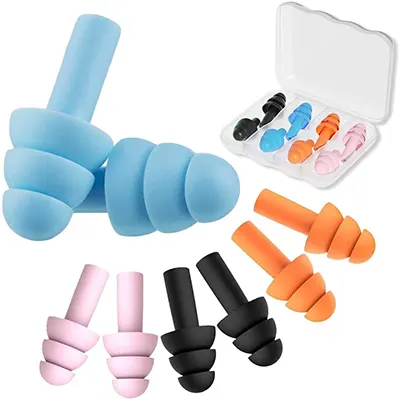 3. BEST FOR TRAVEL: BioEars Soft Silicone Earplugs
BioEars Soft Silicone Earplugs are the best multi-purpose earplugs on the market.
When traveling, you need earplugs not only to sleep, but also to reduce the noise that can be heard at airports and while you are on a plane. Also, it will be very useful for you because they can be used for swimming and diving, so they are ideal for all travelers. They play a big role in the prevention of swimmer's ear.
Made of silicone, they have special antimicrobial protection, which is due to a special bacteria preventing antioxidant made on the basis of aloe vera.
These are not disposable foam earplugs but rather reusable ones and you can choose between different packs.
4. BEST FOR NOISY SURROUNDINGS: Loop Quiet Silicone Earplugs
If you are a light sleeper or work in a very loud environment, Loop Quiet Silicone Earplugs will save your hearing and improve night's sleep.
You will immediately notice that Loop Quiet Silicone Earplugs have a different shape than most other ear plugs available on the market. They are made of soft silicone and can be used multiple times equally effective. They are washable to make sure you do not cause an ear infection.
Noise reduction rating (NRR) is 27 decibels, which is enough for most environments. They are suitable for sleeping, but also for work. Loop Quiet Silicone Earplugs are available in four different sizes (XS – L) and 6 different colors. Carry case is very handy. Many consider Loop Quiet earplugs as a fashion detail. There are two more models available – Experience and Experience Pro.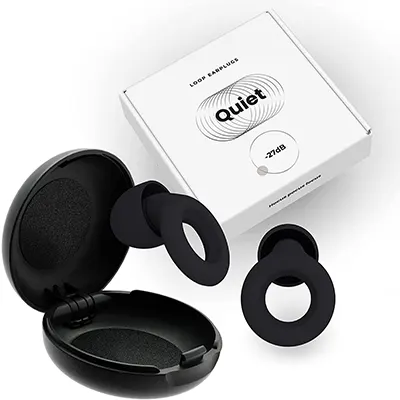 5. BEST REUSABLE: Deep Sleeps Ear Plugs
Recommended by Men's Health and The British Airways Executive club as the perfect choice for sleep in loud environments.
Deep Sleeps is a UK company specializing in the production of ear plugs. The products are designed and manufactured in the UK in accordance with all laws and regulations, so ear plugs are completely safe for your health. They completely close the ear canal to create an air tight seal through which no unwanted sound can pass.
That's why Deep Sleeps ear plugs will give you the perfect night's sleep, even if your partner snores or neighbors party all night long. In one pack you get 6 pairs, and each pair is reusable.
Maintenance is very simple. All you need is warm soapy water or alcohol gel when you travel and water is not at hand. After you clean them, store them in their original packaging.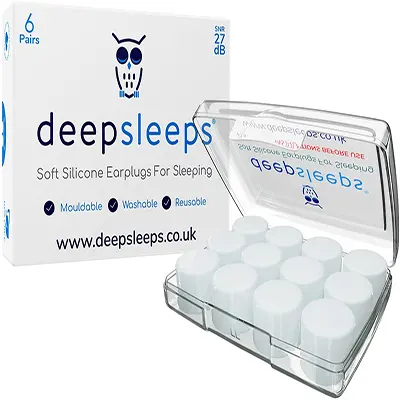 What to consider when buying best earplugs?
In order to tell you what are the key factors to consider when shopping, and also in order to be able to make a list of best earplugs for sleeping for you, we must first analyze safety, noise reduction, materials and other primary characteristics of earplugs for sleeping.
The best earplugs for sleeping are made so that they are safe to use. However, you should know that they can cause certain side effects if used improperly. Or if you don't pay attention to what you're buying.
If you put them in your ear too often, they can push the earwax back and over time that will cause a buildup. This can cause unpleasant problems such as tinnitus, and if left untreated, even hearing loss, albeit temporary. You need to be careful to buy those made from safe materials to avoid ear irritation, and also to clean or change them regularly so that the bacteria on them do not cause an ear infection.
There is something called a "noise reduction rating" and you should always check what rating the earplugs you plan to buy have. It is a measurement of how much your earplugs will actually manage to block the background noise, and how much you will hear even if you have them in your ears.
Noise reduction rating is expressed in decibels and that number is showing how many decibels that earplugs can block. The higher the number, the greater the potential for sound blocking earplugs have. They usually vary between 20 and 35 decibels which should be enough for most people. If you are more sensitive, aim 30 do 30 dB.
There are earplugs that are designed for signal use, as well as those that are designed to be used for a long time. It is important that you respect what the manufacturer intended them for, which means that if they are intended for single use, that you really use them that way, because there are reasons why they are single-use.
This usually means that they are made of lower quality materials, and above all less durable, and will only give you noise canceling once you use them. On the other hand, those intended for multi-use are durable, of better quality and will last longer, and are therefore more expensive. And you have to clean them. So it's up to you to choose which option suits you best.
The materials most commonly used to produce the best earplugs for sleeping are foam, silicone, wax, and latex.
You will encounter foam and wax ones most often. Foam plugs are the most affordable option, they are very soft and that is why they are the most comfortable. But they have to change often because they are a suitable environment for bacteria. Wax earplugs are very effective, but they are expensive and are always single-use. Silicone is also used for noise canceling, but also to keep water out of your ears. Latex is used less frequently and is a good option for all those who are not allergic.
Don't think that earplugs will magically block all the sound that comes to you, without you even feeling that you have something in your ears. You will always know that there is something inside your ear canal, especially if you have small ears, but it is important to choose as comfortable as possible. This is especially important when choosing sleeping earplugs.
If you are uncomfortable, you will not be able to fall asleep until you take them out. The material affects comfort the most and as we said, foam is probably the best. Also pay attention to size and shape. It is important to know that you will have to try a couple of different ones until you find the ideal ones.
Tips for buying and using best earplugs for sleeping UK
In order for your reusable earplugs to maintain their effectiveness, but above all to be safe for using, you need to know how to maintain them properly. It is best to clean them with warm water, and you can even soak them in warm water. After a while, take them out of the water and further clean the dirt, if there is any.
Finally, you can spray them with alcohol to completely disinfect them. Then leave them to dry or wipe them with a cotton cloth. We advise you not to put them in your ears for at least a few hours after, because until the alcohol completely evaporates, it can irritate you.
Single-use earplugs mustn't be treated as reusable ones
Check for ear wax to maximize the efficiency of earplugs
Foam is most comfortable material
Wax and silicone are great for noise reduction, but more expensive than foam.
The Advantages of Owning the Best Earplugs for Sleeping UK
Imagine that you have moved to a new location and that now your bedroom is facing the street. If it is a very busy street, then the number of vehicles passing through that street does not decrease even at night. This will probably affect you sleep, and this will have an impact on all spheres of your life. You will have a lack of concentration and you will notice that you are no longer capable of doing simple everyday tasks.
Fortunately, this problem is easy to solve using the best earplugs for sleeping. All these models will allow you not to be disturbed by noise coming from outside. Also, if you work in a noisy place or want to prevent water from penetrating your ears, you can use earplugs.
You can reduce or even eliminate all those annoying noises which are preventing you from sleeping
Significant help in preventing swimmer's ear
Best earplugs for sleeping are very comfortable.
FAQs about your earplugs for sleeping UK
What people are generally most interested in about best earplugs for sleeping is whether it is safe to sleep with them or whether they can cause certain ear damage. Also, whether children should use them or not. You can find the answers to these questions in the FAQ section.
Is it dangerous to sleep with my earplugs?
Earplugs are safe to use for sleeping if you follow all instructions about how to use and maintain them.
Should children wear earplugs to sleep better?
They can use earplugs to sleep better, but it is advisable not to use them all the time, because later they won't be able to sleep when it is not 100% silent.
Can sleeping with earplugs damage ears?
Earplugs can cause earwax buildup and infections later, but it won't happen if you are not pushing them to hard in your ears.