5 Best White Noise Machines For Easier & Undisturbed Sleep
Is falling asleep particularly hard for you? Maybe all you need is a white noise machine. Research has shown that these machines can improve the quality of sleep and help you fall asleep faster…
Falling and staying asleep is a problem that bothers a lot of people. Waking up sore, feeling grumpy and tired can take a toll on your life, so dealing with sleep issues should be your number one priority.
Now, there are many methods you can try and improve your sleep, but sometimes all you need is the best white noise machine on your nightstand to help you fall asleep faster and wake up fresh and rested early in the morning.
White noise machines have been proven to work for many and that's why we've decided to help you find the perfect one.
Add a header to begin generating the table of contents
Finally, it is time to unveil our top picks for the best white noise machine in the UK! We've done our best to test, compare and consider everything there is to consider so that we can make an unbiased, objective decision for our top picks. With that in mind, we're certain you'll like at least one of our picks.
IMAGE
PRODUCT
DETAILS

KEY FEATURES:

HiFi sounds:

Yes

Timer:

Yes

Volume adjustment:

Yes

Battery:

Yes

View Latest Price

KEY FEATURES:

HiFi sounds:

Yes

Timer:

Yes

Volume adjustment:

Yes

Battery:

Yes

View Latest Price

KEY FEATURES:

HiFi sounds:

Yes

Timer:

Yes

Volume adjustment:

Yes

Battery:

No

View Latest Price

KEY FEATURES:

HiFi sounds:

Yes

Timer:

Yes

Volume adjustment:

Yes

Battery:

No

View Latest Price

KEY FEATURES:

HiFi sounds:

Yes

Timer:

Yes

Volume adjustment:

Yes

Battery:

No

View Latest Price
1. BEST OVERALL: DreamEgg White Noise Machine
Small, but mighty!
DreamEgg's D11 white noise machine is a highly portable, all-around sleeping assistant. Just like all the others on our list, this one is a lot more than just a white noise machine.
Unlike the ones we mentioned so far, D11 doesn't have a sound library that vast. You only get 11 different sounds to choose from, but even that should be more than enough for most users. 
At only 3.4″ in diameter – this is the smallest device on our list. In addition to the small form-factor, this one also comes with a baby-safe clip, so you can hang it pretty much anywhere you want.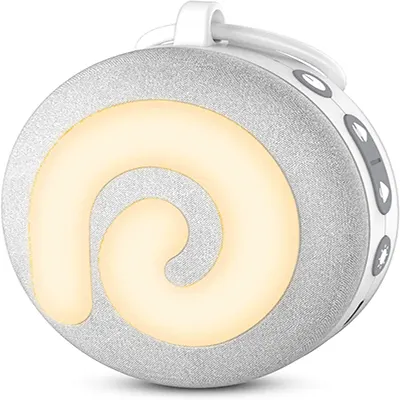 2. BEST VALUE: RENPHO Sound Machine for Sleeping
It's as good as it looks!
Relaxing your mind and body has never been more affordable. Now, this device won't be as good as a trip to the spa, but you listen to spa "music" and pretend you're there.
With 36 high-quality sounds, this one is one of the most versatile white noise machines, offering even more options than our top pick. Just like our champ, this one also comes with a timer and a "memory" function – which is always welcome.
Volume adjusting is pretty solid, with 16 levels to choose from, which is not as great as our champ – but still pretty good. On the flip side, this one is rather portable since it can be both powered by a rechargeable battery and from an outlet.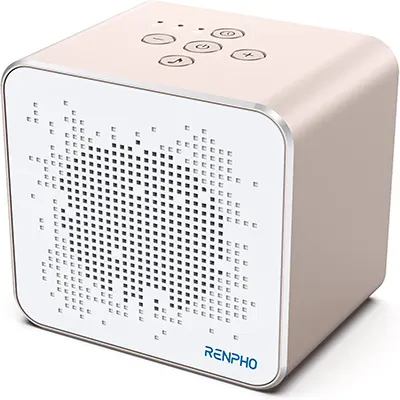 3. BEST HIGH END: Hatch Restore White Noise Machine
A great, all-around product & high-end product!
Hatch Restore combines a white noise machine, alarm, smart light, meditation app and an alarm clock into one smart sleep assistant – sounds rather great, right? 
Since they claim to be a lot more than a white noise machine, we have to treat it as such. Pretty much everything this machine does is impeccable.
The price tag is high but it is highly justified, considering the overall quality, features & durability.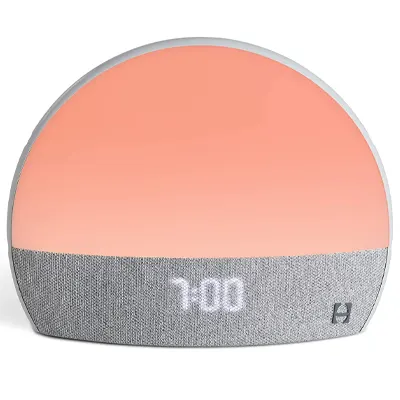 4. BEST WITH TIMER: LectroFan White Noise Machine
A solid choice for everyone looking for nothing more than a white noise machine!
For our final pick, we have a device that does exactly what it has to do and not a lot more.
This device isn't the greatest when it comes to sound variety, nor does it have a night light, but if you're simply looking for fan and white noise and nothing else – this is the one for you.
Just like all of the other ones on our list, this one also comes with a simple timer, but unlike most of our picks – this one can be powered both by USB or directly from an outlet.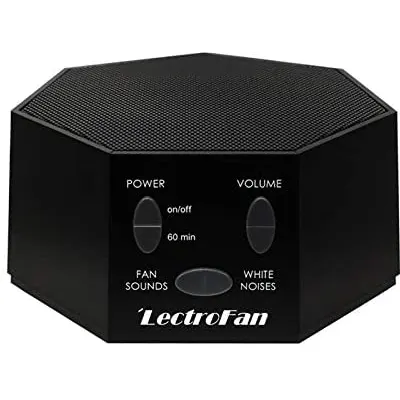 5. BEST FOR BABIES: Hatch Baby White Noise Machine
It grows with your child!
Back-to-back products from Hatch, only this time we're looking at a product for your little ones.
Once again we're looking at an all-around sleep assistant, rather than just a white noise machine. This one is pretty much on par with the previous one, with the main difference being the style and size and the app you kind of have to use if you want to make the most out of this device. 
Hust like you'd expect – everything can be customized via an app, but not as much with the touch controls on the device itself.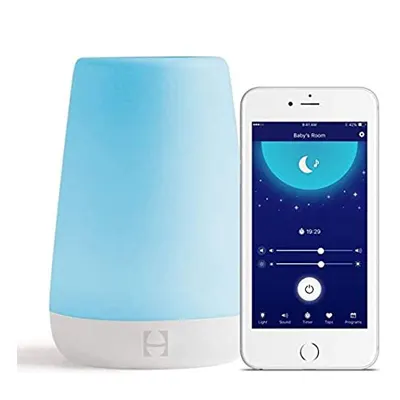 Features to look for in best white noise machines
Before we get into comparing and listing our picks for the best white noise machines, we need to tell you about the key features of each and every one of them. This will help you select the best one for your needs. This should also help you understand what were we considering and comparing when we were handpicking the products.
Arguably one of the first things you should pay attention to when shopping for a white noise machine is the sound variety. In case you didn't know, there are two different kinds of white noise machines – those that play prerecorded sounds and those that create the sound mechanically. Those that create the sound mechanically do so with a fan.
Choosing between the two is solely based on your personal preference. If you enjoy variety, then you'll most likely gravitate towards those that play recorded sounds. Recorded sounds can be various because what one might find soothing, the others might not. In general, you can expect rain sounds, waves, wind, babbling brook, chirping of birds or something along those lines.
Another quite important feature to look for is the volume adjuster. Just like with any other "speaker", you need to have complete control over the sound levels. Adjusting the volume and finding that sweet spot that masks ambient noise, is comfortable and does not disturb your sleep is paramount. This is especially important if the machine is being used by the children, as they're even more sensitive to loud white noise.
Keep in mind, that some lower-end models have only a few volume settings, for instance, quiet, normal or loud. We'd recommend avoiding those products, as fine-tuning the volume of the machine quite important. Also, keep in mind what's loud for someone, might be too quiet for someone else.
Just like many other gadgets in 2021, white noise machines can offer a handful of additional, smart features. Obviously, it could be quite useful if you could connect the device to your home network, smartphone or a home assistant like Amazon Echo, for example.
In addition to interconnectivity between your smart devices, some of these machines could also act as a night light or an alarm clock. To be fair, in most instances, these additional features won't make or break the product, since you probably have a phone that acts as your alarm, but in case you don't like keeping a smartphone by your head while you sleep, a feature like this one could come in handy.
Some white noise machines, although not many of them, come with displays. Now, when you think of a product that helps you sleep you don't really picture them with a light source strapped onto them. As you already know, light, especially blue light that's emitted by the displays is quite detrimental to healthy sleep patterns.
If you must choose a device with a display on it – at least make sure the display can be turned off. Ideally, when shopping for a white noise machine, you're better off choosing the one without the display. Instead, choose the one with physical buttons from which you can control the device.
Another neat feature for a white noise machine is a timer. You see, some people only need ambient noise to fall asleep and they prefer sleeping in complete silence. The others, on the other hand, prefer to have their white noise machines playing for as long as they're asleep. In most cases, a quality white noise machine will come with a built-in timer function, for this exact reason.
The main difference when it comes to timers is whether you'll set them up using an app or directly through the device. All of this pretty much comes down to personal preference, so pay attention to it if you'd like a fully customizable experience.
Finally, another thing to pay attention to is portability. In general, white noise machines aren't bulky, but that doesn't mean they're travel-friendly or portable. Some white noise machines require a power outlet to run, which can be quite tricky if you're a frequent traveler. In some instances, a hotel room might not have a power outlet by the bed or it only has one and you need to charge your phone instead.
Either way, it would be wise to consider a a portable white noise machine that runs on batteries or is charged via USB, so you don't have to worry about whether you'll be able to set it up once you're away from home.
Tips for buying and using best white noise machine
Now that we've highlighted some of the key features for every white noise machine, we thought we'd make your shopping experience more pleasant by presenting you with a few additional tips.
First things first – read the reviews. Listening to the voice of others can be quite helpful if you're not sure which product to choose. If you stumble upon a product that you're torn about, it might be wise to check out what other people have to say about it. A review can really change your perspective on a product.
Next up, if you plan on using a white noise machine in your baby's room, it is recommended by paediatricians that you keep the device at least 2m away from the crib. Also, mind the volume!
Finally, always pay attention to how you feel the next day after you had slept with a white noise machine on. Compare the before and after, so you have a better understanding of whether you're making progress or you need to look into some other things, as well.
Read the reviews
Keep the device away from the baby's crib
Do the before & after test.
The advantages of owning best white noise machine
Finally, it's important that we understand just how beneficial the white noise machines actually are.
First of all, white noise machines can help you fall asleep faster. Many suffer from falling asleep in complete silence as that keeps them restless and their mind wandering, so that's where this device comes in handy. Also, a white noise machine is great for masking additional sounds that might disturb you while you're trying to visit the snooze-ville.
Next up, a white noise machine can help alleviate sleep anxiety which is what keeps many up at night. Turning off the TV and falling asleep to the sounds of a white noise machine is a much better alternative, especially if you factor in the blue light emitted from the television set.
Finally, it has been reported that a white noise machine can help alleviate headaches that could keep you awake at night. Scientist claim that the sound consistency provided by the white noise machines "dulls" the senses in a way that can help ease the pain.
It helps you fall asleep faster
It helps alleviate sleep anxiety
It helps with headaches.
FAQs about your white noise machines
Sometimes, it's just that one question that's bothering you that could be the difference between buying or not buying a product. On that note, we wanted to answer some of the frequently asked questions that we felt might be important to the buyer.
Can white noise machines be harmful?
Yes. If used improperly i.e. too loud, a white noise machine can be harmful both to your health and your sleep cycle.
Should white noise be played all night?
If you set the volume correctly and turn off the machine in the morning – you may use the machine all night long if that's what's helping you sleep soundly.
Are white noise machines bad for adults?
There have been some claims that overly stimulating your auditory system during the night can be bad for your health, however, nothing of sorts has been definitively proven.
Are all noise machines the same?
No. White noise machines differ in more than one way i.e. how they make the sound, how quiet or loud they get, portability and more.