10 Best Cooling Pillow UK Picks To Enjoy Sweat-Free Sleep
Forget about tossing, turning and restless nights with just a single cooling pillow under your head!
The best cooling pillow UK offers is comfortable, supportive, and, most importantly – cool. It'll prevent you from losing sleep on a hot summer night by gently caressing your cheeks with a refreshingly chilly cover and a breathable body.
Although, if experience has taught us anything, finding a pillow that can do all that is a lot easier said than done – especially when you lead a busy life and don't have time for proper research.
Unlike yours, our busy lives actually revolve around finding and reviewing the best sleeping products, so you may as well allow us to guide you through the cooling pillow selection process. We promise we won't let you down!
With that in mind, let's skip the chit-chat and get straight to business. After all, you'll want to get your hands on a cooling pillow before the summer, right?
Let's begin!
Here is the moment you've been waiting for – the UK's best cooling pillows!
According to our team over at The Sleep Advisors' HQ, these ten pillows are crème de la crème of cooling pillows. Whether you choose the best overall or the best value pillow on our list – we are pretty confident you'll have a good night's sleep with either.
And now, let's meet our picks!
IMAGE
PRODUCT
DETAILS

KEY FEATURES:

Type:

Shredded memory foam

Size:

50x70 cm

Cooling technology:

Simba Stratos, shredded memory foam

Filling:

Open-cell foam

Cover:

Cotton

Weight:

450-640 g

Trial:

200 nights

Warranty:

1 year

View Latest Price

KEY FEATURES:

Type:

Memory foam

Size:

48x74 cm

Cooling technology:

Cooling gel pads

Filling:

Gel memory foam

Cover:

Polyester

Weight:

1.47 kg

Trial:

No

Warranty:

2 years

View Latest Price

KEY FEATURES:

Type:

Shredded memory foaM

Size:

40x60 cm

Cooling technology:

Tencel cooling fabric, shredded memory foam

Filling:

Memory foam

Cover:

Polyester

Weight:

1.5 kg

Trial:

No

Warranty:

2 years

View Latest Price

KEY FEATURES:

Type:

Memory foam

Size:

42x66 cm

Cooling technology:

Perforated foam

Filling:

Memory foam

Cover:

Polyester

Weight:

2.17 kg

Trial:

30 nights

Warranty:

2 years

View Latest Price

KEY FEATURES:

Type:

Hybrid

Size:

40x65 cm

Cooling technology:

Geltex

Filling:

Geltex, hollowfibre

Cover:

Polyester

Weight:

1 kg

Trial:

No

Warranty:

2 years

View Latest Price

KEY FEATURES:

Type:

Memory foam

Size:

40x60 cm

Cooling technology:

Bamboo cover

Filling:

Memory foam

Cover:

Bamboo, polyester

Weight:

1.5 kg

Trial:

30 nights

Warranty:

10 years

View Latest Price

KEY FEATURES:

Type:

Wool

Size:

48x74 cm

Cooling technology:

Simba Stratos

Filling:

Wool balls

Cover:

Cotton

Weight:

1.2 kg

Trial:

No

Warranty:

No

View Latest Price

BEST FOR BACK & SIDE SLEEPERS

BEST FOR BACK & SIDE SLEEPERS

KEY FEATURES:

Type:

Hollowfibre

Size:

48x74 cm

Cooling technology:

Dacron filling

Filling:

Dacron hollowfibre/microfibre

Cover:

Polyester

Weight:

1.08 kg

Trial:

No

Warranty:

No

View Latest Price

KEY FEATURES:

Type:

Memory foam

Size:

40x70 cm

Cooling technology:

Airgocell foam

Filling:

Memory foam

Cover:

Polyester, elsatene

Weight:

1.3 kg

Trial:

200 nights

Warranty:

2 years

View Latest Price

KEY FEATURES:

Type:

Memory foam

Size:

40x60 cm

Cooling technology:

Perforated gel foam

Filling:

Gel memory foam

Cover:

Tencel, microfibre

Weight:

1.87 kg

Trial:

No

Warranty:

No

View Latest Price
1. BEST OVERALL: Simba Hybrid Pillow
Say goodbye to sleepless nights with the best cooling pillow there is!
Simba Hybrid pillow is inarguably one of the best pillows UK has to offer by everyone's standards.
It's fully adjustable, allowing you to add or remove the foam Nanocubes tailoring the loft and support to your liking and sleeping position.
Just on its own, this delightfully crafted cotton pillowcase with mesh borders is quite breathable, but once you factor in Simba's active temperature-regulating Stratos technology, you get yourself a pillow that's ideal for year-round use.
For additional info, feel free to check our in-depth Simba Hybrid pillow review.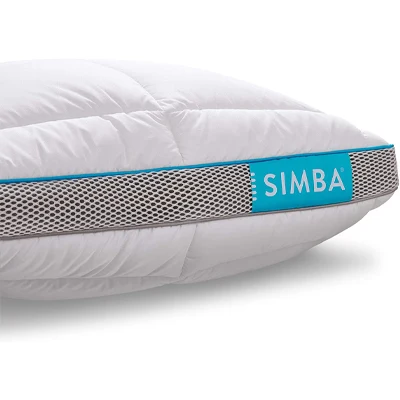 2. BEST VALUE: Silentnight Cool Touch Pillow
Save yourself from turning the pillow over while saving a few quid at the same time!
Gel memory foam pillows have been the staple of cooling pillows for several years, and Siletnight's Cool Touch pillow is one of the best, most affordable ones you can buy.
Housed in a super soft, cool-to-the-touch cover, this pillow is built for long-lasting cool comfort.
Its straightforward yet inviting rectangle design will offer more than enough neck and head support, although its loft might pose a problem or two if you like sleeping on your stomach.
One thing to note, though – this one does not come with a washable cover, so you will have to get a separate one.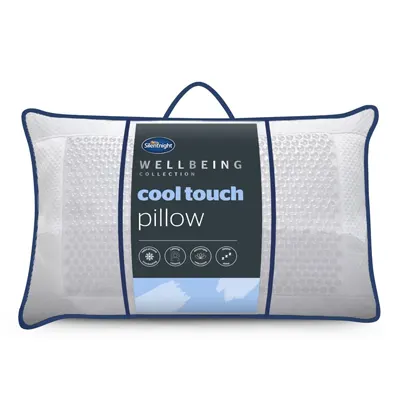 3. BEST PAIR OF PILLOWS: Nectar Premium Pillow
They say that the best things come in small packages, but the best cooling pillows come in pairs!
Nectar released their cooling pillow as a pair, yet they've kept the price reasonably low. That alone almost made us give this one the title of the best value cooling pillow, but this felt more appropriate.
The way Nectar tackled the overheating problem was by filling their pillow with shredded foam. This not only made the pillow more breathable but also softer and more comfortable.
The Tencel cover is sourced from eucalyptus trees. It's super soft to the touch, gentle on the skin, and fights off excessive moisture.
For additional info, feel free to check our full Nectar Premium pillow review.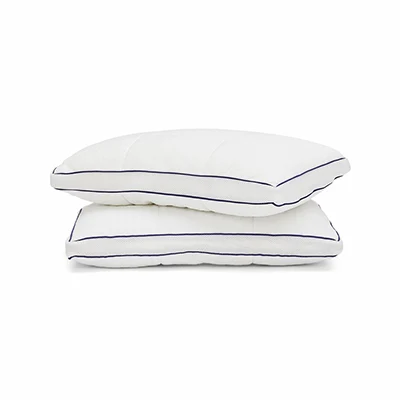 4. BEST MEMORY FOAM: Eve Memory Foam Pillow
Who says you can't make cool pillows out of memory foam? Eve proves you can!
Most cooling pillows absorb excess body heat by adding gel to the mix, but Eve just utilised simple physics in their design. They've pierced their foam cushion to allow for better airflow and optimal temperature maintenance. Simple, yet effective.
What's also lovely about this pillow is how supportive it is. The single block of foam makes this a firm pillow – just right for back and side sleepers.
On top of it all, this one's hypoallergenic and has a removable, machine-washable cover, so taking good care of it shouldn't be an issue.
For additional info, feel free to check our thorough Eve Memory Foam pillow review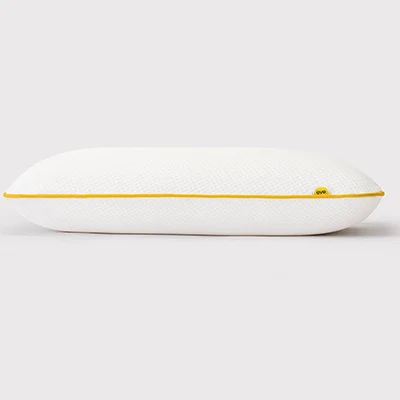 5. BEST HYBRID: Silentnight Geltex Pillow
Who knew that putting more than one cooling solution into a single pillow would work? Silentnight knew.
The gorgeously knitted cover is as soft and comfy as it is good-looking. Factor in the mesh air vents, and you'll have yourself a super cosy and breathable pillowcase.
But, it's the insides that count with this one. Surrounded by a generous amount of soft hollowfibre, at the core of this pillow, we have a Geltex cushion designed to absorb excess body heat and move it away from the body.
What's ingenious about this design is that soft hollowfibre is not only there as a comfort layer but also as a temperature buffer between your head and gel-infused foam core. 
For additional info, feel free to check our exhaustive Silentnight Geltex pillow review.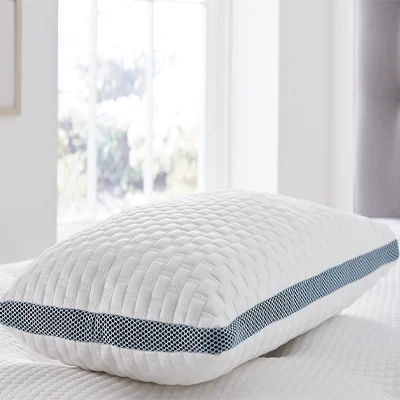 6. BEST BAMBOO: Panda Memory Foam Bamboo Pillow
Wave goodbye to night sweats with your new naturally cool bamboo pillow!
This is a regular memory foam pillow with a single block of memory foam for a base. However, unlike other foam pillows, this one uses a 3rd generation breathable memory foam to cool things off a bit.
Aside from cooling and breathability, which you can expect from all pillows on our list, Panda Bamboo pillow is also very well designed and built. Its downward-curving sides make this one comfy and supportive for most sleepers.
But, the biggest selling point of this pillow is its spectacularly engineered bamboo cover. Bamboo's naturally thermo-regulating, so it shouldn't surprise you how refreshing sleeping on this pillow will be.
For additional info, feel free to check our detailed Panda Memory Foam Bamboo pillow review.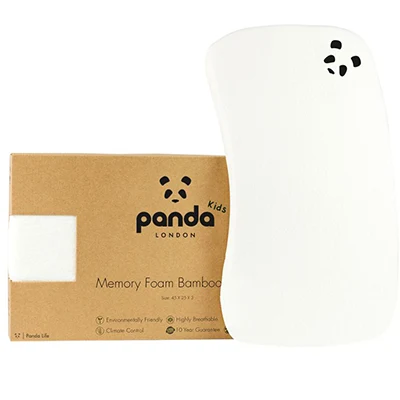 7. BEST HYPOALLERGENIC: Woolroom Natural British Wool Pillow
Sniffles, itchiness, and runny nose won't bother you anymore!
Woolroom has stuffed its Natural pillow with the finest balls of British wool to build this cooling pillow. But, temperature regulation wasn't the only thing Woolroom tried to achieve with this one.
What was also their goal was to create a 100% natural and completely hypoallergenic pillow to combat seasonal allergies and common household allergens like dust mites or mould. And, sure enough, they did just that.
But, wool isn't the only thing that makes this pillow 100% natural and hypoallergenic. It's the cotton cover, too.
For additional info, feel free to check our definitive Woolroom Natural British Wool pillow review.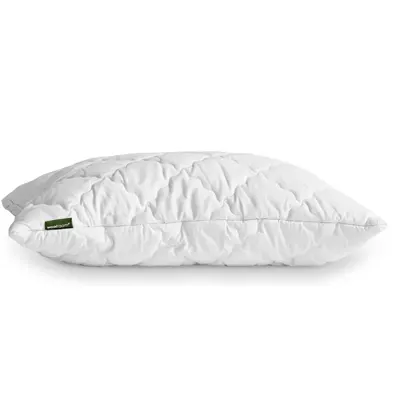 8. BEST FOR BACK & SIDE SLEEPERS: Slumberdown Climate Control Pillow
Rest comfortably and forget about snoring and night sweats with this pair of pillows!
Slumberdown Climate Control pillow is one of the most affordable cooling pillows UK offers. You could probably buy a cup of coffee that's more expensive than these two pillows combined. Oh, right, did we mention this is a two-pack?
Now, don't let the price tag fool you. This is by no means a cheap product. It's simply affordable.
Unlike the other cooling pillows on our list, this one's actually quite pleasant for a stomach sleeper. Its hollowfibre Dacron filling is not only breathable but also quite soft and squishy, which is what stomach sleepers find most appealing.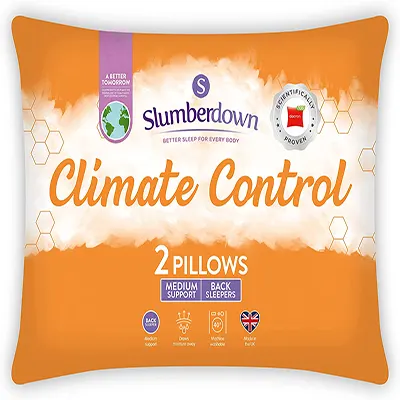 9. BEST ADJUSTABLE: Emma Original Pillow
Explore the three-layer adjustable concept and sleep fresh all through the night!
Emma Original is not your everyday pillow. This one's made out of three separate layers of different foams – each with its own set of characteristics and purposes. What's most fascinating about it is that not only are all of these "inner pillows" different – they're also kind of expandable.
Each of these cushions is removable. Also, each of these cushions can be rearranged in whichever way you seem fit. If you chose to, you could use one, two, or all three of them, in whichever order you wanted to.
For additional info, feel free to check our comprehensive Emma Original pillow review.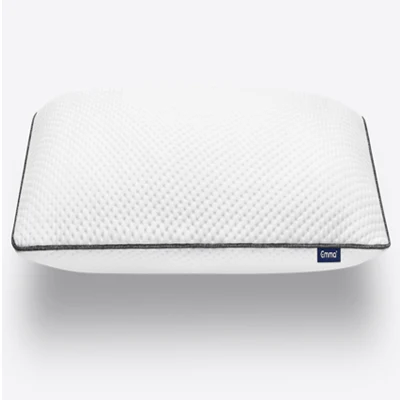 10. BEST FOR NECK PAIN: BedStory Memory Foam Pillow
Bop your head to some rock and roll 'cause neck pain is there no more!
Gel-infused foam usually handles the overheating issue on its own, but poking holes through the pillow made it even better. We'd even compare this one to a latex pillow when it comes to keeping things breezy.
What also helps is the Tencel/microfibre combo removable cover you'll get with this one. This knitted cover does a decent job at wicking away moisture and excess heat allowing you to sleep soundly during the night.
However, what this pillow does the best is handle neck pain. The cushiony feeling and lofty profile of this BedStory pillow allow you to keep your neck in the optimal position all night long, resulting in pain-free daybreaks.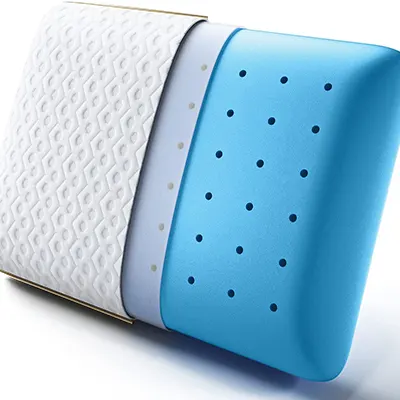 What to look for when buying a cooling pillow
To a layman, cooling pillows might be similar to regular pillows – but we know differently. We've learned what it takes for a cooling pillow to be great, and we're more than willing to share that with you.
The following traits make the best cooling pillows exceptional, so we'd urge you to keep these in mind when you go shopping. After all, these are the same features we've kept in mind when we handpicked the cooling pillows down below, so it's only right you know a thing or two about them, as well.
If sleeping cool were your only concern, you'd sleep on a bag of frozen peas, wouldn't you? But as we all know – that's not the case.
Even though you're buying a cool pillow, comfort and support still matter as much – if not more. After all, what good is a breezy pillow if you wake up with a stiff neck?
Comfort and support, although the first one is pretty subjective, are still the main features you should look for in a pillow.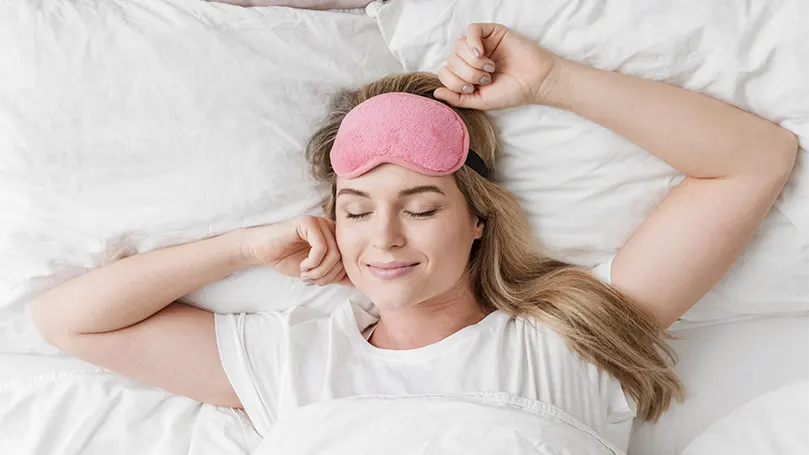 A comfortable pillow should be firm and supportive but still soft and cosy enough, so you don't experience pain and discomfort. It should match your sleeping position, too.
As a general rule of thumb, if you're sleeping on the side, you'll want to shop for something with a little bit of loft, so your neck, spine, and shoulder rest in perfect alignment throughout the night.
By the same logic, if you like to nap on your tummy, something low-profile should be more up your alley.
It's not a secret that in the past, our mattresses, pillows, and bedding were pumped with volatile organic compounds or VOCs. Fortunately, today we know better.
When creating a cooling pillow, you have to experiment with different technologies, which usually entails trying out some new stuff, using various chemicals and compounds, organic and non-organic materials, etc. To ensure that all of those are perfectly safe for human use – the products must pass a series of rigorous tests.
The ones that pass these tests get a stamp of approval.
The particular stamp of approval we're interested in is the OEKO-TEX Standard 100 certificate. OEKO-TEX certification proves that the product in question is entirely void of any potentially hazardous, toxic, or in any other way harmful chemicals and compounds.
You'll find the OEKO-TEX certification only on 100% safe products, so always look for one.
There is an excellent chance the pillow you end up buying is not machine-washable. So, the next best thing is to look for a removable pillowcase that you can take off and toss in the washer.
Nine times out of ten, a solid cooling pillow will come with a removable pillowcase that you can either hand-wash or toss in a washing machine and clean at low temperatures (up to 30°C) and gentle cycle. Sometimes, if the cover fabric allows it, you may even be able to turn up the heat to 60°C, although that is not common.
More often than not, you'll be met with an organic cotton cover that's best washed at 30 degrees Celsius.
Cooling gel & innovative technologies
Since there's only so far you can go with airflow and organic fillings, pillow manufacturers have had to turn up the heat (pun intended) in their research facilities to try and come up with innovative cooling technologies for their pillows.
What most of them have come up with is either a cooling gel pad or some form of gel-infused foam. Some have experimented with latex, some tried to make the most out of bamboo, and others just looked for a way to perforate the foam to improve airflow and decrease heat retention.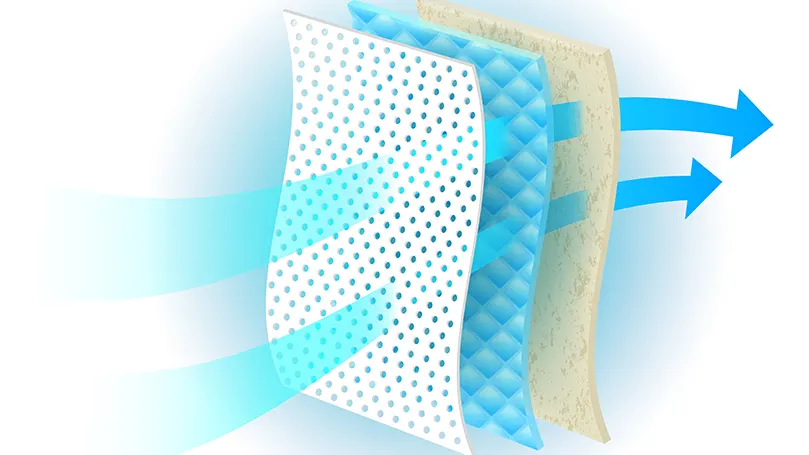 However, once in a blue moon, we end up with breakthrough technology as Simba did with their Simba Stratos phase-changing solution found with several of their products – including their memory foam pillow you'll meet in just a second.
The point we're trying to make here is you need to look for these cooling technologies and solutions if you want actual results. Just because the box says "cooling" doesn't mean you'll actually get to feel the breeze.
Instead of taking the manufacturers at their word – look for the real solution they've implemented. That should give you a reasonably good idea of what to expect.
The advantages of owning cooling pillows
It's evident that the main advantage you'll get from a cooling pillow is not sleeping hot, but that's hardly the only benefit you'll get from owning one of these.
Aside from freshness and frostiness, you will also get to enjoy the following:
Improved sleep quality
Pain-free mornings
Mental health benefits
Radiant skin
Long-lasting investment
 Improved sleep quality is pretty self-explanatory. A good, comfy pillow equals better sleep.
As for the pain-free mornings, as you recall, we've mentioned choosing a comfortable and supportive pillow a while ago, and this is the direct result of doing exactly that. Your head and neck will stay in the same position all night long, and you'll wake up pain-free.
As for mental health benefits and radiant skin, those come as a result of the quality, full eight hours of sleep each night. As we rest and rejuvenate during the night, our minds and bodies flourish, and it's these pillows that allow us to do just that.
Finally, a premium cooling pillow will last you for quite a few years. Even if you end up spending a bit more early on – it'll be worth it in the long run.
FAQs about your cooling pillow
We didn't want to let you go until we've covered every single topic and cleared up some potential confusion. On that note, let's try and answer some of the most valuable and commonly asked questions we could scrape together.
Do I need to flip the sides of the cooling pillow to stay cool?
No. The whole point of a cooling pillow is not to do this. With that in mind, some of these are double-sided, so you will have to flip them - just not during the night or to stay cool.
How do I wash a cooling pillow?
You remove the pillowcase from the pillow, read the care label, and wash it accordingly. If the entire pillow is machine-washable - simply repeat the whole process.
What is the best cooling material for a pillow?
It is usually the combination of several materials and fabrics that make up a solid cooling pillow. But, if we had to choose our winners, we'd say phase-change technology for the insides and bamboo for the pillowcases.
How long do cooling pillows last?
If we assume that you sleep on your pillow every day, all year long, most of these pillows should last you about three years. With that being said, that's three years of phenomenal performance. You could easily get twice or thrice as much out of some premium cooling pillows.
Do cooling pillows contain harmful substances?
No. If you look for an OEKO-TEX certified pillow, like we've advised that you do, you won't end up with a pillow containing harmful substances.